A Truck Built on a Memory
WE ALL HAVE BENCHMARK MOMENTS IN OUR LIVES THAT LEAVE AN INDELIBLE MARK ON OUR PERSONAL HISTORY. Usually it's a momentous occasion—like the birth of a child—that we'll always remember. For Manuel Zavala of Houston, Texas, one of those moments was the day, 10 years ago, when he started his construction company. Like many beginning small business owners, he didn't have a ton of cash to sling around, so he picked up a rusty '85 Chevrolet C-10 for $1,000 to tool from worksite to worksite. It wasn't pretty, but it got the job done and started his business off on solid footing.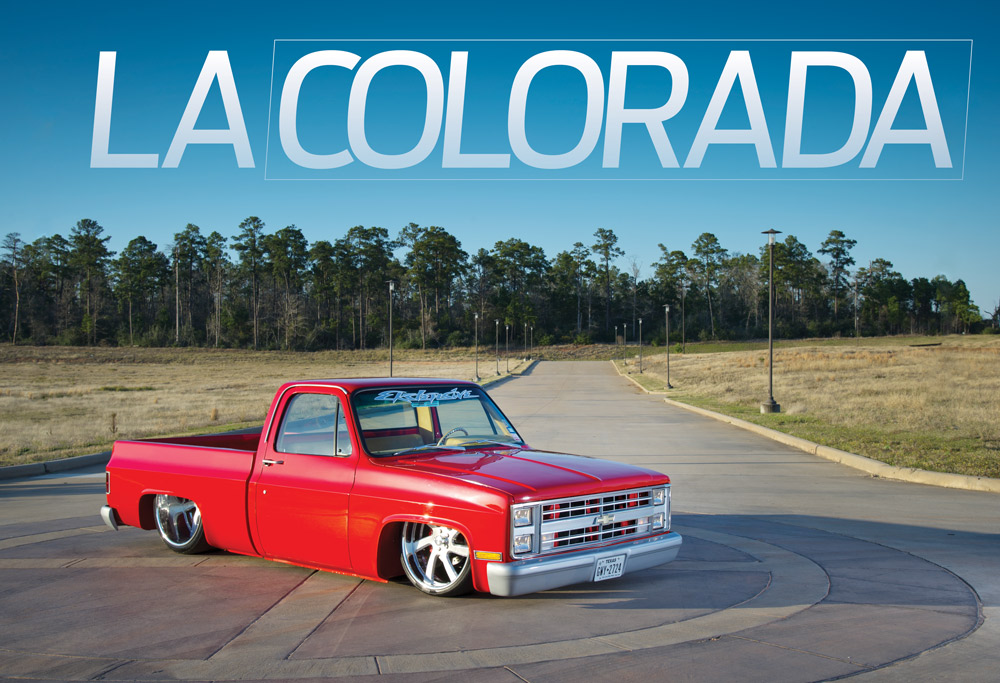 Soon the one truck became two, and the next thing he knew, his business was off and running. As the years went by, that '85 stayed in his life. He just couldn't seem to part with it. That's when the idea hit him: turn the truck into a shrine of sorts to honor its place in his business's history. Make it completely custom, from top to bottom, restoring and tricking it out. It would become a visual representation of his personal and business successes.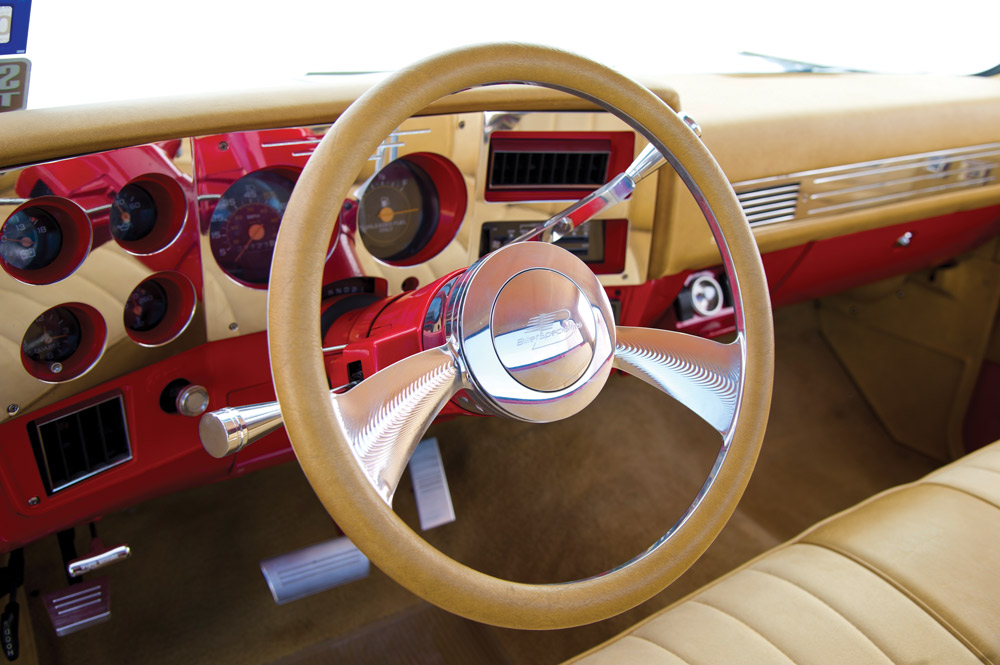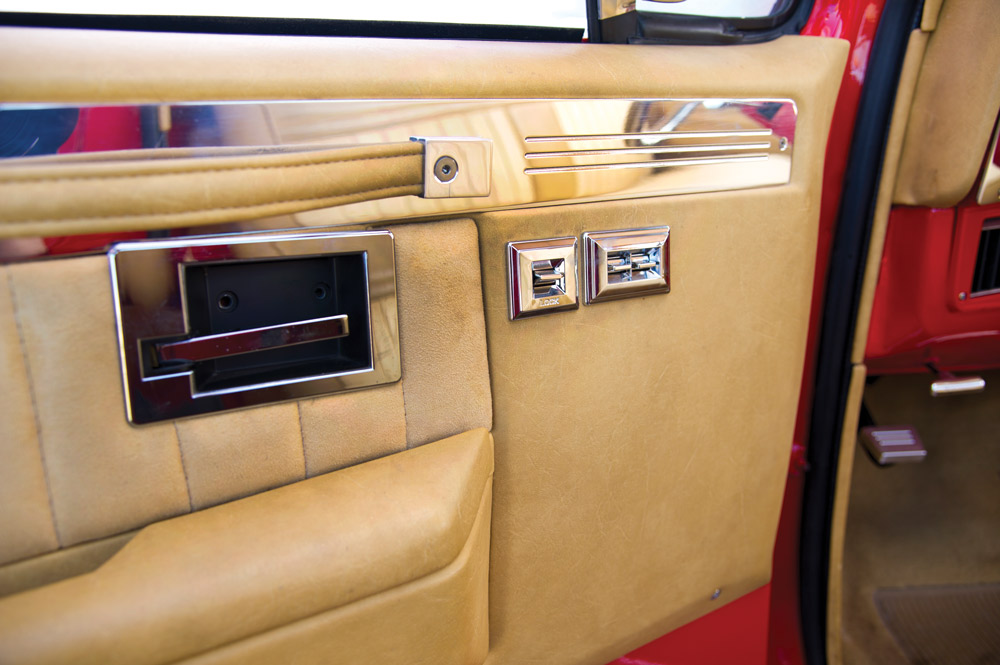 And so it was off to Ekstensive Metal Works in Houston to see about getting some work done. Ekstensive has been building notable trucks for decades, so when it came time to pull the trigger, Manuel didn't hesitate. His plan was to keep things clean and simple: lay the truck flat on the ground, put down a bright single color and add some mild custom accents. It would be completely built from the ground up, but in the end, the untrained eye might think it was a stock body with a ton of suspension work.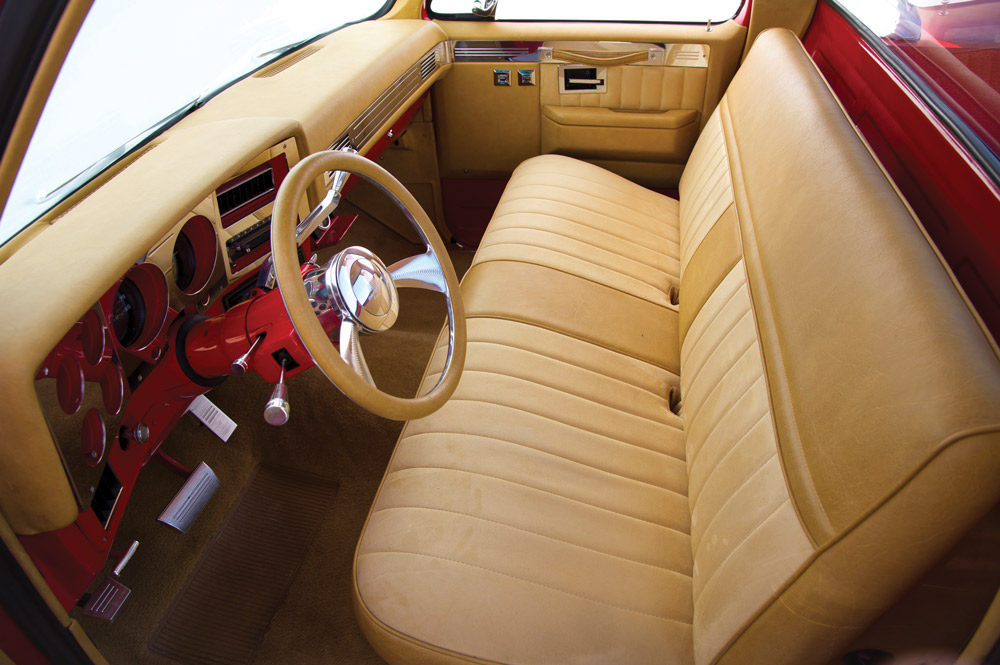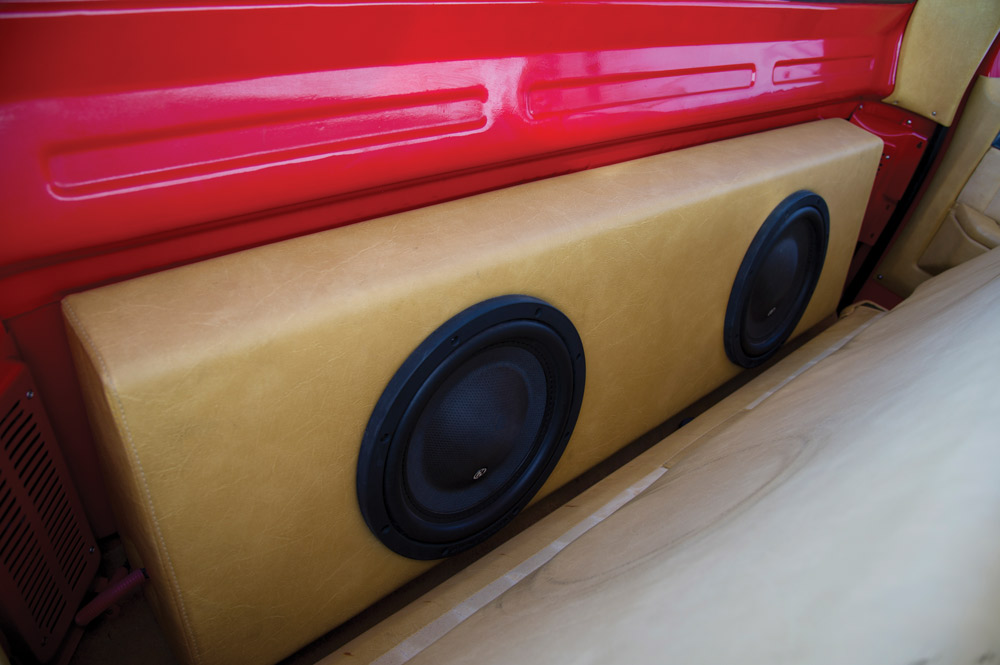 So about that "untrained eye" part. When the crew at Ekstensive started tearing into the body, they didn't shave everything they could just to cross things off the proverbial checklist of mods that every custom truck seems to have. Instead, they kept it clean and simple, just smoothing out everything and keeping the big stuff like the taillights and door handles. But one thing they did is often overlooked. Manuel bought all new bumpers for the truck, and Ekstensive shaved the bolts clean and tightened up their fit and finish. Then, the bumpers, tailgate panel, drip rails, grille insert and door locks were painted a faux brushedaluminum finish similar to a construction material that Manuel has used on the job for years. It's a subtle touch, but one that ties in nicely with the mammoth US Mags Outlaws and their complementary brushed centers.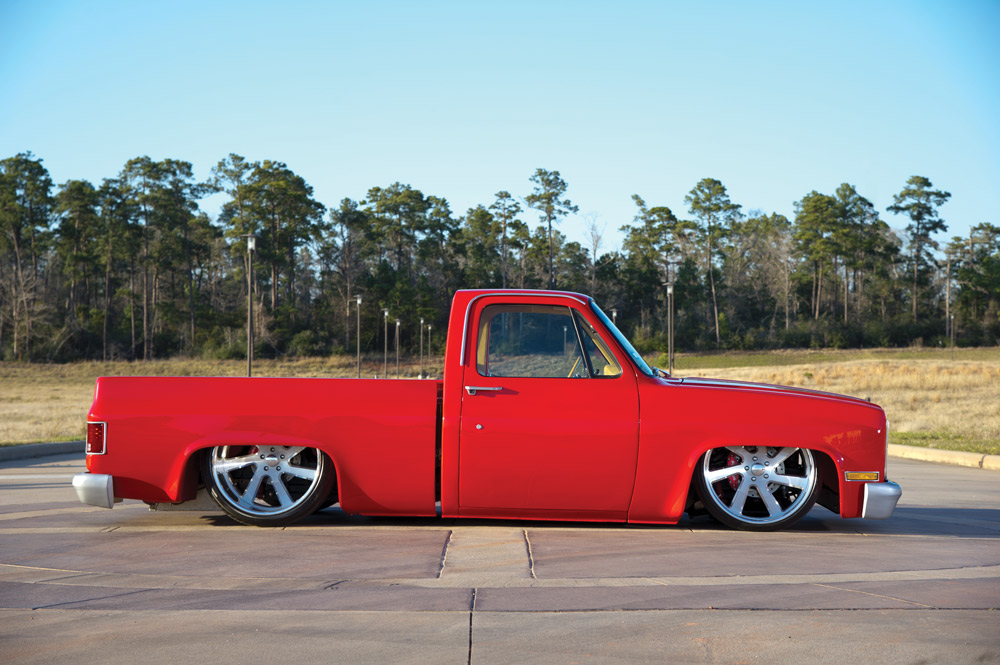 Let's get into the suspension a bit. There are lots of ways to lay out 1973- 87 Chevrolet trucks, and one of them is to Z the front frame. That's the way Ekstensive went, getting the front end down nicely in the process and tucking a 24×9 with no problems, particularly when tubular control arms were added to the mix. Out back was a different story. The rearend was narrowed for the 24x15s, and the crew fabricated a custom 3-link using airbags to get the suspension moving up and down. The resulting stance of the truck is just perfect for long cruises and laying out on the concrete.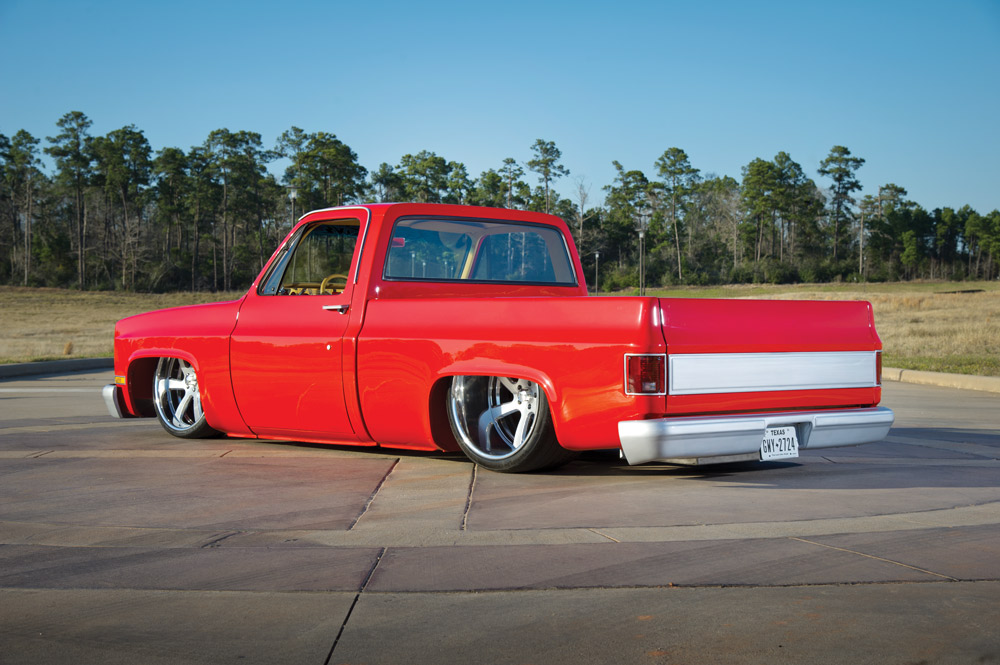 The truck's power plant is no slouch either. The motor is a 1997 Vortec 350 V-8 pushing 420 ponies to the wheels. It was fully rebuilt and assembled with custom parts, and then carbureted to keep the look and feel authentic to the truck's original era. It's mated to a 700R4, which gets the power to those 15-inch-wide rollers with no problems. It's a solid and reliable combination that works well for the Chevy.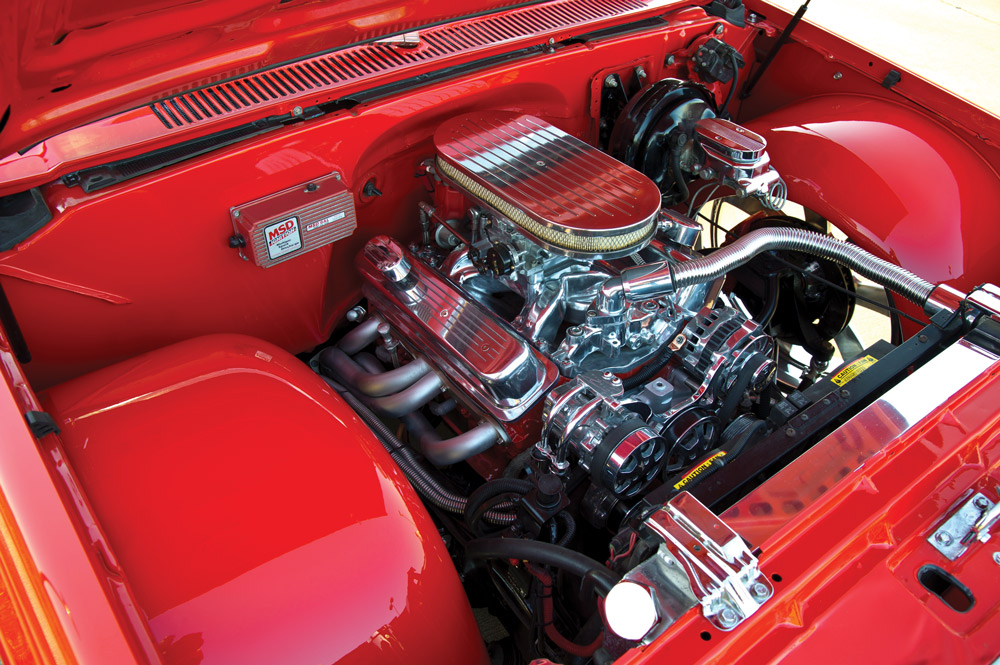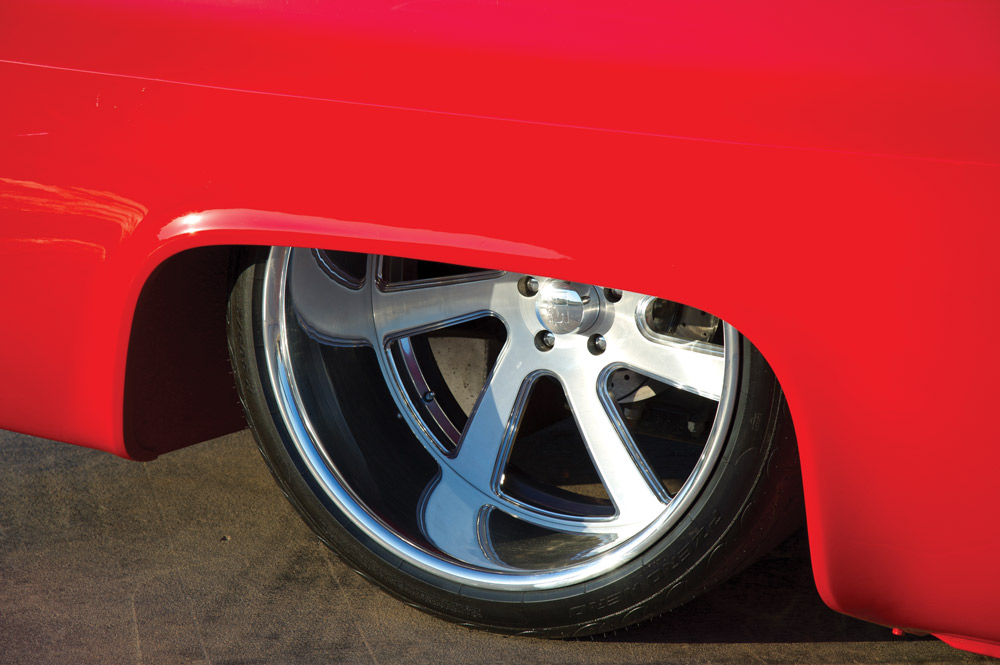 This truck has seen a lot in its day, from the start of Manuel's business to its place in Ground Zero's Houston chapter, and there's still more on its list. Manuel is currently taking the truck everywhere he can, adding and tweaking as necessary while taking home a ton of trophies in the process. Who knows if it will ever truly be done. One thing we do know is that it's certainly made its mark on Manuel's personal history.
TRUCK SPECS
OWNER
Manuel Zavala
1985 Chevrolet C-10
New Caney, TX
ENGINE
Work performed by David's Machine Shop in Houston, TX, and Rey's Auto Care in Houston
Vortec 350 V-8 painted red
420 hp/390 ft-lbs torque
Bored .30 over
Stock crankshaft
I-beam rods
Flat-top pistons
COMP Cams camshaft
High-volume oil pump
ARP hardware
COMP Cams rockers
Melling roller lifters
Edelbrock water pump
Powermaster alternator
Be Cool radiator
Old Air Products dual electric fans
Billet air cleaner
Edelbrock 650-cfm carburetor
Shorty headers with ceramic finish
3-inch exhaust
Flowmaster 44 series muffler
Billet valve covers
MSD wiring
Billet Specialties pulleys
1997 Chevrolet 700R4 automatic transmission
B&M 2600-2800 stall speed torque converter
B&M shift kit
20-gallon aluminum fuel cell
SUSPENSION
Shop: Ekstensive Metal Works, Houston, TX
Z'd front frame
Powder-coated chassis
Tubular control arms
Stock spindles
Wilwood six-piston front brake calipers
Wilwood four-piston rear brake calipers
Aluminum master cylinder
Rear 3-link
Narrowed rearend with posi and 3:73 rear gears
WHEELS & TIRES
24×9 and 24×15 US Mags Outlaws with brushed aluminum finish
255/30R24 and 405/25R24 Pirelli tires
BODY & PAINT
Shop: Ekstensive Metal Works, Houston, TX
PPG Viper Red
Shaved mirrors and gas door
Airbrushed grille, bumpers, door handles, drip rails, door locks and tailgate panel to look like brushed aluminum
Billet gas filler
Shaved bumper bolts
Red spray-on bedliner
LED headlights and taillights
Slosh Tubz fender tubs
INTERIOR & STEREO
Shop: Clemente's Upholstery, Houston, TX
Tan suede and leather upholstery
Tan carpet
Leather bench seat
Suede headliner
Leather-wrapped dashboard
Billet Specialties steering wheel
Billet interior handles
Billet dash and door inserts
Vintage Air AC
Pioneer DEH-P6000UB head unit
JL Audio wiring
Two 12-inch Memphis shallow-mount subwoofers
Memphis 1,000-watt onechannel amp
Memphis 400-watt fourchannel amp
Memphis speakers
Memphis capacitor
Red Top Optima battery
Blue Skin sound deadener
SPECIAL THANKS FROM THE OWNER: "To my friends Alex Lucio, Joseph Lucio and Angel Duran. I also want to thank my wife and kids for being patient during my build."