The Preservation of Family Roots
MOST PEOPLE WOULD BE AMAZED TO SEE WHAT SOME SHOWPIECE VEHICLES LOOKED LIKE BEFORE SOMEONE GOT THE INSPIRATION TO DUMP A TON OF CASH AND TIME INTO THEM. "Amazed" might not even be a strong enough word. Dumbfounded? Flabbergasted? Astonished, even? Boil them all up into a special blend, and whatever you come up with, there has to be a perfect word that better conveys that feeling we're trying to get across.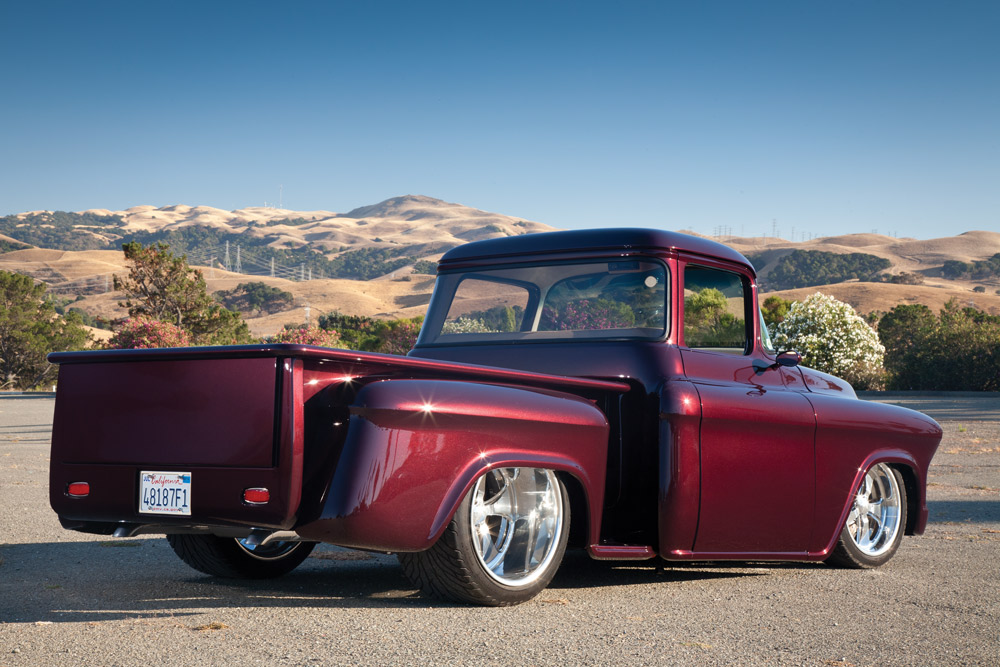 We got to thinking about this when Mike Burns, the owner of this exquisite '55 Chevy truck, sent us a photo of what this pickup looked like back when it still belonged to his father. Up until a week ago (as of this writing), the only version of this truck that we knew existed was the one photographed for the feature. It's tough to imagine the difficult life it must've led before its restoration.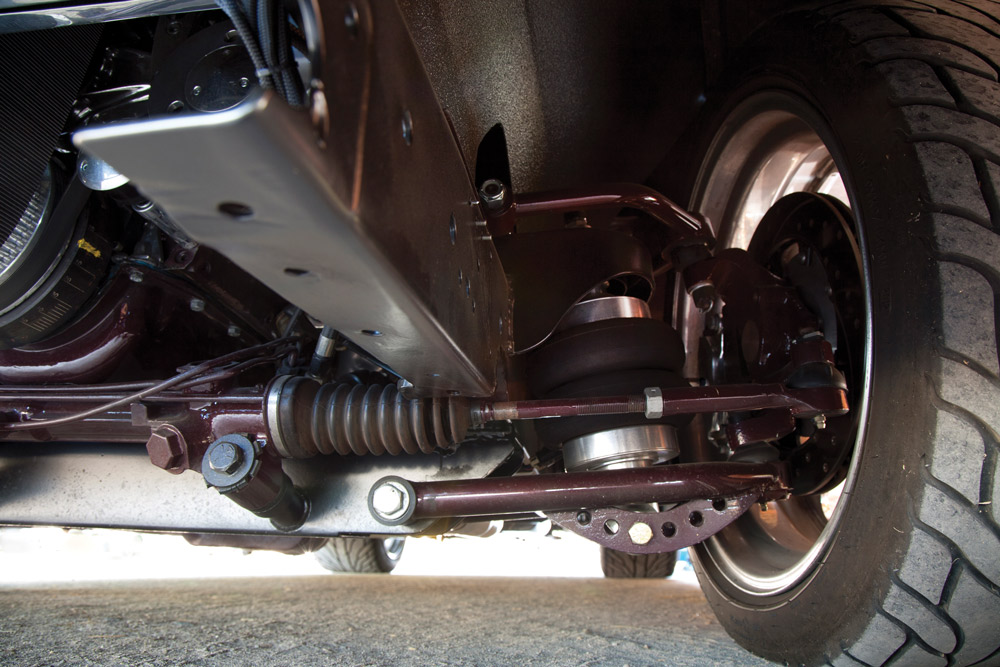 Most old trucks were proud members of the working class, and this one was no exception. "My father bought the used pickup back in 1963 and used it as his work truck and later as his retirement hauler until his passing in 1999," Mike informs us. "I blame him for the condition we started with. It was his go-to vehicle for the longest time, and it was truly what we all know as being a real beater." Now, if this were any other truck, owned by any other guy, Mike most likely wouldn't have been inspired to invest a single buck into the truck, but its deep roots in the Burns family added significantly to its sentimental value.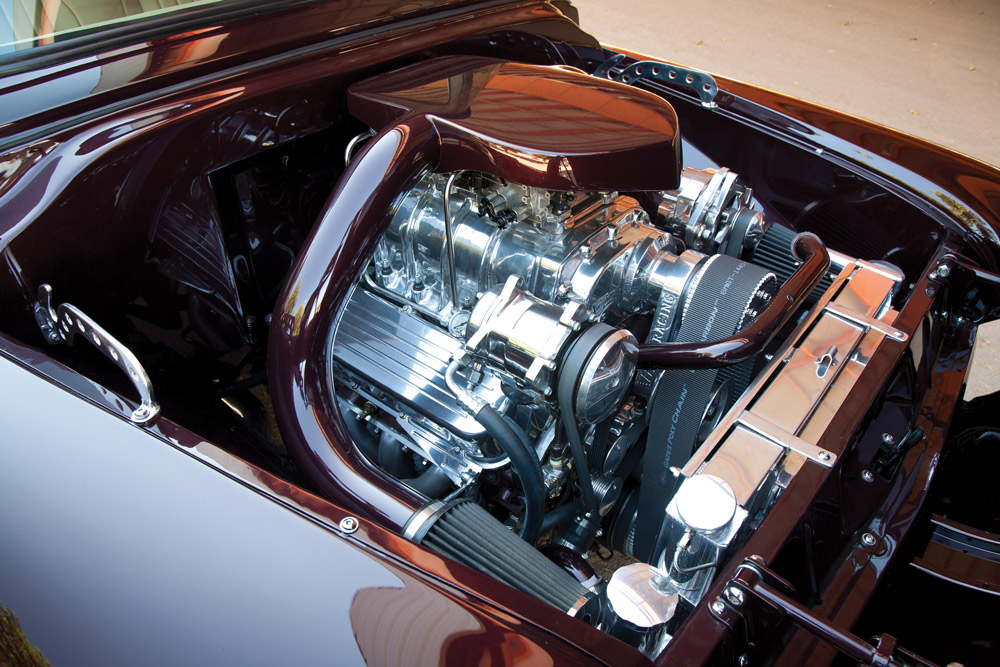 If the truck had been wearing any other badging than the Bow Tie, Mike still might not have had such strong feelings for it. He just happens to find Chevy's Tri- Five series about perfect. Luckily, the pickup's style follows suit with its big wrap-around window and curvy bodylines. It had been parked outside, subjected to the elements for almost 11 years, until Mike decided it was probably time to finally do something with his dad's old truck. While the truck spent more than a decade rusting away, Mike had been immersing himself in car shows and custom truck and hot rod magazines to gather ideas and inspiration. "I've always taken lots of pictures and collected cutouts from all the magazine issues I would buy. I assembled them into a scrapbook—my daughter Kelley calls it my wedding album—knowing that someday I might want to put pop's truck together."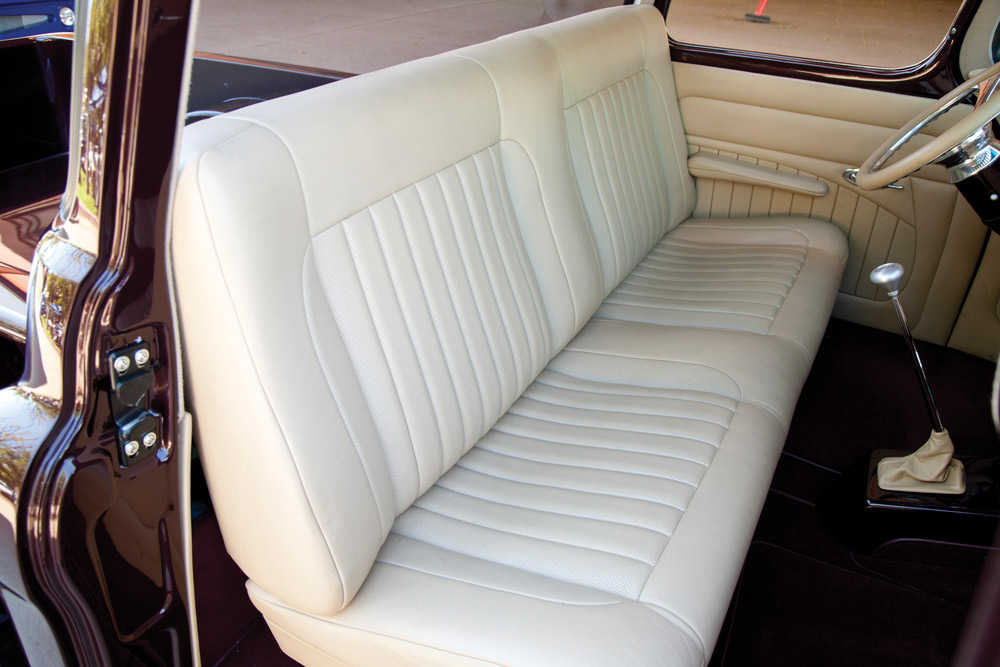 The pages of photos had been brewing in Mike's thoughts for years, and he knew right away when it was the exact time to put a plan into motion. Some sort of instinctual call sounded within him, and an undeniable force guided the way. It was 2010, a turning point that marked a new beginning for the Burns' family Chevy. It had been parked long enough, and Mike was ready to resurrect the truck that had served his dad for the better part of his life.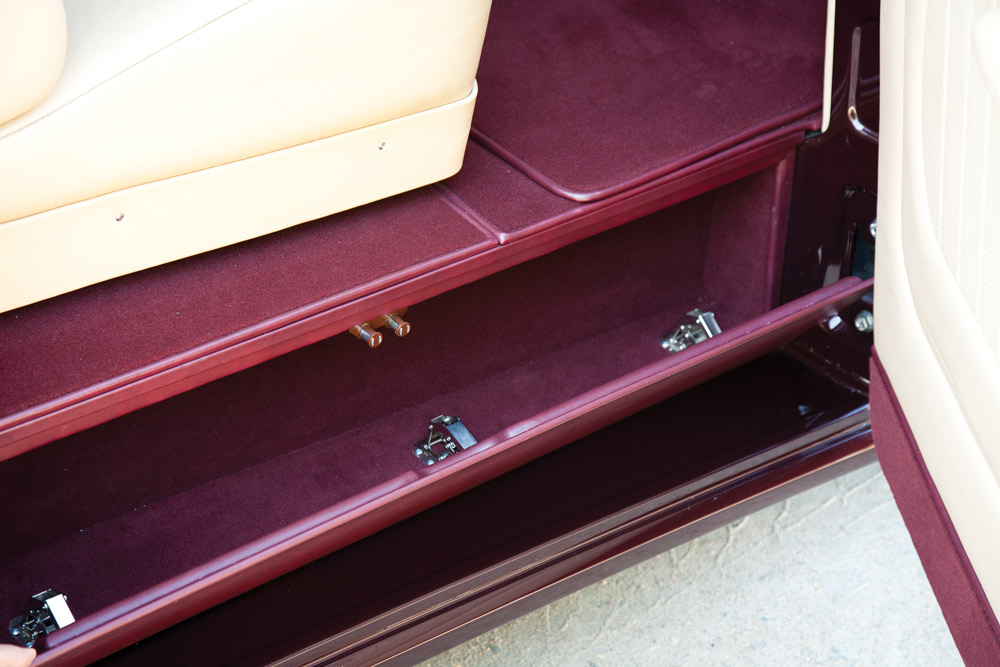 The surface was thoroughly rusted and the bed wood was severely rotted—these were just the obvious issues that needed attention—but the timing was right, and as they say, timing is everything.
"When I walked into the hot rod shop, I was prepared. I knew exactly [what] I wanted, except for the paint color," Mike says about the jumping-off point. "I decided to turn the truck over to Jeff Twichell at Hot Rod Service Company in Campbell, California. I left him with my scrapbook of design details that highlighted everything I was looking for in the build. I had two firm stipulations for Jeff right from the start: one, no holes in the hood—the blower stays inside—and two, put some healthy-sized rubber in the rear."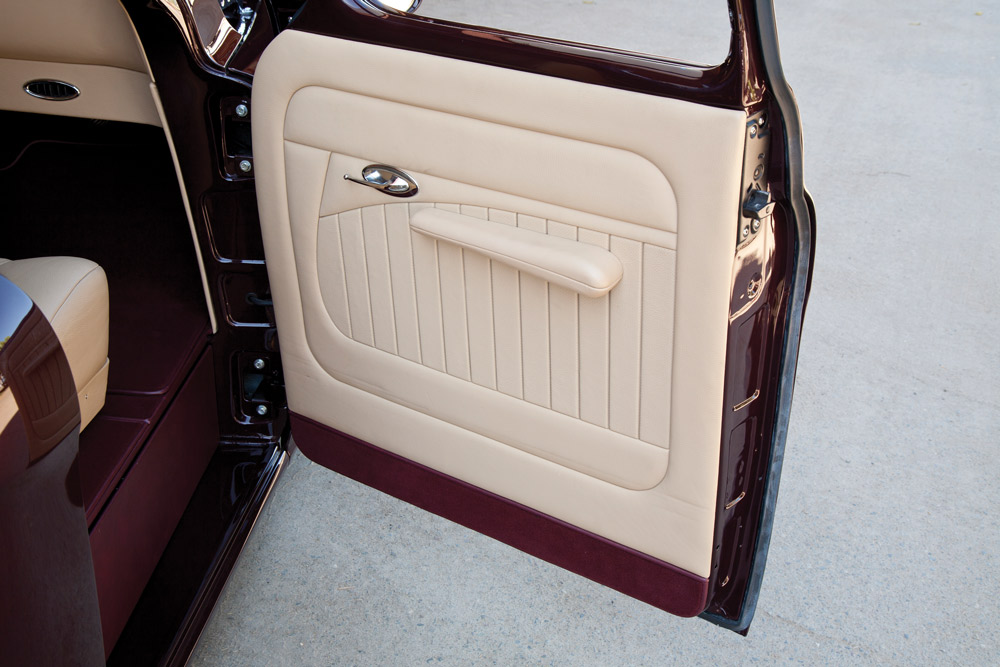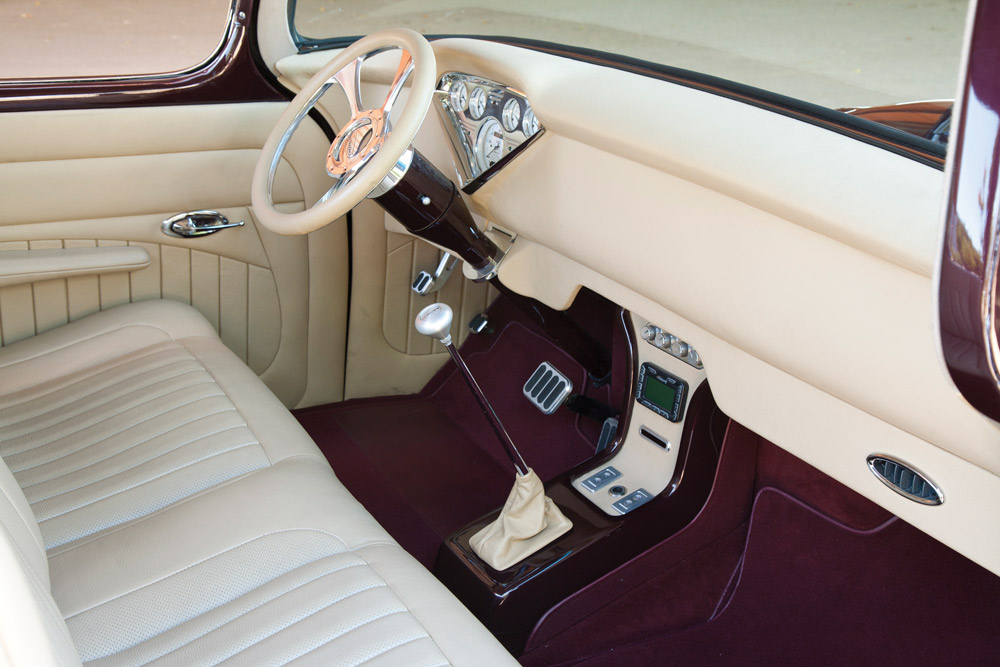 Those demands were manageable, but Jeff had a stipulation of his own for Mike. "I was told that the shop wouldn't paint the truck yellow, since they had just completed two F-100s, and they were just tired of the color. Since I had no set color in mind at the time, it seemed like a good deal to me." And with that the two shook hands and agreed to the terms. The truck was relocated to Jeff's shop, and Mike was sent out into the streets to decide on a color. Surely something would speak to him eventually. "I ended up spending a year considering paint colors. I had pulled up to an SUV on the expressway one day and stopped the driver and asked for the color code. Bordeaux Red Metallic, this was the color that would be my first choice."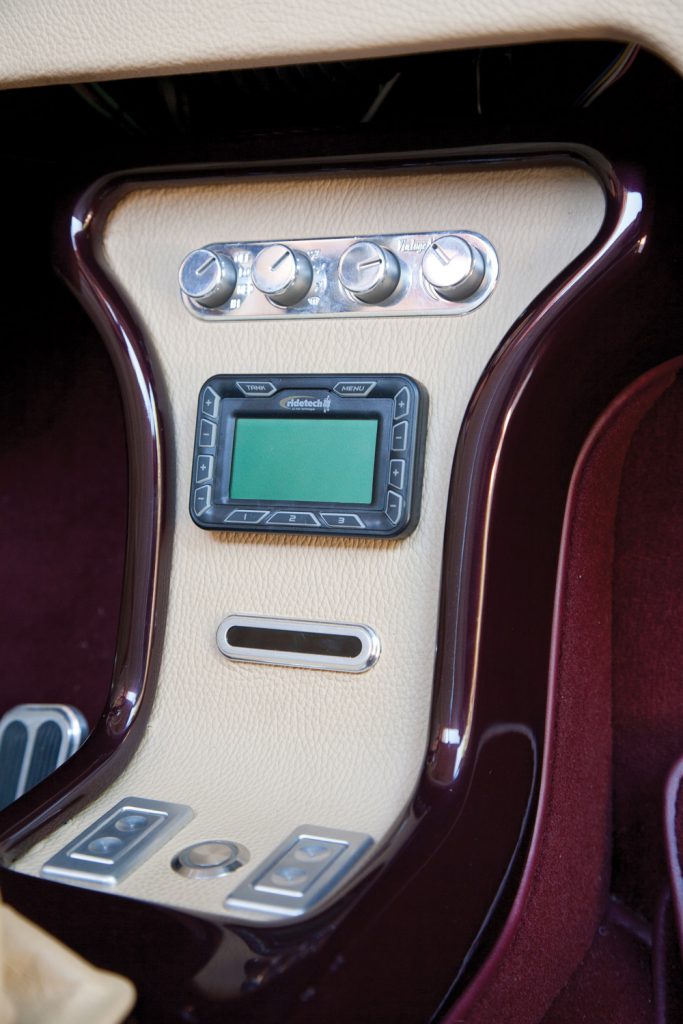 But before any paint was sprayed, the guys had to settle more pressing subjects, with one ranking high on Mike's list of priorities. "The 396 BBC came from my son, Tim's, vintage drag racing days, along with the 671 blower." An engine is just an engine, but the inclusion of this particular unit made three generations of Burns men officially mixed up in this truck. The Burns women are heavily involved with the truck as well. "My wife seems to enjoy joining me at many of the local car shows and gettogethers, especially if we receive an award and collect it together."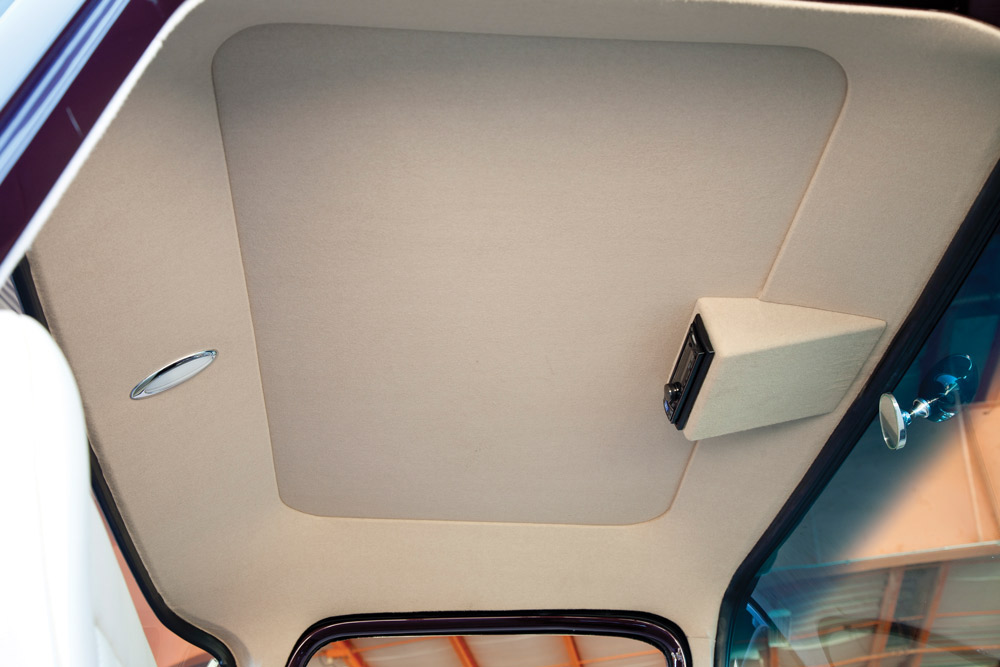 To say that this outcome was in any Burns family member's forecast of what would come from the truck would be a stretch. There were days, weeks, months (maybe even a year or two) that passed when none of them even gave the truck a passing glance. It happens, but none of that matters now.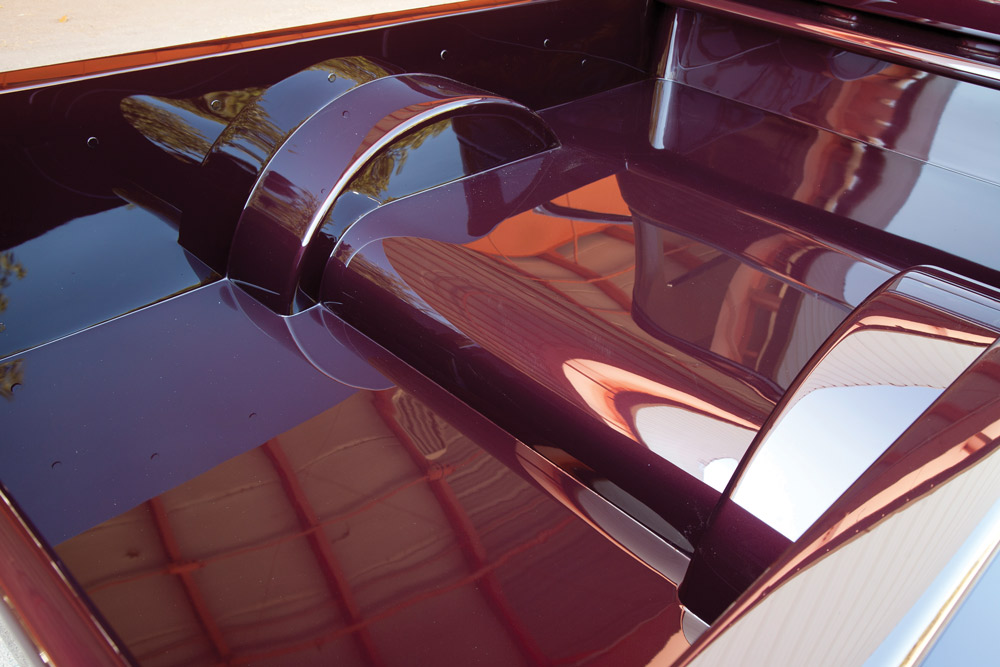 The build was completed, and the truck is back where it belongs: on the road and in the hands of those who care about it just as much, if not more, than its original owner did.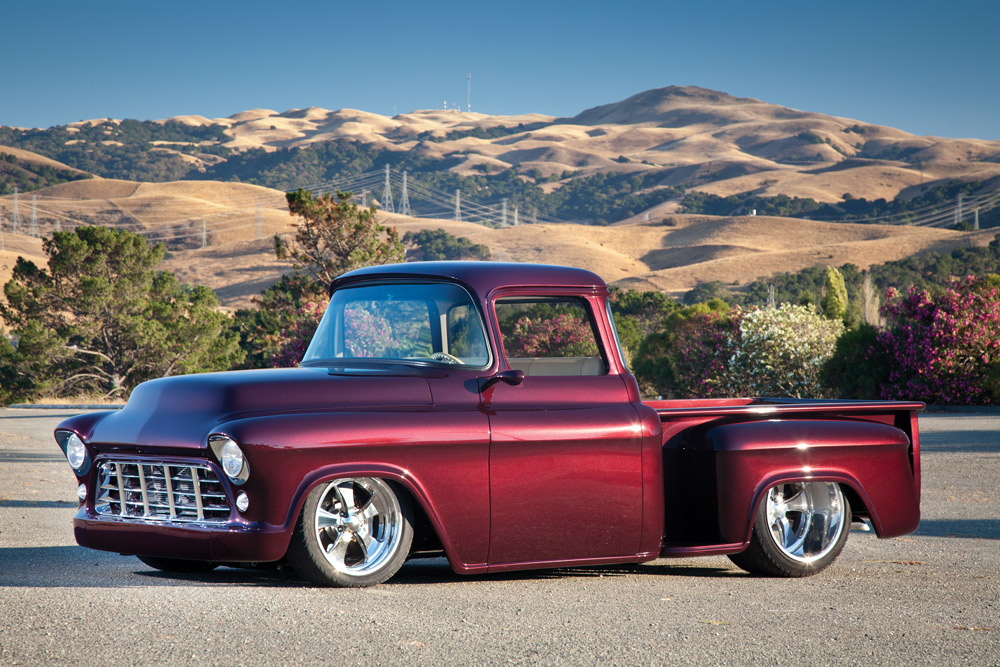 When asked about any potential future plans for the truck, Mike told us, "to just enjoy what we have." Hey, now there's a great idea. It's safe to say there's nothing more this truck needs than to be driven and shared with others so that they can clip out this feature and add it to their own scrapbook of ideas.
TRUCK SPECS
OWNERS
Mike & Elaine Burns
1955 Chevrolet Pickup
San Jose, CA
Rod & Wheelers
ENGINE
• Shop: D&D Auto & Hot Rod Service Co.
• Chevy 396-ci big-block V-8
• BDS blower camshaft
• Roller rockers
• Polished water pump
• Be Cool radiator
• Flex-a-lite Black Magic cooling fans
• Energy Suspension motor mounts
• Two K&N cone filters with handmade intake
• Twin Edelbrock 750 carbs
• Sanderson block-hugger headers
• Dual 3-inch exhaust system
• Flowmaster Delta 50 mufflers
• JetCoat treated headers, exhaust and muffler
• Finned valve covers
• March pulleys
• Chevy Turbo 400 auto transmission
• Lokar floor-mounted shift kit and console-mounted shift indicator
SUSPENSION
• Shop: Henry's Cars
• Heidts Mustang II front end
• 2-inch drop spindles
• Air Ride Shockwave 1000 'bags (front)/Shockwave 7000 'bags (rear)
• Rear ladder bar setup
• Wilwood disc brakes all around, drilled and slotted rotors
• Ford 9-inch rearend narrowed to fit 15-inch-deep wheels
• 3.25 gear ratio
• Handmade fuel cell
WHEELS & TIRES
• 18×9 and 20×15 Budnik Fontana polished aluminum wheels
• 16×10.00R18 and 29×15.00R20 Mickey Thompson tires
BODY & PAINT
• Shop: Nor Cal Auto Body (Ryan Wight) & Hot Rod Service Co. (Jeff Twichell)
• Bordeaux Red metallic paint
• Powdercoated chassis
• Reverse-open hood with custom hardware
• Original chrome grille
• Gas filler relocated to passenger side
• One-piece tinted power windows
• Front and rear roll pans
• Original fenders
• Running boards shaved
• Handmade steel bed with oversized tubs and step-down (no tailgate)
• Autoloc shaved door handle kit
• Frenched 1941 Chevy taillights
• Hella European headlights with floor-mounted dimmer switch
• Vision Hot Rod VF-1 exterior mirrors
INTERIOR & STEREO
• Shop: Finish Line Interiors (Byron Robeck)
• Glide Engineering seats
• Tan leather, solid and perforated
• Burgundy carpet
• Dashboard shaved and covered with tan leather wrap
• Auto Meter Old Tyme gauges
• Budnik steering wheel
• Clayton Machine Works handles and dome light
• Lokar switches
• Vintage Air AC
• Handmade fiberglass console
• Under-dash mood lighting
• Alpine head unit
• Hertz 5.25-inch coaxial speakers
• Optima battery
SPECIAL THANKS FROM THE OWNER: "Special thanks goes out to my son, Tim Burns, for providing the healthy 396 BBC and 671 blower."