A Hands-on Approach to Building a Classic Chevy Truck
What types of custom cars and trucks do you think auto mechanics usually end up building? Well, from the general consensus of automotive professionals we've talked to over the years, the answer is usually the types of vehicles that belong to other people. The paying customer always comes first and, more often than not, those who work on cars for a living barely have time for general maintenance work on their own rides let alone spending hours on real deal customization. Although plenty of hard-working mechanics out there never have the time to build something of their own, there are always exceptions. They're the guys who make it a point to carve out hours to spend in their home garage after working 40-plus hours in another garage during the workweek.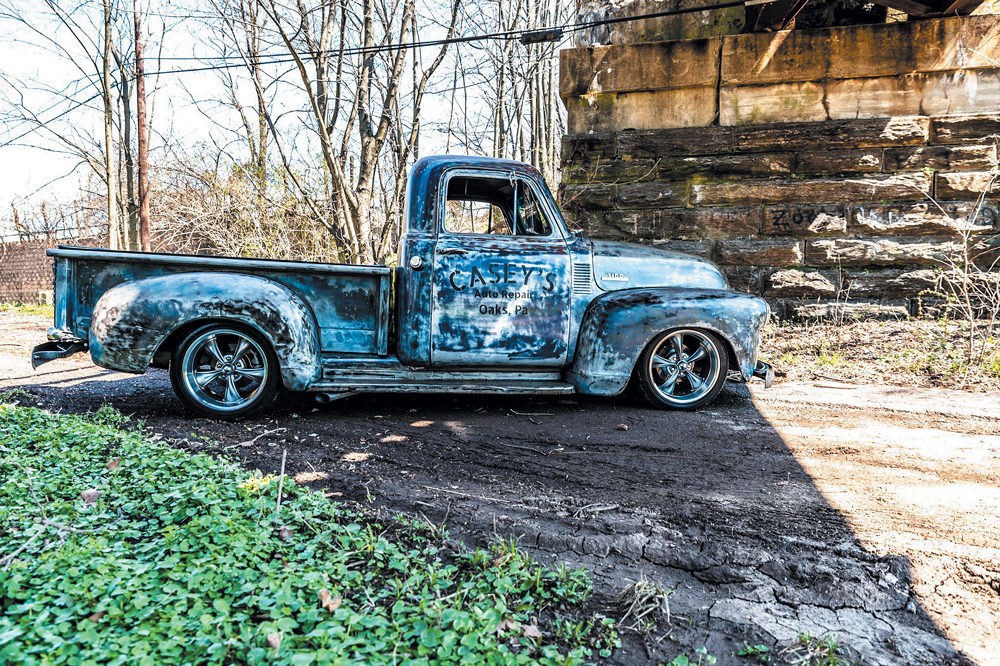 Tim Casey, of Oaks, Pennsylvania, is just one of those guys who spends all week slaving away repairing other people's vehicles. Even though he's dedicated to helping others keep their cars and trucks on the road, he still has enough drive to dedicate his weekends to building a custom pickup for himself. Most individuals want to unwind on their days off by doing something different than they have been doing all week long, but if you truly love what you do, more "work" isn't a bad thing.
Before he started this build, Tim already had a vision in mind for the type of truck he wanted, and he wasn't afraid to invest the necessary time and money to make the vision come to a drivable reality.
"I've always wanted a '47-'55 Chevy short-bed pickup truck," Tim says. "With my wife's support, I was finally in a position to buy and build a '54 the way I had always dreamed about. I didn't want to cut corners or take any shortcuts on important parts of the build."
Tim was more than capable tackle all of the work himself. When he told us that he never planned to skimp out or take the easy route on anything, we didn't doubt him for a second.
"Since I have owned this truck, my hands are the only ones that have touched it," he says. "I spent Friday nights after work, and Saturdays and Sundays all day until dark for six months to get the truck finished."
Even though Tim was incredibly motivated and excited to dive head-first into his dream project, there were times when he would make forward progress only to be slapped back into a hole that he'd have to get himself out of.
"I tried to make a plan and put myself in the mindset to be ahead of the curve to help avoid time-consuming mistakes," Tim says.
He was as prepared as he could be, but things do happen, and sometimes there's just no way around getting caught up starting again at square one.
Tim went into his Chevy truck project with a couple things in mind. First, he already planned to lower his truck's suspension that was a given. Second, he wanted an updated, high-performance engine to propel his pickup down the highway. Of course, these were the leading categories that kept Tim the busiest during the build process.
To get the truck down a full 5 inches, a TCI Mustang II frontend was grafted to the original frame, as was TCI's rear parabolic leaf spring suspension kit. Adjustable Fox Racing coilovers at each corner were thrown into the mix, as were front and rear sway bars to give the truck superior handling qualities that would deliver on both the street and track. The entire frame was sanded down, painted and sealed to give Tim a better peace of mind that the truck had been given proper attention from the ground up. A set of modest 18-inch gray finished Ridler wheels give the truck just the right amount of wheel upgrade without going overboard.
Moving on to the power plant of choice, Tim landed on a '03 GMC Yukon 5.3 LS engine that was outfitted with Summit Racing LS exhaust manifolds, a performance GM oil pan, PCM tune, a customized harness and one-off engine mounts to allow for the modern motor to work. Tim built an exhaust system from scratch utilizing a DIY kit to ensure the engine's respiratory system was well taken care of. The only major problem that Tim encountered with the swap was getting Subaru clutch hydraulics to work with the Chevy slave. He was left to make custom lines and adapters for the clutch hydraulics and figure out a steering linkage setup that would clear the frame and exhaust manifold. With that all sorted out, Tim came to a fork in the road when the time came to choosing a transmission. He opted for a '97 NV3500 5-speed to do the trick. Yep, that is a manual trans. He wanted to really put the engine through its paces and put himself in true control of his pickup.
There wasn't one aspect of his Chevy truck that Tim didn't have his hands in including paint and bodywork. Now, the main objective of the project was to keep the exterior looking as natural as possible. The patina is realÑTim just sprayed a satin clearcoat on top of it to preserve its current appeal. He did, however, bring in Goodmark inner and outer cab corners and both lower cowls, as well as conducted fender patchwork. He then painted it all to look like original faded paint to match the rest of the truck. Tim even cooked up a one-off composite wood bed complete with a custom tonneau cover for good measure. The only real "modern" aftermarket addition was the LED tails and third brake light, but those look good on any type of vehicle, new or old.
Inside the cab of his truck, Tim made one of the best decisions to get the seating done quickly and efficiently, with a look that hasn't disappointed a classic truck builder yet. TMI's reclining bench seats come upholstered in leather and suede and are ready to install, which is a huge bonus for guys who are building their truck at home. Dakota Digital gauges and Retro Sound's Apache Bluetooth-enabled head unit give the truck's interior just enough creature comforts to keep Tim and his bride riding with sound and in style.
For working on the truck on his own, Tim made quick work of building his '54 Chevy pickup. He kept himself on a rigid work schedule and kept a positive mindset, both of which set him up for ample success in just a short span of time. Although Tim took no shortcuts to reach the finish line, he had a working skillset that kept his plan in motion even when he hit those unavoidable speed bumps.
"Even though I am a mechanic, I was able to learn a lot from taking this truck apart and putting it back together," Tim admits. "From the LS swap, setting up the front suspension geometry and pinion angle, to the body work, including welding in rust replacement panels, there was lots of experience to gain for me here."
Owner
Tim Casey
1954 Chevy 3100 Pickup
Oaks, Pennsylvania
Engine
2003 GMC Yukon Vortec 5.3L
Custom welded engine mounts
Summit Racing LS exhaust manifolds
GM muscle car oil pan
PCM tune and customized harness
Custom exhaust system
Champion 3-row radiator, custom hoses
Rainbow Products electric radiator fan
Performance Online rear frame mount gas tank
Walboro fuel pump
1997 Chevy NV3500 manual 5-speed transmission
Centerforce clutch
Modified bell housing to fit LS engine
Total Cost Involved (TCI) power steering rack
Suspension
Modified original Chevy frame
Entire frame sanded down, painted and coated with Amsoil metal protector
TCI IFS Mustang II frontend
2-inch drop spindles
Tubular upper and lower control arms
Fox Racing adjustable coilovers
TCI parabolic rear leaf springs
Front and rear sway bars
Rear Monroe Sensa-Trac shocks
Wheels, Tires & Brakes
18×8 and 18×9.5 Ridler model 695 wheels, gray finish
225/45R18 and 255/45R18 Crosswind UPH tires
GM big bore front disc brakes, GMC Jimmy OEM rear discs w/ E-brake
Subaru WRX STi master cylinder, clutch and brake pedals
Body & Paint
KBS Coatings satin clear over original patina paint
Original grille and bumpers
Goodmark inner/outer cab corners, both lower cowls, fender patch all painted to match original faded paint
Rear wheel well to fit 9-inch wide wheels
LED taillights and third brake light
Custom made composite wood bed w/ aluminum strips
Tonneau bed cover
Interior & Stereo
TMI reclining split bench seat
Black leather and suede upholstery
Dakota Digital VHX blue series
Volante S6 black leather steering wheel
Aftermarket 32-inch tilt steering column
Retro Sound Apache head unit
Sound deadening material underneath new ACC carpet
Vintage Air heat
New glass and weather stripping
Fresh Door panels and headliner, kick panels
Custom cup holders made from AC Delco oil filters