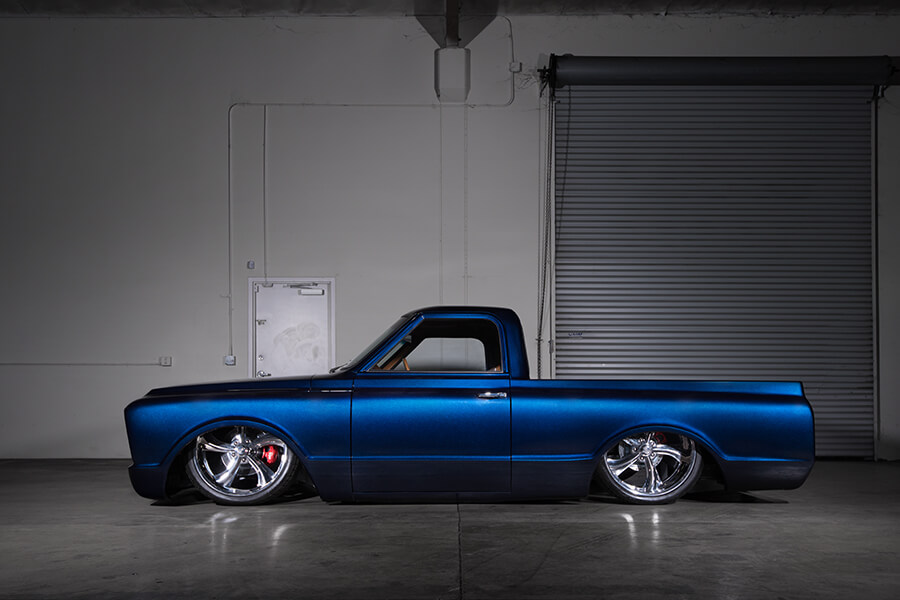 To get the ball rolling, Brad contacted his friend Steve Woodward to create a rendering so he could get a better idea of how the truck would actually look with a unibody and a chopped roof. Since Brad is a body and paint specialist, it was also important for him to select a cool color.
All of these developments took place just before he was scheduled to head to Vegas for the SEMA Show. At the show he stopped to say hello to his friends from Doug Thorley and thank them for helping with his previous project, a super cool extra cab Toyota mini-truck featured in the May 2014 issue of Street Trucks ("Peer Pressure," pg. 98). Brad talked with the Thorley crew about the unibody project he had planned, and they asked him if he could have it ready for next year's SEMA show. Brad said yes; they asked him if they could showcase the truck in their booth and Brad said yes again.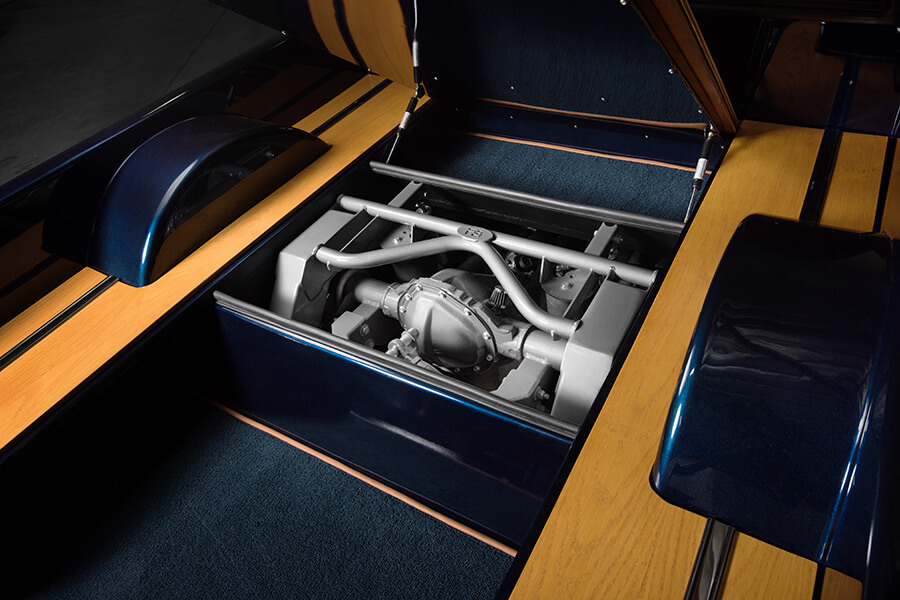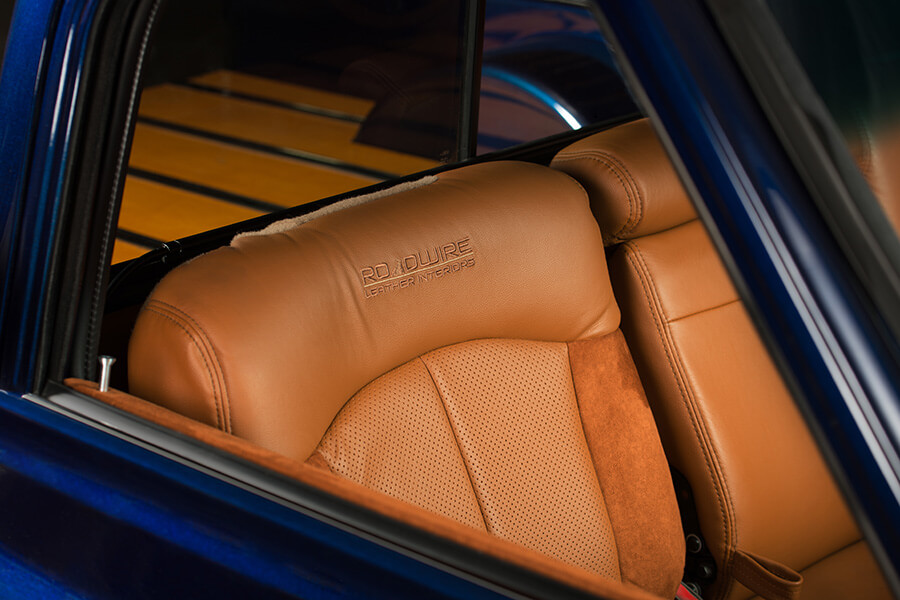 Back home in Victoria, Brad had to get cracking so he could have his new SEMA project finished in time. He started collecting parts, quite a few new pieces and several that were recycled like the 5.3 LS engine, harness and 4L60E transmission from a wrecked late-model Tahoe, which also donated a bench seat. He was able to locate a lot of the necessary factory sheet metal, but some had to be outsourced to LMC truck. Once he got the front and rear roll pans from Grant Kustoms, he began to tackle all of the sheet metal work including the addition of the roof to the Blazer. He also created a bed in what had been the Blazer's rear seat area.
"Brad finally took the truck on its maiden voyage as he cruised out of the convention center to the SEMA ignited after-party."
With the exterior sheet metal work coming along nicely, he got to work on the suspension and chassis. He contacted Porterbuilt to provide all of the suspension components required to convert the 4×4 into a slammed two-wheel drive truck. Brad and the Porterbuilt team worked together closely and developed a new setup for the conversion. Classic Performance Products (CPP) provided all of the required components to make the truck stop as well as the rack-and-pinion setup. Brad intended to do all of the work himself, but the rapidly approaching deadline demanded that he accept help from his fellow Relaxed Atmosphere Canada club members, Devin and Tyler. They are both talented builders in their own right and their help was crucial to completing the build.
With the rolling chassis finished, it was time to put the body back on and get it ready for the House of kolor candy cobalt Blue paint. As a paint and body man, he created a deep, mirror-like finish that says a
lot about his professional skills. The SEMA deadline loomed, so he moved on to wiring the entire truck and setting up the engine and drivetrain. Once he had the 22-inch Intro wheels bolted on and all of the glass installed, the truck started to look finished. Brad also accepted help from fellow club members in Southern California to install the custom exhaust, which meant a stop in SoCal before heading off to Vegas.
Brad loaded the truck onto his trailer and headed south, but first he made a pit stop in Oregon so that another club member, Michael Amborn, a GM tech, could get the truck running. Mike did a good job of getting it operational, and Brad was off again.
While in SoCal, Thorley completed the exhaust, and CPP dialed in the brakes and steering. With only a few days left, the members of relaxed atmosphere SoCal lent a hand finishing the bed wood floor, the interior and the exhaust. A touch of class auto detailing came by to give the truck a once over and Brad was finally headed to Vegas.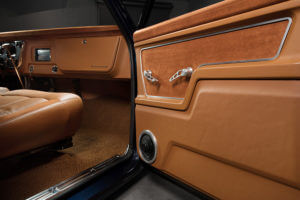 Once he arrived at the convention center, the truck was parked in the center of the Thorley booth in the main hall. The build was a success and Brad received a ton of positive feedback during SEMA week. Brad finally took the truck on its maiden voyage as he cruised out of the convention center to the SEMA Ignited after-party. Since then it has been on a tour of west coast shows before Brad brings the truck back home to Canada. The conception of this truck was unlike any other and we are glad to see it come to life.
Special thanks from the owner: "I most of all want to thank my wife Sara and my parents for their support. My car club Relaxed Atmosphere; I was able to get this all done because of the crew that helped complete the truck on time. Juan Trevino, Michael Murray, Erik Harbour, Mike Amborn, Gilbert Lara, Jason Mulligan, Devin Morgan, Tyler Brooks and my friends that helped with the build along the way: Derek Attwell, Steve Woodward, Chris Jensen, Jesse Davis, Nigel Coulter, Josh Jones and Dan Toole. A huge thank you to the companies that helped with parts: Troy Mastell with Doug Thorley Headers, C.R. Laurence, Toyo Tires, ididit, Norton Abrasives, JB Group, Roadwire Leather Interiors, LMC Truck, Classic Performance Products, Marquez Design, Painless Performance, Precision Rubber Products, United Pacific Industries, Flex-a-lite, Airlift Performance, Dakota Digital, Hills Rod and Custom, Specialty Suspension, Auburn Gear, QA1, House of Kolor, VIAIR, Canadian Energy, Boyd Autobody and Glass, Image Dynamics, One Piece Products Glass and Intro wheels. I also want to thank Kevin Aguilar and Street Trucks for the opportunity for this feature."
Editor's Note: A version of this article first appeared in the May 2016 print issue of Street Trucks.
Truck Specs:
Owner
Brad McKinnon
1969 Chevy K-5/C-10 hybrid Victoria, BC, Canada Relaxed Atmosphere
Engine
3L LS mated with a 4L60E trans
Doug Thorley LS swap 1 7⁄8-inch headers
Doug Thorley custom exhaust and mufflers
Edelbrock cold air Intake
Painless Performance LS1 conversion Harness
Stock Retro 283 valve covers pinstriped by Malex
Taylor Vertex Spacer Max valve cover risers
Flex-a-lite custom-fit LS conversion radiator and cooling fans
Lokar floor shifter
Porterbuilt Fab motor mounts
Chevy 12-bolt narrowed rearend with Auburn posi
Moser axles
Boyd Welding fuel cell, performed by owner
Suspension
104-inch wheelbase
Front: Porterbuilt Version 6 Dropmember with Airlift Dominator airbags
Rear: Porterbuilt 4×4 conversion kit with Firestone sleeve airbags
Porterbuilt 1-inch narrowed front control arms
CPP modular dropped spindles
CPP big brake discs all around
CPP Hydra Stop booster and master cylinder
QA1 adjustable shocks
AccuAir air management system, performed by owner
Wheels & Tires
5 and 22×10 Intro Gallup
265/30/22 & 285/35/22 Toyo Proxes STII
Body & Paint
Added C-10 roof and doors to K-5 Blazer making it a unibody truck
2-inch chop top with stock windshield and back glass
LMC Truck 1967-68 hood, grille, fenders, tailgate and door handles
Grant Kustoms tailgate skin, rear roll pan and stretched front roll pan
Custom-made wood bed floor
Marquez Design one-piece LED taillights
One Piece Products side glass
L. Laurence rear power slider window
Shaved tailgate handle modified for quick release
United Pacific LED headlights
Hills Rod and Custom front wheel tubs
Bead rolled engine and radiator support cover by Josh Jones
House of Kolor Cobalt Kandy Blue, performed by owner