A Powered-Up '79 Jimmy in a Sea of C10s
THERE ARE PEOPLE WHO enjoy trucks, even people who collect trucks, but if you ever have the chance to meet Todd Carpenter, you will realize he is in a category of his own.
Todd lives in a Nebraska town called Grand Island. Without getting into the irony of a town in a landlocked state having "island" in its name, let's focus on the facts. Grand Island has a population of 51,390 people as of 2018. Though we do not have the official numbers, we would bet money that Todd and the Big Fish Garage crew own more K5s, C10s and like-era trucks on their own than the rest of the population there combined. Owning everything from perfect stock rare editions to modified lifted and lowered ones, Todd and his sea of C10s at the garage will keep any truck lover drooling for a few days with ease. We will not disclose the actual number of trucks located in the Big Fish ocean but trust us … they win.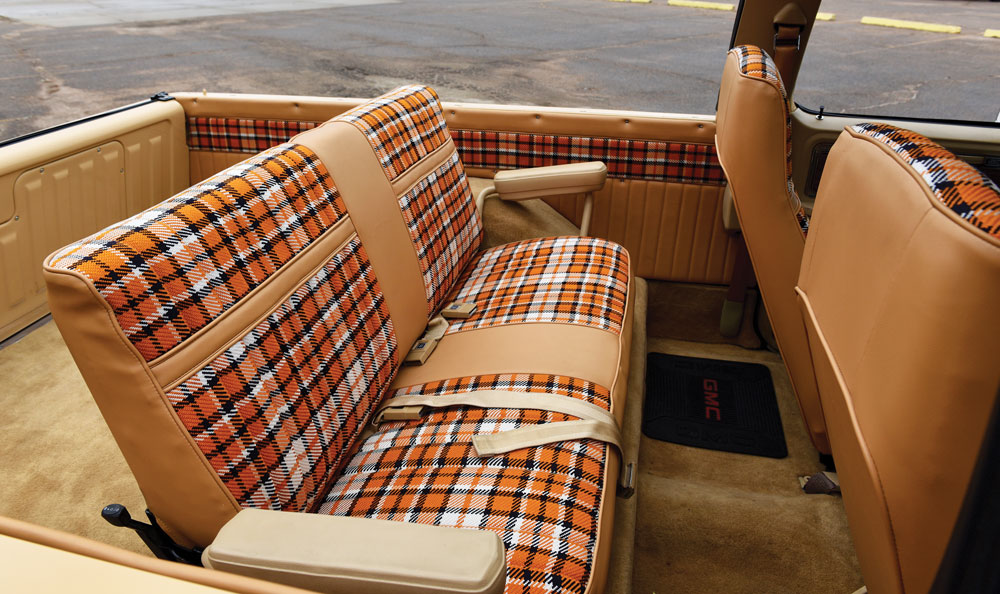 When it comes to the back story of why Todd built this '79 Jimmy, it is pretty simple really. He had always wanted to build a fun-to-drive, lowered Jimmy with Desert Fox stripes, so he did. It just so happens that he happened to do an incredibly thorough job of doing so, which we have all come to expect from him at this point in time.
Todd and his sea of C10s at the garage will keep any truck lover drooling for a few days with ease. We will not disclose the actual number of trucks located in the Big Fish ocean but trust us … they win.
This late '70s Jimmy has lots of timeless bits and pieces that could not be more ideal, but in a few areas, there was room for a little improvement—the main ones being the motor and drivetrain. The 305 stock-option engine was great for its time, but let's be honest for a second: Who doesn't want more power? Todd chose a 5.7 LS2 V-8, and it's safe to say there's no lack of power or reliability in the classic GMC now. Helping put the power to the wheels is a 4L60E automatic with a performance shift kit and Auburn posi rear axle. Between all of that and a stack of other parts, it puts down significant power and sounds incredible through its Flowmaster exhaust.
Todd, who is not always opposed to stock suspension trucks, made the decision that this topless beauty would not be left that way. There is a time and place for mods—and that time and place was here and now. Setting the chassis up with power stop front and rear brakes to slow down that built LS motor, the frame was C-notched and equipped with a four-link suspension. Along with other parts from Belltech, Porterbuilt, Ride Tech and select others, Big Fish Garage put together quite the setup. When you can cruise and abuse a 40-yearold truck that is inches off the ground, and it rides smoother than stock, you know you are doing something right.
To ensure the ideal look to match the Buckskin paint and perfect era-correct Low Sierra Company graphics, the interior had to be every bit as perfect as the exterior. Packing Dakota Digital Syndicate Series gauges and a set of Highlander orange plaid front buckets with matching bench seat in the rear really made the orange in the body's graphic pop. Todd chose to add in a retro sound deck with kicker speakers for the hours on the road he drives the Jimmy; no trailer queen here. The GMC has been driven hard all over the country and put away wet— literally and figuratively. Long story short, we can sum it up by a trip across the country in the topless Jimmy in all weather… honestly it's refreshing to see someone take it to that level.
There may be future plans for air suspension in this Jimmy's future but until then, make sure you keep an eye out for Todd and any of the other Big Fish Garage crew at shows across the Midwest, or buying all the C10s out a town near you. One of the things we liked most from getting to know Todd was something he said:
"If you build it and take it to shows, you will meet a bunch of great people …"
We agree with you Todd. You are one of those people. If any of our readers are out there driving through Grand Island, be sure to track down Carpenter and bribe him with some Busch Light to see his collection of C10 greatness.
---
OWNER
TODD CARPENTER 1979 GMC Jimmy Grand Island, Nebraska
Club: C10 Club
Cost: $35,000
Time Spent: Eight months
Reason for building: Wanted to build a GMC Jimmy with Desert Fox Stripes
CHASSIS
Power stop front and rear brakes
C-notch four-link
106.5-inch wheelbase
Porterbuilt front control arms
AGR performance series steering box
Ride Tech muscle bar
FRONT SUSPENSION 
Belltech front springs
Fox shocks
REAR SUSPENSION
Ride Tech rear springs
Fox shocks
Shop: Big Fish Garage
ENGINE:
2003 5.7 LS2 V-8
Custom engine mounts, fans and controllers
BTR3 camshaft stage 3
.553 Lift w/ 218-224 duration
BTR springs
ICT billet intake manifold
Slosh Tubz fender tubs
EXHAUST
Speed engineering headers
Flowmaster 40 Series X-pipe 2.5-inch dual exit
TRANSMISSION
2003 4L60E automatic
Performance shift kit
Monster Converter w/ 2800 stall speed
Auburn Posi rear axle w/ 4.10 ratios
WHEELS
U.S. Mags Sierra Polished lips w/ Silver powder coated centers
Front: 20×9-inch tires: Toyo Proxies 315-35-20
Rear: 20×10-inch tires: Toyo Proxies 315-35-20
PAINT
PPG Buckskin paint
Low Sierra Company graphics
Shop: Paint by Dhillion Buhrman Graphics by Channing Stutzman
INTERIOR
Dakota Digital Syndicate Series gauges
OEM Highlander seats
Highlander orange plaid
Tan carpet kit Shop: Big Larry
STEREO
Retro sound deck
Kicker 6.5-inch speakers in the kick panels
Kicker 6×9-inch speakers in the rear panels
Shop: Big Fish Garage