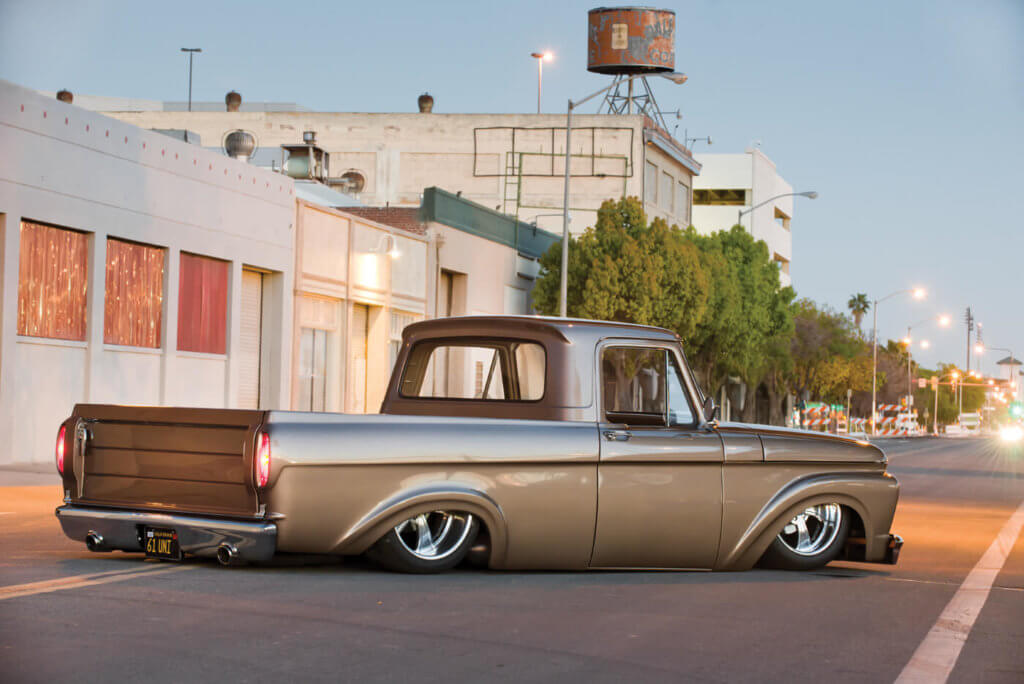 Jeff Stamps was just like the rest of us: He just wanted a cool truck to cruise around town and to the occasional show. But, again, just like the rest of us, other things got in the way. Pesky things like bills, a house payment and life in general were all keeping Jeff from diving right into a project, but he kept his head up and persevered.
Once Jeff had his ducks in a row and had saved up a decent stack of pennies, the search was on for the perfect truck to build. His original plan was to pick up a 1962-65 Chevy C-10, but because they've become increasingly popular he started looking at alternatives. Jeff let us in on his rationale for redirecting his search, "I realized that [C-10s] were everywhere, so I decided to do something different."
It wasn't too long before Jeff was at a local repair shop tending to some other business and saw something peeking out from behind the building partially masked by a ton of weeds. As luck would have it, it was a '61 Ford F-100. In the world of custom trucks, that definitely qualifies as different. When asked about its condition, Jeff shared, "It was hiding under a pile of junk. I could see enough to be able to tell that it was a complete body and it was a short-bed, so I made an offer. It had no interior, dash or drivetrain. I paid $700, dragged it out and ended up towing it home."
With a very specific to-do list, Jeff visited Shane McMullen of Grossi's Speed & Fab to get the ball rolling on his newfound Ford. Shane has a reputation for turning out high-quality builds, so Jeff knew he'd be the perfect guy to handle the chassis and body modifications on the truck. While the chassis retains some of its original metal, the majority of it is purely custom, as would be expected with a truck this low. The front section has been Z'd to raise the aftermarket Mustang II front suspension, which has been set up with drop spindles and airbags. The rear received a step notch, custom trailing arms, a Watts link and another pair of airbags.
Since Jeff had initially planned on building a Chevy, he had to make some adjustments, but one of the original ideas that stayed the course was the use of a GM LS-based power plant. Yes, Jeff decided on a 5.3L Vortec engine to make his F-100 fly, with a 4L60E taking care of shifting duties and turning the narrowed 9-inch rearend. The engine remains stock for maximum reliability, but does feature a custom dual air intake made by Shane at Grossi's.
The truck was starting to take shape, but there was a lot more work to be done before Jeff would be content. For one, the fresh 20-inch Intro Ram wheels needed a lot more room to roam, so the front and rear wheel wells were cut out and replaced with custom, raised units. Beautiful bead-rolled sheet metal was also fabricated and installed throughout the engine bay and bed for even more amazing detail.
The rest of the body was smoothed out and prepped by Russell Zulim and Jimmy Teague at Double Z Hot Rods, who knocked it out of the park with their amazing bodywork and paint skills. Before the truck left Double Z, it was sporting a fresh finish in Austin Tan Pearl, which is a newer Ram truck color. Yeah, a Ford truck with a Chevy engine and a Dodge paint job; this truck is definitely unique.
Inside, the efforts of Kodey Wells of Wells Upholstery are nothing short of spectacular, with a customized 1965 Ford Galaxie 500 bench taking center stage. Another nice touch is the pleated headliner, which matches the seat and sculpted door panes perfectly. New brightwork comes courtesy of LMC Truck, and a Dakota Digital gauge cluster monitors vitals.
In short, Jeff wanted a short, low and fast truck, and of course he got just that. The added bonuses, however, have far exceeded his expectations. Jeff has found a lot of new Ford buddies and enjoys having one of the most unique rides in his hometown of Fresno, California. As Jeff explained, "I never realized I was going to join the Ford team, but I'm glad I did. There are not a lot of amazing Ford head-turners out there from the '60s, but I believe I now own one." We have to agree.
OWNER
Jeff Stamps
1961 Ford F-100
Fresno, CA
Hot Rod Coalition
ENGINE & TRANSMISSION
2010 5.3L GM Vortec engine
Aluminum radiator with electric fans
Custom Grossi's air intake
Custom Grossi's headers
Custom Grossi's exhaust
Painted engine covers
2010 GM 4L60E transmission
Lokar shifter
Custom two-piece driveshaft
Custom Grossi's aluminum fuel cell
CHASSIS & SUSPENSION
Work performed by Grossi's Speed & Fab
Frame Z'd
Mustang II front end with tubular arms
Drop spindles
SSBC front disc brakes
SSBC brake booster/master cylinder
Step notch in rear
Custom trailing arms with Watts link
Slam Specialties airbags front and rear
KYB shocks
Accuair air ride management system
Narrowed rearend
WHEELS & TIRES
20×8 and 20×10 Intro Wheels Ram
245/55R20 and 265/55R20 Pirelli tires
BODY & PAINT
Work performed by Grossi's Speed & Fab and Double Z Hot Rods
Shaved fuel filler door
Shaved tailgate
Front and rear roll pans behind rechromed bumpers
Front and rear wheel tubs
Bead-rolled engine compartment panels and bed panels
Woodshed custom mahogany bed kit
Austin Tan Pearl paint from BASF
INTERIOR
Work performed by Wells Upholstery
Customized '65 Ford Galaxie 500 bench seat
Tan carpet
Pleated headliner
Pleated and sculpted door panels
Custom kick panels and sun visors
ididit steering column
ididit Wild steering wheel
Dakota Digital gauge cluster
Special Thanks From the Owner: "I'd like to thank Shane McMullen from Grossi's Speed & Fab, Chuck McMullen, Zach Randalls, Trenton, Russell Zulim and Jimmy Teague of Double Z Hot Rods, Kodey Wells of Wells Upholstery, and my wife, Kesha, for letting me have the time and money to fulfill my dream!"
Editor's Note: A version of this article first appeared in the November 2016 print issue of Street Trucks Magazine.