BLOOD SWEAT & GEARS
Everyone is so caught up in the Cs and the Fs these days that it's rare to see a good ol' D on the road. Of course, we're talking about C-10s, F-100s and their Mopar counterpart, the D-100. It's often thought of as "the other" American pickup truck. That is until some off-center loon decides to disrupt the herd by bringing one to the party.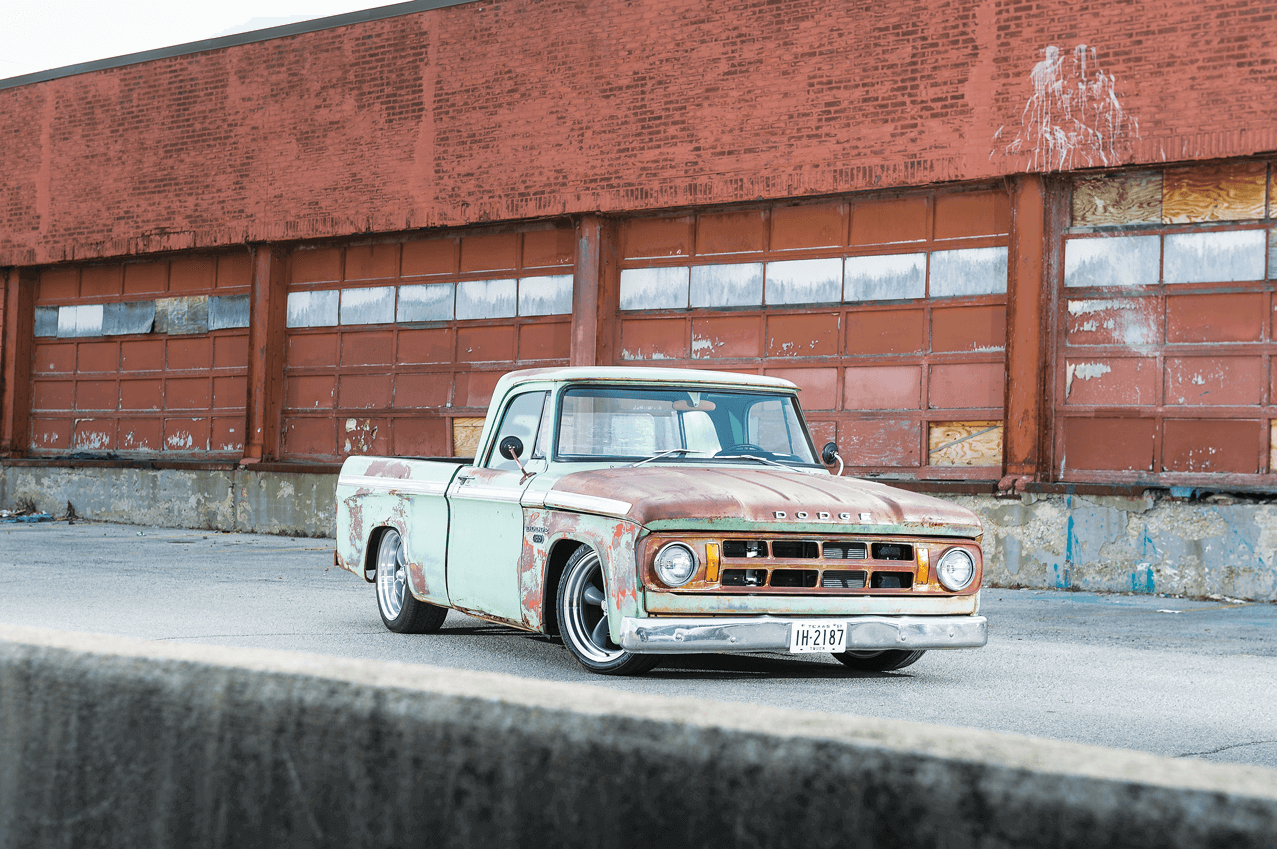 The D-100 is a great truck and claimed more than its share of innovations within the Chrysler family. The first generation models came equipped with a generator instead of an alternator, and it boasted a three-speed automatic transmission when only a two-speed auto was available for pickups less than 10 years prior. The second gen seen here is a '67, but it might throw off a few pairs of well-trained eyes with the 1968-71 grille it's been outfitted with. In the looks department, the D-100 has a style all its own, and maybe that's why its popularity doesn't even come close to rivaling classic GM and Ford pickups. Some might not think it's as slick or smooth as its cousins, but the D-100 does have a devout following, and there's nothing more enjoyable than seeing some diversity in a field of conformity.
James Bukalew is the proud owner of this here Dodge. To him, it's "weird guy who sits in the back of the class" nature is what appeals most to him. He tells us, "I've owned many types of vehicles over the years, and this one is quite honestly much different." The differences he sees are the same that most Dodge pickup fanatics are drawn to as well: Their appearance and scarcity are what keeps fans intrigued. It's like belonging to some sort of outcasts club or something, and the way James found himself gaining acceptance into the club is the way most of the others got in: by buying a truck from one of the existing members. "I got the truck from my friend J.D. Terry. He already had some modifications done to it, so he was familiar with it. He offered to keep going after he handed over the keys."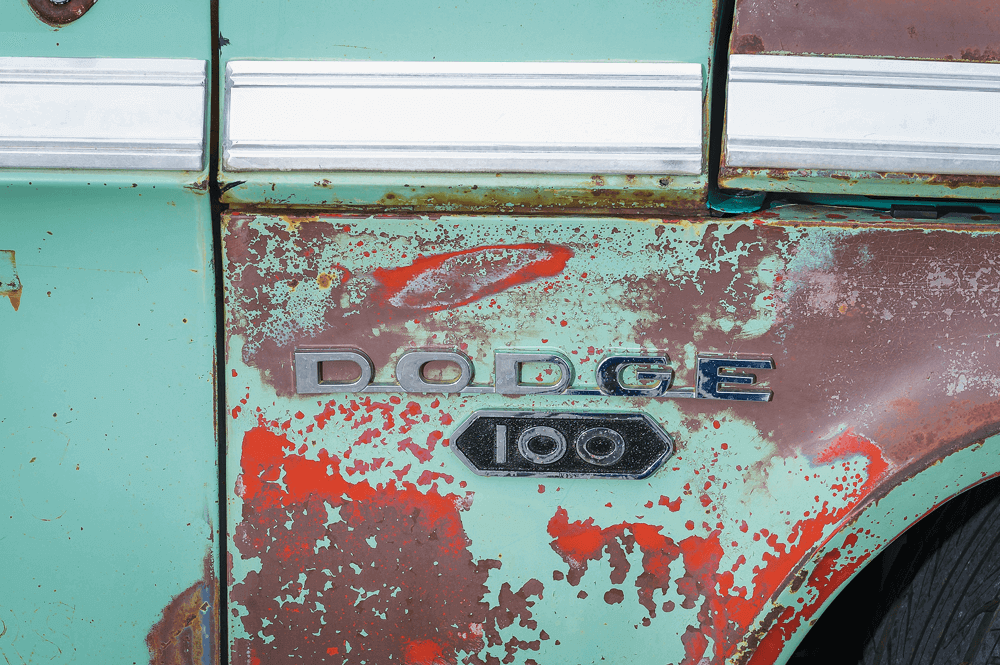 Back when J.D. owned the truck, he slammed the suspension a good 6 inches up front and just about 8 in the rear. Of course, tracking down lowering components built specifically for a '67 D-100 might prove a little difficult, which is one of the reasons the truck has been built on top of a Dodge Dakota frame. That's not to say that finding drop kits for Dakotas is much easier, but the parts are out there for anyone determined enough to look for them. The resulting stance suits the truck perfectly, and the 20-inch Torque Thrust wheels are just as timeless as the truck itself.
The frame wasn't the only transplanted component to assist in keeping the Dodge truckin' into the new century. An LT1 engine was brought in to offer a more reliable and stronger power plant to the mix, as was an accompanying GM 700r4 auto transmission. Yeah, these Dodge guys are all about being different, but there's no arguing the benefits of sticking with a tried-and-true (not to mention modern) alternative to replacing a tired, old engine. "The combination of the Dakota frame and the LT1 really makes this truck run and ride like an absolute dream," James says happily.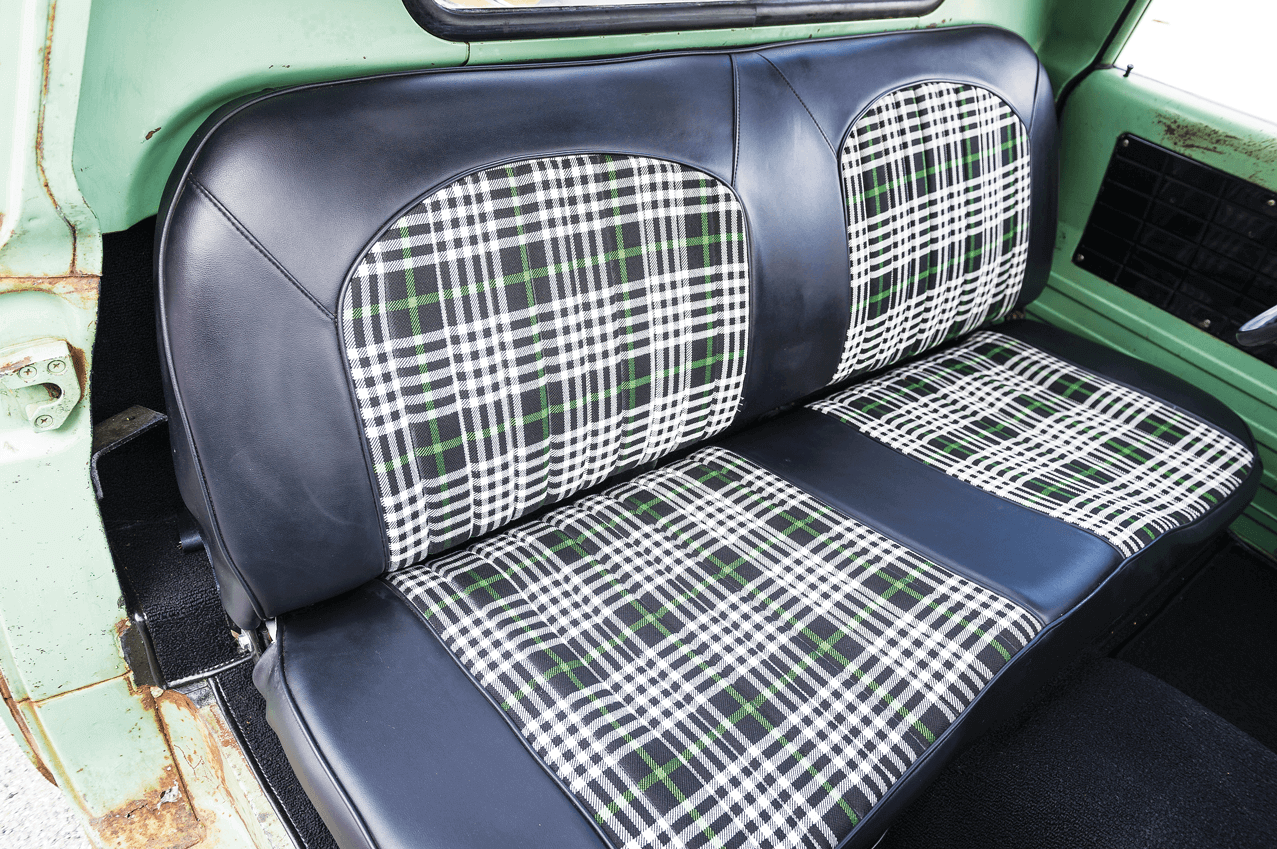 When it came time to decide what to do with the weathered exterior, James and J.D. concluded that "as-is" would be way better than any "what-if" scenarios they could come up with. It would be tough to cover up 39 years worth of authenticity. Aside from a few hard-to-find badges and parts and a really sweet bed wood kit from MAR-K, the D-100 maintains the look of a work truck its age, a little bit beaten, but definitely not beat. Including factory components in better condition goes a long way when attempting preservation rather than following a trend. "J.D. worked exclusively on this truck after I bought it from him. He fine-tuned almost every aspect of it, and I'll always have him to thank for building it just the way I wanted it to be."
James' pal J.D. did more than could be expected of any ex-owner, but it was definitely a labor of love. Even with all of the work he did, from the engine to sniffing out old factory parts and swapping out the entire chassis, his crowning achievement might be as simple as a shifter. Not just any shifter—an ultra-rare factory D-100 dash-mounted shifter. It's just one of those things only a Dodge aficionado could truly appreciate, but this is just what the guys were gunning for. Don't read this the wrong way; the Dakota Digital gauges and reupholstered bench seat do their part in cleaning up the cab, but it's the rarer pieces that accentuate the unique pickup to the degree that true purists strive for.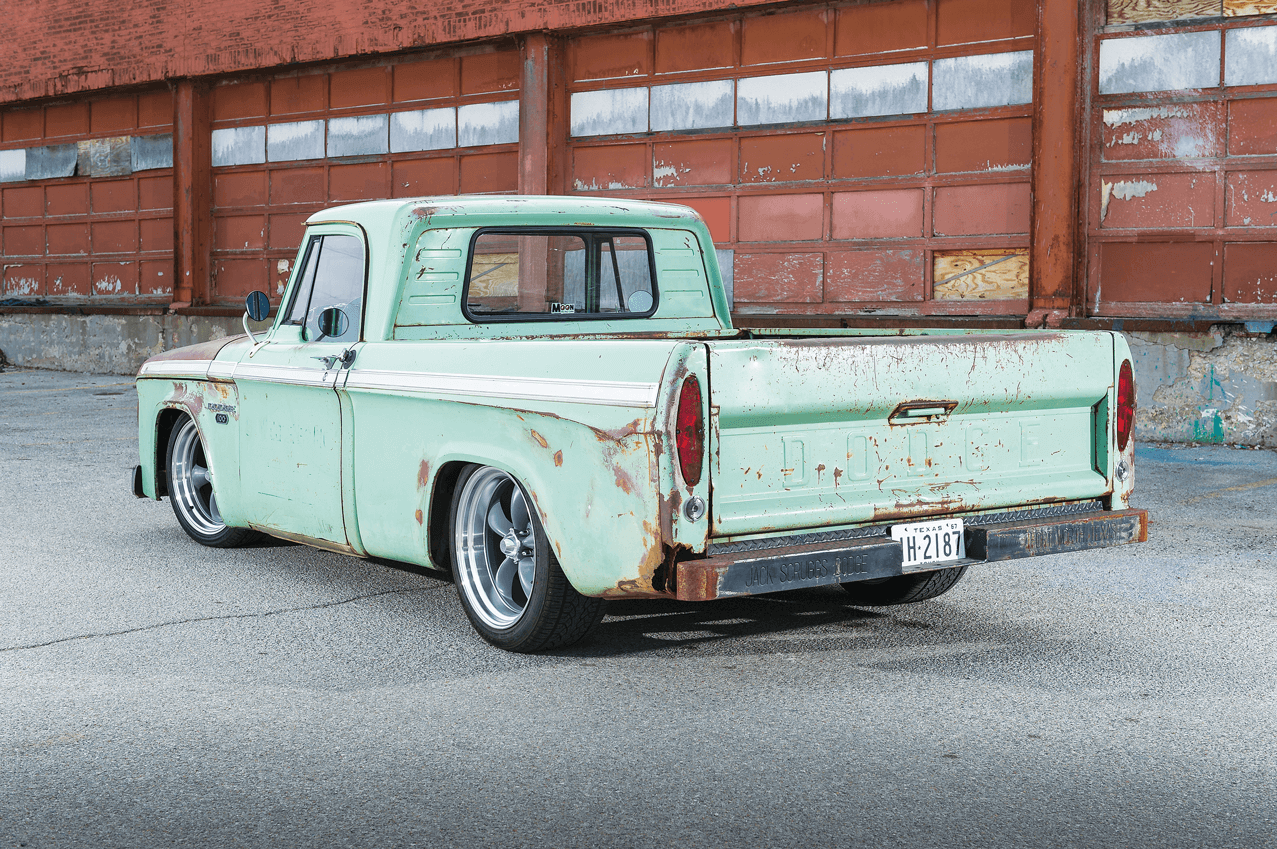 "I've been around cars my entire life," James says. "I don't have a favorite manufacturer. I like them all, from foreign, domestic, slow, lowered and lifted. I grew up drag racing with my dad, so that's where I first began to respect the process of customization." James might not be able to pin down where his exact allegiances lie, but he certainly does have a taste for the unusual, and his latest project deserves its time in the spotlight. ST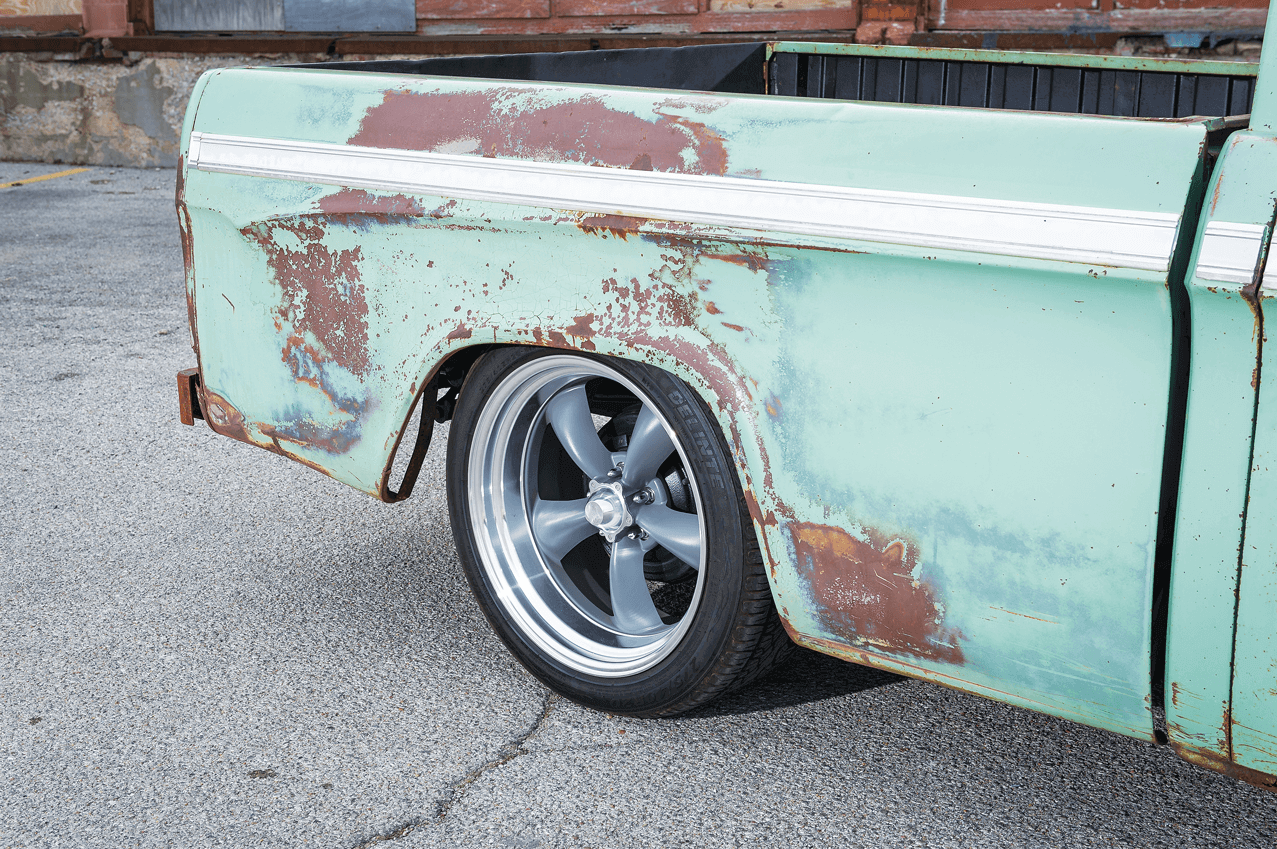 OWNER
James Buckalew
1967 Dodge D-100
Austin, TX
ENGINE
1993-94 Chevy LT1
700r4 transmission
300 hp
All GM engine components
Electric cooling fans
Custom air intake
K&N air intake
Flowmaster muffler
3-inch exhaust system
CHASSIS & SUSPENSION
Shop: J.D.'s Place
Dodge Dakota chassis
Front lowering springs
Rear blocks and shackles relocated
Gas shocks all around
Front disc brakes, rear drums
WHEELS & TIRES
20-inch American Racing Torque Thrust wheels
245/35/20 and 275/40/20 Yokohama tires
BODY & PAINT
Shop: J.D.'s Place §§ Original factory paint
Stock front and rear bumpers, door handles, grille and taillights
Gas filler relocated
MAR-K ash wood bed floor with hidden hardware and polished stainless bed strips
INTERIOR & STEREO
Shop: J.D.'s Place and Eli at Easy Trim, Oklahoma City
Custom upholstery on bench seat
D-100 dash shifter
Dakota Digital gauges