Live and Direct From the Motor City
There's something to be said about a dude who strives to be different. Maybe it's some sort of instinctual drive that steers a guy away from the pack, or maybe it's a combination of that with pride and a genuine taste for flavors that aren't on the menu. Whatever the case may be, there's usually a great deal to be learned by observing said individual's outside-of-the-box process.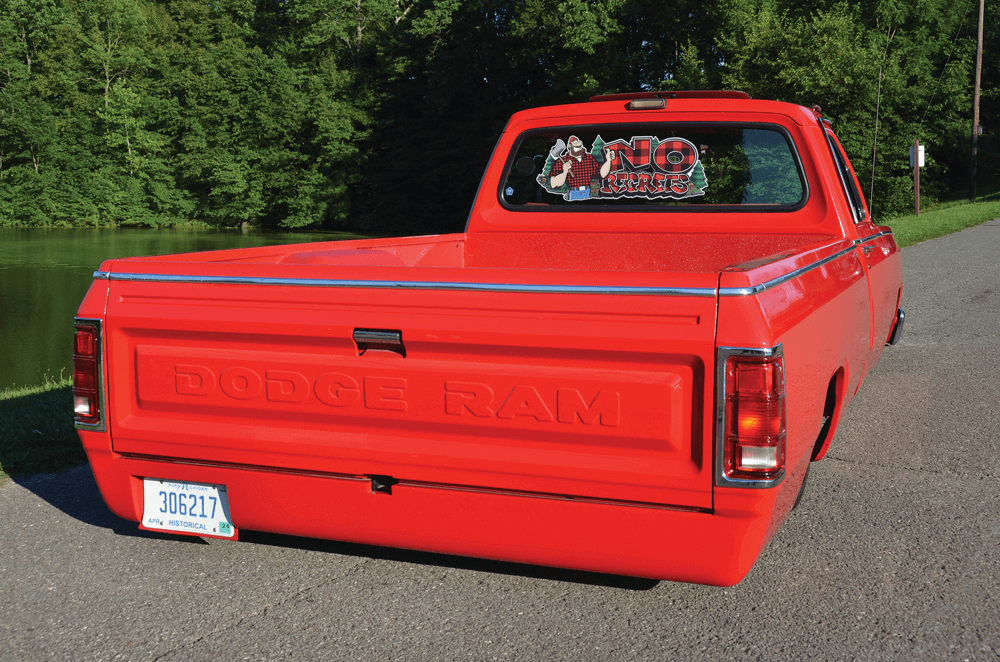 Some of these outsiders are proud to let their freak flag fly; others, however, prefer to conceal their differences. In the matter of Julian Heinrich—a guy who obviously marches to the beat of his own bongo drum—it's safe to say that he's a nut through and through. Now, there is not one ounce of slanderous intent behind that statement, so before any of his aunts write in to complain about any so-called bullying, just hear me out. The man's a sweetheart, he really is, but he'd be quick to admit to and embrace every bit of his quirky nature. Let me put it this way: He's the type of guy to obsess over and piece together a Dodge when the rest of the world is building Chevys using readily accessible parts from mail-order catalogs. There's no doubt about it, the guy's a loon.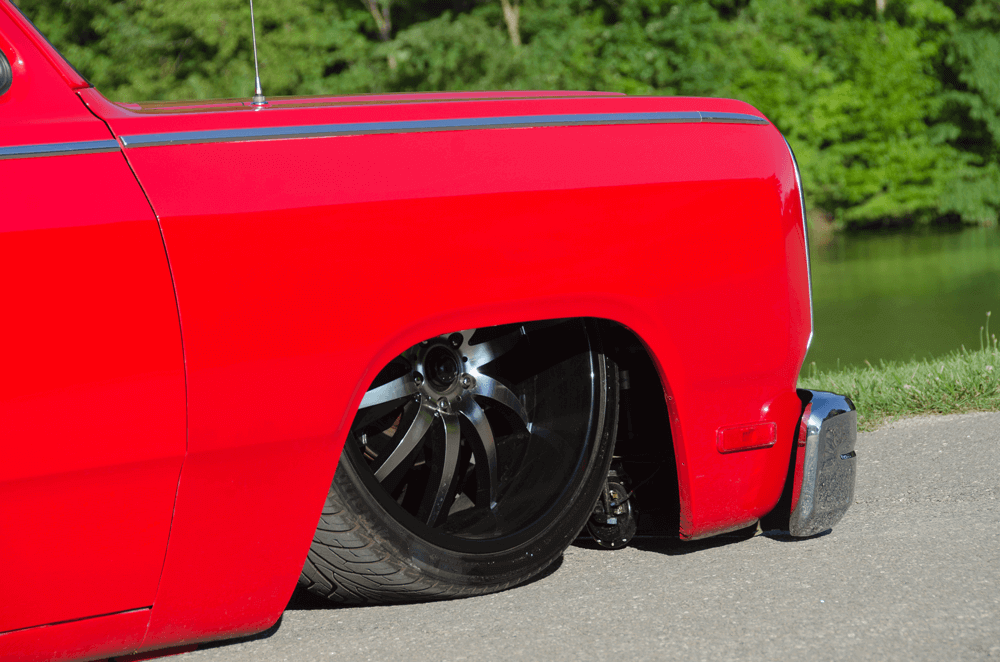 But once you get to know Julian, and understand what makes him tick, you'll find that he isn't nearly as out there as he might seem on the surface. He's had his eye on a particular Dodge D-150 since high school, and he patiently waited and played each of his cards just right until he finally seized the opportunity to own it. "This truck was my buddy's truck back when we were in high school," he says. "I acquired it in a trade for labor, but I've wanted to build it since way back when we were younger."
When Julian finally got his hands on the Dodge, he experienced a feeling that was more than a decade in the making and worth every day he had to wait. The truck was sitting behind a marine performance shop waiting for someone to give it another shot. But even though he had been interested in the truck for the better part of his adult life, he has a much deeper connection to it than that. "The truck was built at the Dodge City plant [8 Mile], and I grew up just 10 miles north of that plant. It has lived in the Detroit Metro region its whole life." When you think about it, the truck is only a year older than Julian is, and the two have been exposed to each other's charms for a good chunk of their respective lives. It was only a matter of time before some kind of cosmic force aligned to speed up their inevitable union.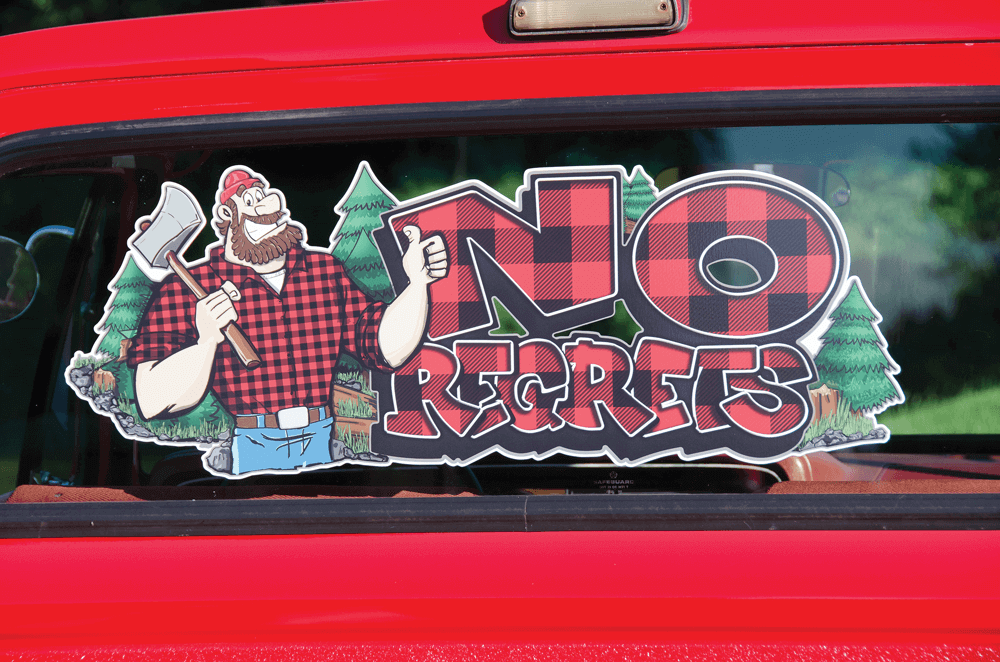 I JUST DON'T LIKE BEING LIKE EVERYONE ELSE. IF I WANTED IT EASY, I'D BUILD A CHEVY, BUT WHERE IS THE FUN IN THAT?"
Before he waded too far into the deep end with the project, Julian knew that he'd have to rely heavily on his resourcefulness and willingness to hunt and gather to get all of the parts he'd need. "I started the major part of the build-up phase once the time was 'right'—smack in the middle of a sea of Chevy trucks also being built. I put so much effort into the Dodge for a couple reasons really. I mainly wanted to show my ability and genuine love for old Mopar vehicles, but at the same time, I really wanted to create a classic truck that was different and didn't have any Chevy parts underneath it."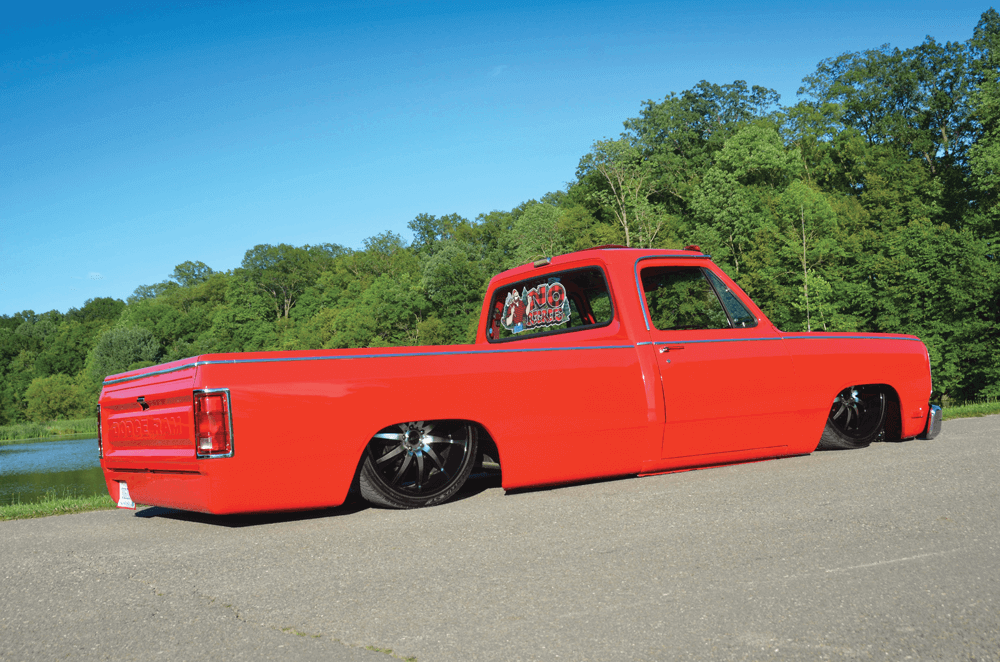 In all honesty, Julian did have to bend his own rules a bit when he used a GM master cylinder. No big deal, because other than that single, solitary part, the rest of the truck is Bow Tie free. "Everything was either rebuilt or parts were tracked down from other Mopar guys in order to complete the truck, "since no parts are made for these things." Julian has successfully built a network of pals who have been able to help with the parts he needed to get his D-150 back on the road, but more importantly, to keep it there, since he's pretty fond of racking up as many miles as he can.
How does that old saying go? Work smarter, not harder. Well, you can toss that logic directly into the gutter because there's nothing wrong with an old-fashioned, dad-approved work ethic. Who's to say that you can't work hard and smart simultaneously? Those words are for the birds, and there's no question that Julian would not do one thing differently if forced to start back at the beginning. "I just don't like being like everyone else. If I wanted it easy, I'd build a Chevy, but where is the fun in that?" Bold last words, indeed. But then again, this guy is a proud weirdo, a renegade Dodge builder from Detroit—what else would you expect? ST
Owner
Julian Heinrich

1987 Dodge D-150
Rochester Hills, MI
No Regrets
Engine
Shop: Superior Machine, Ed and Justa Smith, Detroit Gearbox
1985 Dodge 360-ci Police LA block
Black machined 0.030 over
Torqueflite 727 non-lockup auto transmission
B&M stage two shift kit
Modified Lokar shifter
Turbo Action S-800 convertor
Dana/Spicer (OEM) driveshaft
Speed Pro pistons
COMP Camps XE250H camshaft and springs
Mancini Racing oil pump and pushrods
ARP/Mancini Racing hardware
Mopar Performance valves
360-ci HD water pump
Powermaster alternator
Derale Performance cooling fans
A-body car motor mounts, custom frame mounts
Hemi Race Orange and wrinkle black motor paints
Mopar Performance M1 dual plane intake, chrome valve covers
Proform air cleaner
Quick Fuel Slayer 600 carb
Gibson headers, custom Y-pipe-to-rear dump
Magnaflow Race series mufflers
 Chassis & Suspension
Modified A-arms
Dodge Dakota clip
Western Chassis spindles
High misalignment Hughes ball joints
OEM rack-and-pinion
Slam Specialties RE-7 airbags, front and RE-8 airbags, rear
Rear Michigan Metal Works parallel 4-link with watts link
Chevy master cylinder (only GM part on this truck)
Chrysler 9.25 rearend
Redrilled for 5×4.5 Dakota bolt pattern
Wheels & Tires
22×10 Helo 851 wheels
265/35R22 Hankook Ventura ST tires
Body & Paint
Shop: Murder City Modifieds, Darren Dipetta
DuPont Colorado Red
Traditional body drop
Shaved Ram's head hood mount, lower body clad trim and badges, A-body red marker lights
All trim is original stainless
Dealer-installed OE moon roof and hitch mount
OE front bumper rechromed
Grant Kustoms rear roll pan
Bed floor raised to clear frame
Gas filler in bed floor
All original (and newer) dents and dings kept as a reminder that this is still a truck
Interior & Stereo 
Original upholstery on original seats
Stock gauges with AVS digital air gauge
Joe's Racing sprint car aluminum anodized steering wheel
Stock handles rechromed
Lokar Performance Products shifter
AC blows cold
JVC head unit
NAPA battery
Special Thanks From the Owner: "Thank you to my parents for all of the support, Justa Smith for the truck and the extra set of hands during the build (not to mention his dad for helping get the engine dialed in), my club No Regrets, and lastly, everyone that kept me positive during the build and always kept me laughing."