An Oklahoma Ford build that didn't break the bank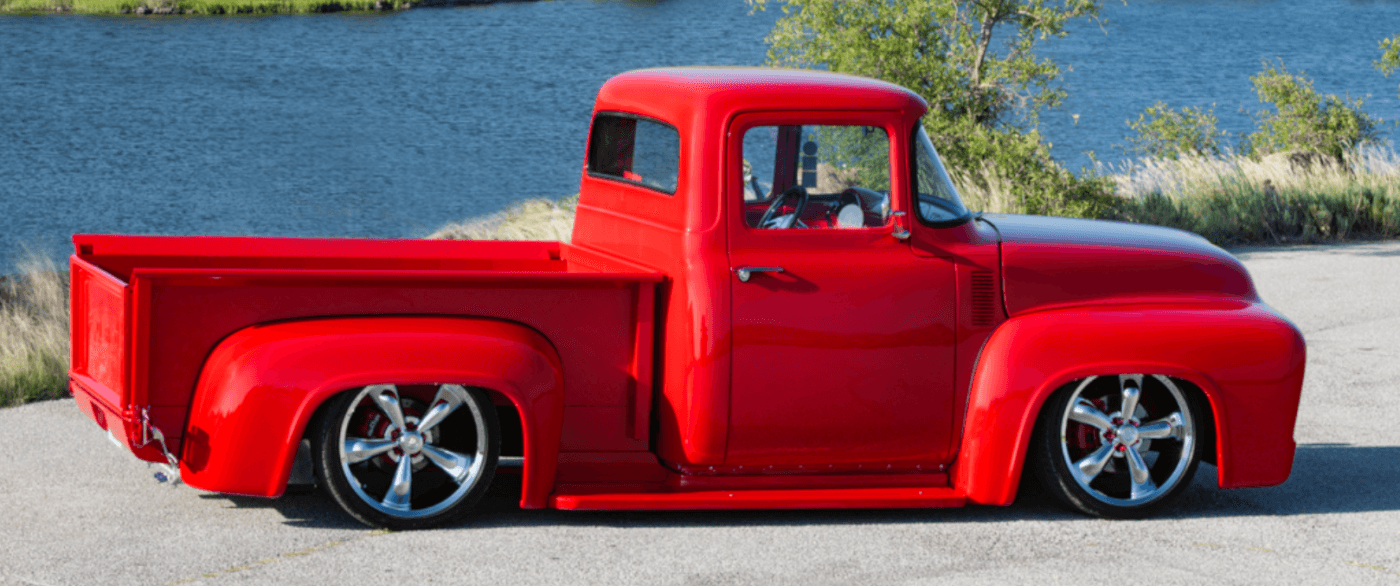 In our quest to bring readers new features each month, the staff here at Street Trucks constantly searches for stories that not only provide the best content for the magazine, but also inspire our readers.
Yes, we understand that dropping $50K-$100K on a truck build is simply not feasible for the majority of us, but when we come across two unbelievable Ford trucks from the same area in Oklahoma, it's only fitting that we show our readers the level of success you can achieve by not being afraid to take a chance on building your own truck. Simply put, these Fords are the final reward for countless hours of hard work and determination invested by two guys with DIY attitudes and endless motivation.
When we first met Addison Augusta, it was very clear that we not only shared the same passion for custom trucks, but also the desire to be the driving force behind every aspect of the builds.
Addison summed up his feelings quite simply by saying, "Just a guy who built his own trucks. To me, it seems like it's rare to find people who build their own cars anymore."
While it is true that this Ford fall somewhere within the same build budget spectrum, the road Addison took to get there was quite different. In the end, he managed to build head-turning custom truck without breaking his bank account.
Addison Augusta

1956 Ford F100
Cache, Oklahoma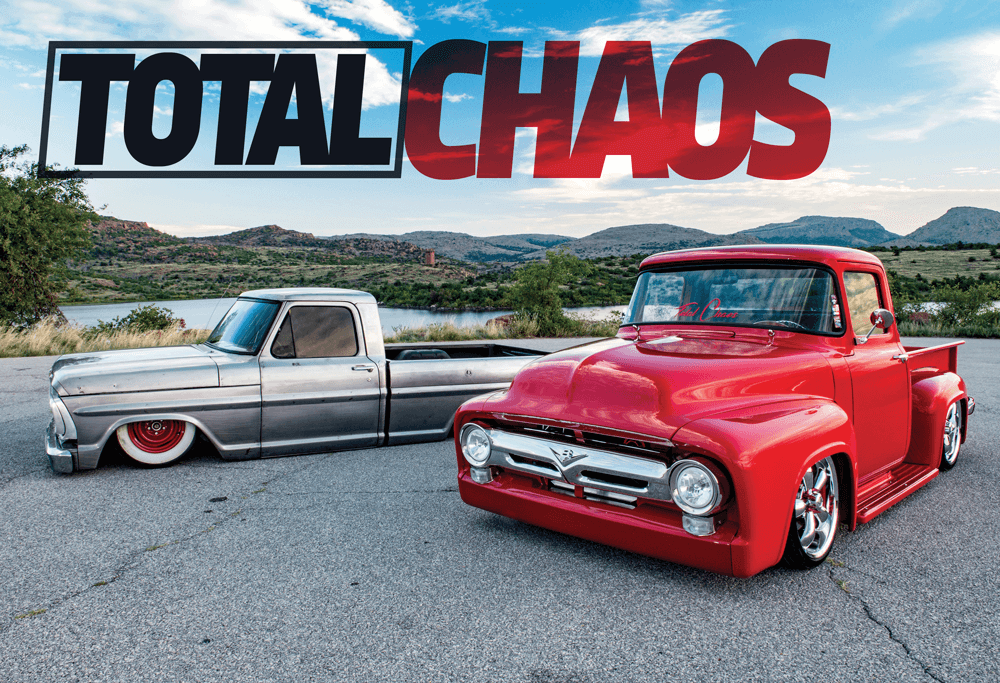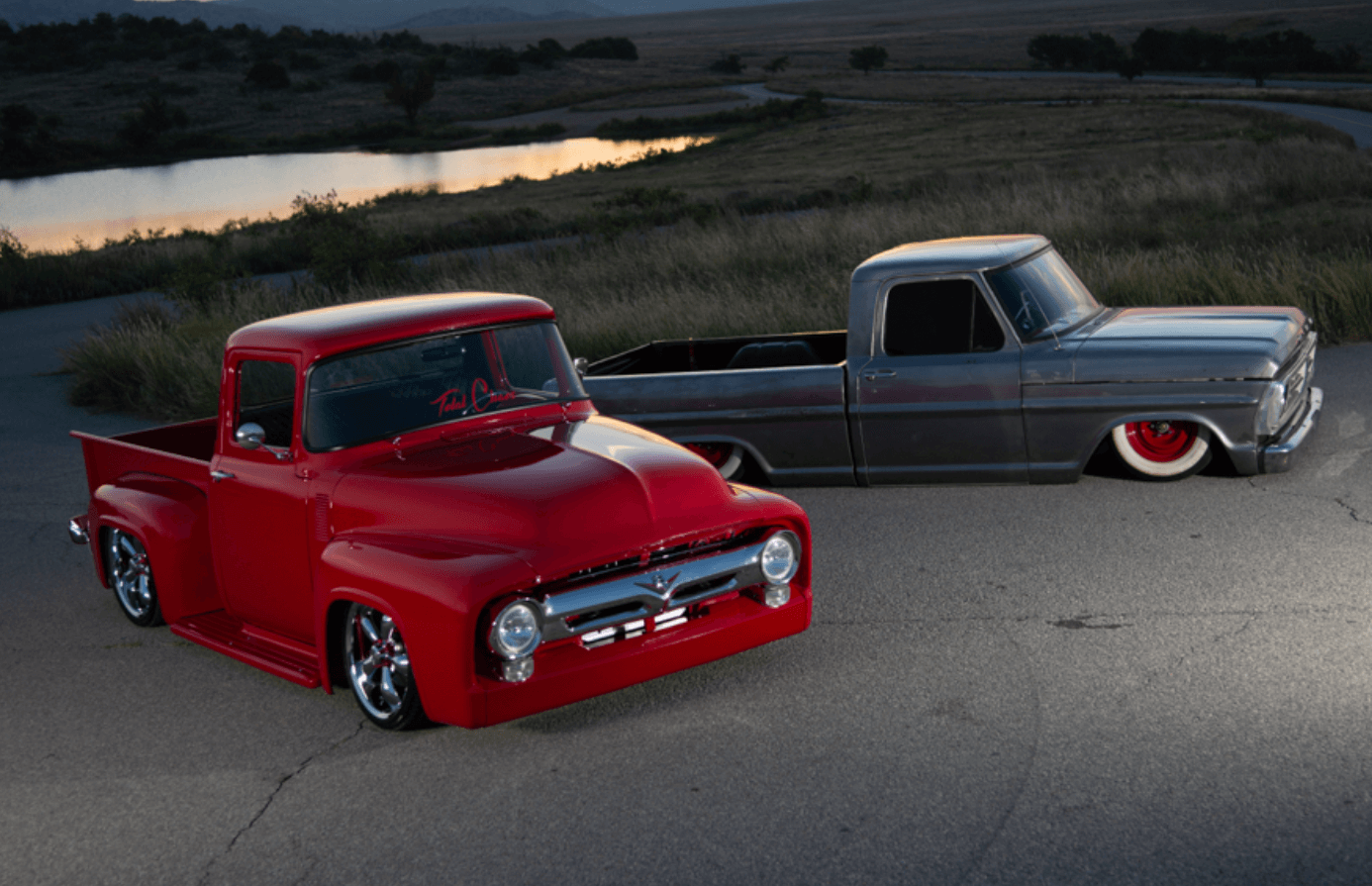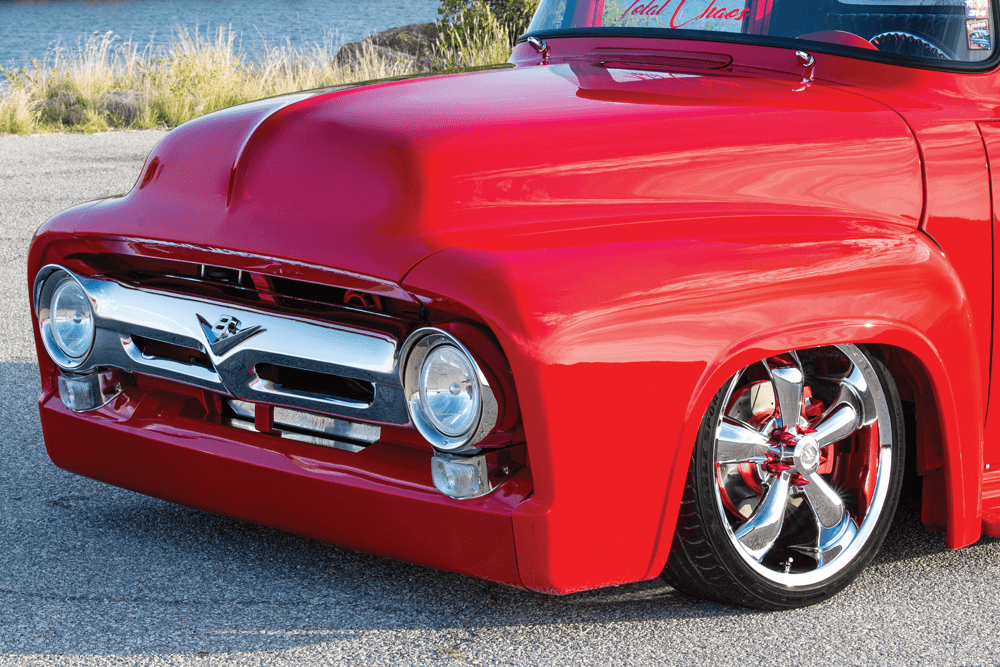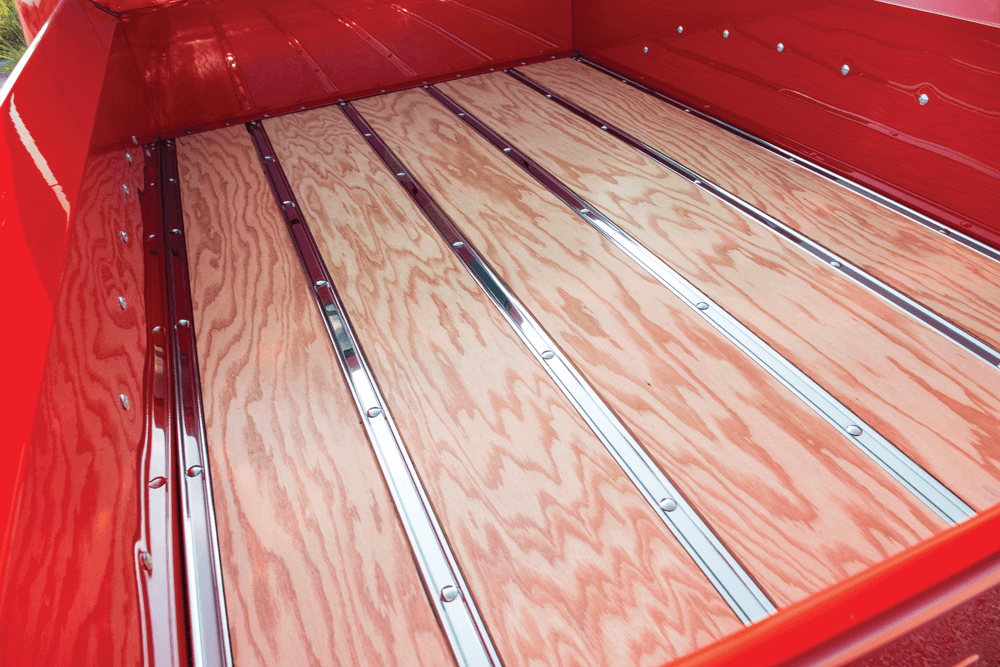 It was Sunday morning when Addison Augusta received the call that lead to a chance meeting and ultimately an offer that he would not be able to refuse.
"My mom called me to help move a China hutch that a friend was giving her," the Cache, Oklahoma, resident recounted. "I get there, and I see an Olds 442 in the driveway."
Eventually, Addison met the owner of that Olds, an older gentleman, who mentioned to Addison that he had one project too many—namely a 1956 Ford F100. He also mentioned that he had a few "extra parts" to go along with it, but there was a catch. The truck was in countless pieces and needed to be completely rebuilt.
Addison left agreeing to think it over. He wasn't necessarily "in the market" for a Ford truck, after all. But the offer seemed too good to pass up, and Addison quickly found himself returning, this time with a trailer in tow. Once they began to load the trailer things took an even better turn when the previous owner revealed that he had been stockpiling parts to restore the Ford and would even follow home Addison with his own trailer full of extras.
Without doubt, the most eye-catching feature of Addison's Ford is the bright red paint. For this he turned to Justin Byrd at Byrdman Kustomz in Lawton, Oklahoma, for assistance."
Over the next year, Addison sorted through the parts, selling the ones that didn't fit his style and buying new parts that did. He also picked up a donor 2003 Ford Crown Victoria Police Interceptor that he intended to use for the suspension and drivetrain.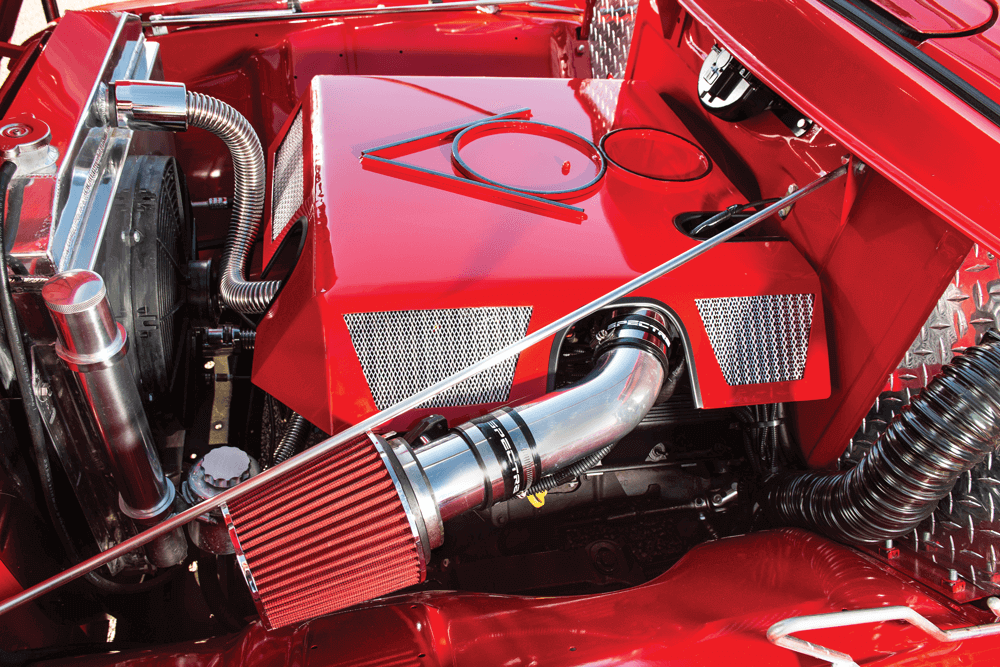 Within a year, Addison was ready to start building and turned to his own backyard to do so. "Built not bought" is not just a quirky catch phrase to Addison, but something he takes great pride in. He doesn't own a commercial shop or car bay, just a basic garage to build the truck of his dreams. He says building the majority of his own truck gave him a sense of pride.
"I did this and I am proud of it," he says, quickly adding, "At the end of the day, I guess I'm really just cheap!"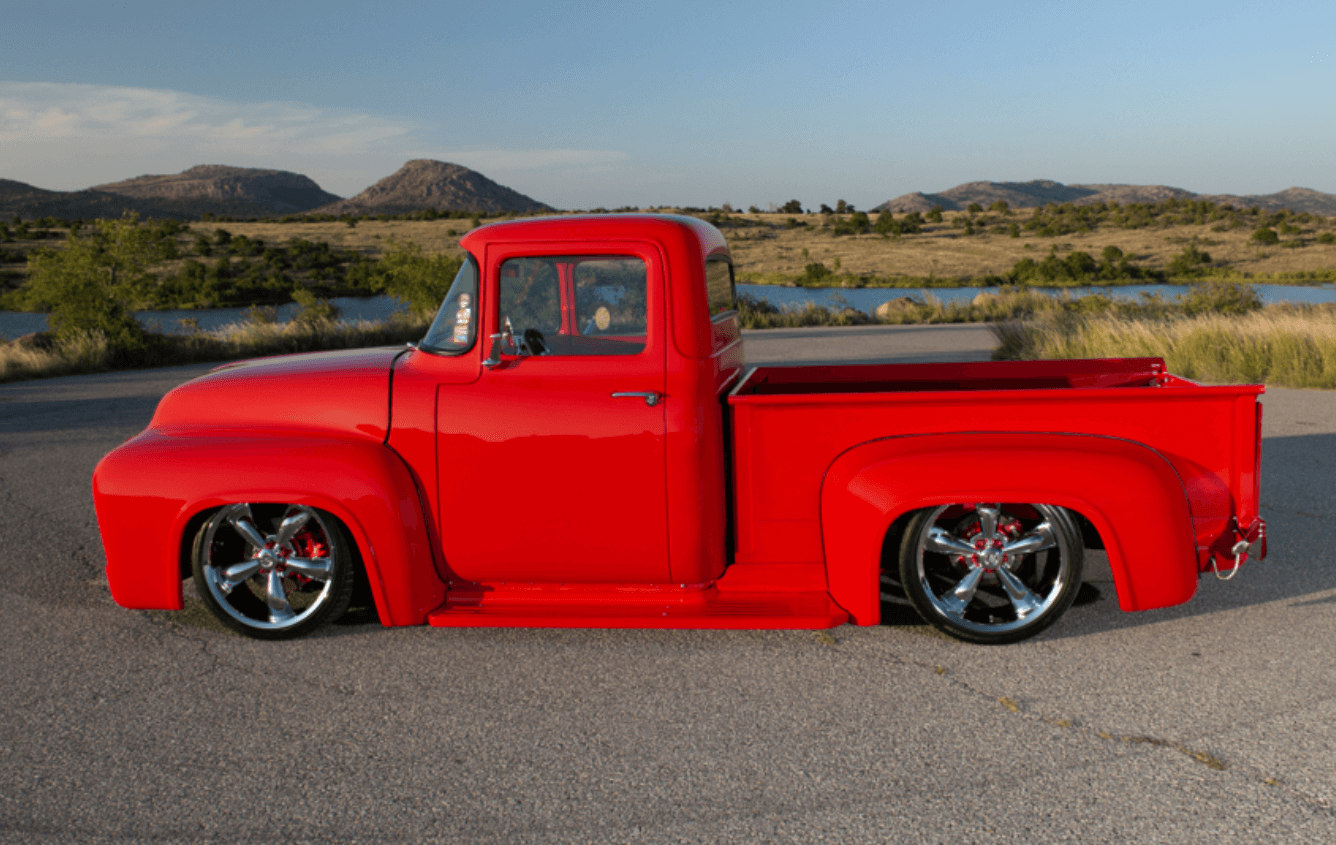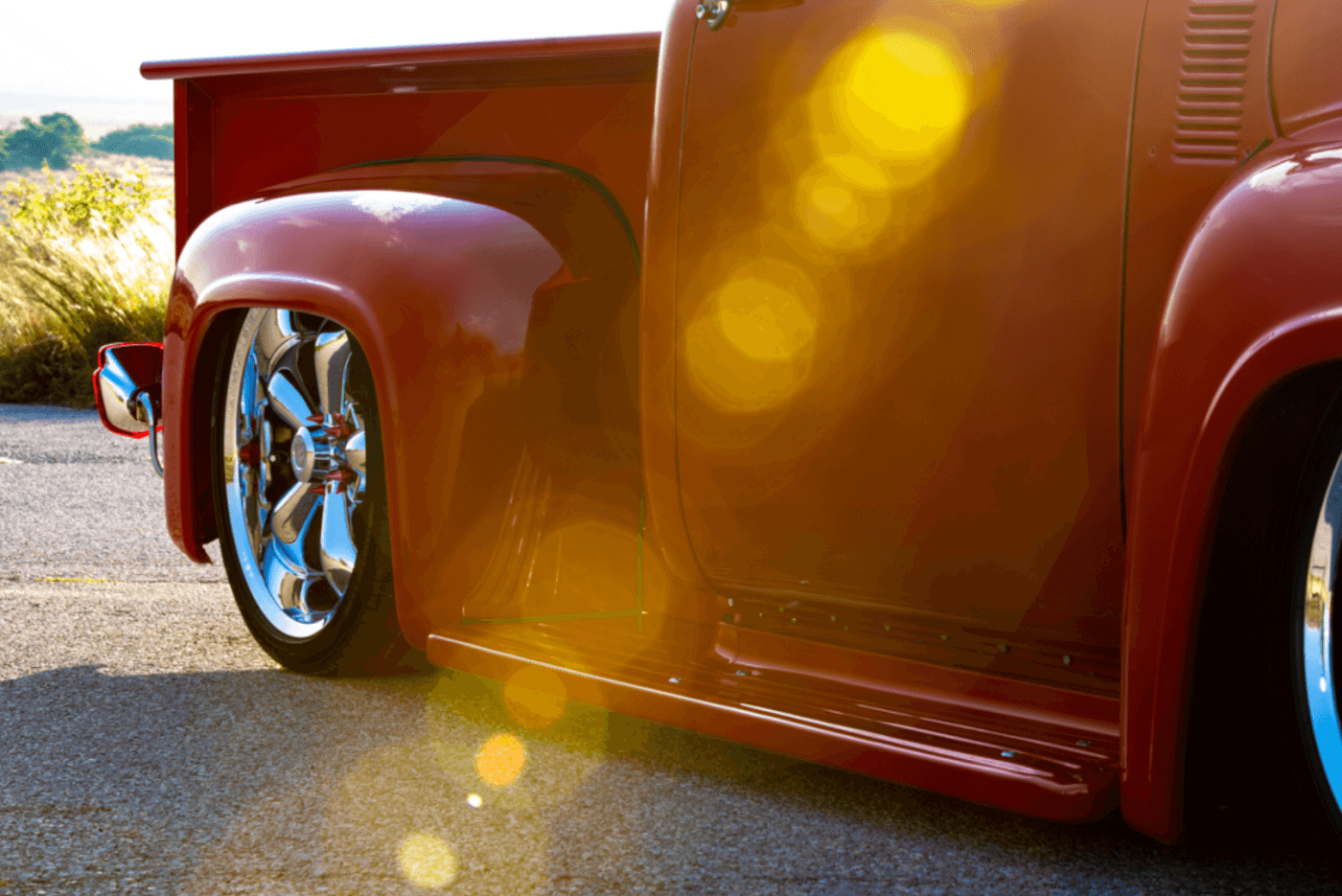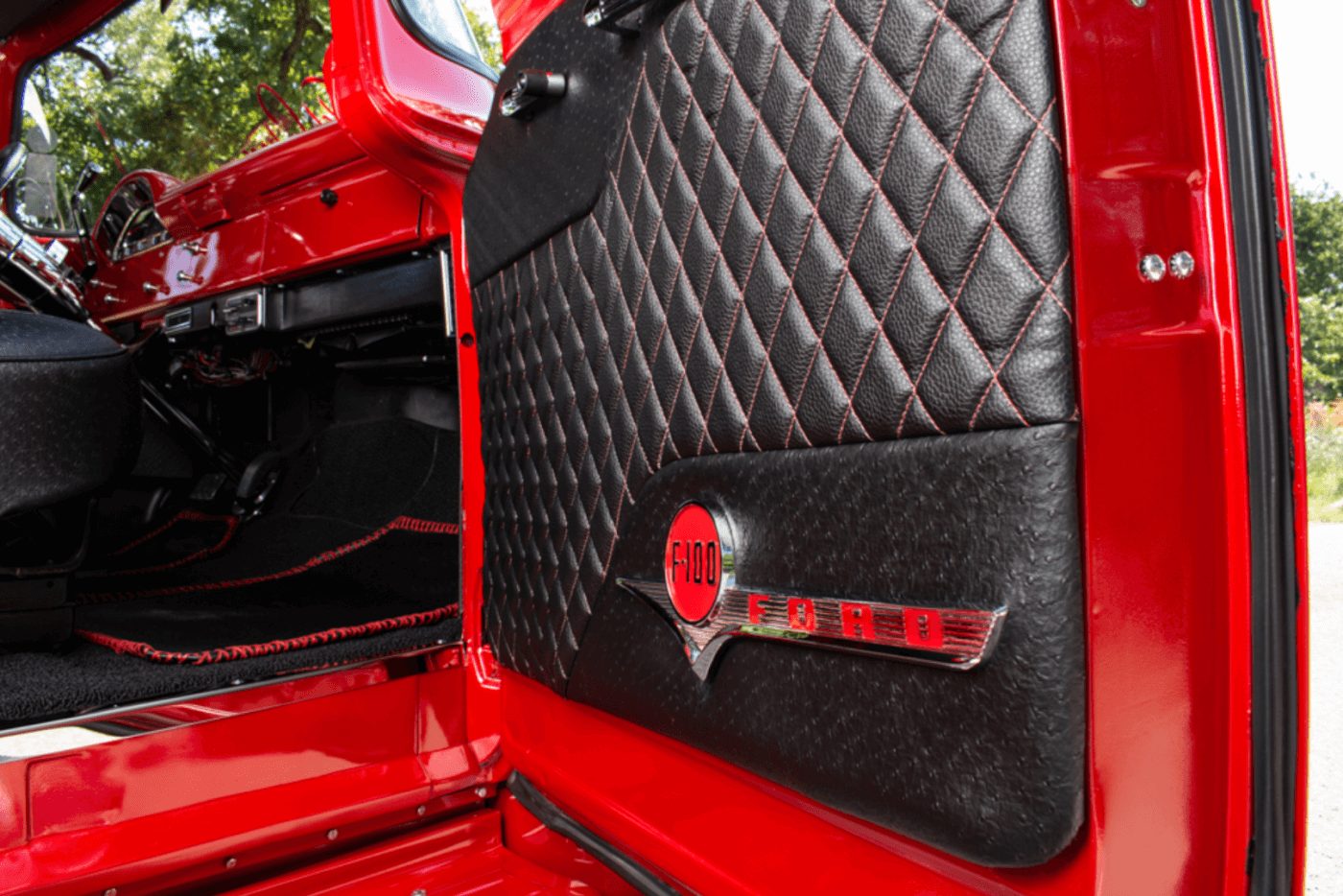 Addison tore the truck completely down to the frame, boxed in the back and cut off all of the "extras" before sandblasting. He grafted the front end from the donor Crown Victoria and used a universal triangulated 4-link on a 1997 Ford Explorer rear axle. The rebuilt and freshly repainted frame rides on RideTech Shockwave airbags with 3/8-inch Slam Specialties valves controlling the ride height. Addison then pulled the 4.6-liter engine and transmission from the Crown Victoria to prep and install. He handled the motorwork himself by refreshing and repainting it so he's sure it's reliable. The final step was to mate it back to the freshly rebuilt transmission thanks to Rick Garner's Transmission Shop.
Addison also handled the body work himself, replacing floor pans, rockers, cab corners and shaving items such as the gas tank hole, antenna, keyholes and drip rails. The original truck had a lot of rust, so he spent many hours cutting, welding and grinding. The Ford features tilt bed and forward tilt hood to help better display Addison's work and craftsmanship.
Without doubt, the most eye-catching feature of Addison's Ford is the bright red paint. For this he turned to Justin Byrd at Byrdman Kustomz in Lawton, Oklahoma, for assistance. The original idea called for a two-tone paint scheme, but after a lot of second guessing, Addison kept it simple with Race Red. Justified Details of Lawton, Oklahoma, then added ceramic coating that brought out the Race Red base to an entirely different level.
"I really think the coating makes it pop," Addison says. "When I built the truck, I built a driver. After we got the truck back from paint, it turned into a show truck."
Since entering the show circuit, Addison's Ford has managed to walk away with several "Best of" awards, including several for Best Paint.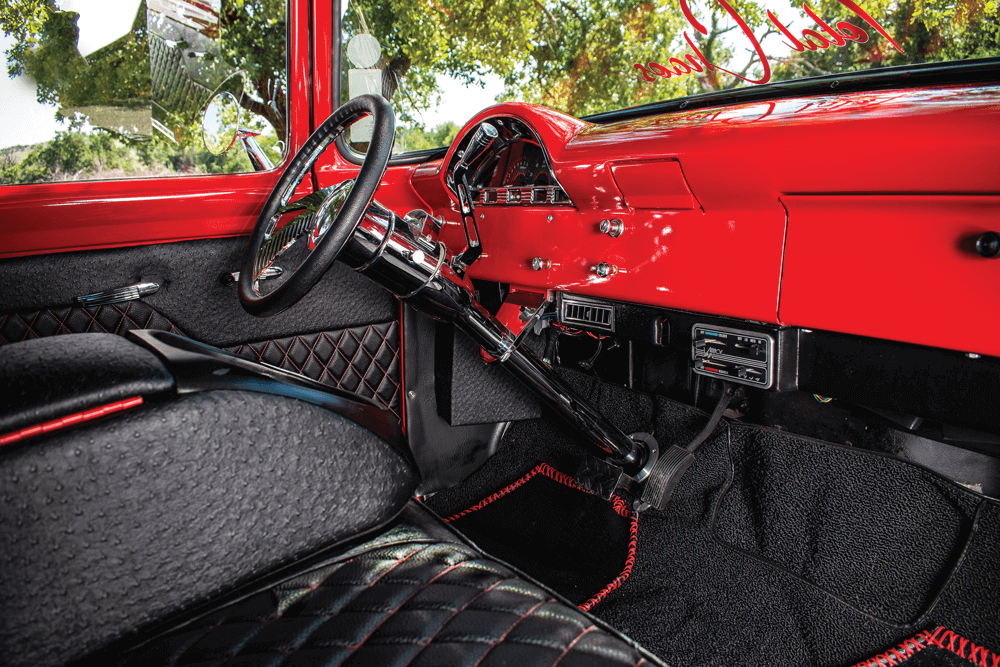 Early on, Addison was content with the original interior that came with the truck, but the black tuck and roll was fading and not up to the same level as the rest of the truck. It needed to be replaced. For this, Addison sketched his own design and asked JC's Upholstery in Snyder, Oklahoma, to stitch it for him. The Ford's interior has a very classy feel with black ostrich and red diamond tuck as the main theme, accented by a painted dash and billet and chrome throughout the cab.
With the truck now completely back together and quickly gathering attention both online and at shows, Addison has simply been enjoying the fruits of his labor.
"I took a truck that was laying on the side of the house, in pieces, and completed it," he told us.
But, Addison is not finished by any means. He has future plans that include staggered offset wheels, wider fenders and airbrush work.
While Addison completed the majority of the build himself, he was quick to point out that he also had a lot help of others to complete it.
"Jessica, my wife, we do everything together," he says. "We do all of our shows together. Ninety percent of the truck I built in the garage, but she would help me. She never complained. It makes is so much easier when you have somebody to support you."
Addison also thanked Brandon Young for helping him with the electrical during the build.