A Look Behind the Curtains
IF YOU'VE BEEN IN THE CUSTOM TRUCK SCENE OR AUTOMOTIVE INDUSTRY FOR ANY AMOUNT OF TIME, YOU'VE MOST LIKELY HEARD THE NAME MIKE ALEXANDER MENTIONED IN THESE PAGES AND ACROSS OTHERS. Along with countless magazine features under his belt, there's the ongoing car show jokes between friends about not finishing rides, killing Mini Truckin' magazine, etc. But, of course, the more serious talk includes some amazing designs and builds, thousands of editorials, launching Slam'd Mag, bespoke air-ride products and more—Mike has defi nitely been around the block with more than two decades of personal and professional involvement in the custom automotive aftermarket.
After spending almost 15 years on the magazine and publishing side of the fence, Mike decided he was going to jump headfi rst into the manufacturing side and bring to life the products he had always wished existed in the air suspension community and beyond. Taking a few key components and revamping and improving upon them to create a brand that sparks new life into the air-ride industry, and thus FLO Airride Mfg. was born.
With endless ideas, where do you start? Well, sitting down and discussing the launch a new company from scratch sounds fun and exciting to most, but it is far from an easy feat. In fact, Mike shared with us quite a few challenges that he learned early on.
"One of the hardest parts of developing new products is staying focused," Mike says. "You get so involved in the endless possibilities that you tend to overthink the simplest of things and go full squirrel mode down multiple paths. Staying focused to see one product through to market at a time is defi nitely the biggest lesson I've learned thus far, and I'm sure there are a ton more lessons ahead."
Over the past two years, FLO has brought to market an impressive lineup of bespoke billet air-ride components aiming to improve both form AND function. With FLO's tagline "The Art of Air Supply," the company's products have an elegance and timeless look about them that has attracted multiple genres beyond the custom truck market. FLO has organically grown into custom hot rods, euros, onboard air for lifted vehicles, high-end super cars and more. With an ever-growing list of clients and extremely happy customers, FLO has quickly outgrown its current space and added several talented members to the team as they continue to make a splash.
What's next for Mike and his team?
"Well, badass billet air tanks and air compressors aren't the end game here," he says. "We will continue to push the boundaries of custom air-ride and, as we've taken on more custom vehicle builds, our next phase will be to launch the full custom shop in Vegas. Keep an eye on social media for that grand opening announcement as we're very excited for what the future holds!"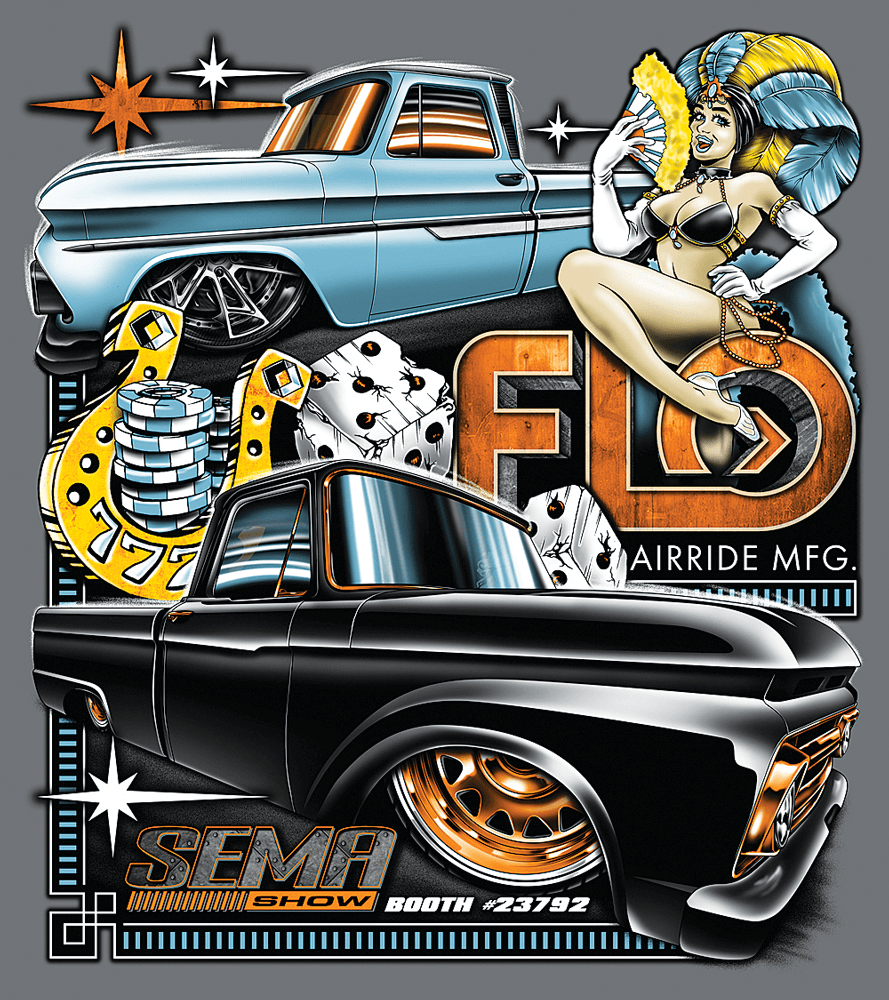 Building the perfect "dream team" is no easy task no matter how you slice it. Catching up with the rest of the team, we did learn that FLO has now added some "top dogs" to the crew and expanded into a fully capable build/install facility overseeing full-builds in house with its expansion to Vegas. We also got to check out some "top secret" development projects that we can't quite share just yet, but we will defi nitely get the scoop soon!
This year and beyond look very promising for the growing FLO team, and we can't wait to see what other tricks they have up their sleeves for the coming years.ST