A Bad-to-the-Bone Box-Style Bullet
THE C-10 CROWD BUILDS TRUCKS IN A VARIETY OF FLAVORS; EVERYTHING FROM STOCK WITH A RESTORED LOOK AND LOWERED ON SOME CLEAN ROLLERS TO FLAT ON THE GROUND WITH LARGE DIAMETER BILLET WHEELS AND MORE BODY MODIFICATIONS THAN A HOLLYWOOD MOVIE STAR.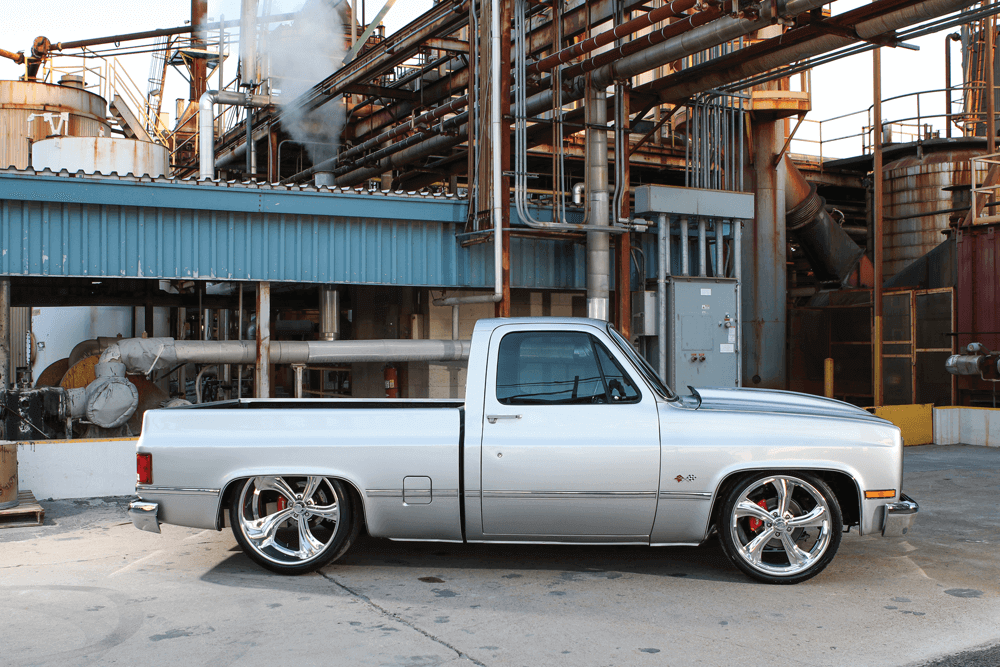 Undoubtedly the hottest body styles to build today are square-body trucks, which take well to an array of customizing styles. For Ronald Tarlton of Oxford, North Carolina, a performance-inspired C-10 with tire-blistering horsepower under the cowl induction hood was at the top of his build menu. We like to think of the truck as a wolf in sheep's clothing: It will sneak up on you, and when the 700-hp 555-ci mill starts huffing and puffing, it will snatch that pink slip faster than a school teacher rips a passed note out of a student's hand.
Ronald has been around custom trucks and cars his whole life, having built a '70 F-100 in the past. This time he wanted to try his hand at a Chevy, so he found an '85 SWB, and the build gloves came off. To set the attitude for the square, Ronald and his buddy, Tony Smith, started with the altitude. The rear was upgraded with Competition Engineering 32-inch ladder bars and QA1 double adjustable coil-overs, while the factory 8.5-inch rearend was narrowed 6 inches per side and stuffed with an Eaton TruTrac limited slip diff and 4.10:1 Richmond gears. Up front, DJM lower control arms and drop springs combined with DJM shocks slice some daylight out from under the leading edge, while a Wilwood brake system slows the bow tie's roll when Ronald unleashes the 700 ponies of pavement-pounding, tire-smoking fun. Rolling stock consists of 22×8.5-inch front and 24×15-inch rear Intro Gallup billet wheels shod in Pirelli P-Zero P 265/35R22 front and 405/25/24 rear tires.
For power, it was game on as Ronald chose an Edelbrock/Musi 555-ci 700-horse mill filled with a SCAT 4340 crankshaft, SCAT H-beam rods and an Edelbrock camshaft with Manley and Edelbrock valvetrain. An Edelbrock water pump keeps things cool, while a Be Cool radiator and dual Flex-A-Lite fans complete the performance cooling system. A March Performance Ultra Drive serpentine belt pulley kit keeps the engine spinning smoothly and ported and polished Edelbrock cylinder heads with a three-angle valve job and Edelbrock 1.7:1 roller rockers assist with breathability. Hooker Super Competition ceramic-coated headers hooked to a stainless 3-inch exhaust system kick the camshaft-thumping exhaust notes out through Black Widow Widow Maker mufflers. Crowning the pavement-blistering, tire-shredding mill is Quick Fuel Black Diamond 850-cfm carburetor flowing the perfect air/fuel mix down to the massaged cylinders. MSD ignition components spark the performance party. Putting all of this neck-snapping performance into motion is a TCI Super Street Fighter Turbo 400 transmission with a 2,200-stall converter, all commanded by a B&M ratchet hammer.
Now that the chassis, suspension and drivetrain modifications were complete, Ronald turned his attention toward the Chevy's 33-year-old envelope. The leading edge features a steel 2-inch Reflexxion cowl induction hood underlined by a stock grille shell and insert, further accented by that unmistakable chrome square-body front bumper. The drip rails and cab seams were shaved for a smooth finish, and the stock rear bumper was tucked for a clean look. John Chamberlain of Rougemont, North Carolina, block-sanded and smoothed the Chevy's panels to arrow-straight perfection and laid down the PPG Chroma Premier Bright Silver Metallic. The truck was finished with fresh bright work, glass, seals and a Rhino bedliner by Tarheel Chevrolet. Slosh Tubz wheel tubs, radiator support panels and firewall panels add to the under-hood pizazz, while Wamrods hood struts replace the ailing original hood hinges.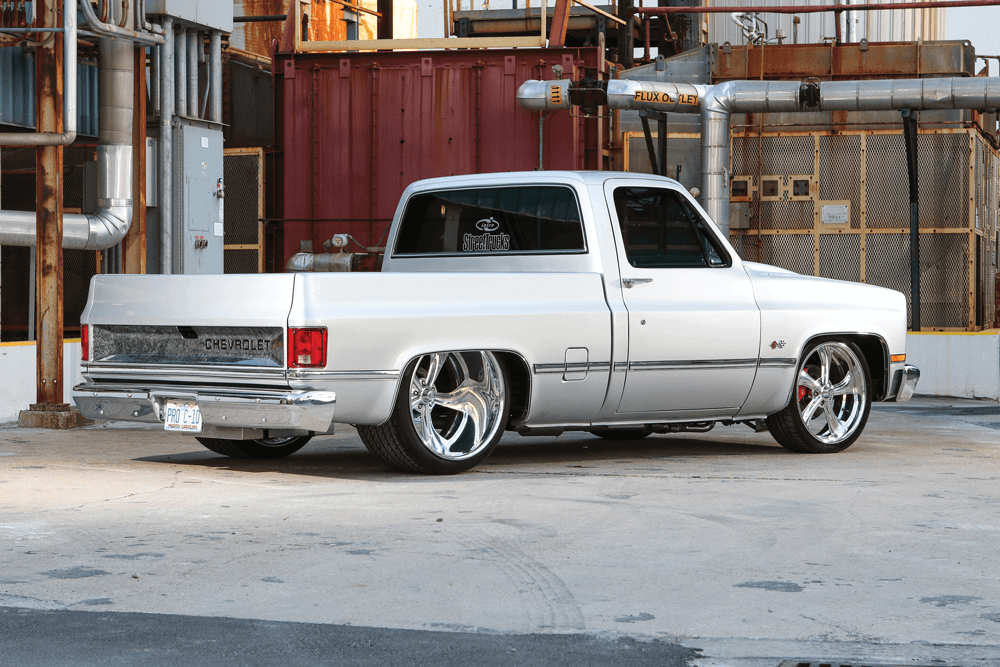 For the interior of Stainless Square, Ronald continued the performance-inspired theme with black TMI bucket seats from a 1969 Camaro bordered by a stock LMC Truck replacement dashboard, TMI Products door panels, stock LMC Truck replacement headliner and a custom center console built by Ronald and Tony Smith. A Billet Specialties steering wheel, Auto Meter liquid-filled gauges and a Retro Sound Manufacturing stereo add to the interior restyling.
Ronald Tarlton has created a clean and classy pavement-stomping C-10 with a seamless blend of performance elements and show-truck style. Ronald's truck is proof that with just the right custom touches and a subtle build approach, stunning results can be achieved. ST