Sometimes the Grass is Greener on the Other Side
There's an Internet meme that's been going around called Distracted Boyfriend. In it an attractive girl is seen in the foreground, oblivious to the guy staring at her while his girlfriend looks at him, ticked off. The idea is that although the guy already has someone great, he's always looking for something (potentially) better around the corner.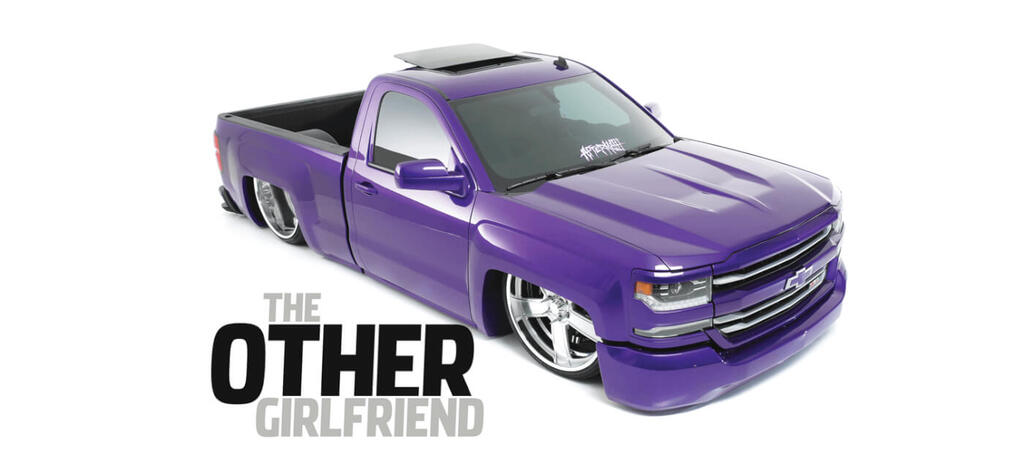 Fabian Garcia of Bakersfield, California, had something great. He already had a few builds under his belt at just 26 years old, and he had an '06 Silverado single cab that was about to go under the knife. Since he couldn't drive the '06 regularly, he picked up a '14 Silverado to cruise, and if that were all that he did, he wouldn't have needed to look any further. But since he's the type of guy who can't leave anything stock, he painted the '14 purple and lowered it on billets, just for fun. Eventually that turned into a trip to a car show where it garnered a ton of attention, and the cycle of the Distracted Boyfriend was complete. Sure, he had a perfectly good '06 that he could work on, but that '14 Silvy was looking pretty nice. So, he sold the '06 and used the profits to fund the build of the '14.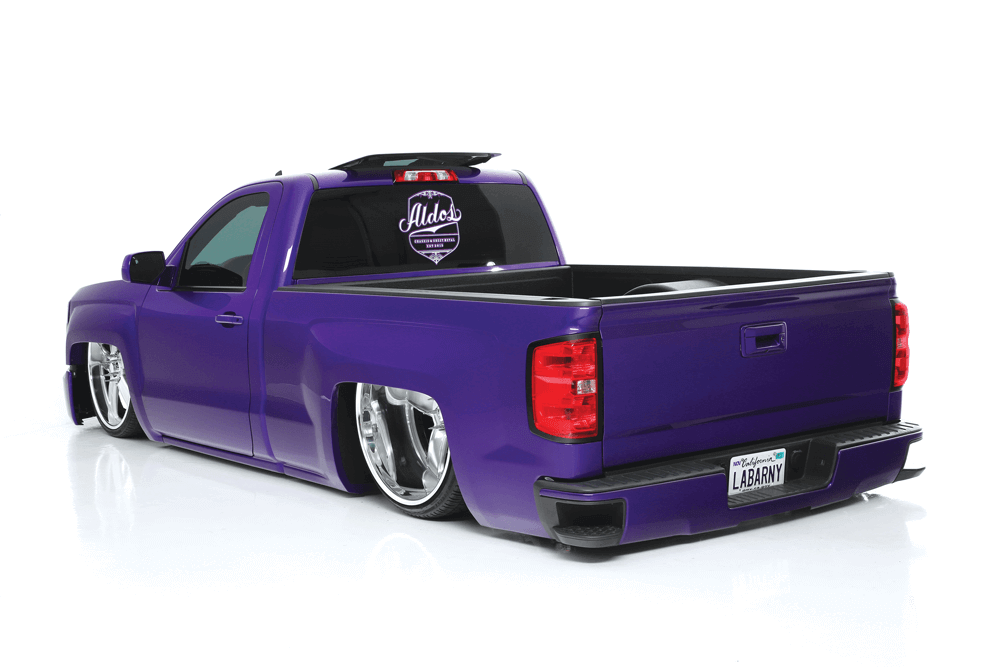 At this point, Fabian had a nice truck. Seeing it get all the looks at the shows made him wonder how much bigger the spectacle would be if he 'bagged and body-dropped it. After all, it was on big wheels and painted; in theory, laying it out should be pretty straightforward. But it wasn't.
He sent the truck to Aldo Martinez at Aldo's Suspension and Sheet Metal in Fresno, California, where everything was blown apart. The frame was redone from the firewall back with all new mandrel-bent steel replacing the stock materials. The back end was 3-linked, while up front they installed an Unparalleled Customs front suspension kit with uni-balls. This allowed the suspension to cycle almost infinitely, but there was still more work to be done. The brake booster was in the way, so it was replaced with a hydraulic model. The steering rack was an issue, so The Choppin' Block came in to build something custom that would work. When they were all done, about 17 months later, the truck laid hard on 26s and looked tough—almost.
It's hard to get out of any custom shop without a nick or two to the finish, and that was the case with the purple finish on Fabian's Silverado. By then, the 2016 models had come out, and he wished he had one of those because he liked the front clip better. After some deliberation and a few dozen conversations with a friend of a friend at a Chevrolet dealership, he decided to bite the bullet and purchase a hood, fenders, Z71 grille, bumper and all of the other accoutrements that he would need to make the swap work. As it turns out, it's not that big of a deal. Sure, he needed a core support and a ton of little clips, but otherwise it all came together and bolted up nicely. The whole truck was resprayed with the special purple sheen.
Let's take a moment to address the color. Purple isn't the typical choice for your average street truck, so why did he go with it? Well, that's the exact reason why: It isn't typical. Purple is fairly rare, and it's bright enough to get attention. Has the truck set a trend? We're not sure what this year's color of the moment is going to be, but this is certainly a contender.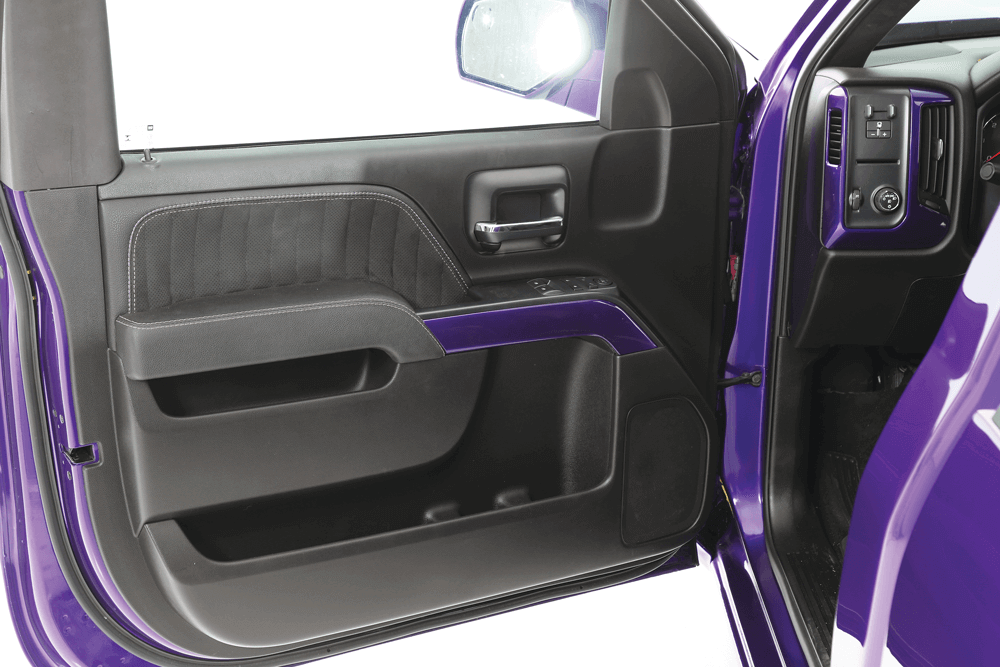 With the truck laid out and looking good, the time came to focus on the other little details. The interior was cleaned up with leather and suede, accented nicely by purple stitching. A mild stereo was added with a pair of JL Audio 12s mounted behind the seats, and the AccuAir e-Level controller was positioned right within reach near the console. Even though it may seem like it's a simple build—if anyone can call building 3/4 of a frame and a full color change simple—it's certainly impactful. Trucks like this don't get built every day, and this is a shining example of the form.
Now we come to the obvious question: What's next? Fabian has two paths in front of him. He's preparing for a few big shows this year, which means that he might add some graphics and swap out the stock dash for one from an Escalade.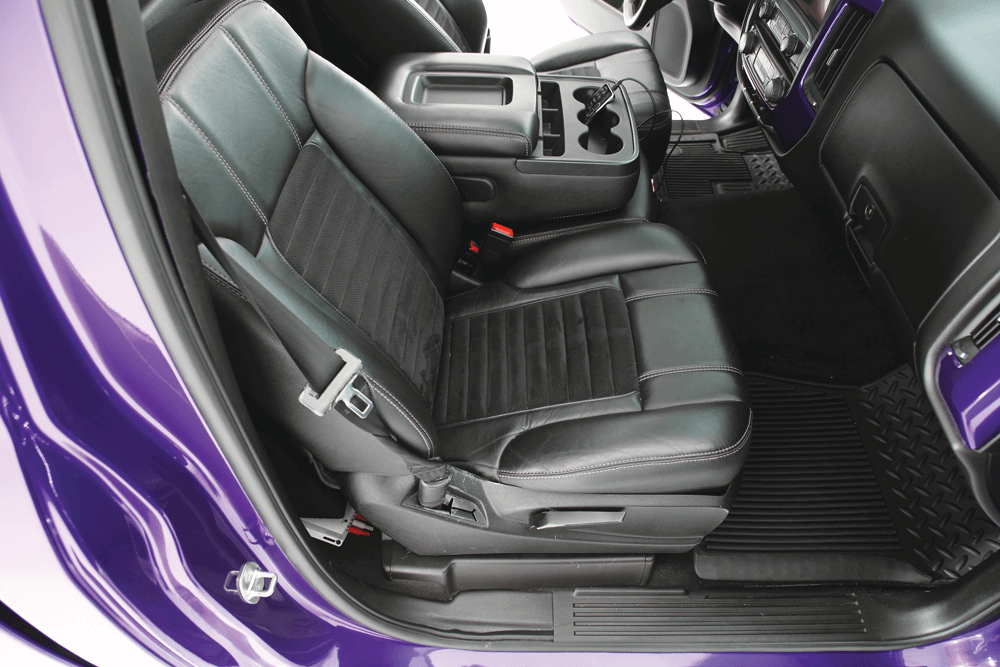 But then there's a recent development. Someone has come around asking about the truck and whether or not he would sell it. That would free him up to build that Tahoe on 28s that he's been dreaming of, which would certainly be a step up. That's right, even though Fabian has something great already, he knows that there's always something better (potentially) around the corner.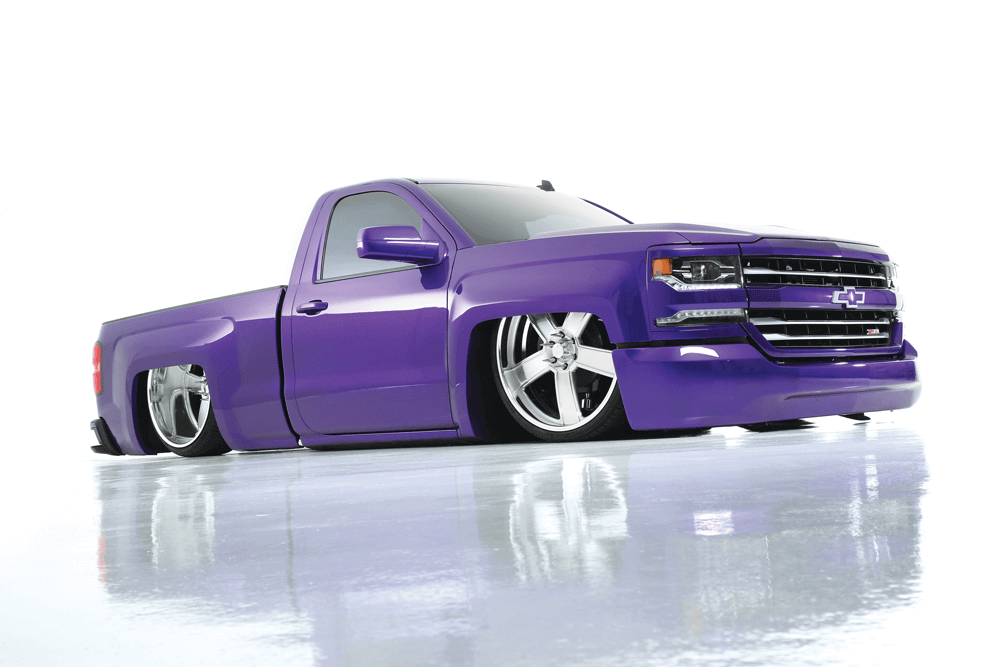 TRUCK SPECS
 owner
Fabian Garcia
2014 Chevrolet Silverado
Bakersfield, CA
Aftermath 
Engine
5.3l Chevrolet V-8
3-inch custom stainless-steel exhaust
Magnaflow muffler
6L80 Chevrolet automatic transmission
 Chassis & Suspension
Shop: Aldo Martinez at Aldo's Suspension and Sheet Metal, Fresno, CA
Slam Specialties airbags
AccuAir e-Level kit
McGaughy's dropped spindles
Fox shocks
Unparalleled Customs front suspension kit
Chrome tubular control arms with uniballs
Mandrel-bent frame from the firewall back
Chromed 3-link with wishbone
Currie Enterprises rearend narrowed 12 inches
Custom stainless-steel fuel cell
Hydroboost brake booster
Candy purple powdercoated brakes
Wheels & Tires
26×9 and 26×12 Raceline Executives brushed and polished
255/30R26 and 295/30R26 Lexani
Body & Paint
Shop: Aldo Martinez at Aldo's Suspension and Sheet Metal, Fresno, CA
Sheet-metal bed floor
Bead-rolled bed metal accents
2016 Chevrolet Silverado front-end conversion
Chevrolet Silverado Z71 grille
Painted by Dion Giuliano at Kal Koncepts, Bakersfield, CA
House of Kolor Purple paint
Interior & Stereo 
Shop: Joe at California Upholstery, Los Angeles
Black leather and suede with purple stitching
Stock seats cut down
Stereo by Audio Concepts, Bakersfield, CA
JL Audio amplifiers
Two JL Audio 12-inch shallow mount subwoofers
Three Optima Yellow Top batteries
Special Thanks From the Owner: "Aldo Martinez from Aldo's Suspension and Sheet Metal, Dion Giuliano at Kal Koncepts, Joe at California Upholstery and Chuck at Raceline Wheels."