Joel Buchanan's 2002 Ford F-150 SVT Lightning
THERE COMES A TIME IN ALMOST EVERY MAN'S LIFE WHEN HE CHOOSES TO SETTLE DOWN WITH THE ONE WOMAN HE REALLY CARES ABOUT, LEAVING EVERYTHING ELSE IN THE PAST. When Joel Buchanan of Jacksonville, Illinois, hit this point in life, it was game over. Yet, when something ends, something else always begins, and that's where Joel's F-150 comes into play. Just a few weeks before getting married, he purchased the truck from a local Ford dealer, 1 of only 4,726 Ford produced that year. The truck, an '02 F-150 SVT Lightning, was nicely optioned from the get-go, but Joel could not leave the SVT alone. What started as small mods began to snowball into larger scale changes, which led to where the truck, appropriately named Game Over, sits today.
From stereo upgrades to static drops and wheel changes, the Ford went through many iterations during the ensuing years. Once Joel realized that he needed to give in to the mod bug completely, he didn't hesitate. Starting with the suspension, he and the FH Customs crew began putting together his ideal kits. Using a cantilever system combined with a parallel 4-link setup, the team assembled the rear of the F-150 to function well with the Belltech drop spindles and Airlift setup they'd mounted up front. They also narrowed the rearend 2 inches to allow perfect fitment of the aggressive wheels that would soon call this truck home. Powered by a 500-hp Whipple-supercharged V-8, no thin, weak wheels could be considered. After much debate, Joel chose a set of staggered Raceline Majestic wheels, custom brushed with red accents.
With the suspension wrapped up, the rest of the modifications began. Starting with a 2.5-inch steel cowl hood, billet grille and custom lights all around, the Lightning was starting to really take shape.
Paint was one of the two things Joel let someone else do for him. Being very particular about who was cut out for the job, Joel chose Jeff Schroeder of Attitude Custom Airbrushing and Paint. Laying out the Galaxy Gray and Brandywine Kandy from House of Kolor, Jeff tied in the red accents on the wheels, adding skulls to the graphics by hand. Those same colors were draped over the guts of the truck's micro-suede interior too.
A large Memphis stereo setup was organized to make sure the Bassani exhaust wasn't the only thing Joel heard when cruising. With endless hours of custom fiberglass work, along with an amp rack and a unique pod setup under the tonneau cover, Game Over is a force to be reckoned with whether parked or on the move.
Joel Buchanan picked the perfect time to settle down. With his wife by his side, the two now have the perfect ride in which to cruise off into the sunset. ST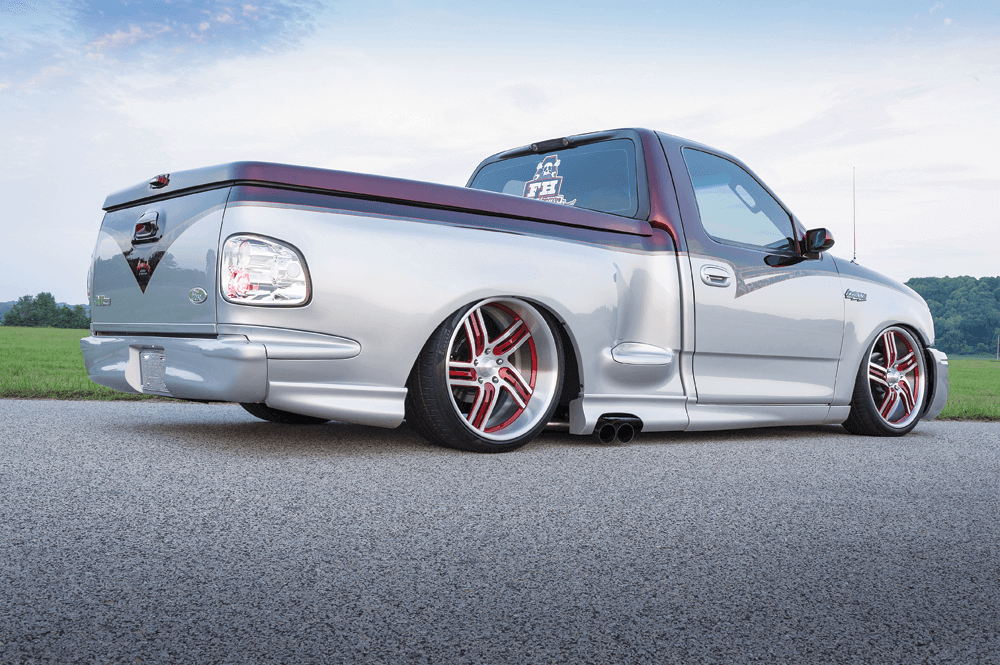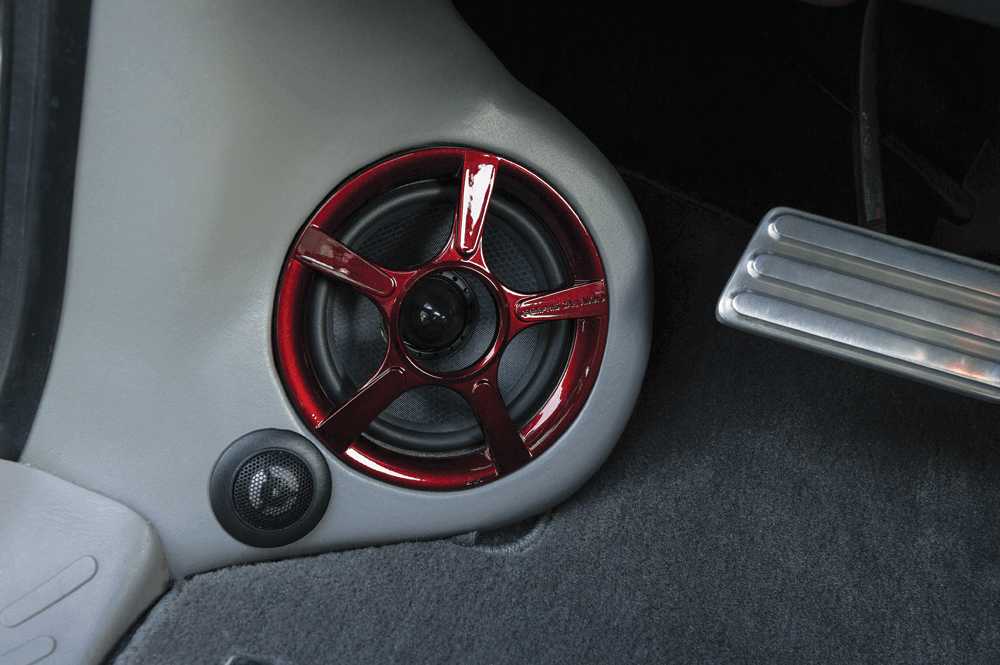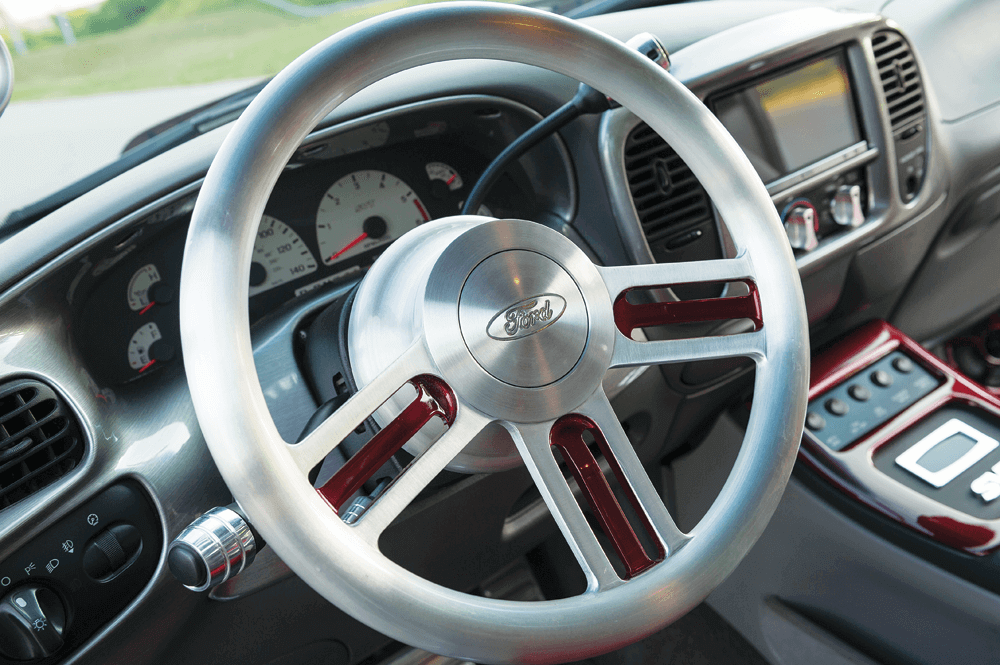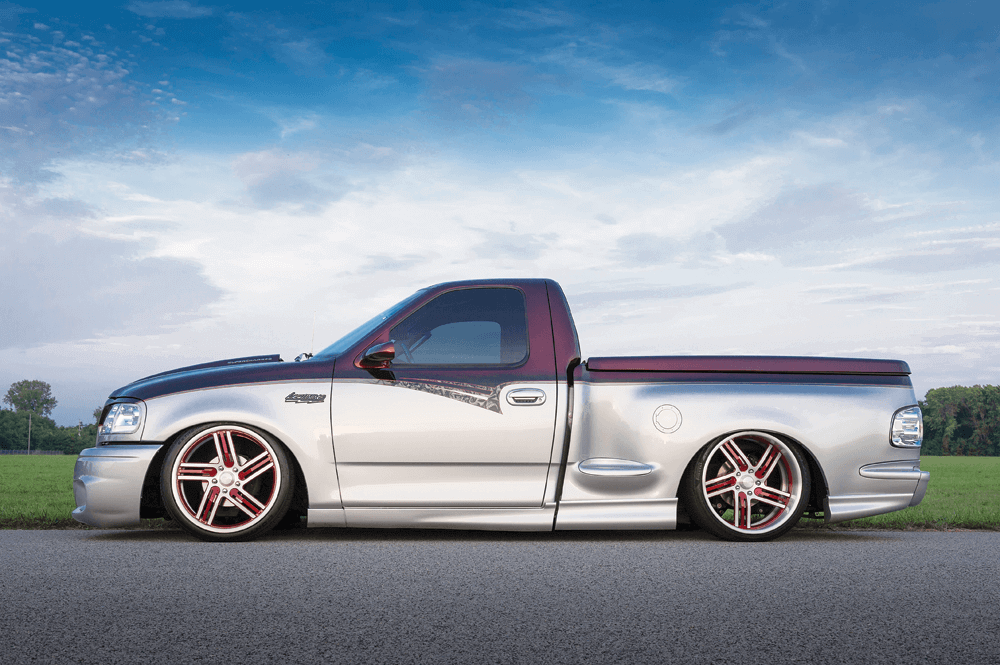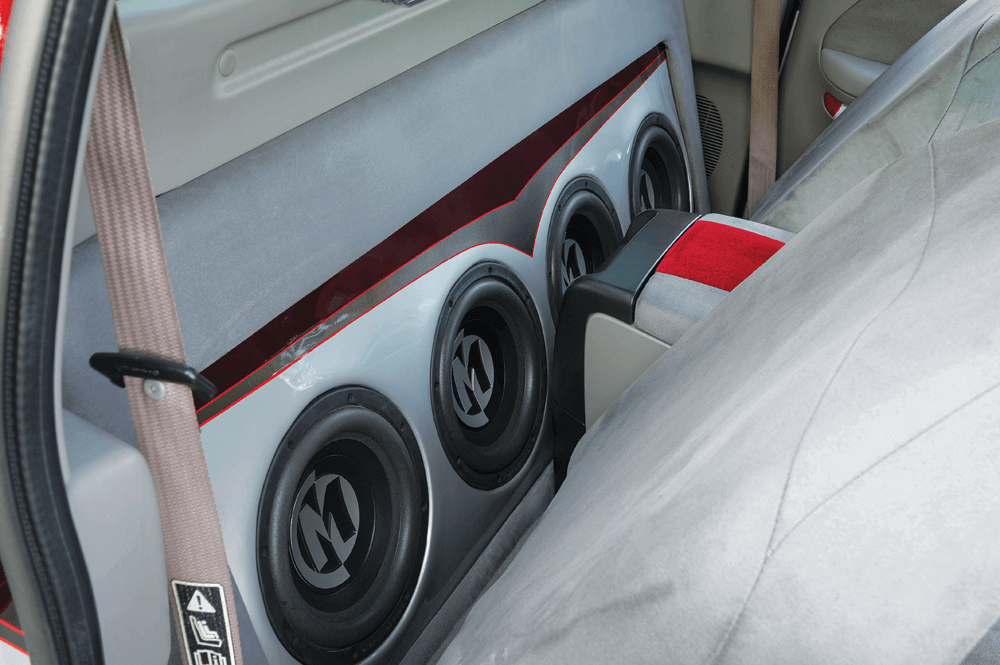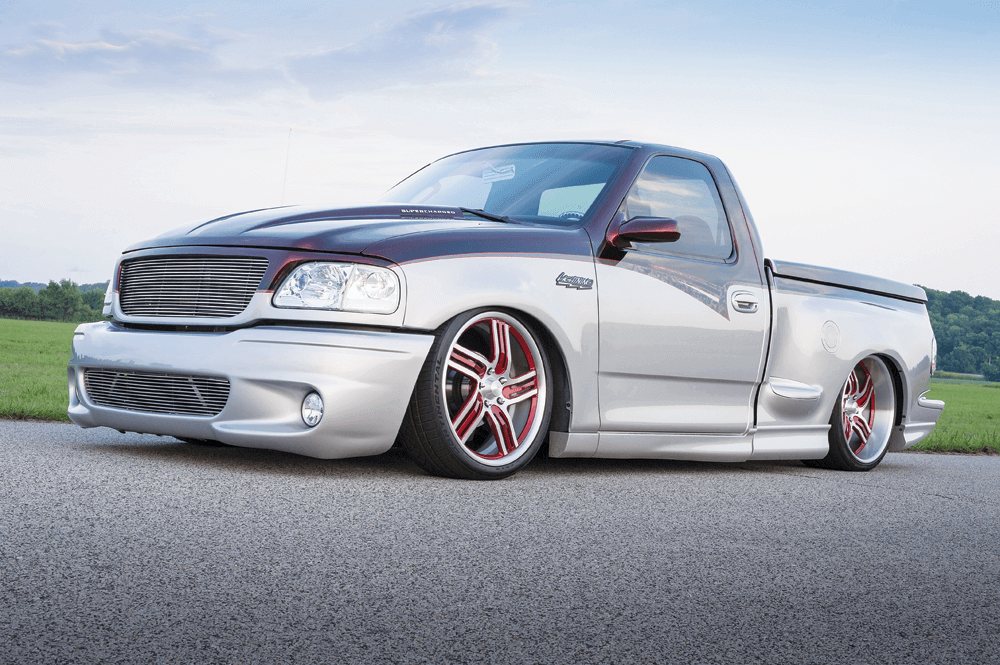 OWNER
Joel Buchanan
2002 Ford F150 SVT Lightning Jacksonville,
IL
ENGINE 
Shop: FH Customs, Joel Buchanan
Ford 5.4L supercharged V-8
Meziere electric water pump
Motor City 200-amp alternator
LFP electric deluxe cooling fan kit
Ported and polished lower manifold and mid-plate
Polished throttle body
Custom 4.5 aluminum intake pipe and oval K&N filter
3.4L Whipple polished supercharger with 15 psi
Valve covers painted to match
Magnum Powers polished idler bridge
Metco pulleys
2002 Ford 4R100 automatic transmission
Aluminum driveshaft
Bassani exhaust
Rearend narrowed 2 inches on each side
Moser axles
3.73 gear ratio
Billet diff cover
CHASSIS & SUSPENSION
Shop: FH Customs, Joel Buchanan
KP Components front 'bag cups and Air Lift Dominator 2500 'bags
RideTech front shocks and relocation kit
Modified stock control arms
Belltech 2-inch drop spindles
KP Components rear cantilever system with parallel 4-link, pan-hard bar and shocks  Air Lift Dominator 2500 'bags
Wilwood rear disc brakes WHEELS & TIRES
22×8.5 and 22×12 Raceline Majestic with brushed finish and red powdercoated accents
255/35R22 and 335/25R22 Pirelli Scorpion Zero
BODY & PAINT 
Shop: FH Customs, Joel Buchanan
Stylin' Concepts 2.5-inch steel cowl hood
Billet grille
SVT Lightning front bumper
Bedrug bed floor
Clear taillights
Century tonneau bed cover
Depo projectors headlights
Brushed aluminum gas filler
House of Kolor Galaxy Gray and Brandywine Kandy
Hand airbrushed and pinstriped
Shop: Attitude Custom Airbrushing and Paint, Jeff Schroeder
INTERIOR & STEREO 
Shop: Custom Upholstery, Mike McKean and FH Customs, Joel Buchanan (stereo) Micro-suede and ruby metallic
Cut-down passenger seat
Matching ruby headliner
Brushed aluminum dashboard overlays
Auto Meter Pro Comp Ultra Lite gauges
Raceline Imperial steering wheel brushed and painted to match
2003 Harley F-150 inner door handles
Custom switch panel by Chris Conrad (the12fast4u)
Wide top Ford Expedition console
Custom hand-laid fiberglass kick panels and subwoofer enclosure painted to match
Custom hand-laid fiberglass subwoofer enclosure and linearactuated amp rack in bed  Fiberglass pod attached to the underside of the tonneau cover housing the Memphis 6.5s
Kenwood double-DIN head unit
Memphis wiring
Memphis M Class components
Memphis Power Reference 10-inch subwoofers
Memphis MClass fivechannel amplifier
Optima Red-Top battery §§ Dynamat Xtreme sound deadener
Custom fiberglass enclosures