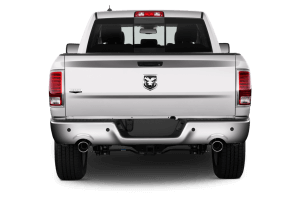 Fiat Chrysler has issued a voluntary recall of 2015-2017 Ram pickups due to a fault with the tailgate locking mechanism.
According to FCA, a small mechanical component in the power lock actuator of affected units can break earlier than expected, causing the tailgate to unlatch from its hinge. Affected trucks include the 2015 to 2017 year models of the following pickups:
Ram 1500
Ram 2500
Ram 3500
Trucks with 8-foot beds or manual tailgate locks are not included in the recall. Likewise, newer models are not affected thanks to a newly designed tailgate mechanism beginning with the the 2019 Ram 1500.
It is estimated that 1.1 million trucks are affected by the recall. Unsurprisingly, more than 75% of the affected units are in the US, followed by Canada with 260,315 vehicles and Mexico with nearly 19,500 units.
Thankfully there have been no recorded mishaps to date due to the faulty tailgate lock. FCA says owners will be notified when they can bring in their trucks for a replacement power lock actuator. For now the company suggests securing all cargo through the tie-down rings and cleats that line the bed.
For further questions, owners can contact FCA's customer care hotline at 1-866-220-6747