Where the Professionals Get Their Trucks Built
Nick Sinioris is your new best friend. Chances are you've never met him before, and you might never make it out his way. But if you do find yourself at Hubcaps Hot Rod and Custom in Phoenix, you'll soon discover that the guy usually found wearing a Baltimore Orioles hat and a black T-shirt is one of the nicest people you'll ever meet. The combination of a guy who cares about his work and the quality his shop produces is what Hubcaps Hotrod and Custom is all about.
Nick spent the first part of his career in the autobody field. He worked on the production line, tearing apart one wrecked ride after another, learning the ins and outs of metal finishing and bodywork. That all changed in 2013 when he started the first iteration of Hubcaps, a place where people soon learned they could get their car done properly from start to finish. He moved shops a few times throughout the years, but the biggest shift happened in 2017 when he decided that it was time to step things up.
At that point, Nick had already made a name for himself. He had quite a few big builds under his belt, and his reputation for quality metal work made him stand out from the crowd. But he hit a wall. There was only so much work he could do on his own, and even once he started hiring employees, there seemed to be a cap on the amount of quality work he could produce. After all, he was also the accountant, salesman and every other position in the shop. Something had to give.
Sometimes it's all about timing. As it turns out, Nick knew a guy who was retired but wasn't ready to settle down in a La-Z-Boy just yet. He had some money, and since he loved hot rods and saw that Nick could go to the next level with just a little bit of help, he came onboard as a partner. You might think that this is one of those scenarios where some wealthy bloke came in with a big check to get things going, but that's far from the case. Nick has known his business partner (who prefers his privacy) for decades and considers him a close family friend. Why not team up to create something special? Which is exactly what they did.
The duo started making plans and soon started construction on a new building located just east of Deer Valley Airport in Phoenix. The 10,000-sq-ft shop was built to their exacting specifications, while still giving them room to grow should they decide to expand. In fact, one of the latest additions is a new paint booth. They now have lots of room for active projects, plus space for machinery and parts.
With the extra space came the need for more help, so Nick hired some of the most skilled people he could find. He already had two guys working alongside him at the old spot, but he picked up a few more, bringing the total up to seven (eight, if you count Nick himself). Now they have enough people on staff to take a job from initial fabrication to paint.
Which brings up an interesting point: although Nick has been painting for years, the shop wasn't known for producing paint jobs. They'd do the odd spray here and there but nothing fancy. Today, with the additional staff and new paint booth setup, they're taking on all sorts of gigs. This means that you could drop off your truck, have the crew lay it out on some clean rollers, chop the top, fix the rust, do the bodywork and lay paint. All you have to do is pick it up and drive it.
But this is Street Trucks, after all, which means we should get to the truck stuff, right? Contrary to the name, Hubcaps Hotrods and Custom doesn't just build old cars. The crew does trucks from all over the spectrum. Just walking around the shop, you can find everything from a '36 Ford pickup to a square-body Chevy. In fact, Nick has been making quite a dent in the C-10 market, having put his name on big builds, including Joe Yezzi's Squarebody Series 01 and Sam Castronova's C-Minus.
What other kinds of projects are on his plate? There are currently two 1960-66 cabs floating around the shop, and one of them is getting a special treat. Nick is planning on giving it a big back window conversion, without using factory glass or frenching like so many others do. No, he's got some sweet plans for that one, and we're sure we'll see them soon.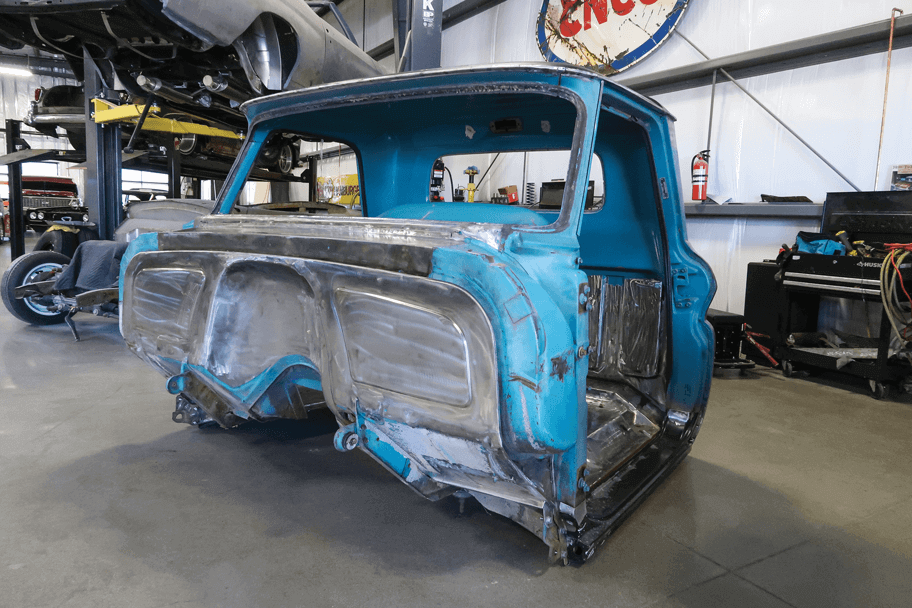 Hubcaps Hotrods and Custom has been chugging along smoothly since it moved into its current facility, and jobs are booking up quickly. In fact, after a tour during the 2017 Goodguys show, the crew had cars parked all the way down nearby Deer Valley Road, which is akin to leaving your truck on the side of a major freeway. It's a popular shop, and if you want to get your truck built by one of the best, do yourself a favor and check out Nick and Hubcaps Hotrods and Custom. You'll be glad you did. ST
SOURCE
Hubcaps Hotrod and Custom
1700 E Robin Lane Phoenix, AZ 85024
602.410.1211