La Lucha Libre Made Him Do It
INSPIRATION CAN TAKE MANY FORMS, AND IT CAN SOMETIMES COME OUT OF NOWHERE. Take Cesar Navarro and his '16 Toyota Tacoma. Cesar had already built a rad Tundra a couple of years ago after getting bitten by the lifted truck bug, and he wanted to follow it up with a smaller, yet slightly wilder version by using a new Tacoma as a base. He really wanted a theme for the truck but was drawing a blank.
Then one day it hit him: Ever since he was a kid growing up in San Luis Potosí, Mexico, Cesar loved watching Mexican wrestling, known as Lucha Libre. His favorite luchador was always the legendary Demonio Azul, or "Blue Demon." Known for being a strong and capable fighter, the Blue Demon was the perfect representation of what Cesar wanted his truck to be. And so, the Blue Demon truck was born.
Cesar dove head-first into the build, bringing in some key players that lent their expertise. Roadwire Leather Interiors already had its seat upholstery patterns ready for the current generation Tacomas, but the company added some special touches for Cesar's truck, including ostrich leather, diamond stitching and Blue Demon embroidery in the headrests. The rest of the interior got hooked up with plenty of painted accents, as well as an sPOD switch panel to control the Winjet LED lighting.
The exterior of the Tacoma was originally blue, so you'll notice many of the Bulletproof and Atlas Spring suspension parts have been color-matched by Worldwide Auto Body to suit the original. A recent addition, however, is the 3M Chameleon vinyl wrap, which we honestly couldn't tell from paint until Cesar mentioned it. As it so happens, the wrap flops to blue as you walk around it, so the blue is still a perfect complement to the new finish.
With the truck sitting tall over its 24×14-inch Grid Off-Road wheels and 37-inch Markma tires, Cesar needed a way to get into it that wouldn't detract from the clean lines. The perfect solution came in the form of AMP Research motorized running boards, which tuck up neatly into the rocker panels when the doors are closed. The front and rear factory bumpers have been replaced with Fab Fours fabricated metal bumpers, and a DB Customz grille resides where the original Toyota grille once sat. Topping off the truck, literally, is a slick A.R.E. Z Serious shell, which adds plenty of cargo space and security.
The 3.5L Toyota V-6 didn't need much help in the performance department, as 278-horsepower is plenty for a mid-sized truck. However, it was a bit too quiet, so Cesar scooped up a set of Doug Thorley mid-pipes and a Doug Thorley cat-back exhaust. And hey, bonus: they added a decent amount of power and torque to the already mighty six-banger.
Cesar's Tacoma was pretty much done with the major stuff, so he started focusing on some of the details that would help further distinguish his truck from the rest. Luckily for him, he knows some people, so he was able to get his hands on Husky Liners' latest accessories, as well as a BedRug bed liner and a Pro Eagle off-road jack. And just in case someone, somehow, doesn't notice Cesar's Toyota rolling toward them, he has a potent Horn Blasters train horn kit tucked underneath the bed for the loudest wakeup call you're likely to ever get.
Blue Demon has been a rolling billboard for the companies that have helped Cesar with the build since its inception, and we have no doubt that they made a great choice considering how jaw-dropping the truck is. Just like its namesake, we're sure that it will always be remembered as El Campion.  ST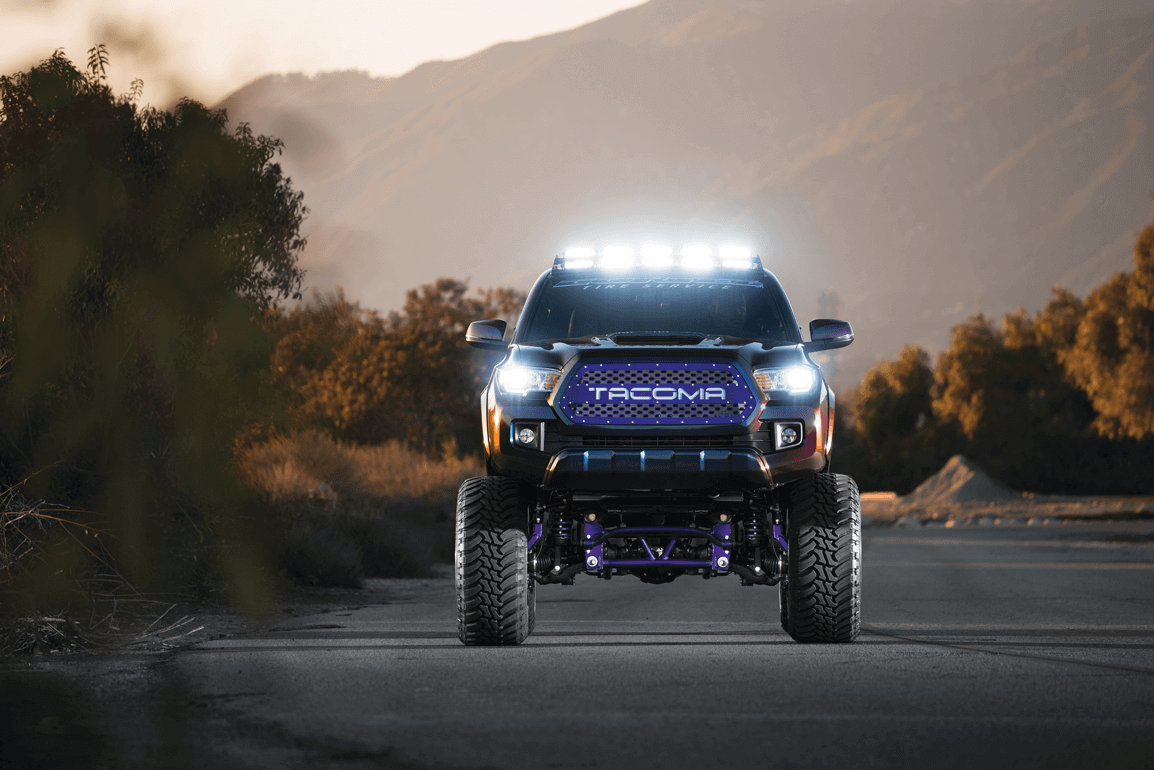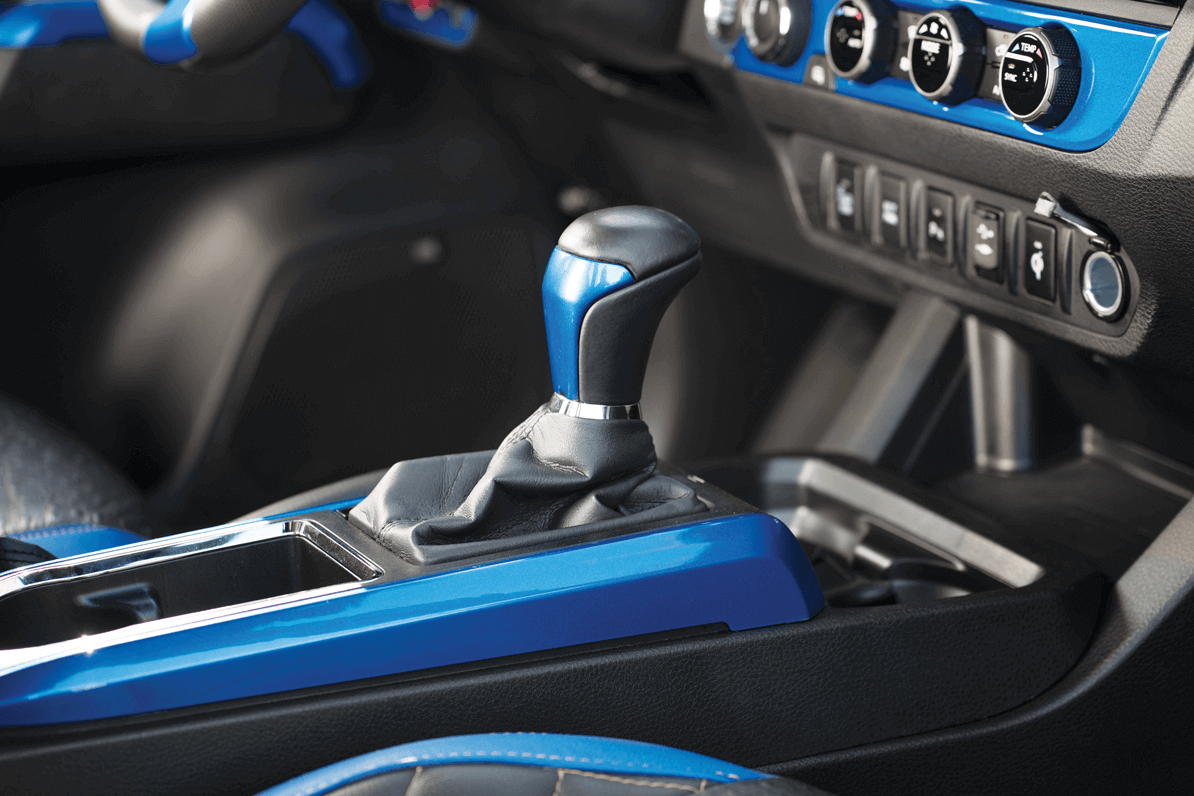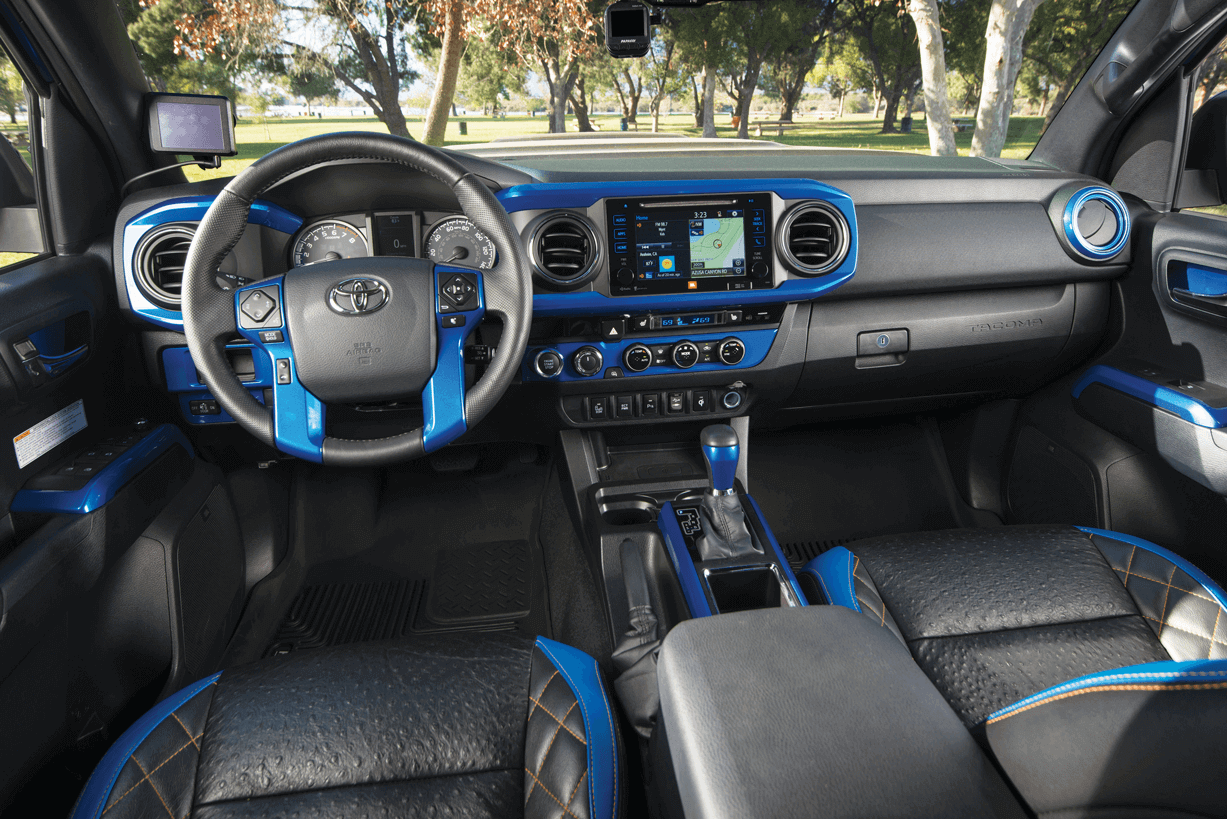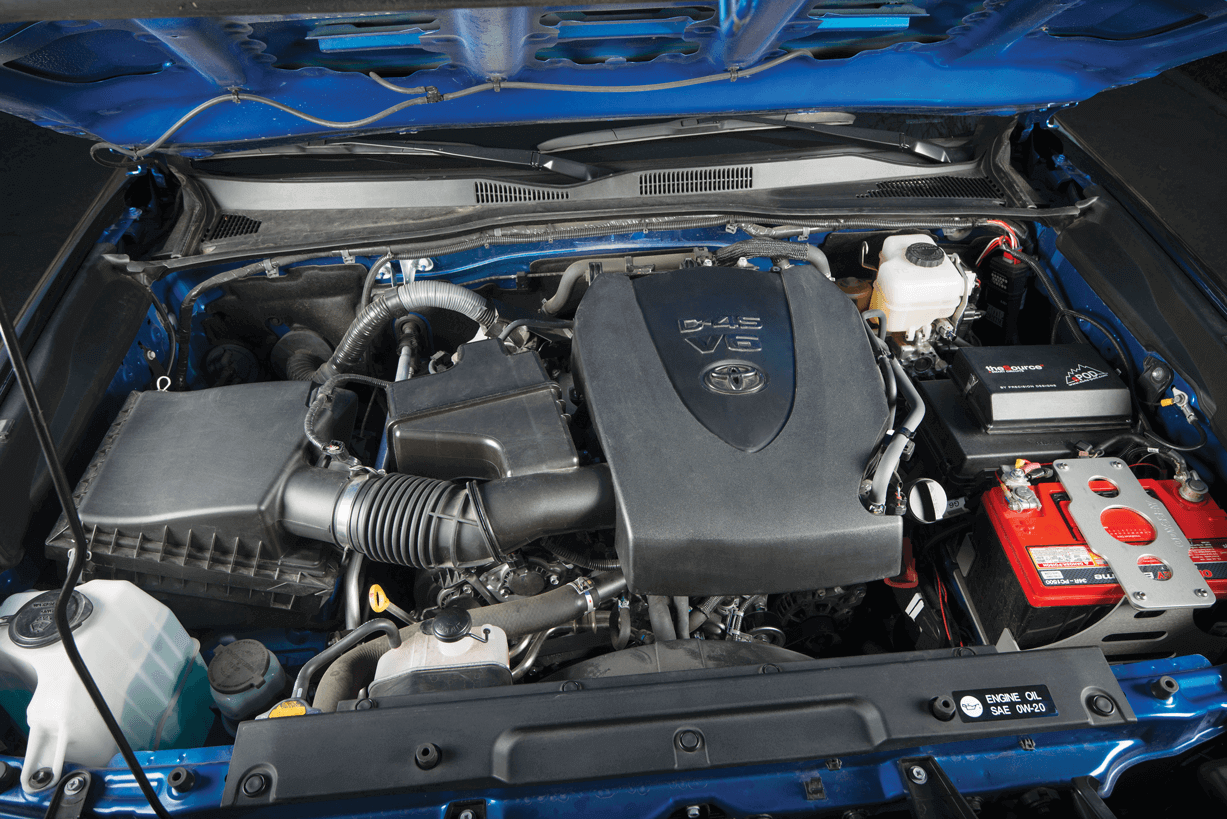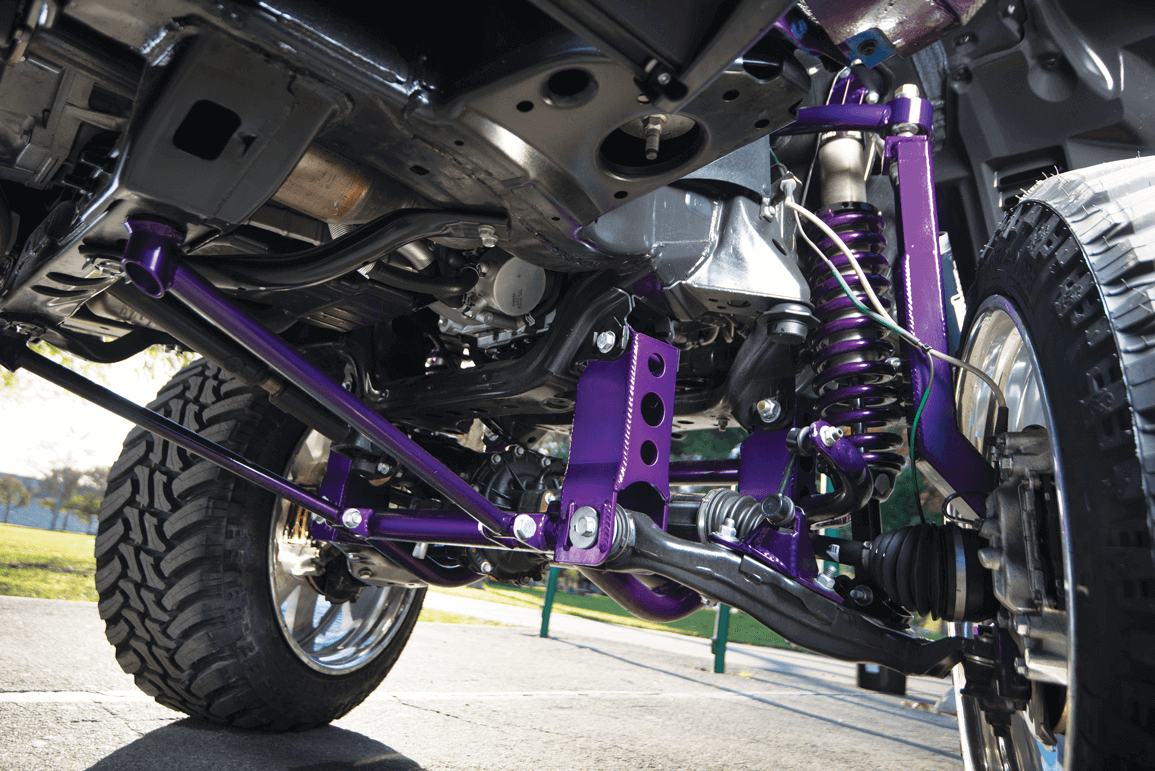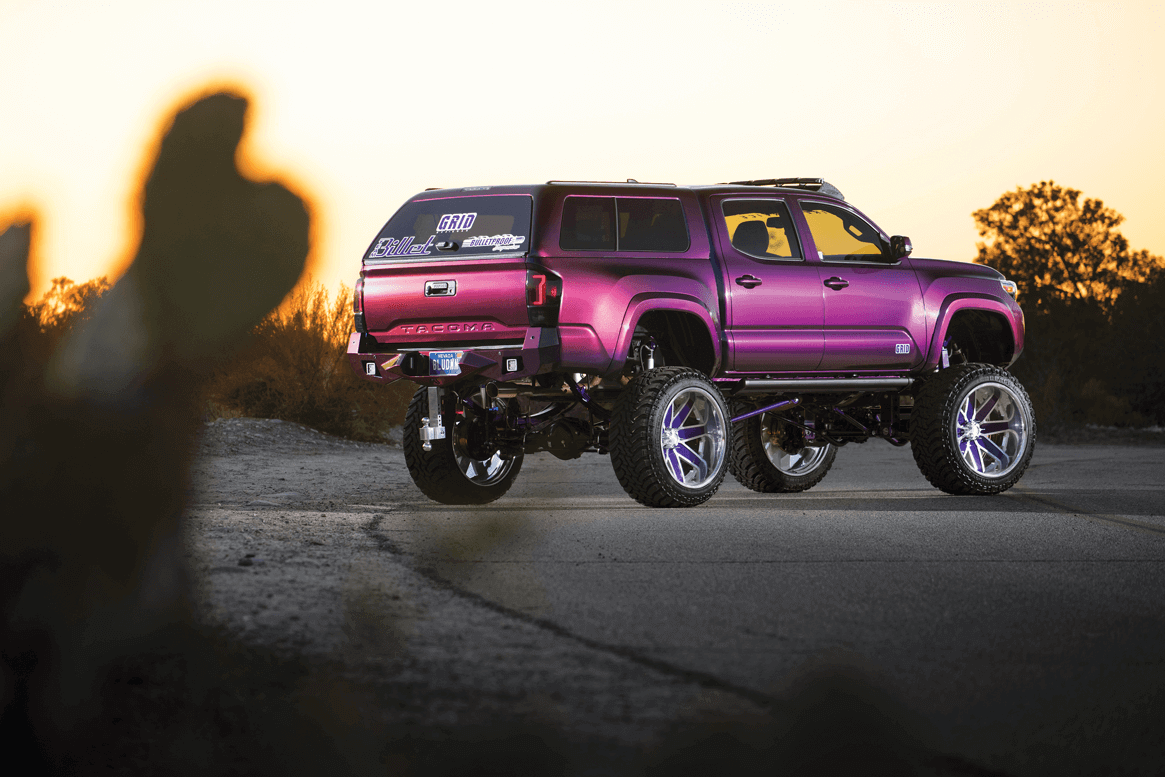 OWNER
Cesar Navarro
2016 Toyota Tacoma
West Covina, CA
Team Billet
ENGINE
3.5L Toyota V-6
Doug Thorley mid-pipes
Doug Thorley exhaust
K&N intake and filter
CHASSIS & SUSPENSION
Work performed by Worldwide Auto Body
Bulletproof front suspension lift with coilovers
Atlas Spring rear leaf springs
Bulletproof reservoir shocks
Color-matched suspension components
WHEELS & TIRES 
24×14 Grid Off-Road GF1 wheels
37×13.50R24LT Markma Dakar MT III tires
Spike Lugz lug nuts BODY & PAINT
Work performed by Worldwide Auto Body
A.R.E. Z Serious cab-high shell
AMP Research running boards
3M Chameleon wrap
Fab Fours front and rear fabricated bumpers
DB Customz grille
BedRug bed liner
Winjet taillights and headlights
Winjet off-road LED light bar
Ekstrom Designs roof light mount
DUB IR tint §§ Pro Eagle off-road jack
INTERIOR & STEREO
Roadwire Leather Interiors ostrich upholstery kit
Husky Liners floor liners
Horn Blasters air horn
PAPAGO dash cam
sPOD power distribution setup/switches
Odyssey battery