Some say C/K trucks were never gone. They were maybe just sitting in the shadow of the C10 movement. Well, that's a huge shadow considering the popularity of C10 trucks over the past 10 years. Back in the day, OBS trucks had their time in the spotlight, but now they're starting to emerge from their older siblings' shadows and come back into their own.   
The OBS trucks are like the boomerang of trucks. When introduced, they were widely popular as GM had previously run with the square-body format for 15 years. The fresh new C/K trucks were a highly anticipated change. They rose in popularity instantly and led the sport truck movement, setting an all new bar for what was a RADical truck.
GM gave the aftermarket and customizers a fresh canvas to work with, starting with progressive and updated styling cues like flush-mounted door handles, flush windshield glass, and clean body lines that were drastically different from the previous generations. 
Even dealerships figured out that they could make a few subtle mods and give the buyers the look they wanted: color matched bumpers, a roll pan, a slight drop, some wheels and maybe a billet-style grille. It all equaled "Sport Truck Lite," ready to roll off the show room floor. All the cool kids and dads had 'em, and if you didn't you sure wanted one. (Believe me.) 
Over the last year we have seen that the OBS boomerang has made its turn back to popularity. SEMA 2019 was the litmus test. Would there be any OBS trucks there, and if so, how would they do? 
Well, let's just say there were—and they made a SPLASH!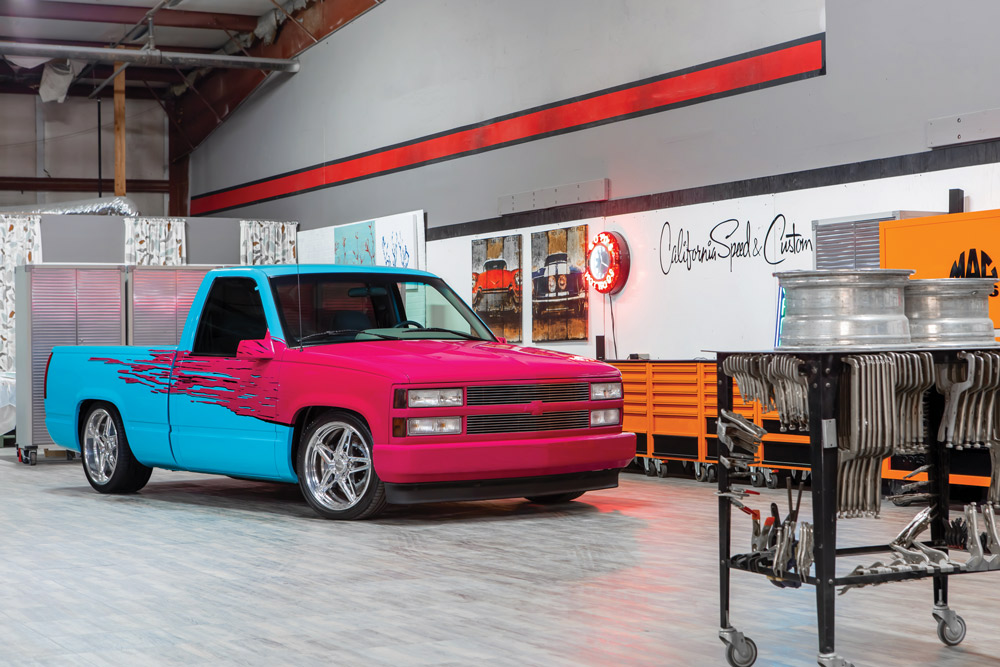 Mark Oja from California Speed and Custom teamed up with Belltech and Budnik Wheels to recreate a retro rad version of the first Thom Taylor "Splash" truck. Outside, where the truck was perfectly staged, it had everyone talking. Joey's stock 454 SS truck was turned into "Black Jack," a winner every time!
From the time they took the cover off, you could see instantly that this team had gotten the OBS trucks caught up! All the things we have seen over the last few years in the C10 trucks were applied to the OG of the Sport Truck Era, and I'm here to tell you it looked bitchin! 
Along with this magazine, an OBS podcast called OBS Talk (shameless plug …) and you the OBSessed Nation, the CK trucks are enjoying a rebirth. I have a feeling that we will see some amazing builds over the next few years as these trucks take center stage once again. Who else is looking forward to getting reacquainted?! 
Stay safe out there!