Q&A With Aaron Kaufman and Richard Rawlings
Street Trucks: Thanks for taking some time to talk to us. We've seen Gas Monkey blasted all over TV with "Fast N' Loud" these days, and we have quite a few questions for you because you seem to be the one that heads all of the builds at the shop. Where did you get your passion for building custom vehicles?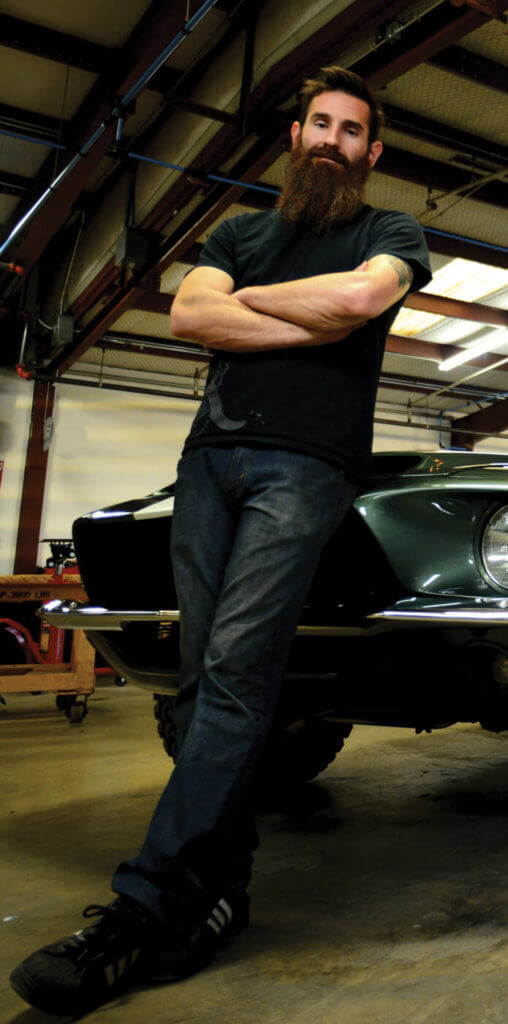 Aaron Kaufman: Ever since I was a little kid I've loved heavy equipment trucks, anything that made noise, anything that had a motor on it, I was into it. My dad built cars, but when I came along he had to provide for his family so he went to work. We didn't have any hot rods in the family, and we went to sonic car shows on the weekend, but we never had any hot rods and definitely no race cars. So, I was always enamored when I would look at them in magazines.
When I was 16 my dad bought me a little Ranger, and it was great for me since I would ride BMX so much, I would put all my stuff in there, but it was four-cylinder, a long bed and it was nice, but it wasn't that cool.
So, I saved up my beans and bought a Jeep Cherokee in 1984. It was a two-door. I lifted it and it had driveline vibrations, so I ordered the driveline spacer kit. It was just a pair of holes in rectangle tubing, and I decided from that point if I need something, I'm going to try to make it first. If I can't make it, I can always buy it. It turned out that I could make quite a few things. From that point I built one thing, then built something harder and built something harder, and so I would always try to elevate it. Then it just got to the point where it wasn't about building the most difficult thing, and I wanted to start building nicer things. With the TV show they wanted to build things as fast as humanly possible; so, that's kind of our new twist on stuff.
ST: Gotcha, so is that pretty much how you got your knowledge and picked up on everything?
AK: 100-percent trial and error, for all the good, for all the bad. I mean, when it comes to doing stuff that I know, I know the wrong way through and through, but I also know the right way, which I think is an advantage in this industry. I can see a mistake as it is happening because of so many wrong roads that I've been down. We learn from doing it wrong so many times, and then we learn what the proper way is. So like I said, for all the good things, for all the bad things, most of what I know is from trial and error.
ST: Do you have any influences or people you look up to in the automotive world?
AK: I couldn't even begin to list how many of them. I'll tell you someone that has been really influential in our success is Chip Foose. We ran into Chip and he said hey y'all come out and do my show. So I came out and did one of the Overhaulin' episodes in '05 and '06. Chip's always been a big inspiration to me, the thing that impressed me the most is that he was every bit of the guy that he looks to be. I was so impressed with his knowledge base, and the time he spends with everyone, his courteousness, I've always been impressed by the depths at which they cut up a car and put it back together. I've always struggled to hopefully get to that level.
ST: What do you think of how the show has turned out?
AK: To be honest, I don't watch the show. People ask me all the time if we have cool episodes coming up and the answer is I have no idea because projects I like working on sometimes don't translate to the best episodes. Then there are very boring cars that I don't like that end up being a wonderful show. So it's really hard to make that translation from what I see in the shop to what's happening on the television show. But you know, honestly, I wished we spent more time with the car. What we are doing to the car, why we are doing it to the car and the search for the car…but we have to build the show for an audience. I wish we had a little bit different direction, but the truth of the matter is ultimately that we try to provide a funny show with cars in it. Car guys tend to be really funny. We don't take ourselves very seriously, but we take what we do seriously. Though we may have some money to build some of these cars we don't have time. We are always battling what we would like to do versus what we have time to do. I'm really impressed with what we have been able to do with our time frame. In three years time we have built 64 cars.
ST: So you've never watched the show before?
AK: I've seen a few episodes but generally I don't. The biggest thing is that I don't have cable at the house. …I just didn't get cable because I'm never there, I work until 10 or 11 at night, so there's no reason to. I told my girlfriend if you want it you're gonna have to pay for it, and she hasn't yet, so I don't ever watch the show.
ST: That's hilarious. We thought there would be a reason, like maybe it would upset you.
AK: You're thinking that, yeah, he doesn't like watching himself. Nah, it doesn't bother me. It doesn't freak me out, yet I don't super enjoy it. The reason I don't really worry about it is because I remember what we did in the shop. All the battles, all the arguments, and then they'll show 13 minutes of the build in the show. So if I don't watch the episode, then I don't get pissed. I just come to work and build cars.
ST: What other jobs did you have before Gas Monkey Garage?
AK: I worked for a little shop in Arlington that was a Hack Shack franchise, then I came to Dropzone, and that was like probably 2001. I worked there for a couple of years, moved to Lubbock, went to school for a little bit and worked at a tire shop. Moved back, started working for Dropzone for a little while, then I had my own shop named Fort Worth Rod & Custom, and then came to do this with Richard.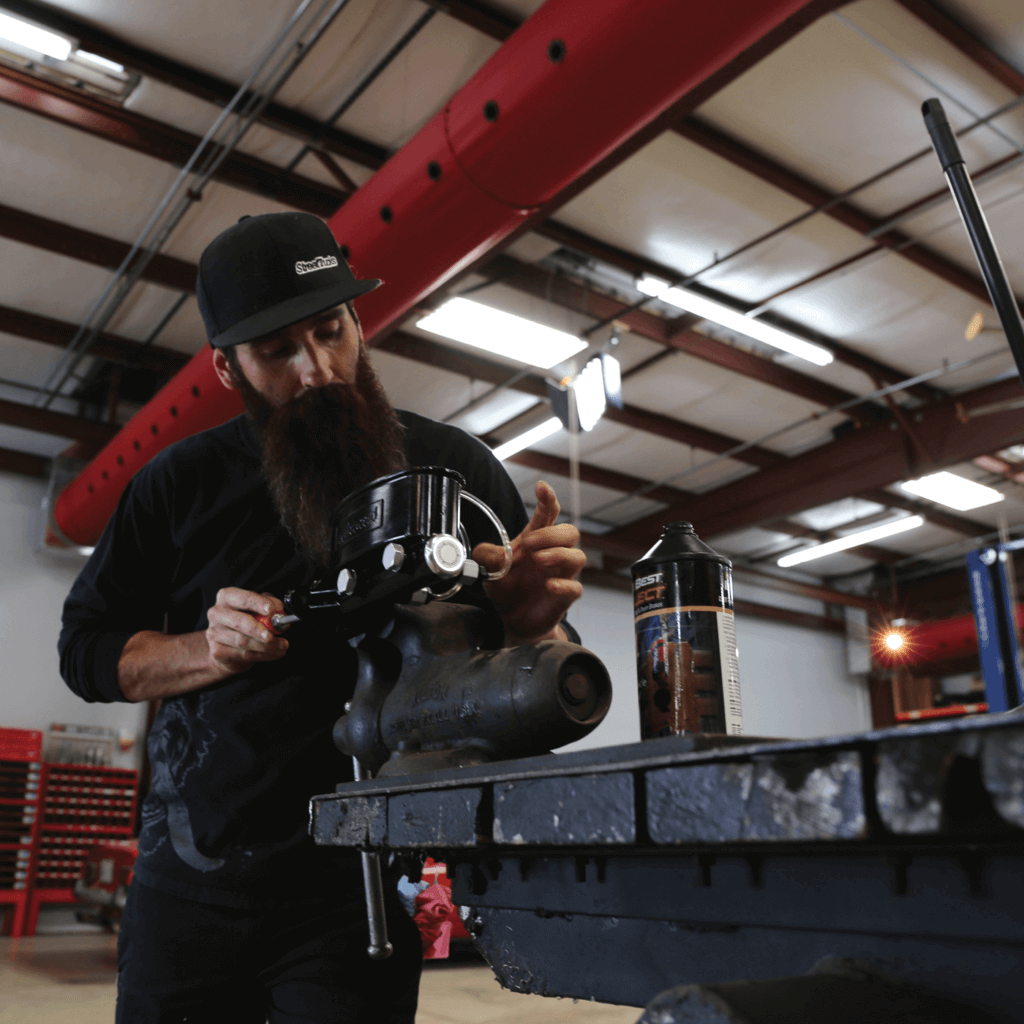 ST: So you've done a lot of truck stuff in the past?
AK: Yeah, I tell you what, exclusively there was probably a five-year window where all we were doing was 'bagging trucks. I remember going to truck shows like Texas Heatwave in like 2000, having 17s, air ride and a billet steering wheel put you in the wild category. There were like two body-dropped trucks there. Since then we would do stock-floor body drops and tubbing firewalls, we were just trying to keep up with what was on the cutting edge. We would turn trucks in a week and a half to two weeks, we just had them stacked up. Big wheels and air ride.
ST: What advice would you give anyone trying to get into making a living working on vehicles?
AK: Ah, interesting. Boy, that's an interesting one. You can work at a dealership, you can rock and roll like that but it just gets boring. In the custom world you have to carve out a niche. You have to get noticed somewhere. So find the biggest, gnarliest project, the hardest thing you can do and try your damnedest at it. If you're successful, you'll get noticed for it. Find something difficult and dig in.
ST: Shoot straight for the head, huh?
AK: Absolutely.
ST: Does having a shop based in Dallas influence your style on vehicle builds?
AK: You know, no. One hundred percent no. Most of our stuff isn't geographically stylized. If anything it's a bit West Coast and we try to keep up with everybody else and break ground where we can. For the most part I think our style is pretty wide. We try to pay attention to the stuff that is going on in Japan, the things we know that happen in Houston; we know what's going on in the Midwest. These days, with the technology advancing, style is who's on the edge, who's using tools that nobody else has. Style is really dictated by how much money is being thrown at it and the access to technology you have.
You know what's weird about it is there are a lot of shops that do one thing and get noticed for it. In one day we can work on a 1917 vehicle and a 2015 vehicle, so we can work on cars that are about a hundred years apart. Right now I'm looking at a Rolls Royce next to three Ferraris next to a Mustang. And then we got a '29 Packard next to a Nomad and a Dodge truck lifted on 40s. We cover such a wide range, we have to be well-rounded in styles because you can't apply the same style to every car. You have to understand and accept all of the different styling to be able to apply them appropriately. If you only live and breathe one style and you apply that to everything, it will come off awfully strange in my opinion.
ST: You ran your Falcon at Pikes Peak. Why did you do this and how intense was this for you? Would you do it again?
AK: Absolutely, I'm racing in 2015 and hopefully in 2016, which is the hundred-year anniversary of the Pikes Peak Hill Climb. It's bar none one of the coolest thing I have done in my life and it was a great accomplishment. It was a huge effort and one of the most rewarding so far.
As far as why did I go, it was a calling. I never though I would own a racecar and never thought I would enter in such an historic race. And all these stars kept lining up, I couldn't have lived with myself if I didn't. For me off-road racing is where I want to be but the problem is that it's such a hard fraternity to get into.
ST: Speaking of the Falcon, we noticed that it had a pitchfork combined with an arrow on it and even noticed you have a tattoo of it. What is this and what's the story behind it?
AK: You know, you are the first media person to ask this in an interview, so kudos to you. You're not prepared for this one. To give you the short on this, here at Gas Monkey Garage we get tons and tons of fan mail. One day we got a letter that was hand written, and it was bonkers, to say the least. It came from a mental institution in Canada. As we get on in the letter, he explains this list of 15 things we should build that the world needs. He had these ground-breaking revolutionary ideas and in number 15 it said "zero temperature point break pitchfork arrow." We tried to figure out what this meant, and it became evident we would make no sense of it. Now I didn't know what this was but the imagery was incredible. The way I look at it, it's like
Now I didn't know what this was but the imagery was incredible. The way I look at it, it's like medieval shotgun, low accuracy, high efficiency. If it's gonna hit something, it's gonna hit a lot of it, but it might not be thing you are aiming for. The imagery of the pitchfork arrow was so incredible that I had to have it tattooed on me.
Whenever I heard the words, it made me happy and the creative fire was lit. Like at Pike peaks, the pitchfork was on the side of it because I was hoping that the mighty pitchfork arrow would carry me swiftly into the clouds.
"The imagery of the pitchfork arrow was so incredible that I had to have it tattooed on me. Whenever I heard the words, it made me happy and the creative fire was lit."
ST: You're known as the bearded wonder sometimes, how long did it take to grow that beast?
AK: To tell you the truth, I'm not exactly sure how long. I started growing it sometime in 2010, and I don't know its current length. I catch it on fire pretty often so the length can change. It was probably the longest when we started the show, it's a bit shorter now and a bit tamed. If I had to guess, it's probably about a year's length.
ST: Would you ever shave it?
AK: Um, yeah. You know some bearders have like this insane love affair with their beard. And it's like, while I enjoy having a beard, if I get rid of it, it will come right back. I could live a couple months without it. If I needed to, yeah, no problem, but in the near future I really don't see it going anywhere.
ST: We've noticed that there is no music playing at the shop while you guys are working because of the TV show production. If you guys were able to pump up the jams what would be on your playlist?
AK: Hands down my favorite band is out of Tennessee and they are called Lucero. Also if we're jamming away, I love Fu Manchu. We listen to everything from hip hop, rap, smooth jazz, oldies, classic rock and some really gnarly head-banging stuff.
ST: So whatever fits the mood?
AK: That is right.
ST: We know that Richard drinks a lot of beer on the show, but do you stop and have refreshments at the shop as well?
AK: I learned a long time ago I couldn't drink and work at the same time, but I damn sure like to drink after work. Richard drinks Miller Lite, and whenever I travel I like to drink local beers, but to tell you the truth, around the house a lot of times it's Dos Equis (XX).
ST: Since the beginning of the show GMG has built a lot of trucks so far, what is your favorite truck built on the show and why?
AK: To be one hundred percent honest with you and it sounds set up but that green and white truck has to be one of my favorites. It was one of the best well-planned trucks, which is contrary to the show. We knew we were going to build it and it became a wonderful truck. One of the biggest parts with a lot of the vehicles is some guys like them, some guys don't. On that truck everybody wanted to build it, they were down to do as much work as necessary. Everybody loved the build, they loved the truck, and I think it came through. It was a fun build and we were all really happy with the outcome.
ST: What do you drive on a daily basis?
AK: I've got an '04 F-150 prerunner, I guess, if you want to call it that.
ST: If you could find any truck to build next what would it be? What would you do to it?
AK: I really want to build a crew cab diesel '70s 4×4 truck at the same time I love F-100s. Just about any body style, all years. If we could just pick one it would be a unibody F-100.
ST: Early '60s unibody?
AK: Yup, like '62-'63 I would be all over it. It's something I'd really really love to do, but I tell you what, something we have been tossing up here is doing a throwback mini-truck episode and that would involve so many people here. So many of us here are hardcore old school mini-truckers, and we thought one way to bridge the gap between the hot rod scene and that is to build a square-nose S-10 and build it hot rod style. Big and little billets, big brakes, V-8, automatic, you know that kind of thing.
ST: With your expert insight, where do you see the trends for trucks going in the future?
AK: Oh, that's interesting. So many mini-truckers, as they get a little bit older and start to get a little more money, they start playing with hot rods. At the same time the truck industry really started to get wild because all these guys started building hot rods. They started picking up all the hot rod tricks, started getting better sheet metal tricks, doing better fab work—they started buying better tools. I think you'll keep seeing the truck world and the hot rod world start narrowing and becoming more and more and more the same way. …I couldn't say what direction it is headed, but I think you're gonna keep seeing an increase in the level of quality.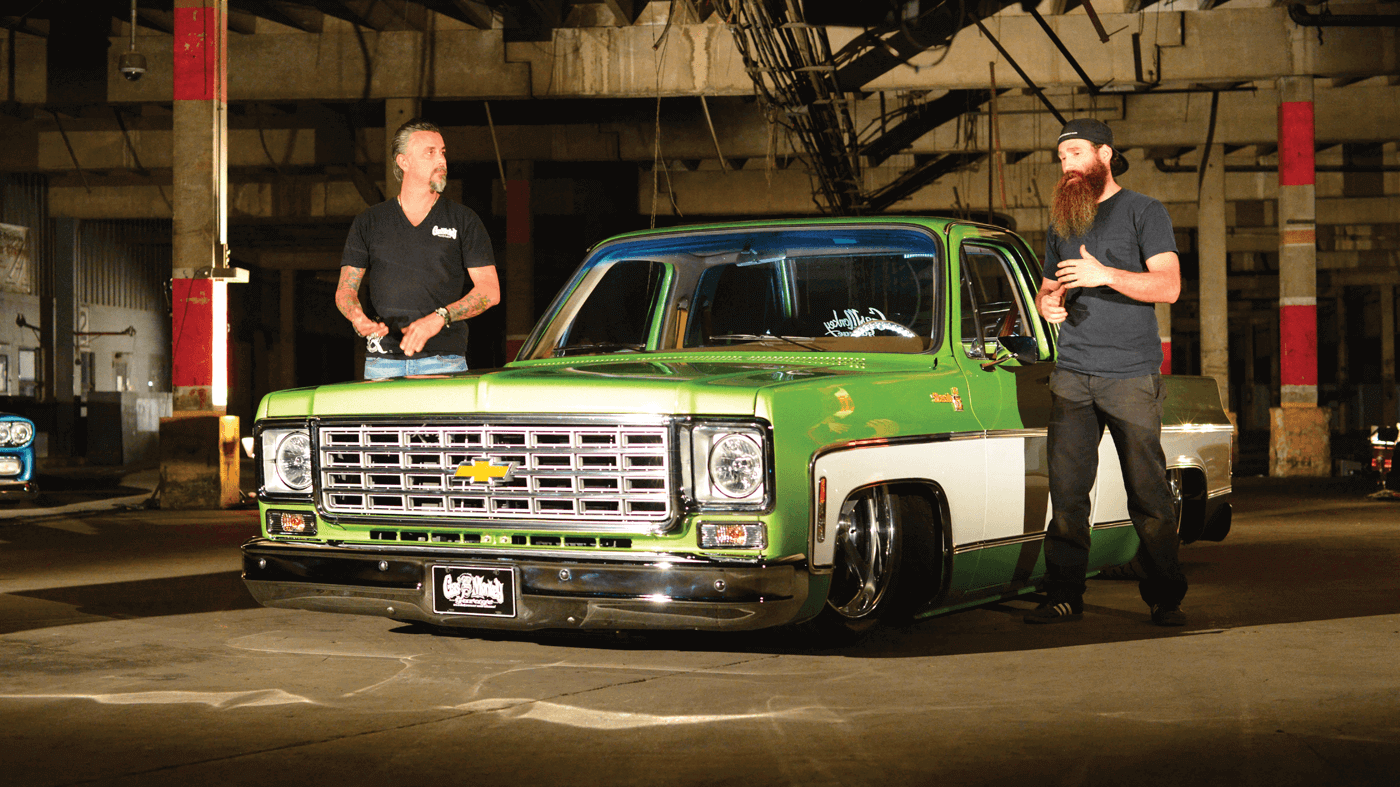 Street Trucks: Thanks for making some time to talk to us. We bet you are a very busy these days. Speaking of, you've had some huge successes over the last few years, but how long has Gas Monkey Garage been around?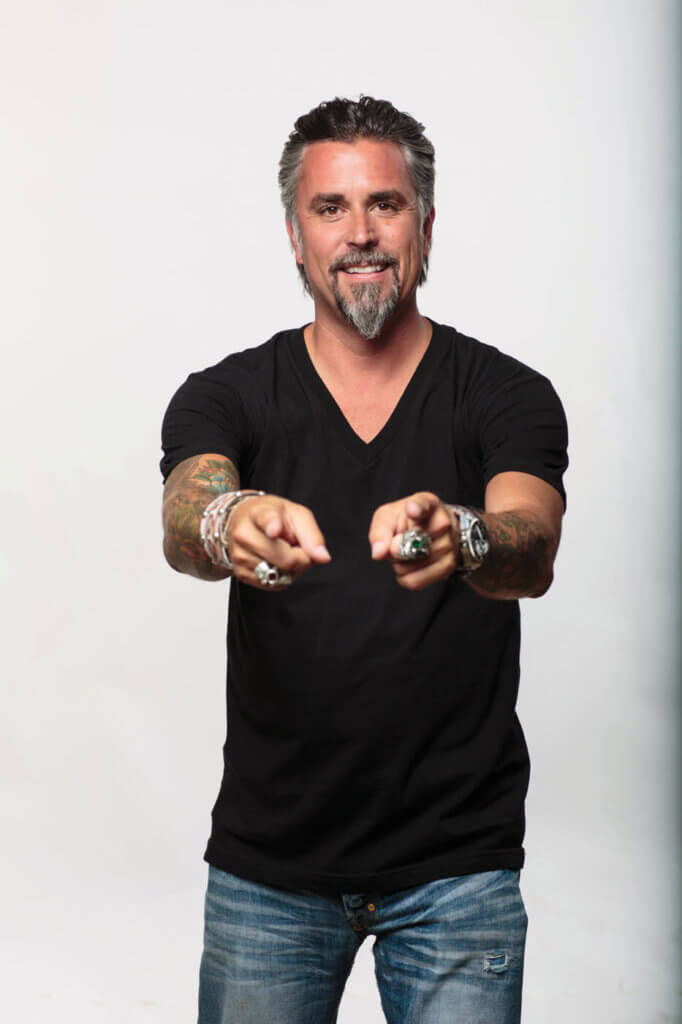 Richard Rawlings: Since 2003 is basically when I opened this Gas Monkey Garage, finishing our first car in 2004. Around the end of 2011 we kind of shut down and reached kind of a wall while trying to get the show done. The market was a little slow…I had put everything I had into Gas Monkey and reached a point where I had to regroup. It was just down to Aaron and me. He went and found something to do, and I went back to a few other companies that I owned before getting back into it.
ST: We remember back in the day you guys had a couple of nice rides, a big rig at Showfest. Do you remember what year that was?
RR: Probably could have been '04 or '05 when that went down. We set out to build a world-class hot rod shop and hopefully get a TV show to be the car version of all the motorcycle shows that were out. That was my goal, to build a lifestyle brand around cars because there were none. While we were trying, "Overhaulin'" came around, Boyd Coddington and a couple of things like that, but they didn't capitalize on a commercial standpoint as much as I was aiming for.
ST: How did you guys get started with Discovery Channel?
RR: It was a part of the original plan when I launched Gas Monkey Garage. The original plan was to take a look at what the motorcycle guys were doing as they were selling a bunch of apparel and commercials and all this kind of stuff, and I was like why can't that be done with cars? I got the same response in Hollywood all the time, you can't build a car that fast, you can't build a car that fast. And I'm like, yeah, you can. It's all the same systems. Because it's smaller doesn't mean it's not the same amount of work. So when I launched Gas Monkey Garage, it was like build a world-class hot rod shop, get that respect, build wonderful cars and do our time and hopefully somebody will notice it. Then we could get rolling on a world scale and get a TV show and show people that cars can be done on television and not just motorcycles.
ST: In that respect, was the original concept of the show different from how it turned out?
RR: Not exactly. No. At first it was kind of a lifestyle type show about us building cars, buying and selling cars and flipping them. You know pretty much what we did. It turned into more of a build show than we had originally envisioned. The build became more important than chasing them and finding them and flipping them and fixing them up.
ST: You guys seem pretty active on the show with all the antics going on. Are the crazy deals going on all the time like on the show?
RR: Oh yeah, they really are. There's another 20-30 cars that go through here a month that you don't see on the TV show. The difference between us and any other car show is this is an actual real working business. It's not scripted. I don't have another day job, the same with all of my guys. They're all full-time employees. We are still running a business. With every other show out there that is not the case. They're either hired actors or hired guns, they have a night crew that makes the car for real, or they don't have a real shop or whatever. And that's why the ones that you have seen after Fast N' Loud haven't succeeded, they don't have that real magic of being real active businessmen trying to make a living.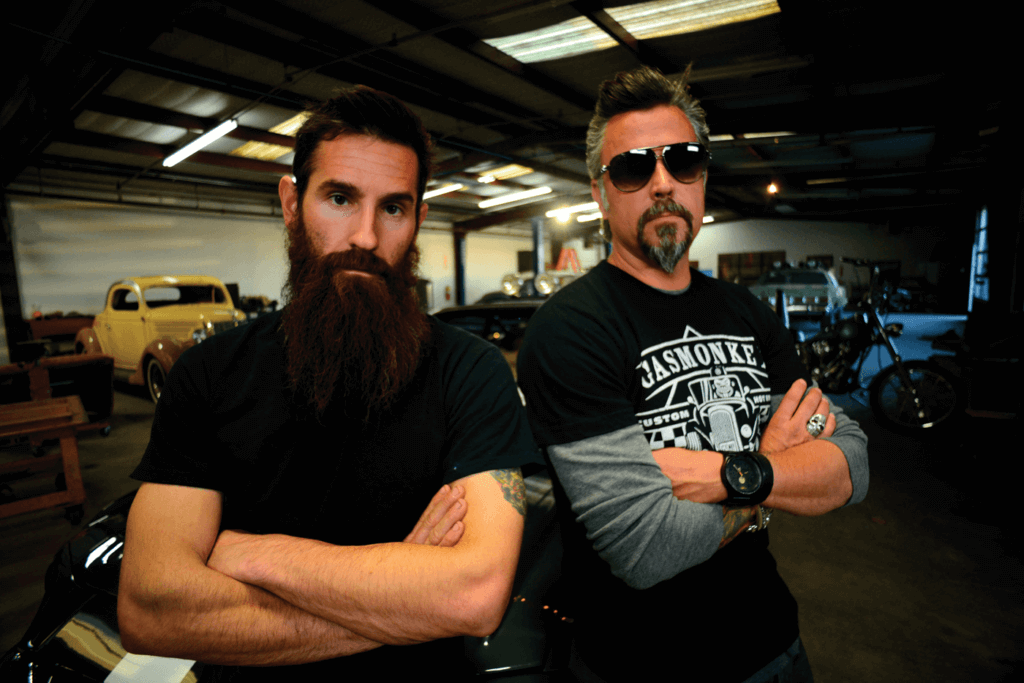 ST: When did you start flipping cars and why?
RR: Well, I've been flipping cars for fun ever since I was old enough to drive. Always had a knack for them, always liked them and always trying to get a better car for myself. As far as doing it for a living, when I started the shop. About the time I sold my advertising printing company, I was selling 5-10 cars a year. You know just playing around, but it became a real job when we decided to do this.
ST: How did you meet Aaron? Was it like "Harry met Sally"?
RR: [Laughs] No. I met Aaron when I was flipping cars around 2003. I had a shop he was working at do some work for me, and he was the one doing the stuff for me. Ever since then I have always appreciated his work. He went a little over and above on the car. We struck up a friendship. When I decided this is what I was going to do he was the first one I called.
ST: Been magic ever since, huh?
RR: Well, it's been a little bit of hell, too, but we're here.
ST: What did you do before Gas Monkey?
RR: I've had kind of three parts of my life. First of all I was a police officer, firefighter and a medic before I was old enough to drink. And I spent five years doing that when I got out of that because of my entrepreneurial spirit. I was like this is not going to work for me. I'm not going to stay here for 20 years, get a couple pay grades and a backstroke.
I didn't know anything of what I was going to do when I left. I stumbled into printing sales and from there I found that was my niche. Being in marketing, advertising, being creative and branding is really what I got into. It was a natural progression for me to jump into Gas Monkey. I said, well at the end of the day if I can figure a way to get paid to drink beer and play with cars, then that would be good.
ST: What advice would you give anyone trying to start his or her own shop?
RR: Decide why you want to start your own shop. If you're deciding to open a shop and make a living to provide for your family, that's a good reason. But if you start your own shop thinking you're gonna get rich, you better rethink that. And then decide why you think building a shop is going to make you rich. If it's just because of your passion, maybe start slow. Work hard somewhere else, build your own thing and see if you like it first before you just dive off into it. It's good to have a financial plan of how you are going to sustain yourself through thick and thin.
ST: We've noticed that you don't really wrench. Has it always been this way for you, or did you get your hands dirty before?
RR: I don't wrench. I understand it. I don't fabricate. Aaron does it all. Wrenching I understand, I could probably do most things I need to do, but I've never been that guy. The answer to the question of the why is there's very few people that can work with Aaron. And I'm not one of them. Aaron's a tough cookie and knows exactly what he wants. It takes a special breed to walk along side of him.
ST: Since the beginning of the show, GMG has built a lot of trucks, what's your favorite truck built on the show and why?
RR: For sure the C-10 is my favorite, and mostly because it was a done truck. I mean every single piece was perfectly done. Of course it's green, that's my favorite color, but I really liked that truck from the very get go—the whole design and the whole style of it.
ST: What do you drive on a daily basis?
RR: Dodge truck. I've got two Dodge trucks, we've got a big dually work truck here and a ¾-ton. It's actually a 2015 on 40s and no lift.
ST: You sometimes have to go on long hauls to pick up build vehicles, what do you listen to on these road trips?
RR: I'm a hair band guy. I graduated high school in '87 so hair band rock 'n' roll, Van Halen, Def Leppard, Motley Crue and what have you.
ST: We've noticed a tattoo of a stopwatch on your arm. What's the story on this?
RR: That's the Cannonball run Dennis and I set in '07. And it was the first time the record has been broken since 1979, being the actual Cannonball from 31st street in Manhattan to Redondo Beach, California. It's about 2,800 miles. We did it in 39 hours and 59 minutes.
ST: We remember that when Fast N' Loud first took off you and Jesse James had some issues during the Biker Build Off. We remember seeing a truckload of manure being dropped off at the old shop. Did you fire back on that one?
RR: Oh yeah, that was part of the Biker Build Off. We made that funny video of the Teutuls. Jesse had the manure dropped off the exact same time we had a plane flying over his shop in Austin with a banner that read: Biker Build Off help needed, call Jesse. I had that plane in the air for six hours, I think they left the shop, locked it and didn't come back until the next day. We had a little bit of fun and I don't have any hard feelings.
ST: Now that you have built GMG into a mini empire complete with concert venue and restaurant, what's next for this brand?
RR: Well, if you haven't caught it yet, I've got an NHRA Top Fuel drag team now. Gas Monkey has never been the thing that eases into something. We kind of kick the doors open. We came out last year with two races and put on a really good show. We really shook NHRA up, and they're really fired up to have us out there. The sport was getting a little stagnant with all the same guys all the time. We got some new blood, we're fast and we're good.
ST: We saw that on an episode. So that isn't just a one-time thing?
RR: Oh, it's a full Gas Monkey race team now. So you'll see a lot more of that on Fast N' Loud. We got some more venues opening up for the bars and restaurants. And I'm gonna take that to a national level. We really want to be a cool version of cars and motorcycles, and places that people want to be a part of and can come and be a part of.
ST: We wish the best for you and the venture ahead of you. It's been great watching the show.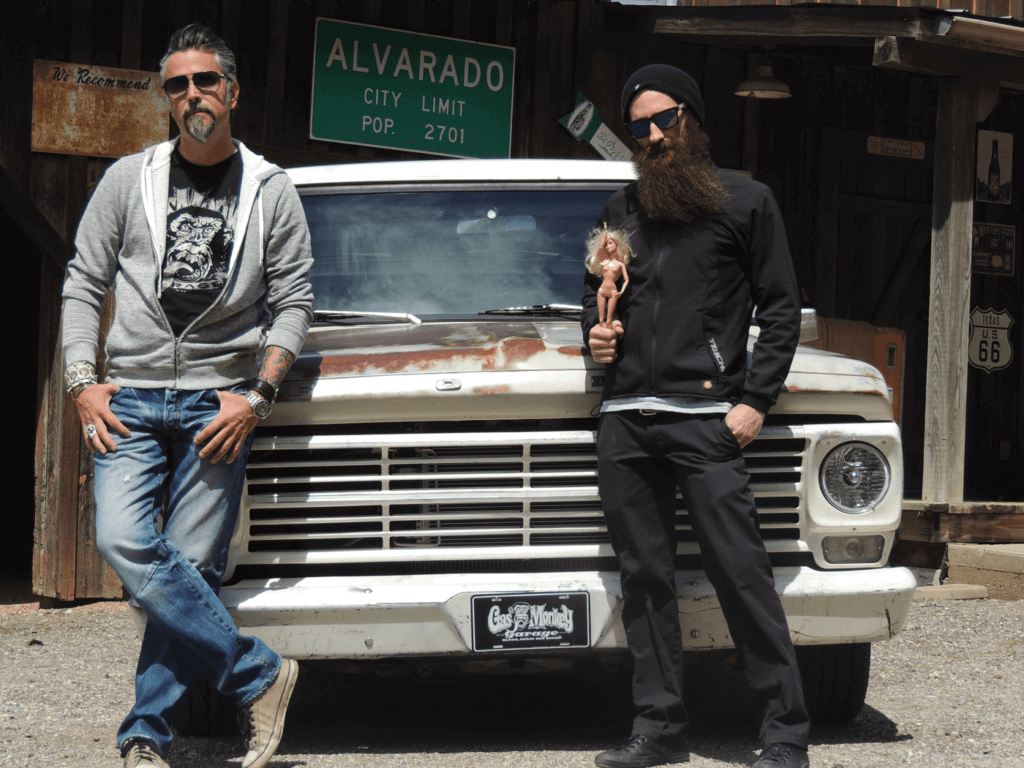 Editor's Note: A version of this article first appeared in the April 2015 print issue of Street Trucks Magazine.