We've had the Raptor version of the Ford F-150 for a while now. But it's smaller cousin, the Ford Ranger Raptor, has been limited so far to the Asia-Pacific and UK markets. That could all change next year, if a recent report from a UK motoring site is to be believed.
According to Motor1.com, Ford is reportedly readying a North American version of its popular Ranger Raptor pickup truck. This was gleaned from patent filings with the Australian IP office last August 18, which echoes a similar patent filed with the US Patent and Trademark Office under patent number 29/634999 earlier in January.
According to eagle-eyed enthusiasts on the Ranger-focused forum Ranger5g.com, the 29 prefix indicates a design application. There are also subtle clues that depict a new Ranger Raptor noticeably different from the Aussie version.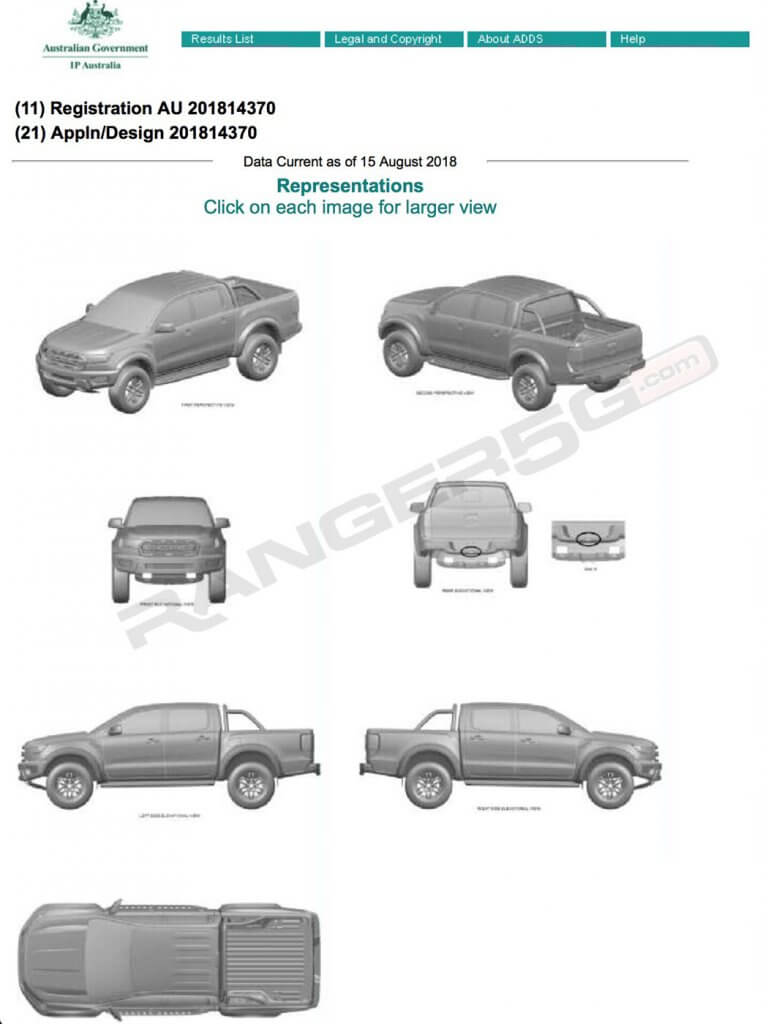 If the report is accurate, then we may well be looking at the US-spec Ranger Raptor. The same enthusiast forum was able to snap a spy video of a LHD Ranger Raptor that was spotted testing in Detroit in June.
The overseas Ranger Raptor is powered by a 2.0L diesel engine 210hp and 350 lb-ft of torque, up from the 197hp and 347-lb ft torque of the regular Ranger. The twin-turbo mill is paired to Ford's first 10-speed RWD transmission.
Like its bigger F-150 cousin, it gets a unique grill, new front and rear bumpers that offer better ground clearance, and beefier fenders to accommodate the 150mm wider track. Raptorized Rangers also benefit from a totally unique chassis that was adapted from the Ford Everest SUV, which means they use coil suspension rather than leaf springs in the rear.
If the smaller Raptor does make its way stateside, it will be competing with the Chevrolet Colorado ZR2 and Toyota Tacoma in the smaller performance pickup segment, while offering a cheaper and lighter alternative to its full-size F-150 Raptor brother.