Syndicate Series 02 is on its Way to Greatness
Joe Yezzi has proven himself to be a square-body master—they're in his blood. He grew up always having one of some sort in the family, and after breaking the world's collective neck with his Syndicate Series '01 C-10, Joe knew that he'd really have to raise the bar on his next build, so that's just what he did. Joe's latest is a '76 GMC Sierra Classic 15 shorty that is being built as a tribute to the last known surviving 1975 GMC Indy 500 Hauler, which Joe also owns. That truck is currently being restored because of its historical significance; there was no way Joe was going to cut that one up, and we don't blame him one bit.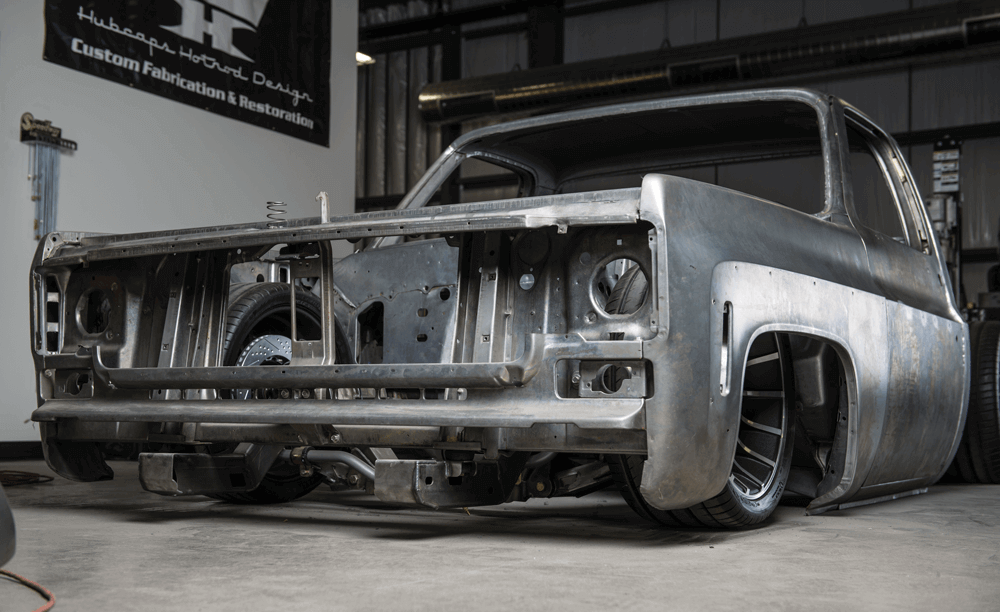 At the time of this writing, most of the metal finish work has been completed, and the cab sits perfectly atop The Roadster Shop Syndicate Series Spec chassis and matching RS air ride suspension with RideTech shocks. Custom 20-inch Syndicate Series turbine-style wheels by MCS and Michelin Pilot Super Sport rubber are the perfect complement to the forthcoming 1975-era paint scheme.
When we asked Joe what else will be done before the truck is ready for paint, he shared, "Nick [Sininoris] and the crew at Hubcaps Hotrod Design will be cutting out and replacing the whole firewall to fit and hide all the brackets and components. They'll also build the upper core support to match, along with a complete, complex bed floor. The front and rear fender wells will be modified to fit the truck correctly, and the bumpers will be tucked. It'll have a full custom roll cage, steering linkage, all of the gaps on the doors and hood will be set, and the front valance modified. Once the exhaust is done, the custom battery brackets and a ton of other stuff will get put on. Let's just say anything metal on the truck is being touched by Nick and his crew."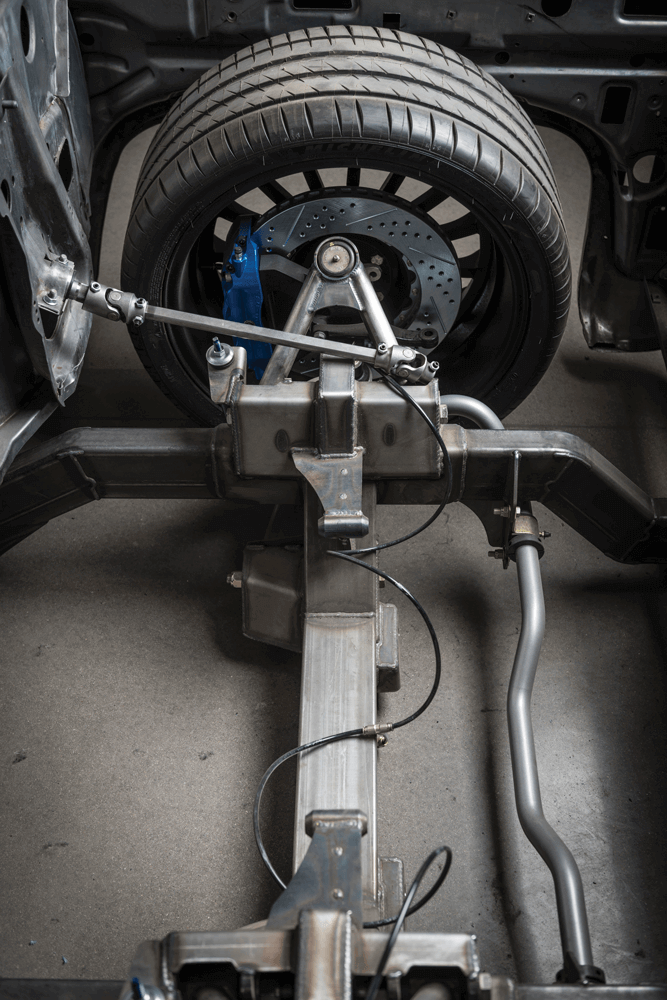 Although Joe's original Indy Hauler didn't have anything particularly special under the hood when GMC built it, the tribute truck will have the kind of power the original only wishes it could have been born with. A fully built, Magnuson blown GM Performance LS3, assembled by Charles at Pro-Dyno, will put out an estimated 600-630 rear wheel horsepower. American Powertrain has put together a beefed-up Tremec Magnum six-speed transmission, which should make the Sierra an absolute blast to drive, especially with the bulletproofed Currie 9-inch rearend and 4.11 gears.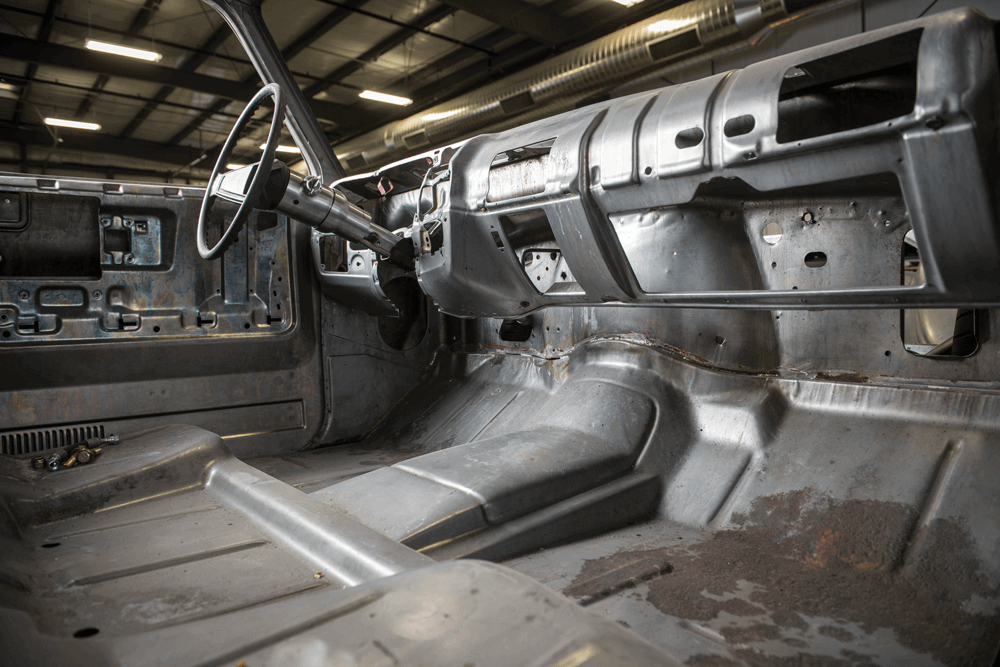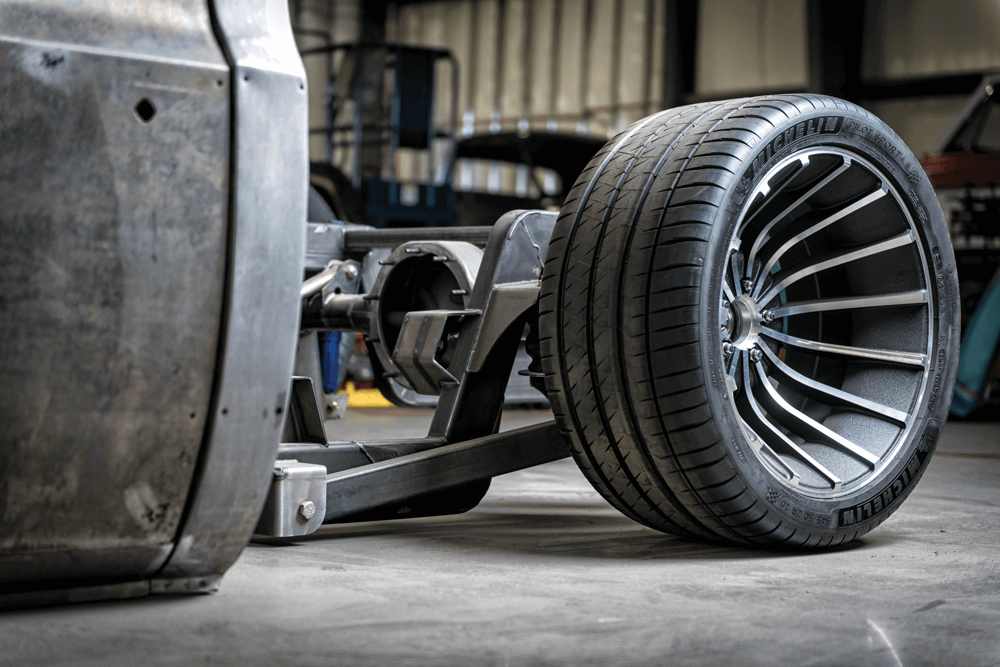 The interior will be very reminiscent of the original Indy Hauler's, but it will be a bit more in tune with the truck's high-performance capabilities, with Simpson five-point safety harnesses attached to the roll cage, as well as Syndicate Series gauges by Dakota Digital, and a Syndicate Series billet steering wheel from GSI. Empire Custom Upholstery will handle the soft goods, with good ol' red, white and blue accents throughout. Joe may end up breaking a sweat while mashing the go pedal, so an Old Air Products air conditioning setup will help cool things back down when need be.
You'll definitely be seeing more of the Syndicate Series 02 once it's finished, and we have a sneaking suspicion that it'll have a prime spot at SEMA. With as much love as Joe puts into every square-body he owns, this truck will be one for the history books, and it will no doubt be one of the most remembered trucks of our time. Stay tuned for the next round in this truck's saga in an upcoming issue of Street Trucks. ST
OWNER
Joe Yezzi
Squarebody Syndicate
Phoenix, AZ
1976 GMC Sierra Classic 15
ENGINE
Work performed by Charles at Pro-Dyno
2017 GM LS3
Magnuson Superchargers sixth gen TVS2300 Hot Rod blower
Deburred block
COMP Cams 231/240 camshaft
Custom retro Syndicate Series valve covers by GSI
Holley water pump
Hooker headers
Magnaflow custom 3-inch stainless exhaust
Drive Junky accessory drive setup
Drive Junky alternator
Frost Bite cooling fans
Frost Bite radiator
Painless Performance wiring harness
2018 Tremec Magnum six-speed manual transmission by American Powertrain
American Powertrain White Lightning shifter
American Powertrain driveshaft
 CHASSIS & SUSPENSION
Work performed by Squarebody Syndicate and The Roadster Shop
Syndicate Series Spec chassis by The Roadster Shop
The Roadster Shop parallel 4-link
The Roadster shop control arms
Firestone airbags
RideTech shocks
Wilwood drop spindles
Baer Pro+ 14-inch brakes front and rear
Wilwood brake master cylinder and booster
Currie Enterprises 9-inch, aluminum center
Detroit Trutrac differential with 1350 yoke and 4.11 gears
Boyde Welding gas tank
WHEELS & TIRES
20×9 and 20×11 Syndicate Series wheels by MCS
295/30ZR20 and 345/30ZR20 Michelin Pilot Super Sport tires
BODY & PAINT
Work performed by Hubcaps Hot Rod Design
Tucked LMC Truck bumpers
Roll cage
Custom inner fenderwells
Custom bed floor
Custom gas filler
Original-style LOF windows
Spirit of '76 GMC graphics
Single-stage red, white and blue paint
INTERIOR & STEREO
Work performed by Empire Custom Upholstery
Leather seating over GM seat
Simpson five-point seat harnesses with camlock
Syndicate Series billet steering wheel by GSI Machine
Syndicate Series gauges by Dakota Digital
Old Air Products climate control system
Hook-and-loop carpeting
Two Optima batteries
Special Thanks From the Owner: "Nick Sininoris and the gang at Hubcaps Hotrod Design, Ron and the crew at Empire Custom Upholstery, Charles at Pro-Dyno, The Roadster Shop, AccuAir, Magnuson Superchargers, Magnaflow, Holley, American Powertrain, Currie, LMC, Painless Wiring, Dakota Digital, ididit, Precision Rubber, Billet Badges, Old Air Products, MAR-K, Boyde Welding, Optima Batteries, Covercraft, Vibro Solutions, GSI, Baer Brakes, Drive Junky, Xpress Metal Cleaning, CGS Kustoms, Prestone, Pacific Powder Coating, Royal Purple and GM."