One Man's Legacy of Chevrolet Nostalgia
THERE ARE CERTAIN IDEAS THAT STICK WITH US THROUGHOUT OUR LIVES, ESPECIALLY WHEN IT COMES TO TRUCKS—AND IT'S NO ACCIDENT. The iconic haulers showcased in our favorite television programs and movies were chosen by producers because they're badass machines. There might have been some product placement motivation from sponsors behind the scenes, but by and large, our favorite trucks, especially those that made an impression on us when we were kids, were chosen to wow audiences.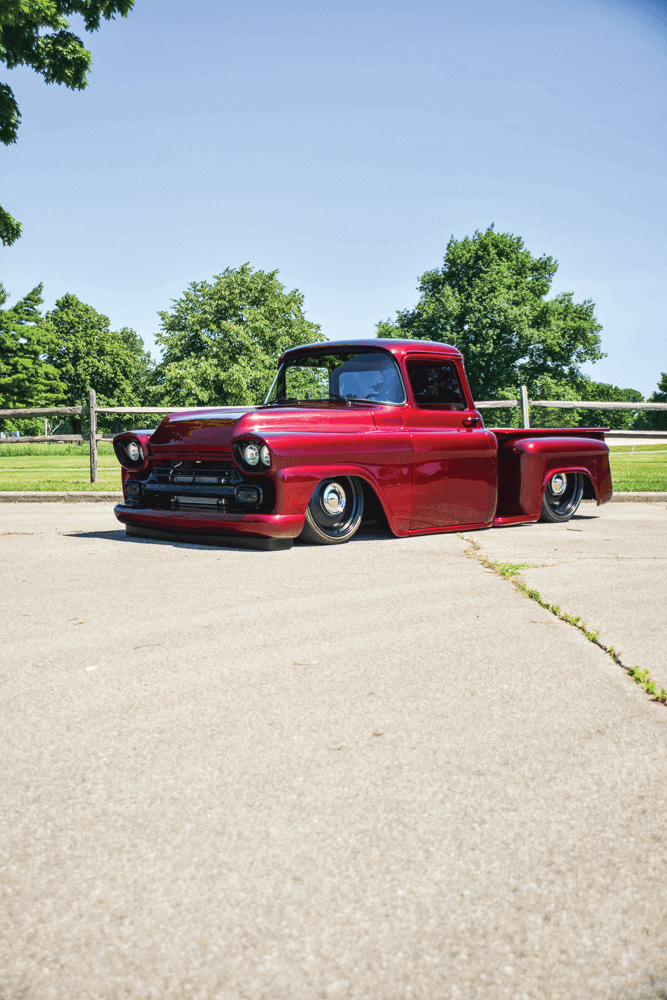 Yet, some of us are inspired by real-life heroes rather than actors—people or vehicles—so, tagging a truck with a positive memory because we admired the driver/builder is also pretty common.
I WANTED TO BUILD ONE MY WAY. THE SAME THING GOES FOR THE COLOR. I REMEMBER SEEING A LATE '50'S CHEVY SEDAN IN A MAGAZINE WHEN I WAS ABOUT 15-16 YEARS OLD, AND I'VE WANTED MY FUTURE TRUCK TO BE PAINTED THAT SAME BURGUNDY COLOR EVER SINCE."
— AUSTIN SMITH
Austin Smith, a custom car/ truck/motorcycle fiend from Beavercreek, Ohio, definitely falls into this second category. "Ever since I was little, my family had an old Chevy work truck," he tells us. "After I got a little older, I wanted to build one my way. The same thing goes for the color. I remember seeing a late '50's Chevy sedan in a magazine when I was about 15-16 years old, and I've wanted my future truck to be painted that same burgundy color ever since."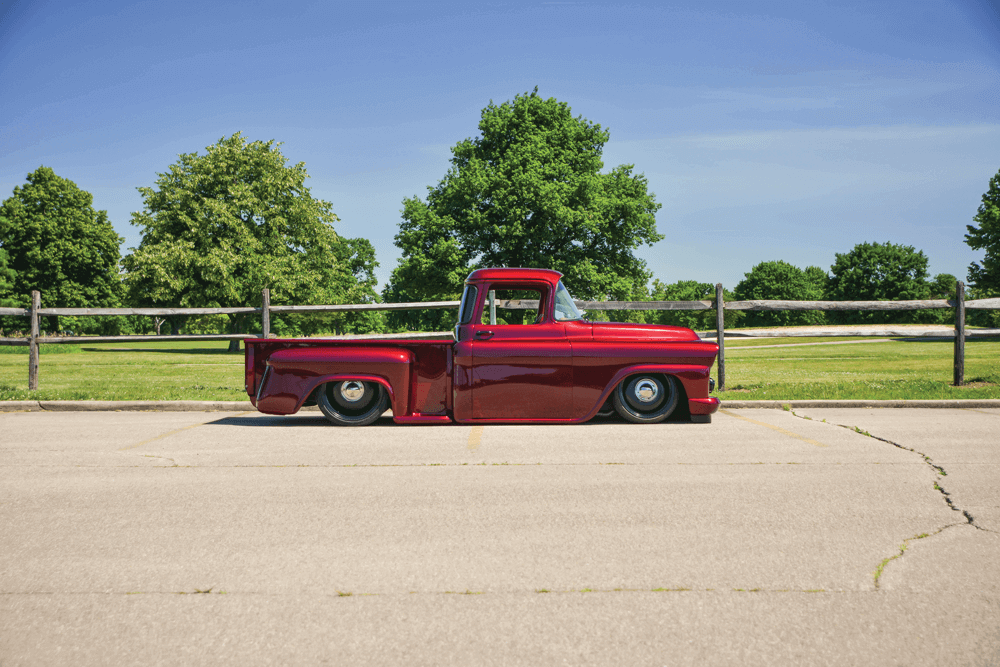 When Austin's chance to build his dream truck finally presented itself, he didn't hesitate to chase it down. He's had his share of custom cars in the past, so this build wasn't going to be his first go-around. He's developed an elevated taste for quality as he's matured, so he wasn't interested in cutting corners. "This time around, I wanted a very clean, very reliable and very well-done ride that will stay in my family for a long time."
THIS TIME AROUND, I WANTED A VERY CLEAN, VERY RELIABLE AND VERY WELL-DONE RIDE THAT WILL STAY IN MY FAMILY FOR A LONG TIME."
Austin purchased his '58 Chevy Apache pickup from a coworker seven years before starting the build, but once he got going he discovered that it was going to need more attention than he initially planned. "[It] looked decent enough and relatively stock, but after some minor tune-ups and maintenance, I started to realize the truck was a little rougher than I first thought."
Austin talked to Pat Patterson of Led Sled Customs, who was in the process of building a bike for him, and Pat recommended Jake Burton of Burton's Kreative Motorwerks in Dayton, Ohio. "I'd heard nothing but good things about Jake in the past, and I trusted him enough to start putting in some real work on my new truck project."
THE GUYS WANTED TO SEE THE TRUCK SITTING LOW WITH CLASSIC STREET-ROD STYLING, AS WELL AS AN ADDED DOSE OF PERSONAL STYLE TO MAKE THE DRIVING EXPERIENCE UNFORGETTABLE. "
Austin and Jake sat down and went over some basic ideas. The guys agreed upon some of the same types of modifications and styling points, and eventually Austin gave Jake full creative freedom over the project. According to Austin, "[Jake] showed a level of interest in the truck that matched mine, and he took the initiative to start planning the build. I knew from there that my truck was in good care."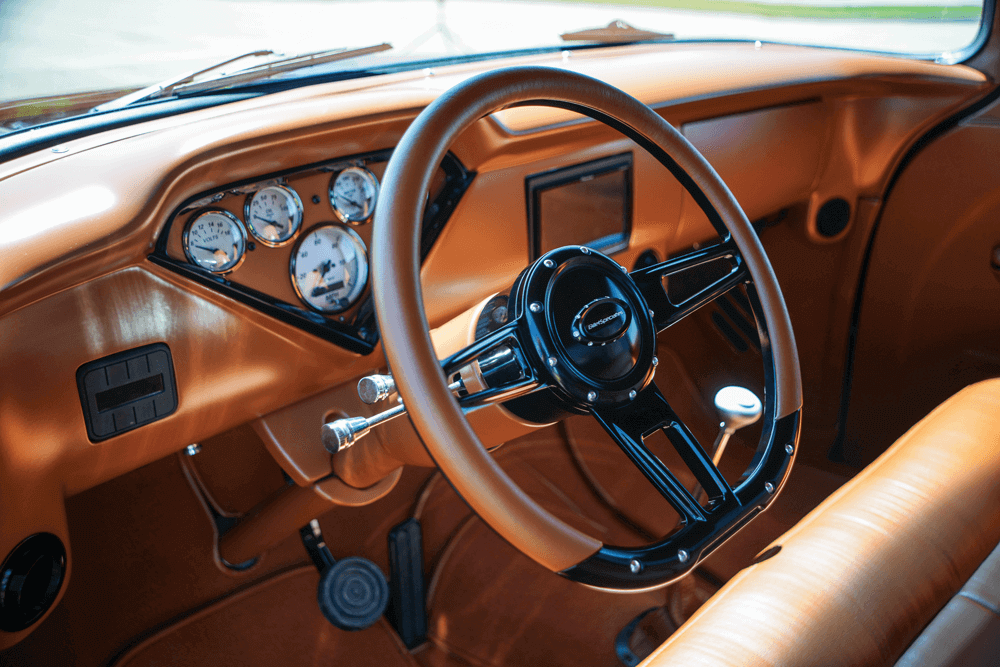 The guys wanted to see the truck sitting low with classic street-rod styling, as well as an added dose of personal style to make the driving experience unforgettable. To start, Jake lined up an impressive array of premium suspension components to bring the Apache down to a respectable cruising height while maintaining an excellent ride quality. A set of 20/22 Coys wheels also made its way into the equation as well.
THERE'S ABSOLUTELY NOTHING ABOUT THE TRUCK THAT I WOULD CHANGE OR DO DIFFERENTLY, OR EVEN THINK ABOUT ADDING IN THE FUTURE."
— AUSTIN SMITH
When it came time to address the truck's exterior, Jake found that almost all of the original sheet metal was unusable, which proved to be one of, if not the, largest obstacles during the entire build process. Luckily, quality aftermarket sheet metal is readily available. Once the truck's new skin was in place, Jake kept things pretty streamlined as far as modifications go. Keen eyes will notice subtle, incredible metalwork, such as the contoured bed wall and the narrowed grille. The House of Kolor Brandywine paint finishes it all off perfectly— it's the exact color Austin had wanted since he was a teen. "Some of Jake's tweaks to the exterior might go unnoticed, but he took his time and followed his creative side to make it stand out when parked near other Apache pickups."
To set the truck apart even further, the interior was slated for a full overhaul complete with a Wiseguys bench seat wrapped in an attractive whiskey tan Ultraleather upholstery, with matching carpet, paneling and dashboard. Jake filled the cab with top-notch accessories in the form of a Billet Specialties steering wheel, Stewart Warner gauges and a Vintage Air A/C system, just in time for summer cruising. Wicked Whips, another shop local to the Dayton area, scored an assist with the creation of the plush interior landscape, which has come to be Austin's favorite facet of his freshly restored pickup. "Jake blew this thing out of the water, inside and out. It's apparent to me that he went above and beyond what I expected, and I set my expectations high from the start."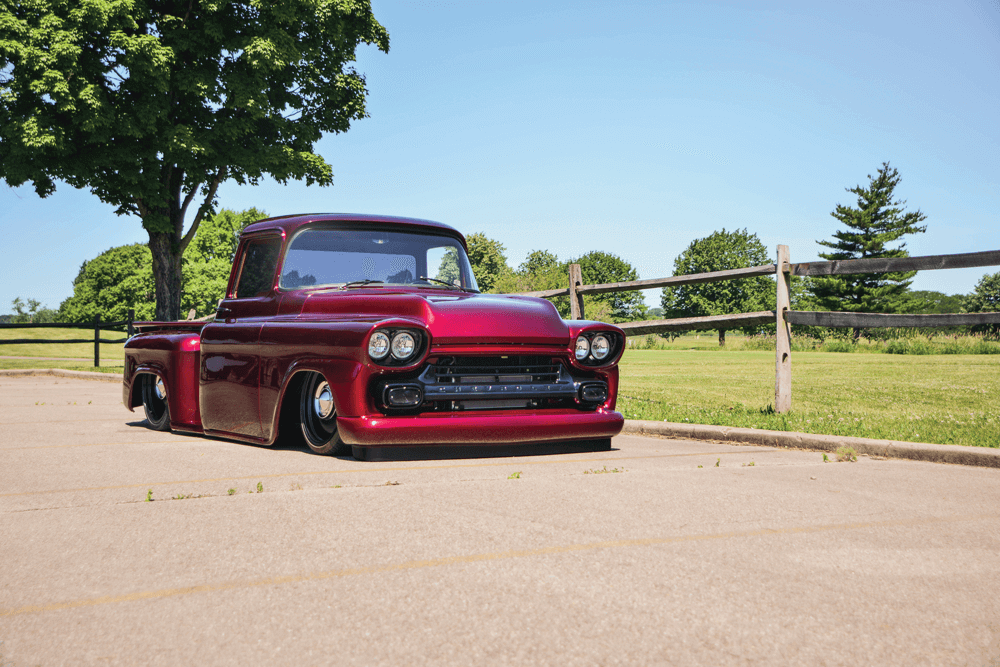 Austin might not have been inspired to build this truck based on a popular movie or TV show, but his experience with growing up with an old Chevy pickup in the family was just as meaningful. The road from start to finish spanned nearly a year and half, which isn't too bad considering the amount of work and strategic planning that was poured into the truck's resurrection. "There's absolutely nothing about the truck that I would change or do differently, or even think about adding in the future," Austin adds. "Jake Burton is a true artist and has earned a lifelong customer in me. Actually, we already have a new project in the works."
We'd be hard-pressed to make any suggestions for this Apache, either. It has the looks, unique styling, killer upgrades and the reliability that Austin was after. Now, about that other project he just mentioned, we're waiting just as eagerly as you probably are to see what it could be.
OWNER
Austin Smith
1958 Chevrolet Apache
Beavercreek, OH
ENGINE
Shop: Burton's Kreative Motorwerks and TK Performance, Dayton, OH
2004 Chevrolet 6.0L V-8
Chevrolet 4L60-E transmission
Magnuson supercharger
Aluminum radiator
Standalone wiring harness
Brian Tooley Racing stage three camshaft
Magnuson intake manifold
C4 Corvette headers
2.5-inch Magnaflow exhaust system
Liquid-to-air heat exchanger
Custom 3-inch driveshaft
Circle D torque converter
Speedway Motors transmission cooler
Chris Alston's Chassisworks Fab9 9-inch rearend
CHASSIS & SUSPENSION
Shop: Burton's Kreative Motorwerks Factory 1958 GM frame updated with IFS tube cross member and step notch
Tubular control arms
2500 front and 2600 rear Firestone 'bags
Air Lift AutoPilot V2 air management module mounted under bed
Speedway Motors power rack-and-pinion
Monroe shocks
3-link rear suspension setup
Custom aluminum fuel tank
Wilwood brakes and master cylinder
WHEELS & TIRES
20/22-inch Coys wheels
225/35ZR20 and 295/30/ ZR22 Delinte Desert Storm tires
BODY & PAINT
Shop: Burton's Kreative Motorwerks
House of Kolor Brandywine
Replacement grille removed of chrome and narrowed
Rolled rain gutters
Welded one-piece doghouse
Bed wall contoured to cab
Lengthened stake pockets
Raised bed floor
Wood bed floor
Roll pan
INTERIOR & STEREO
Shop: Wicked Whips, Dayton, OH
Wiseguys bench seat
Whiskey tan Ultraleather upholstery
Smoothed dash
Stewart Warner instrumentation
Billet Specialties steering wheel
Kenwood sound system
Vintage Air A/C
Power windows
Deleted wing windows
Specialty Power Windows wiper kit