The Black Sheep of the Ford Family
YOU MIGHT RECALL OUR TRIP TO JIMMY'S ROD AND CUSTOM (ST, AUG. 2018, pg. 44) from last issue. Not only did the visit give us insight into some unique builds the crew is working on, but it also allowed us the chance to get more familiar with one of Jimmy's most recent creations.
Alumiduty, as it's known around the industry, started life as a typical, everyday '17 Ford F-350. But after trimming a little unnecessary fat and completely replacing the original bones of the truck, this diesel-packing powerhouse now lays the pinch molding on 26-inch wheels and can still haul a friend's ride that's securely strapped down to a trailer. Unfortunately, this level of fabrication doesn't happen overnight, and Jeremy Smith's most recent build, Alumiduty, took more than 800 hours to complete, but he wouldn't trade an ounce of the quality to get back one single minute of time.
WITH HIS DREAM BUILD FINALLY COMPLETE, WITHOUT A SINGLE WARNING LIGHT FLARING ON THE DASH, JEREMY CAN MEET UP WITH THE REST OF HIS CREW IN RELAXED ATMOSPHERE AND HEAD OUT TO ANY NUMBER OF SHOWS THEY FREQUENTLY ATTEND …"
A lot of builders will quickly shy away from a project this massive, especially when you throw a 6.7L Powerstroke diesel motor in the mix. The fear of never-disappearing dash lights or any number of other diesel demons will usually make the challenge of finding a fabricator much more difficult. Luckily for Jeremy, this isn't his first time building a modern custom truck, and he knew just the man for the job. Right after a long list of patient clients received their killer rides, it was Jeremy's turn to get on Jimmy Grahams's chopping block. Just as he rolled it into the bay the odometer hit 5,000 miles—far fewer road hours than it would spend under the knife. Fortunately, the time went by quickly, and no major roadblocks got in the way, just a whole lot of excitement and anticipation, which still can make it difficult for a man to sleep at night.
The plan for this build was plain and simple: It would lay bumpers front to back, keeping the factory floorboard intact, and a full plate chassis would replace the factory frame rail. Unfortunately for Jimmy, no one makes a template for something this custom, so the first few hours of the project were spent with a tape measure and a pad of paper, mapping it out before transferring it to Auto Cad. This allowed Jimmy to cut all of the pieces he needed on his plasma table, leaving clean edges with precise measurements. Once it was all meticulously welded back together and placed under the truck, uneducated eyes would think Ford put it there, which was Jeremy's goal from the start.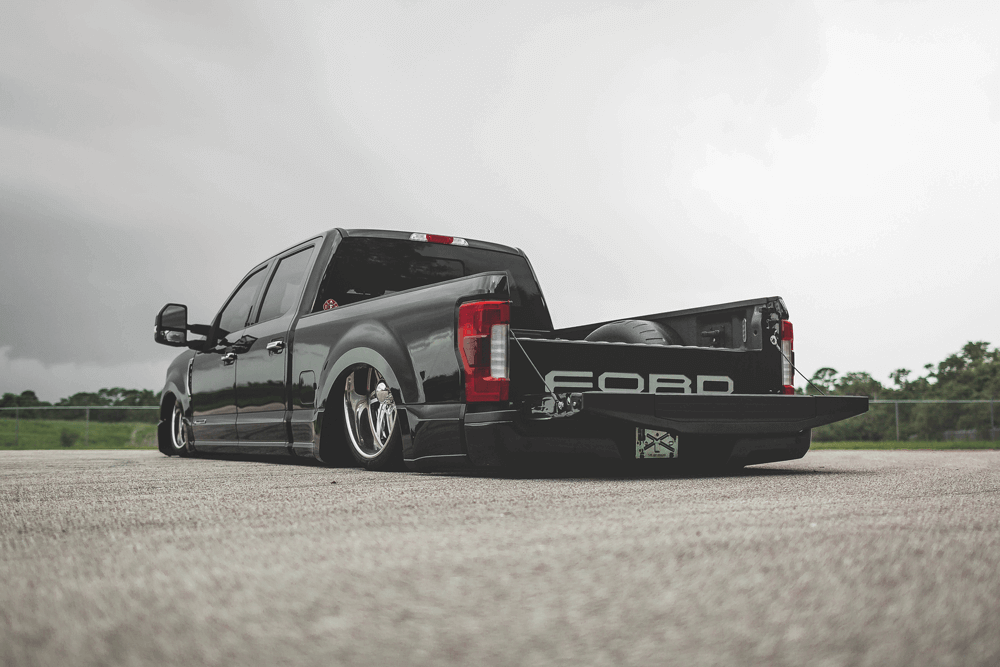 Sure, Jeremy could've started with an everyday Platinum F-150, but as he told us, "All the other Superduties I see are lifted or duallys, so I decided to build a laid-out, single-rearwheel Superduty that tucks 26s." The full-plate custom-built chassis wasn't the only metal-related challenge for the team at Jimmy's Rod and Customs. Raising the all-aluminum bed floor and extending the factory wheel well tubs had to be done using additional aluminum and absolutely no steel. Naturally, this increases the price tag, not only on the metal, but also the amount of labor required to weld it back together.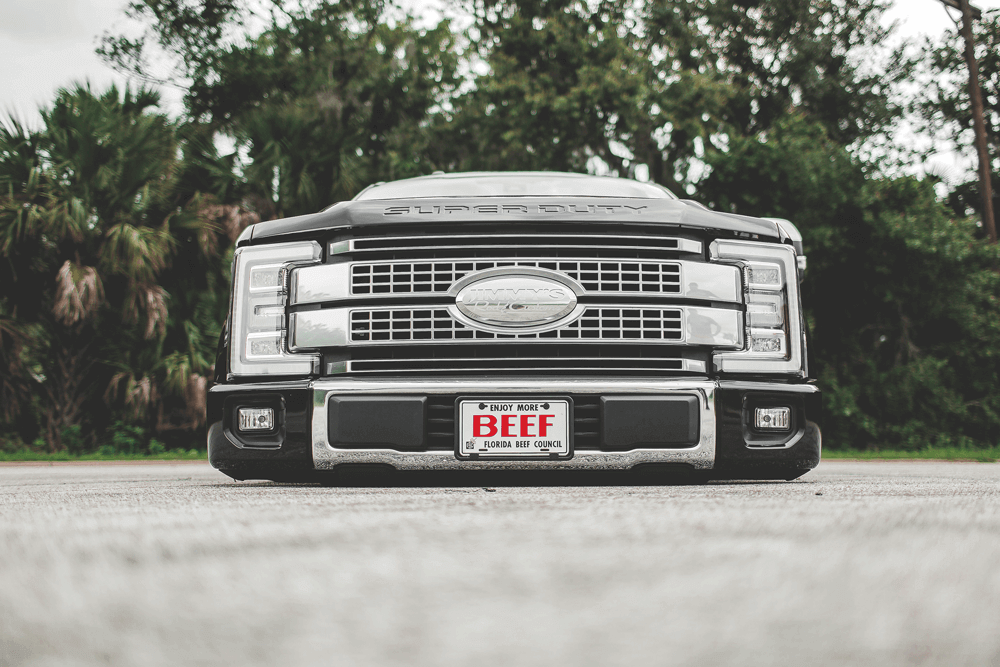 Once all of the major fabrication was complete, new front control arms were built in-house using the factory Ford knuckles up front and a parallel 4-link with a Watts-link in the rear. An AccuAir e-Level air management system maintains the psi at all four corners, while four VIAIR 444 compressors sit on deck ready to pump fresh air when needed. One of the final pieces of the fabrication puzzle was a custom-built oil pan that holds the perfect amount of oil and comes nowhere near the asphalt. Once all of the parts were built, they were packaged and sent to the powder coater, which gave Jimmy a little time to clean up and prepare for final assembly.
With the frame freshly coated and all of the wiring complete, the fuel lines were run, the engine was installed, and the suspension was hung. Finally, the time finally came to bolt on a brand-new set of 26×10 Intro Hauler 8 wheels wrapped in 305/30/26 Pirelli tires. The completed rolling chassis is an amazing sight, but you tend to forget about all of that amazing detail work really fast once the body is set on top, and the whole thing is aired out flat on the ground. That's when the smiling contest begins, and the camera phones come out in full force. Even with everyone's jaw hitting the floor, Jeremy knew there were still a few things left to finish up, including a full JL Audio sound system from Mobile Toys in College Station, Texas.
Jeremy's vocal on social media, which has earned him a reputation as a mini-trucker who's also a great custom truck designer, and the level of quality he demands in his builds is second to none. Naturally, when you spend upwards of $100,000 designing a one-of-a-kind custom truck, you want it to be perfect, so why not brag about the details?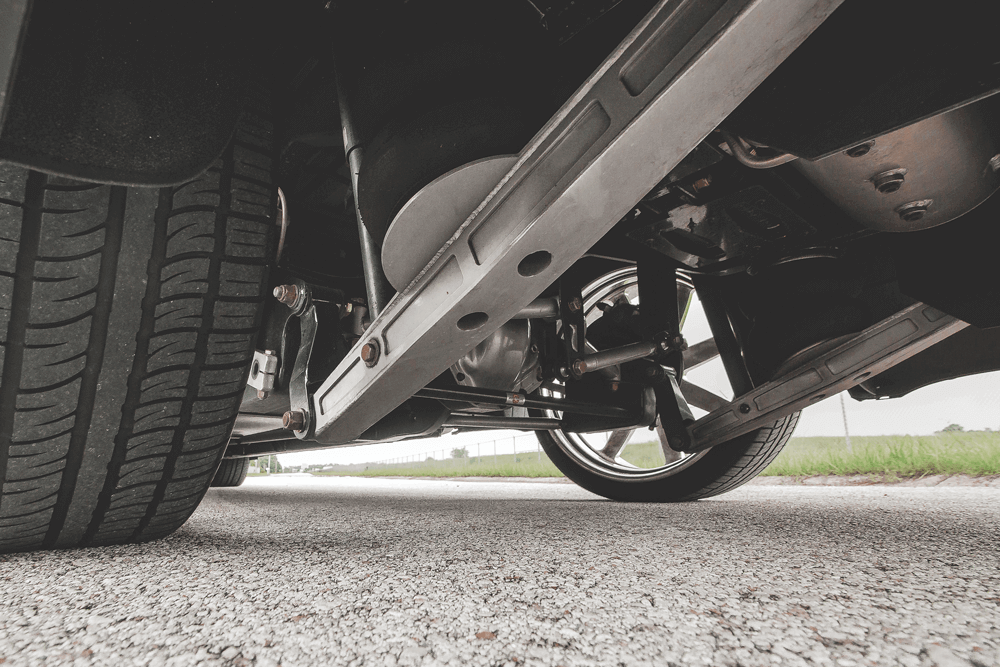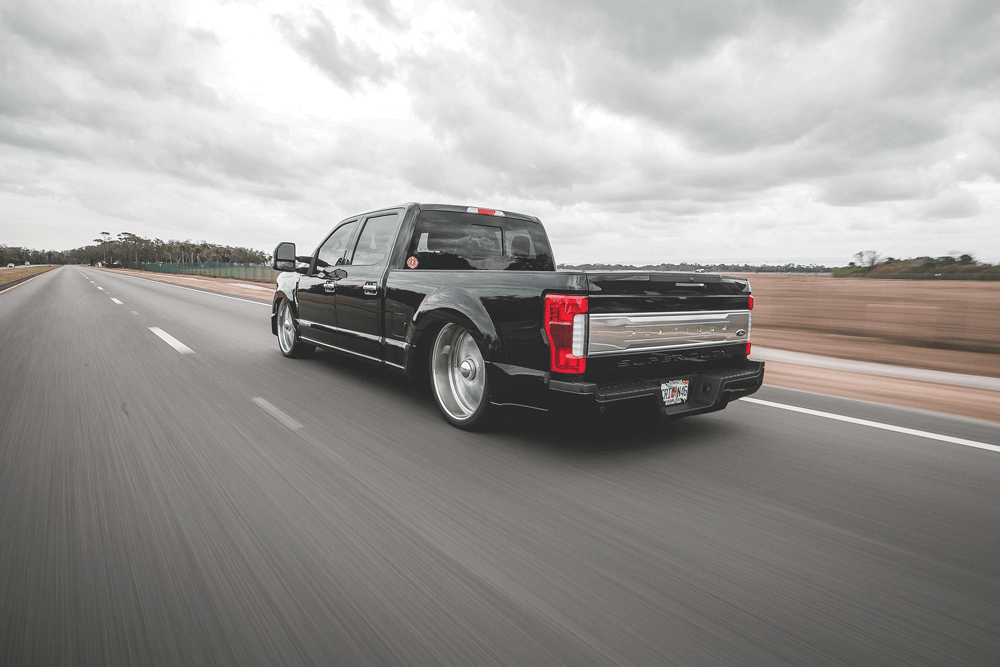 With his dream build finally complete, without a single warning light flaring on the dash, Jeremy can meet up with the rest of his crew in Relaxed Atmosphere and head out to any number of shows they frequently attend, including Lonestar Throwdown, Battle in Bama, Doin' it in the Dark and Daytona Truck Meet. If you see Jeremy's truck, let him know you like his work, and ask him what he's going to build next.