Tune up the suspension of your 1964-1972 GM A-body or 1978-1988 G-Body muscle car with RideTech's new TruLink Adjustable Rear Suspension System. Achieve significantly better handling and launch characteristics along with dramatically improved ride quality and service life. The comprehensive system features heavy duty tubular control arms, patent-pending R-Joint rod ends and bearings plus application-tuned HQ Series adjustable shock absorbers.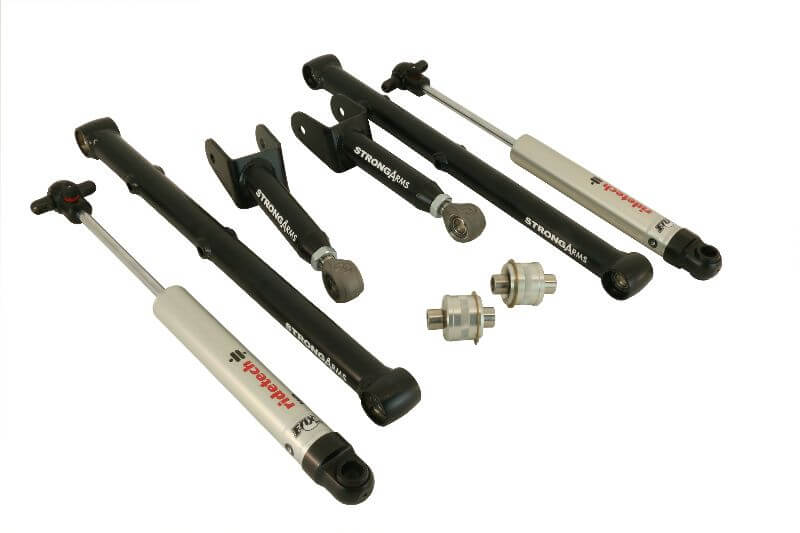 TruLink replaces flex-prone stamped upper and lower trailing arms with tubular steel StrongArms. These heavy duty 1.5" OD .156 wall DOM steel tube trailing arms are precision welded at RideTech's Jasper, Indiana factory and then powder-coated for long-lasting appearance.  RideTech installs patent-pending R-Joint rod ends and bearings for noise-free movement with high articulation. R-Joints eliminate the binding, stiction, noise and vibration associated with poly bushings offered in most aftermarket control arms. R-Joints never need lubrication and have exceptional wear resistance. Additionally, the TruLink system also includes press-in R-Joints for your axle housing to upper control arm attachment points. This critical feature is often overlooked in the upgrade process.
The final piece in the TruLink system is a pair of RideTech HQ Series adjustable monotube shock absorbers. We custom-valve them specifically for A-Body and G-Body muscle cars with modern tires. Rebound adjustment helps you fine tune damping to suit your car's needs and your personal preferences. RideTech HQ Series shocks offer an industry-exclusive 1,000,001-mile warranty.
TruLink can be complemented with matching front HQ Series shocks, StreetGRIP high performance coil springs and an adjustable MuscleBar™ front and rear sway bars.
ABOUT RIDETECH – 
RideTech manufactures high performance suspension components and systems that improve the handling and ride quality of muscle cars, trucks and hot rods. From restored and show cars, to high-speed autocross and track day cars, RideTech offers a wide range of premium products including air suspension systems (air ride), coilovers, shock absorbers, coil and leaf springs, tubular a-arms, roll bars, sway bars and much more. RideTech-equipped vehicles have won every prominent award in the aftermarket including Street Machine of the Year, Street Rod of the Year, Truck of the Year, the Ridler Award, America's Most Beautiful Roadster, Goodguys Autocross, Hot Rod of the Year and so much more.
For more information, visit: https://www.ridetech.com or call 812-481-4787
PRODUCT PAGE LINKS – 
A-Body TruLink System
G-Body TruLink System