Outfitting a Vintage C10 with a Wilwood Big Brake System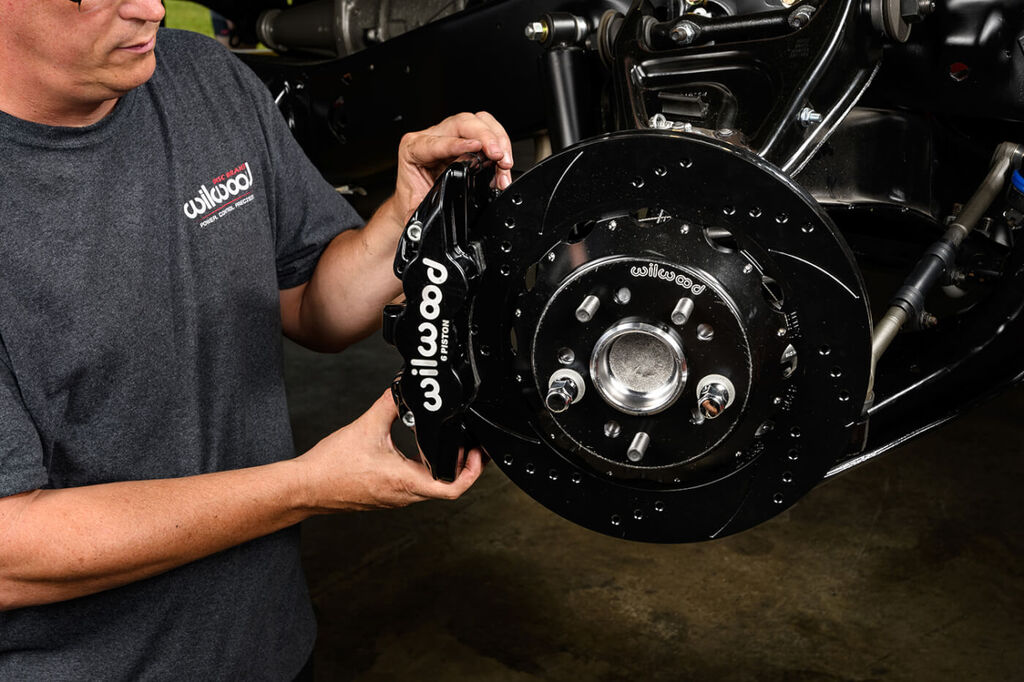 There's a lot of things we like about vintage trucks: timeless styling, mechanical simplicity, and mystic nostalgia. But braking performance isn't one of them. Though they were fine for country road speeds and farm truck utility, the binders on these old trucks don't meet the expectations of today's enthusiasts.
Luckily for us, Wilwood Engineering offers complete, high-end braking options for historic trucks. After discussing our goals with the company, Wilwood recommended their 2.5" drop ProSpindles (P/N 831-14202), AERO6 Big Brake Front kit (P/N 140-15305), and AERO4 Big Brake rear kit (P/N 140-10941) for our 1977 C10 pickup. Besides giving us upgraded braking ability, the big brake kits fill our 20" wheel package nicely.
Like all of Wilwood's components, the ProSpindles are works of art. The kit includes a pair of forged aluminum spindles, steering arms, and bolt-in hubs. The ProSpindles work with Wilwood's disc brake kits and provide a 2.50" drop for a more aggressive stance without affecting steering geometry. The hub is drilled for both 5 x 4.75" and 5 x 5.00" wheel bolt circles. They're covered in a durable black e-coat for long-lasting good looks.
Wilwood's Big Brake Front kit includes AERO6 calipers and 14" rotors that are designed for heavy trucks with big diameter wheels like our 1977 C10. Even though the AERO6 Big Brake kit is compatible with most OEM master cylinders, we opted for Wilwood's aluminum tandem master and proportioning valve.
The rear setup consists of Wilwood's AERO4 calipers and 14" rotors. The calipers share the look of a 6-piston piece but feature four pistons for proper brake force proportion between the front and rear. The integrated parking brake system is hidden neatly inside the rotor hat. Slick!
Besides improving the looks and braking performance of our C10, the Wilwood spindle and brake combination saved a whopping 34 pounds of unspring weight at each front corner! We'll have to install the master cylinder and proportioning valve when our cab is mounted, but we were really impressed by the overall quality and fitment of the Wilwood AERO6 and AERO4 kits. It's clear that a lot of thought went into the components, and the detailed instructions kept us out of trouble. Everything fit beautifully, and the black e-coat the components (especially the rotors) was a nice touch. We can't wait to get our truck back together and give these brakes a workout!
Source:
Wilwood Engineering
4700 Calle Bolero
Camarillo, CA 93012
(805) 388-1188