Running the Streets of Los Angeles
Carlos Eacoto is a true product of his environment. Having grown up in Southern California, but more specifically in the city of Burbank, where renowned television and movie studios also call home, he has always been well aware of what lurks behind the gates and walls surrounding nondescript lots and buildings. This is the Promised Land for those looking to make their big break in the Hollywood scene, but there's so much more to see here that remains in the shadows, hidden behind the glitz and glamor of the entertainment industry.
A good deal of the flash photography here is all just a façade, smoke and mirrors that act as a lure to distract those chasing dreams of instant fame. Carlos has been here long enough to spot the difference between the town's manufactured reality and the one that is an essential fabric that makes up the true SoCal cityscape. He works in the motion pictures industry, and has seen enough behind-the-scenes B-roll to know just how the "magic" is made. But one type of wizardry that he has yet to grow tired of is the kind that is cast upon old American metal in the form of classic GM pickups. Custom car culture was essentially born here in the Southland, and just like the studios that pump out televised, twisted versions of what's real, there are giants of a different breed lurking the same streets, producing their own specialized works of propaganda.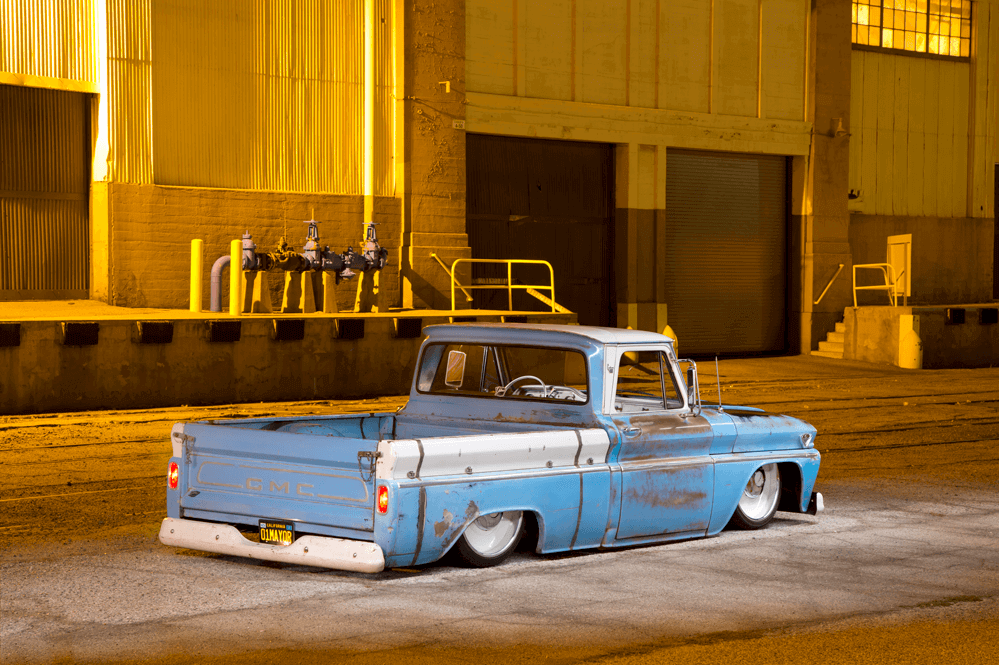 Now, Carlos likes to think of himself as somewhat of a fixture around the Burbank area, and he really is. "When I was a kid growing up around here, I used to play a lot of sports. When I got a little older, I'd run into the same guys I was on the same teams with or even those we played against. It happens a lot. My girlfriend was always surprised at how many people would recognize me while we were out and about, but it's not like I was Mr. Popular back then or anything, these kids and their families were my neighbors. It got to the point where she started to call me the mayor, which I thought was funny." As the years went by, Carlos developed a strong sense of neighborly hospitality. His interest in cars and trucks had grown stronger, and he was becoming familiar with the shops in the area and started to get to know the guys who were customizing the vehicles he idolized for a living. Carlos had become quite fond of the work of a certain newcomer to the city by the name of Del Ushenko of Delmo's Speed and Kustom. It was at Del's shop where Carlos saw his exact taste in trucks reflected right back at him. "Being there at Del's place on any given day was like being at a truck show that catered to what I have always liked. The inspiration there made for a very positive atmosphere …"
Carlos found himself at Del's shop on a regular basis. He was hoping to get his own '64 Chevy C-10 that he'd picked up into the shop, but even though he got his name in the famed spiral notebook waiting list, there was no guarantee when that might actually happen. "The work that Del was doing with these old GM trucks struck a chord with me. We both share a lot of similarities, stylistically speaking. The love of heavily customizing a beat-up-looking pickup, and keeping it looking as stock and natural as possible on the surface was a look that we both adored." Even though Carlos already had his '64, there was a certain '65 GMC that had been sitting around at the shop for a while. "I had been wondering what the truck would look like with the Delmo treatment for the longest time," Carlos admits. Well, luckily for him, the potential deal fell through, and he got his shot at it. "I'm a big GMC guy, so I just had to have it."
When the time finally came to rip into the truck, the guys were pleasantly surprised by just how clean the underside was. It was a long bed, but a shortened conversion was at the top of the guys' shared list of things to accomplish. "Everything else on the truck is pretty much stock, and we knew from the beginning it was going to stay that way. Del would ask me for my feedback on his ideas as to what to do next as the build took shape, as if I were one to second-guess his process, but that's just how he is. He allowed me to have an intimate experience with the build. It was such a great feeling leaving the shop and heading for work knowing that I had physically played a part in helping Del and Devon, who also works in the shop, mold my personal project." That's the type of service that goes down in the cool book as legendary. What guy doesn't dream about spending time in the shop working side-by-side with a true iconoclast in the game?
The plan they devised was simple and true to form for the Delmo camp. The truck was slammed as low as could be with the assistance of Porterbuilt Fab components, and all the patina and rust spots on the surface were left as-is. Delmo's Specials were slapped on for good measure, and to get them rolling with the speed, an LS1 engine was dropped in under the hood. After a little interior work and a custom wood bed floor, there really wasn't a whole lot more the guys felt needed to be done to capture the essence of the truck's gracefully aged demeanor. The truck had been around the block a few times before, and they'd be damned if they were going to take the truck's deservedly earned battle scars away from it. "We were mainly concerned about preserving the truck's naturally weathered appearance, not erasing it," Carlos says of the truck's finished state.
As special as the truck is to Carlos, his GMC has taken on a level of notoriety all its own based on the timeframe in which it left Del's shop. "The entire build took about a year to complete. We hit a bit of a snag when Del moved to Prescott, Arizona, but we got it done. The truck has since been dubbed the Last One because it was the last to be built at Delmo's Burbank location. A lot of people might not know that about the truck, but it's something that I'm particularly proud of given that it is a bit of a time capsule and a direct product of my city," Carlos says. Even though Delmo's Speed and Kustom no longer calls Los Angeles home, Carlos does and probably always will if he has anything to say about it. Carlos has every intention of cruising his GMC through the familiar L.A. streets as long as he holds the keys.
This kind of story is of utmost interest to lovers of C-10s everywhere, but it won't ever be broadcast to the masses by the local film and television industry even though the work that Del does is newsworthy to those who are interested in the scene. That's how it goes though. To catch a glimpse of the mayor rolling in action, plan a trip to the big city and ask around for Carlos Eacoto. Chances are somebody will know him by name, and they're sure to be familiar with his ride.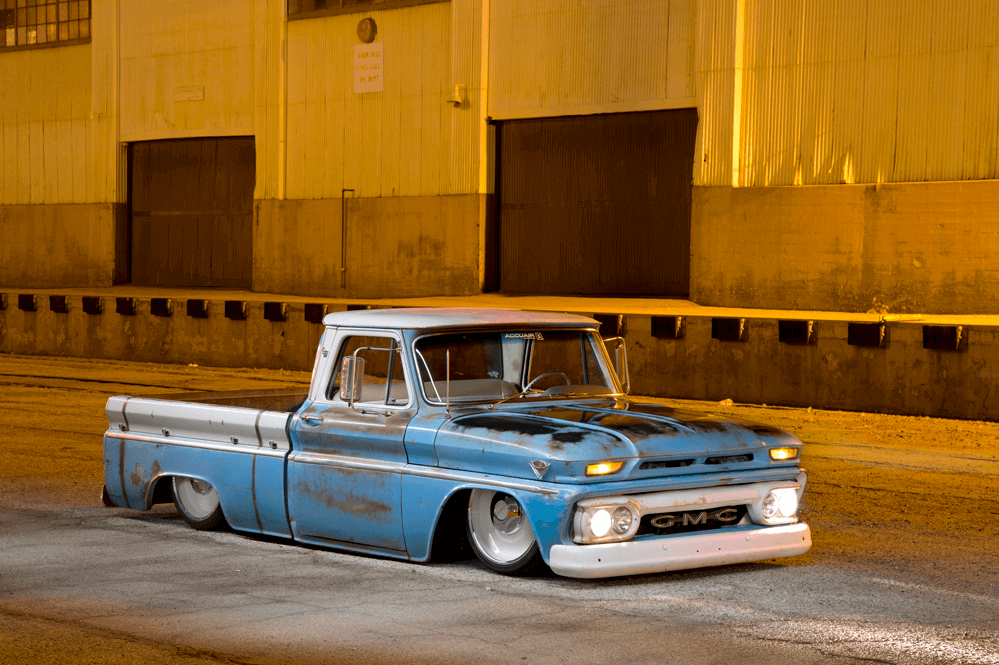 Owner
Carlos Eacoto
1965 GMC C/10
Burbank, CA
Engine
Shop: Delmo's Speed and Kustom and Big 10 Garage
2007 LS1 painted orange
2007 GM Performance auto transmission
GM oil pump
Holley hardware
Be Cool radiator
K&N air cleaner
Hedman headers
Flowmaster exhaust and mufflers
Delmo valve covers
Drive Junky drive accessory and pulleys
Boyd Welding aluminum gas tank
Narrowed rearend
Chassis & Suspension
Shop: Delmo's Speed and Kustom
CCP spindles and control arms
Porterbuilt rack-and-pinion
Porterbuilt Dropmember kits with frame C-notch
Narrowed rearend
KYB shocks all around
CCP brake booster
AccuAir air management
Wheels & Tires
22-inch Delmo's Specials wheels with NOS hubcaps
255/30R22 and 285/30R22 Nexen tires
Body & Paint
Shop: Delmo's Speed and Kustom
Perfect patina finish
Factory hood, front bumper, door handles, windows, grille, tail and headlights
Custom-raised oak wood bed floor
Rear tubs sectioned and widened
Short-bed conversion
Delmo's inner front fenders
Interior & Stereo
Bench seat recovered with hound's-tooth inserts
Stock dashboard, steering wheel, gauges and handles
Custom speaker kick panels
Flaming River steering column
AccuAir switches
Custom carpet kit
Vintage Air AC
Special Thanks From the Owner: "Thank you to Delmo, Devin, Dino, Joe Yezzi, Sam Castronova and Shawna Jackson for allowing me to do this. Fred from Rydel GM Performance, Mullenix Racing, Kevin a.k.a. Digital C/10, Ronnie Welch and Chad the Goose. Also, Nick from Hubcaps Hot Rods and Customs and to all my friends for the support."