Built one Piece at a Time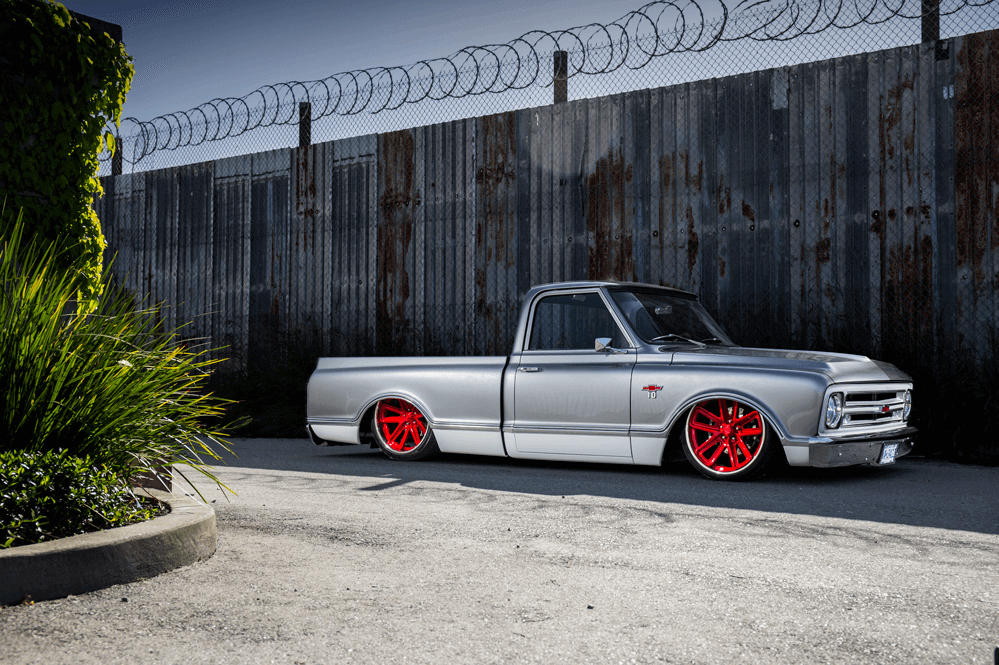 When you see a truck like this, you imagine that the owner picked up an old vehicle and simply customized it. That's what makes the most sense in our minds. Start with a vehicle that runs, add some custom touches and presto, you have a custom pickup. Sure, there are situations like that, but it's not usually the case.
People who build full-custom vehicles from the ground up usually disassemble the whole thing to start with a good foundation, which is usually the frame. In the case of Kyle Williams' '68 C-10, his foundation was the cab. He's loved C-10s for a very long time, even before they were all the rage. He often discussed his build plans and dreams with family members and friends to get reactions and opinions. The feedback he received helped him move forward when his friend, Derrick Fletcher, ended up giving him the cab to begin the project.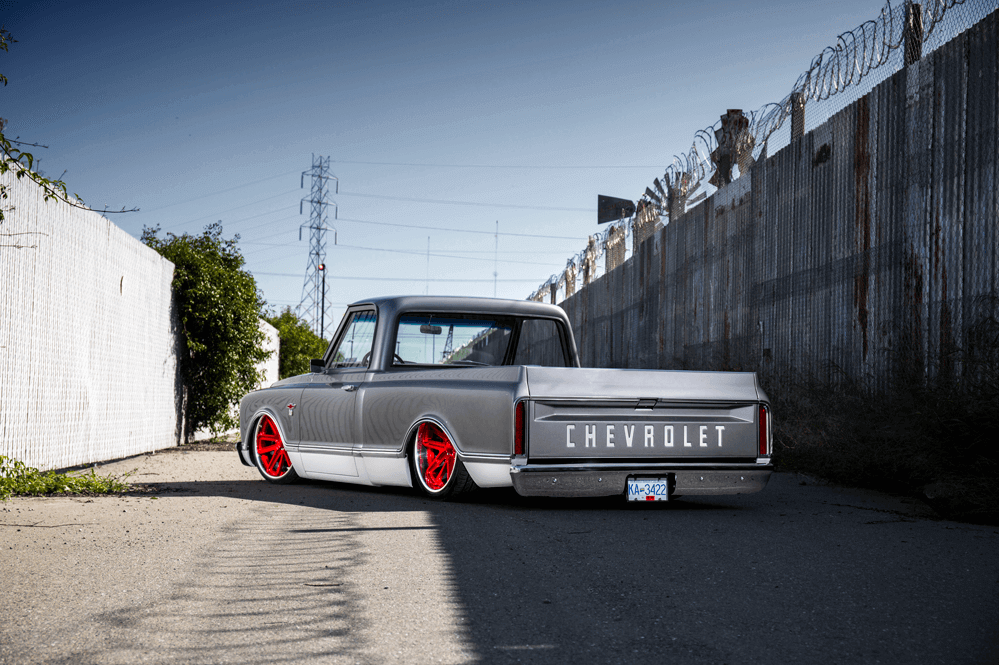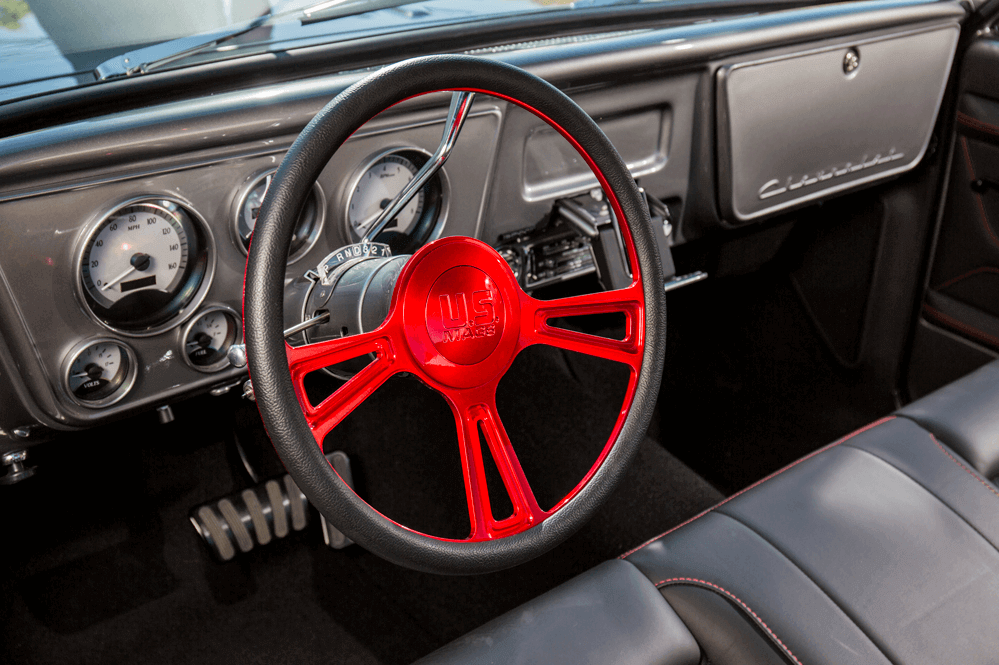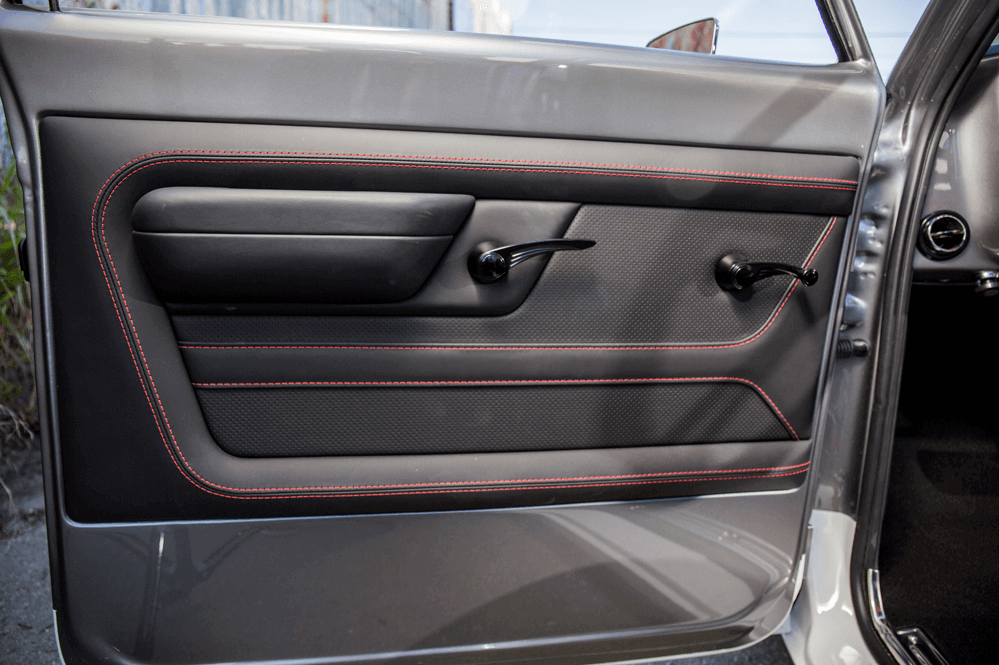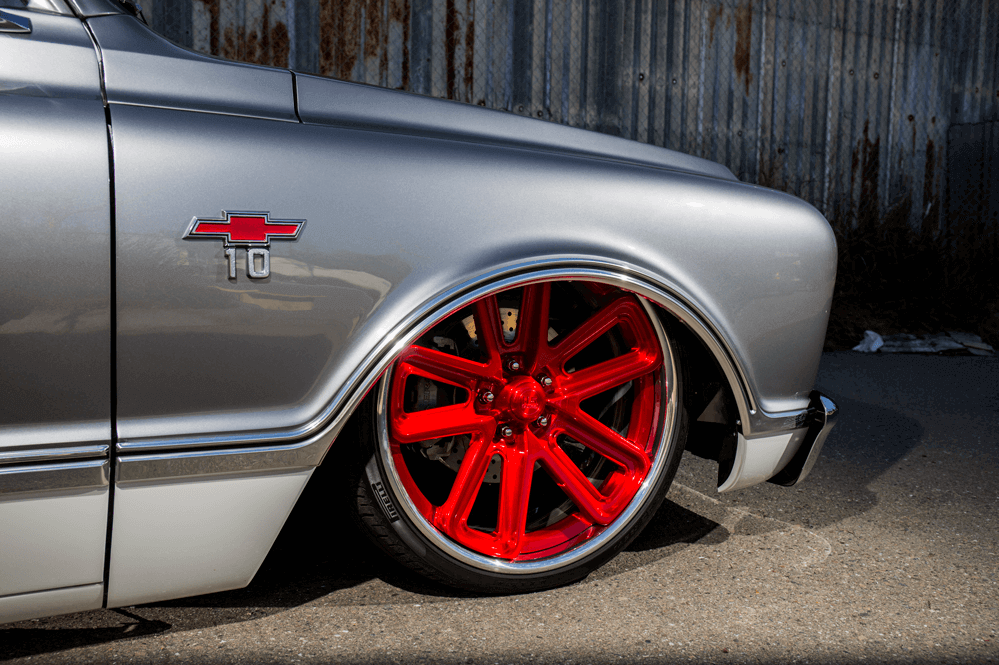 Building a custom truck like this can be complicated. If you want to do things right and achieve top quality, you need to break the truck down and build it back up. This may sound complicated but it's not. These classic trucks are very basic and simple to work on. Taking them apart and reassembling them isn't as difficult as it might seem, but it does take time to do the job right.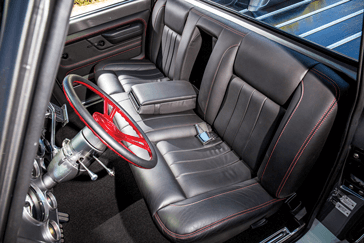 In a way, Kyle was lucky to start off with just the cab because he didn't have to spend a lot of time taking everything apart. Like a model kit, this truck was constructed piece by piece. The only difference was that Kyle didn't start off with all of the pieces; he had to collect them from different sources to create his truck.
After receiving the cab, Kyle was able to track down a short-bed frame. With help from Geoff Paloposki, the frame was boxed, and a Scott's Hotrods and Customs Super Slam front kit was installed. A rear frame notch was used in combination with Ridetech StrongArms and a custom Watts-link system. The chassis was equipped with Slam Specialties RE-8 airbags that are controlled via AccuAir e-Level system. From there, he ordered as many parts as he could from LMC Truck's extensive catalog, including the majority of the body panels and necessary pieces to make the truck functional. To power the truck, Kyle ordered a stout Chevy LS3 engine backed by a 6L80E transmission and a narrowed 12-bolt rearend with Eaton TruTrac.
Harold Hopnik and his team at California Rod and Custom helped along the way and even performed a few custom touches. Underneath the hood you'll find a shaved firewall and sheet metal that was formed to cover up the wheels. Moving back, the wiper cowl was shaved and the rear window was replaced with another that is 2 ½ inches taller so that it matches the height of the sides. In the rear, the bed floor was raised, and bead-rolled pieces of sheet metal were welded to the inner bed sides for a cleaner appearance. On the inside, Derek Frieson of Custom Creations Upholstery handled the interior, and the stereo was installed by Brett Halbert of Creationz Speed and Sound.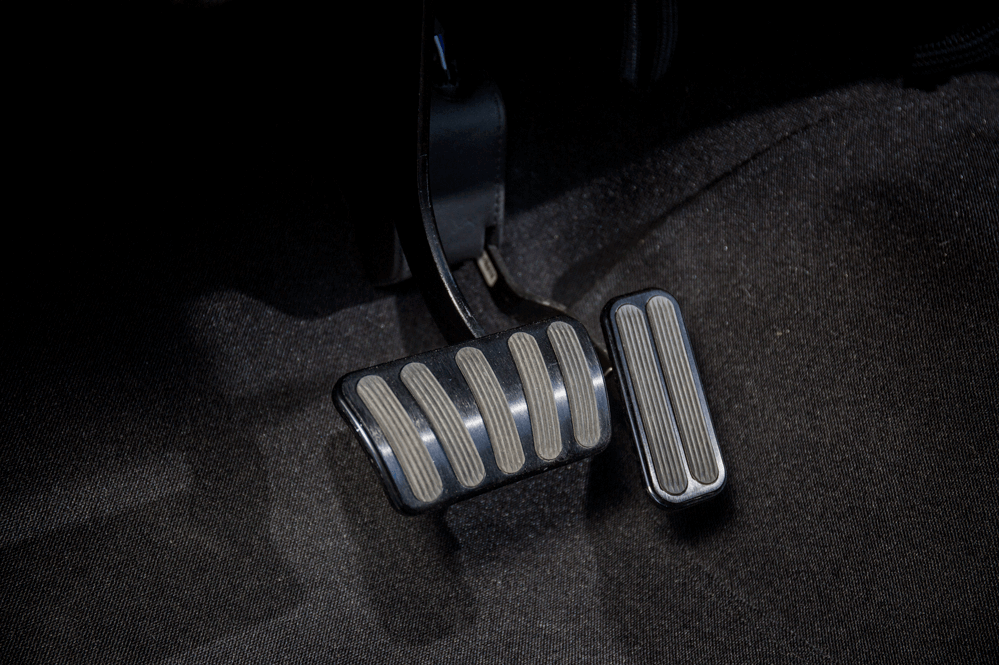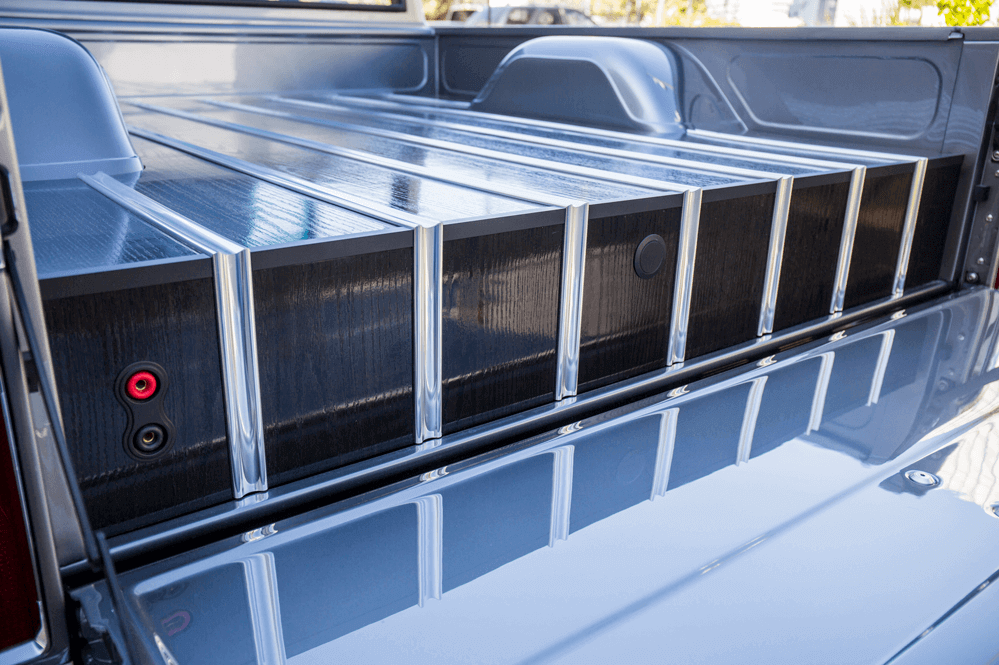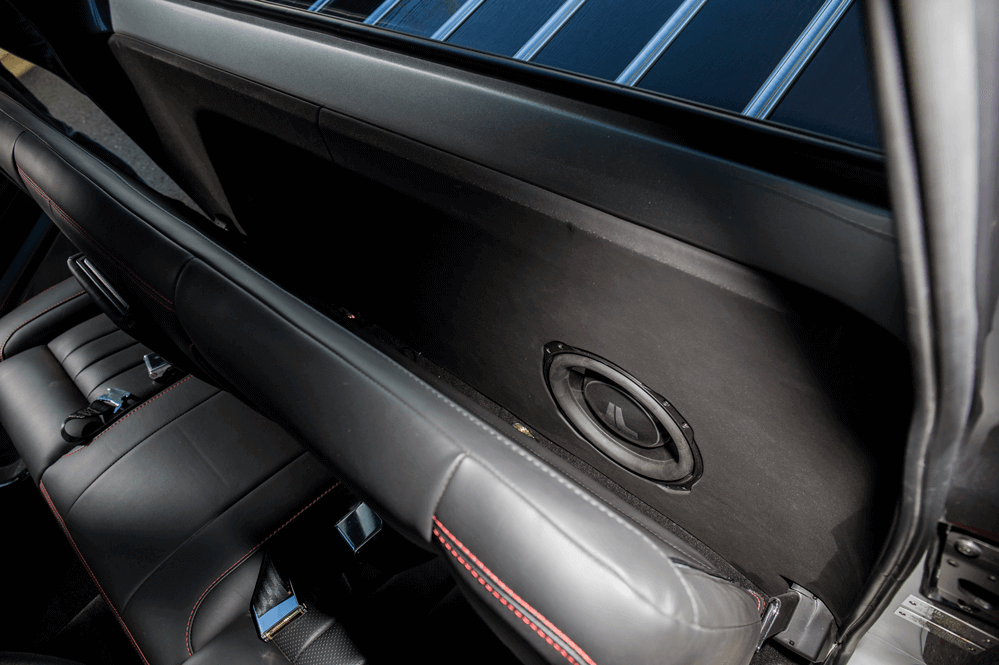 When it came to styling the exterior, Kyle had no problem choosing the right rolling stock. He happens to work at MHT Wheel's Western Canadian distribution center. Familiar with the catalog, Kyle chose a set of US Mags three-piece forged M-One concave wheels and had the brushed centers powder-coated Lollypop Red. Then he shod the new wheels with a set of Pirelli tires. Finalizing the exterior, Metal Craft Fab and Paint Shop gave the C-10 a two-tone paint job with BMW Space Gray and Alpine White II.
This truck is living proof that you can actually build a C-10 with practically nothing. Kyle started off with only a cab, and with the current generous output of parts from aftermarket manufacturers, that's all you need to start a project these days. We're not saying it's easy, but it can be done. This truck is an example of what can be accomplished if you have the time and patience to create a truck, one part at a time. Though it may have taken Kyle 13 years to finish, the result is worth the wait.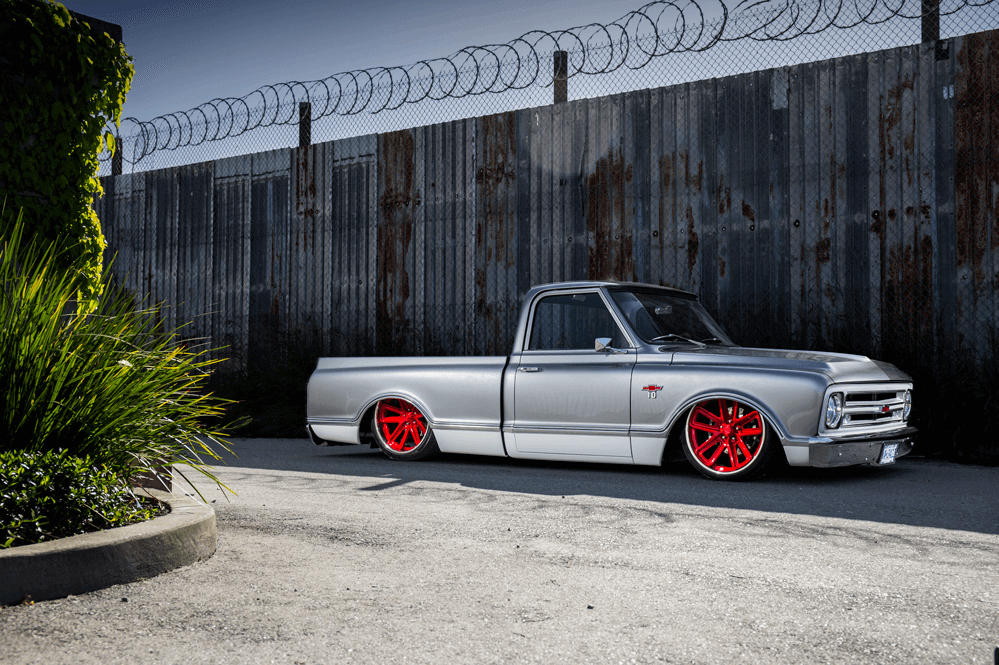 Owner
Kyle Williams
1968 Chevy C-10
Abbotsford, BC, Canada
Engine
Chevy LS3
COMP Cams XFI series XR265HR camshaft
Small-block script valve covers mounted with Delmo's Speed & Kustom adapters
Billet Specialties accessory drive
Sanderson headers
Custom exhaust with Magnaflow mufflers
Custom-made air intake by California Rod and Custom
PRC custom radiator
SPAL dual electric fans
Doc's Custom rear tank
6L80E transmission
12-bolt rearend narrowed a total of 4 inches
Dutchman axles
Eaton TruTrac
Chassis & Suspension
Shop: Geoff Paloposki, California Rod and Custom
Original short-bed frame boxed and smoothed
Scott's Hotrods & Customs Super Slam front end kit
Belltech spindles
Ridetech rear StrongArms
Custom Watts-link in rear
Rear frame notch
Slam Specialties RE-8 airbags
Ridetech adjustable shocks
AccuAir e-Level
13-inch Baer brakes
ABS electric high Power brake booster
Wheels & Tires
22×9 and 22×10.5 US Mags three-piece forged M-One concave wheels
255/30ZR22 and 305/30ZR22 Pirelli PZero Nero
Body & Paint
Shop: California Rod and Custom and Metal Craft Paint Shop
LMC Truck bumpers, grille, front fenders, doors, bedside and tailgate
Shaved antenna, gas cap, door locks, emblems, stake pockets, firewall and wiper cowl
Custom front inner fenders
8-inch headlights from Toyota FJ Cruiser
One Piece Products side glass
Rear glass extended down 2 ½ inches
Chrome-plated GSI door handles
Custom bead-rolled inner bed walls
Rear wheel tubs widened
Raised bed floor with black stained oak
Fesler taillights
Matrix paints BMW Space Gray Metal and Alpine White II
Interior & Stereo
Shop: Custom Creations Upholstery, Metal Craft Paint Shop and Creationz Speed and Sound
Glide engineering seat frame
Volvo perforated leather
Custom center console
Custom door panels
Shaved dash pad and radio
AccuAir touchpad in custom ashtray
Extra glove box used for dash gauge bezel
Dakota Digital VHX gauges
Hidden control switches
Lokar Performance Product pedals
Ididit steering column
US Mags M-One 14-inch steering wheel
Daytona weave carpet
Vintage Air SureFit kit
JL Audio MBT-RX Bluetooth audio controller
JL Audio ZR 650 CS7 speakers in kick panels
JL Audio HD900/5 amplifier
Two JL Audio 10TW3-D4 subwoofers in custom box
Special Thanks From the Owner: "Derrick Fletcher (guy who's 'free' cab cost me a ton of money); Alana Williams (wife who looked the other way as I drained the bank account); Jesse Williams (son who will one day inherit it); Harold Hopink, Derek Paton and Clint Mochinski from California Rod and Custom, Aldergrove, BC, Canada who took this thing to the next level the past five years); Adam Egborg (Metal Craft Paint Shop); Derek Frieson (Custom Creations Upholstery); Brett Halbert (Creationz Speed and Sound for the Audio) and MHT Luxury Alloys for the job that allows me to be in the automotive industry."