The Roadster Shop's Spec Chassis for Square-Body C-10s
IT'S A FACT that old trucks don't drive like their modern counterparts, and changing that takes some work. If you simply want to go low, there are budget options on the market that will get your truck down; however, it will take more effort to make it drive and handle like a contemporary truck. Before aftermarket companies started making products to 'bag classic rides, it took extensive modifications to get them super low. If you want to bring one of these trucks down, or even lay one on the ground with airbags, you'll get the best results if you start from scratch.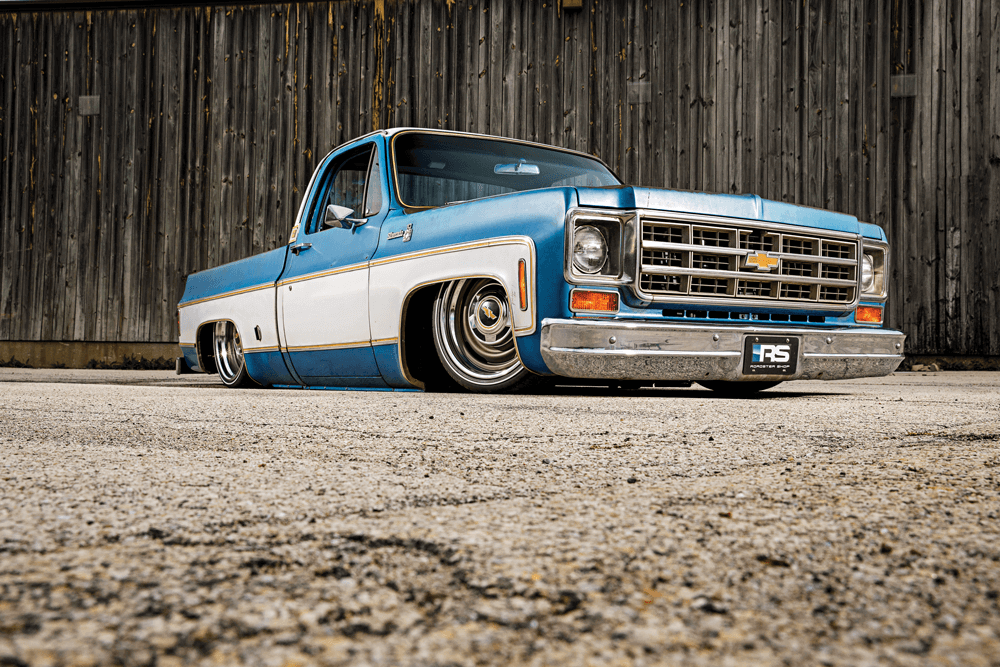 Fortunately, there are companies like The Roadster Shop (RS) that make the job easier. As many people in the custom automotive world know, RS produces high-caliber custom vehicles, but that isn't all it does. The crew has developed parts so revolutionary, they help home builders succeed at creating top-notch vehicles. You may have seen this patina-style blue-and-white square-body named Ol' Blue at shows this past year. It's RS's part-owner Phil Gerber's prototype truck for the newest Spec Series chassis.
To start the development of the kit, RS 3D-scanned Phil's truck and uploaded the data to a computer. From there, the team developed a frame and chassis that could make the truck go low on Strange Engineering coil-overs, or lay the body on the ground with airbags and a maximum of 29-inch-tall tires. After the chassis model was created on the computer, it was tested with a special suspension program to simulate how it would react under real driving conditions. Once happy with the design, the team pressed the "print" button and a real version was laser cut and ready for assembly. Afterwards, it was installed and driven on the streets to gain real world experience. It did its job just as expected.
The chassis was designed to come together in less time, but also to perform on a track. To make this possible, the frame was formed by making specific cuts to steel tubing, bending it together and welding it solid. The front suspension consists of fabricated lower control arms and tubular upper control arms with eccentric mounts to make alignment easier. Specialized Wilwood forged spindles are combined with rack-and-pinion steering to minimize turning effort. The rear suspension is comprised of a triangulated 4-link with a 9-inch rearend. The frame also has all of the correct mounts to bolt the body on directly.
For all of these reasons and more, the Spec Series chassis is revolutionary. If you are planning to build a 1973-87 C-10 from the ground up, there is no reason to start your project with a tired old frame that has obsolete components. This goes especially for a build that will showcase a high-performance engine and be expected to hold down that power. Some of the optional components for these chassis are AFCO dual-adjustable coil-overs, 11-14-inch disc brakes, a front sway bar and rearend gearing. The list of advantages is long, so continue reading to check them out yourself.