The truck game is one with many players. Any given build can take dozens of hands, require hundreds of man-hours and be seen by thousands of pairs of eyeballs. It isn't uncommon for projects to be passed down a long chain of builders and owners. Often a project will carry a unique theme and personality as it moves from one owner to the next. New owners may choose to retain the theme and build upon it, or not. For this Taco on 22s, this common tale serves almost as an origin story. Nevertheless, the execution, quality, styling and presence of this particular Toyota, are anything but common.
Josh Flowers of Forged Street Customs originally built this brightly adorned Tacoma. It was, however, traded to its current owner, Chris Murff along the way. Murff exchanged a customized Texas Iron Horse chopper for his beloved truck, and he and his wife traveled 10 hours to make the trade happen.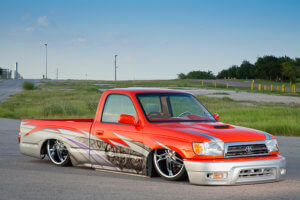 The mini-truck sits on its original frame, but it has been Z'd in the front to accommodate the current suspension modifications. Custom tubular upper and lower control arms coupled with completely custom drop spindles, a 6-link rear setup and 'bags on each corner provide the adjustable air suspension required for the Taco's massive rollers and super low stance.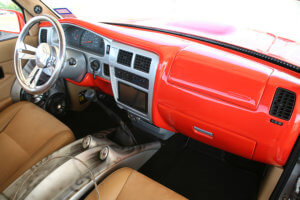 The low-slung mini wears 22×8.5-inch Helo HE844 wheels stuffed under its body. The pristine wheels are wrapped comfortably in Falken FK452 235/30R22 rubber bands. The motivation for the mini show-stopper is the ultra-reliable Toyota 3RZ FE 2.4L SOHC four-banger. This motor breathes freely through a cold air intake system and custom polished headers. It is also handsomely complemented by polished valve covers and backed by a five-speed standard transmission. The tone, while amplified by the intake and header combo, is kept modest and clear through factory-modified exhaust and mufflers.
The customized bodywork done to the Tacoma accentuates the potent motor and properly sorted suspension. Original builder Josh Flowers handed the truck to Todd Burton of Lowboy Motorsports out of Mesa, Arizona, who performed a stock-floor body drop to provide a major tuck to the massive rollers' final resting place. Its hood and bumper are adapted from a 2001 Toyota 4Runner to further increase the aesthetic authority that this build commands. The OEM fuel hatch was shaved clean and the filler was relocated to the bed. The bodywork was finished off with exceptional quality just like the rest of the Taco build.
Truck Specs:
Owner
Chris Murff
1997 Toyota Tacoma
Maybank, TX
Forbidden Fantasy
Engine
2.4L Toyota 3RZ FE SOHC
Polished valve covers
Custom polished headers
Cold air intake
Suspension & Chassis
Z'd front frame
Custom drop spindles
Custom tubular upper and lower front control arms
6-link rear setup
Airbags front and back
Performed by Josh Flowers of Forged Street Customs
Wheels & Tires
22×8.5 Helo HE844
235/30R22 Falken FK452
Body & Paint
Stock floor body drop
2001 4Runner hood, front bumper and grille
Shaved fuel hatch, filler relocated to truck bed
Performed by Todd Burton of Lowboy Motorsports
Two-tone paint scheme
House of Kolor Ultra Orange and BMW Silver performed by Chris Andrews of Elite     Automotive
Custom airbrush graphics performed by Matt Andrew of Hypnoitcar
Interior & Stereo
Tan leather interior with tan suede inserts and accents
Black carpet
Painted dash and center console
KP air gauges
Bonspeed full billet steering wheel
Pioneer double DIN head unit
MTX mid and high speakers
Three MTX 10in subs
Two Power Acoustik amps
Dual yellow top Optima batteries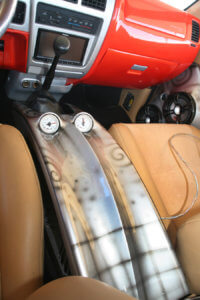 Such clean, hard work poured into the base needed to be shown off in brilliant fashion. For this, the baton was passed to Chris Andrews of Elite Automotive and Matt Andrews of Hypnoticar (both also in Mesa, Arizona). Chris drenched the truck in electrifying amounts of House-of-Kolor-produced Ultra Orange and BMW Silver. The scheme is beautiful in itself, yet it's taken to another level by Matt's custom airbrushed highlights and graphics.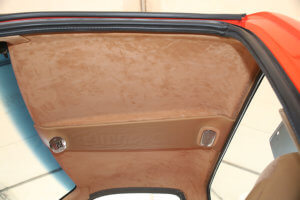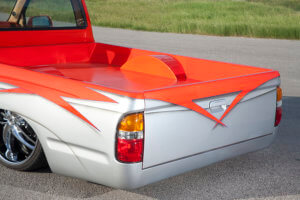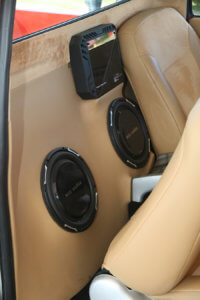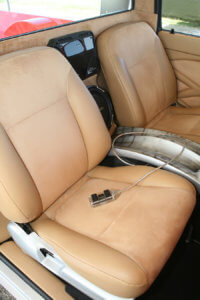 No mini-truck build is complete without dynamite interior and audio components. For these purposes a true craftsman put his mark on the Taco. John Hansen of Gilbert, Arizona, wrapped the majority of the interior in custom tan leather to add smooth contrast to the textured suede finish. Clean black carpets trim the floor. The truck was given a dose of performance with a five-point harness setup, KP air gauges and a beautiful bonspeed full billet steering wheel. Chris and Matt Andrews' amazing paint work flows into the cab, covering the dash and center console. A Pioneer double DIN head unit, MTX mids and highs, two Power Acoustic amps and three MTX 10-inch subs enhance the mini's ambiance. All of this auditory madness is powered by dual Optima yellow tops.
The Taco on 22s is the quintessential mini-truck build, suspended on air with a customized body, painted eccentrically and completed with a high-class plush interior. Chris Murff would gladly trade his custom chopper for the mini over and over again. He and his wife get a ton of enjoyment from owning and showing the beautifully built Toyota. The couple also loves how much other people enjoy seeing the truck on the road and at the shows. Chris is a member of Forbidden Fantasy, and he attends shows and shares his passion for the mini-truck scene with his fellow club members. He intends to keep the truck at his home like a member of his family until his son is old enough to drive and Chris can pass the baton to him. ST
Special thanks from owner: "Josh Flowers for building the truck and everyone who had a hand in the build. Forbidden Fantasy truck club for helping me enjoy the truck with family and Brian Goude and Street Trucks for the feature. Tyler Redden for helping me get the truck, and my wife, Rachael Murff, for riding with me to go pick up the Tacoma and all of her support."
Editor's Note: A version of this article first appeared in the June 2016 print issue of Street Trucks.