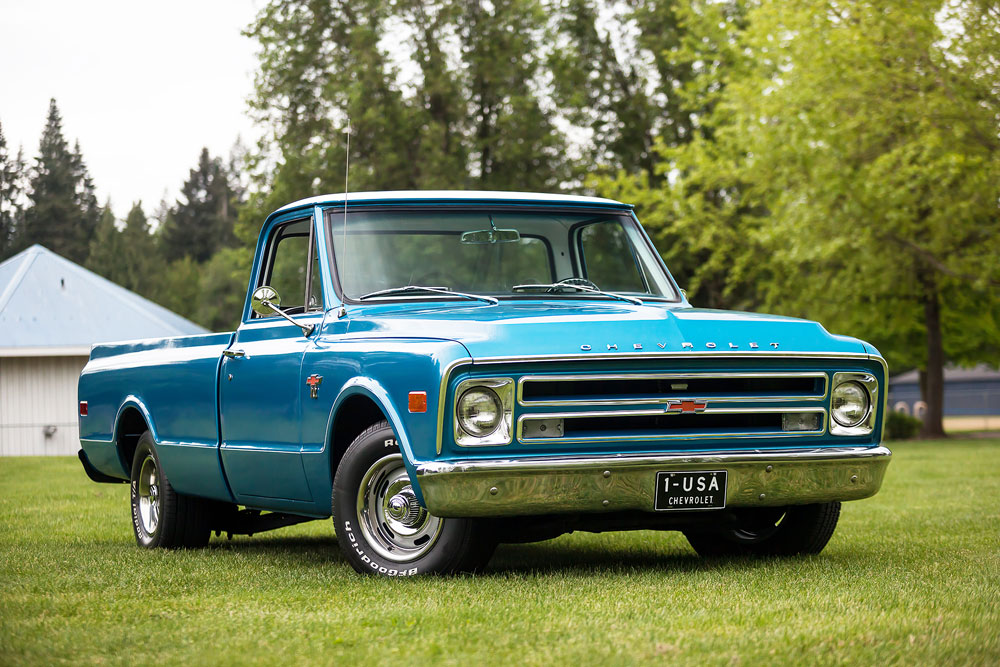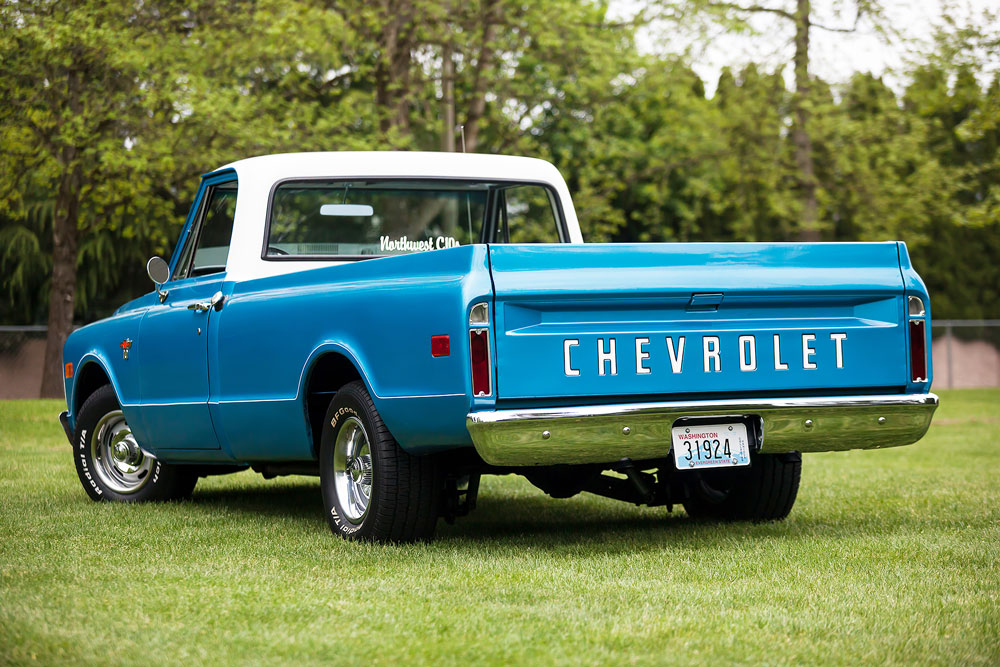 Owner: Ned Fenimore
Location: Vancouver, Washington
Year, Make and Model: '68 Chevy C10

"I purchased my truck in 2012 from a 91-year-old owner who was selling off his vehicles. This '68 was a really solid truck, but over the years I have owned it, I have slowly been making many improvements to make it uniquely mine. Previously I have owned both a '65 and '66 C10 Fleetside. My truck still runs with the original 327 engine. My favorite upgrade was a unique quarter-sawn wood bed that friend and I installed."
---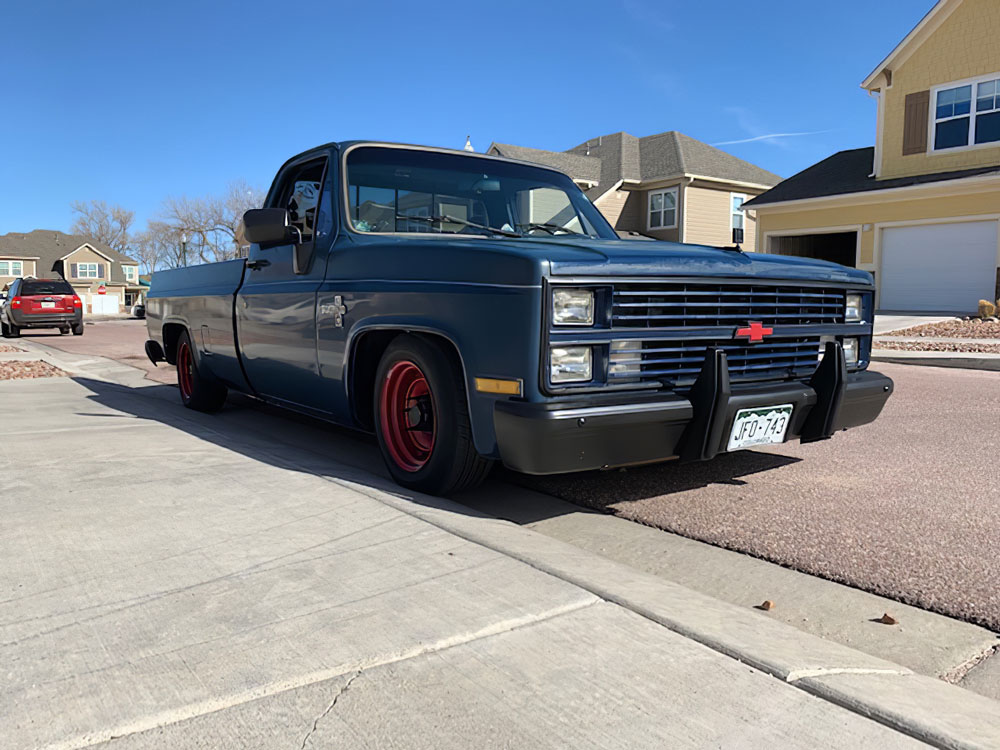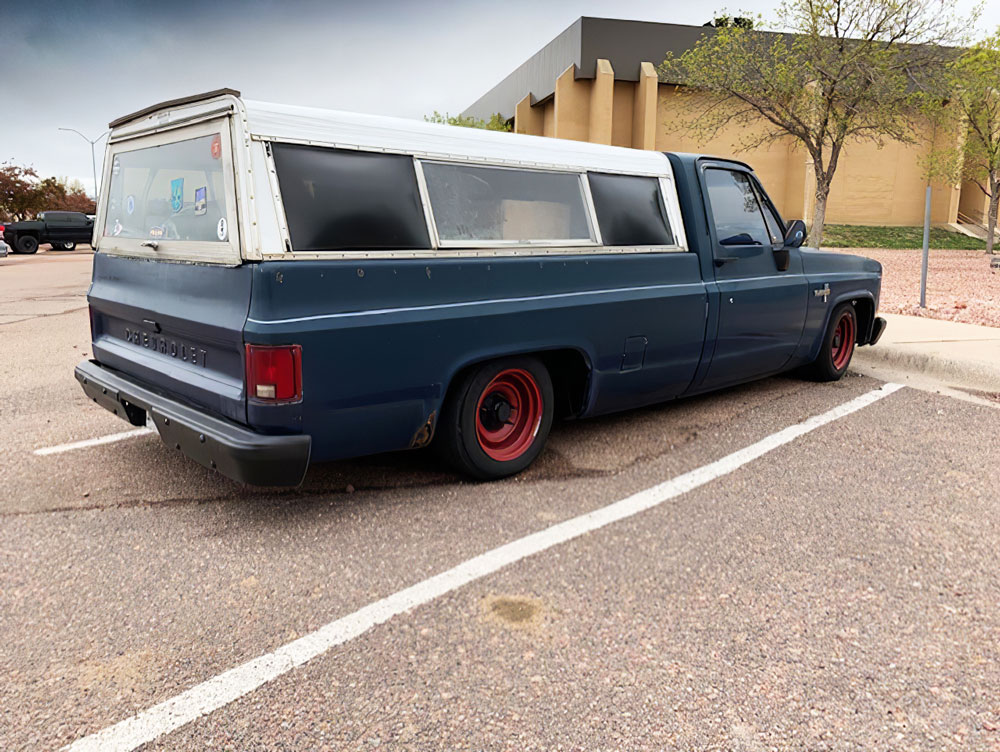 Owner: James "Bubs" Miller
Location: Hinesville, Georgia
Year, Make and Model: '84 Chevy C10 Longbed

Mods: Removed beauty rings and side molding, replaced the rear step bumper with one from a Blazer, painted the wheels red and cleaned the white walls. Added a Western Chassis 5/7-inch suspension kit with upper and lower tubular control arms. Also added a Little Shop Mfg. rear disc brake conversion kit and cross drilled and slotted rotors for the front. Installed a Classic Performance Products proportioning valve with a 2000 Tahoe master cylinder and a '00 C10 brake reservoir. The replacement drive shaft came out of a late model Tahoe/Suburban. Included a C-notch, new idler arm, pitman arm and tie rods ends, along with Plasti-dip bumpers, mirrors, handles, drop rails and any chrome trim on the front. Tailgate is from a 1970s Squarebody. Also has Detroit Steel Wheel spiked lug nuts.

Goals: I'm hoping to LS swap with electronic transmission and posi rearend. Speed Engineering headers, X-pipe exhaust. Interior from Cato or Snowden, all new trim and weather seals, a retro solutions radio and speakers, Vintage Air and Dakota Digital gauges.

"I'm an active army warrant officer and I have five kids with one on the way. My wife is a stay-at-home mom. We met while we were both serving in the military as mechanics in Kansas. A few years later we were married, fast forward to the trucks now. Follow my build on Instagram @squreduplowlife."
---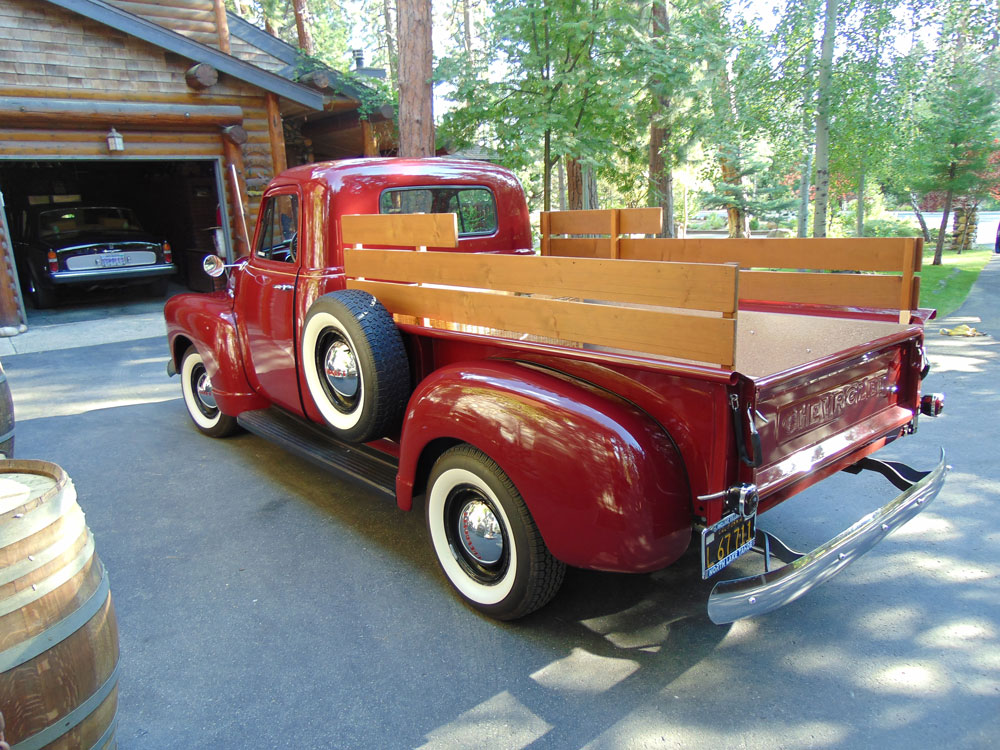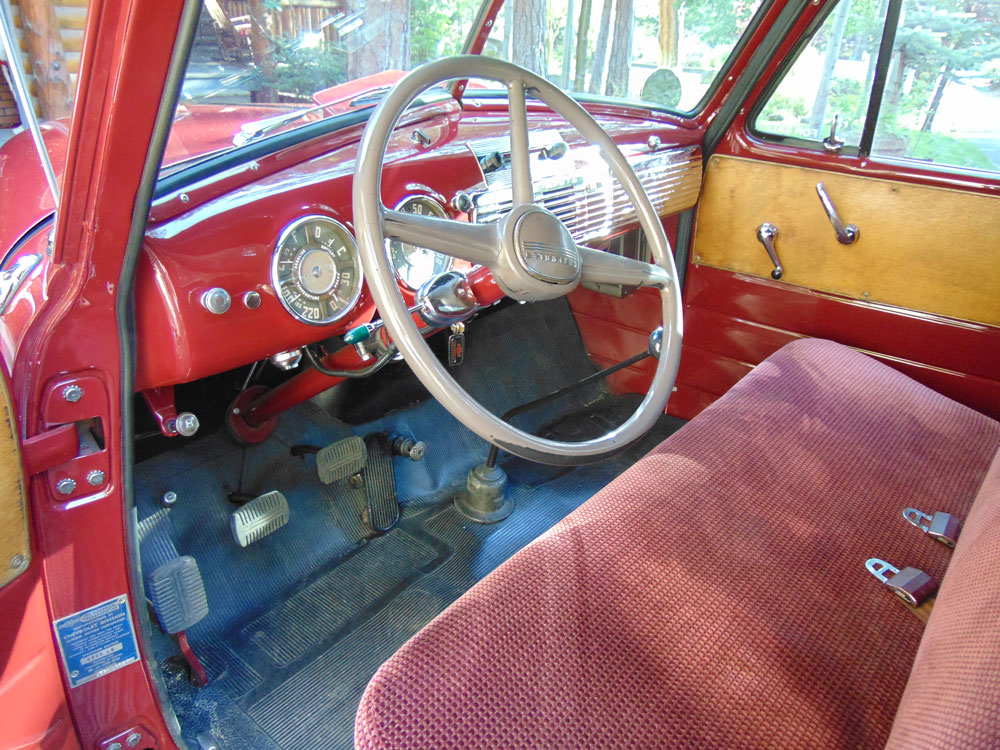 Owner:

Curtis McLachlan
Location: Bishop, California
Year, Make and Model: '65 Chevy C10 Longbed

Mods: Painted a true Chevy burnt orange and white, 468ci big-block pushing out 525 hp with 510 lb-ft of torque, 6-speed Turbo 400 transmission with a gear vendor Posi axle, 10-bolt rear differential, front disc brakes and rear air shocks.

"I bought this truck in 1974 for $900. I used it as my work truck until 2001. Over the years I have replaced the motor three times, transmission twice and the rearend twice. Just after buying it, I met the first owner! Then within the first year of owning it I met the car salesman who sold it new. Years later, a man came up to me at a car show and said he built this truck at the Chevy factory in Oakland—crazy! So, now after 46 years, I call it my 'off-work vehicle,' because when I'm off work, I'm on the road!"
---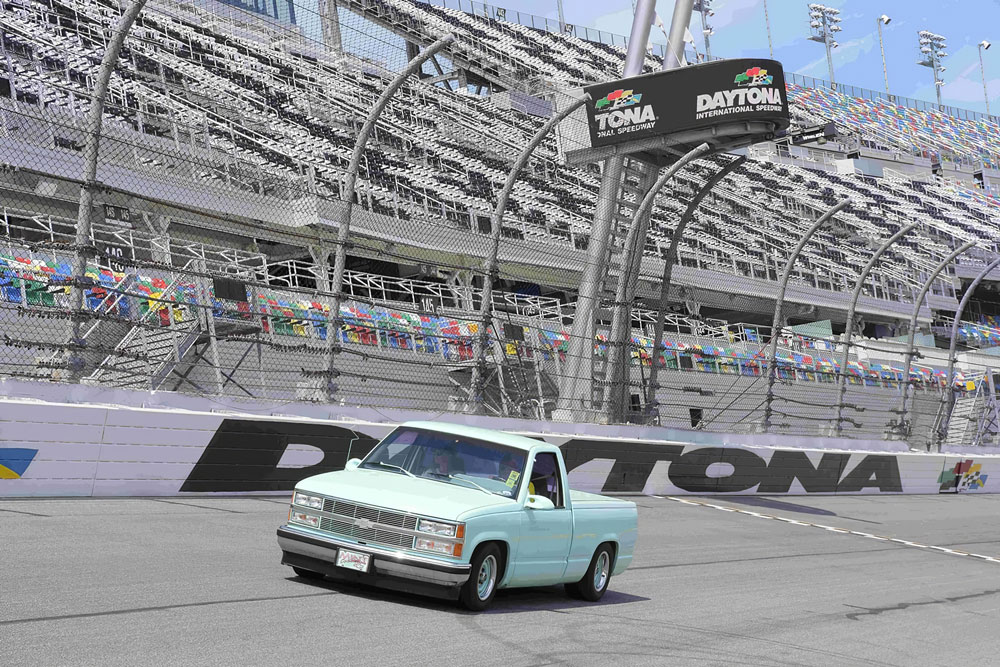 Owner:

Johnny Parker, "Mint Condition"
Location: Ocala, Florida


Year, Make and Model:

'91 Silverado C1500
Club: Low Lyfe Kustomz

Mods: 4.8L LS engine swap with a big cam and a 3600 stall. It has 4.56 gears that allow it to be a daily driven, '90s era street truck.

Goals: "I have a nitrous outlet kit I am installing. My goal is to be competitive in 11.50 class"
---
Owner: Jakob Adams
Location: Florence, Mississippi
Year, Make and Model: '66 Chevy C10
Club: C10 Club of Mississippi
Mods: 5.3-liter LS engine swap with a 4L60E transmission, bagged suspension, Viair compressors, tilt steering column, Snowden seat foam and cup holders, disc brakes, four-link rear and Z-framed front suspension.
Goals: Dakota Digital gauges, Switch Suspension hinges and a BTR stage-4 cam upgrade.
---
Name: Josh Rowan, "Snooki"
Location: Adel, Georgia
Year, Make and Model: '87 Chevy Suburban
Mods: Body-dropped and tubbed on air-ride and a '60 Belair dash swap.
Goals: Upgraded 6.0-liter with modified cam, a 4L80 transmission, Slosh Tubz, and a full custom interior, along with 20×8 and 20×16 American Racing wheels with 33x22x20 Mickey Thompson tires.
"I have a long history with this thing. It was built in 2003 and recently rebuilt in 2020."
---
Owner: Tyler Miller, "Pumpkin Spice"
Location: St. Augustine, Florida
Year, Make and Model: '00 Ford Ranger
Club: Sunset Car and Truck Club
Mods: Custom paint, 18-inch subwoofers, 20-inch Foose wheels on Nitto tires. Custom headlights and taillights, a little motor work and custom interior pieces help it stand out.
Goals: Tyler plans on painted graphics, a bigger motor, more speakers and a fiberglass hood.
---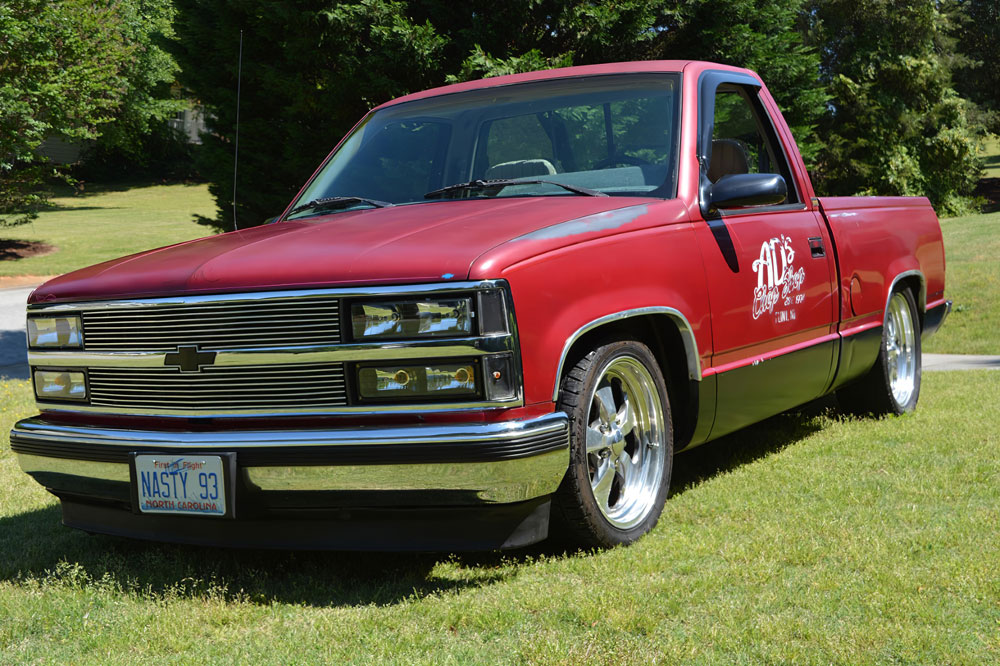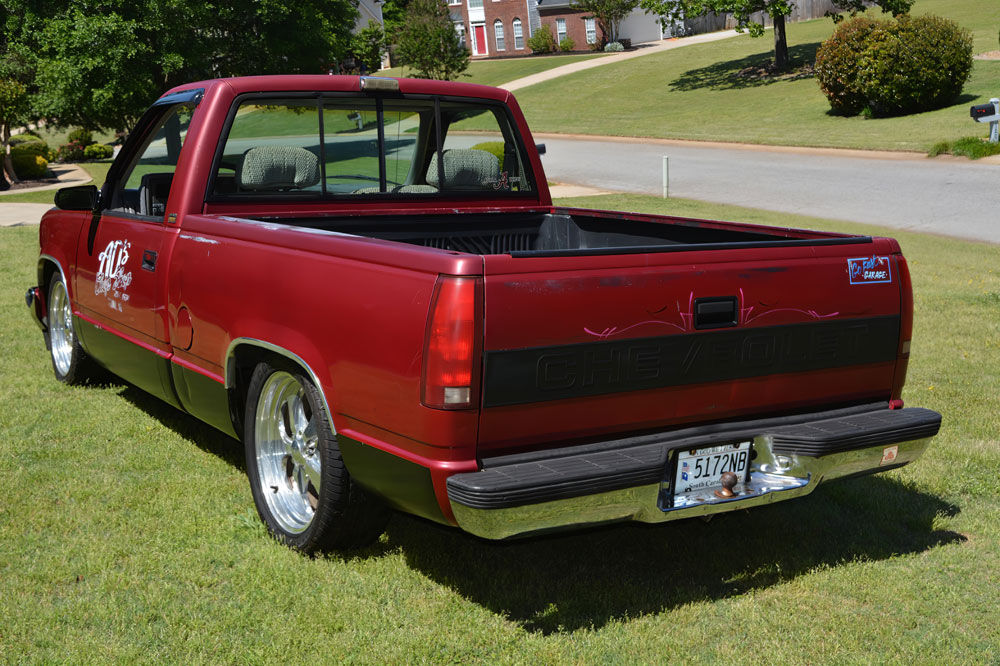 Owner: Matt Tolchard, "Red Dragon"
Location: Easley, South Carolina
Year, Make and Model:'93 Chevy C1500 Silverado


Club:

Upstate GM Truck Club

Mods: Mods include 355ci engine, forged scat crank, balanced and matched rods, forged flat top pistons. Also has Dart Iron Eagle Pro 1 heads, custom ported and polished, big valves, custom grind cam, Edelbrock dual plane manifold and a Holley 750 double pumper. A Big Shot nitrous kit is jetted for 150hp. Transferring the power is a built TH350 transmission from a Corvette, one-piece aluminum driveshaft, Detroit TruTrack 3:73 gears in a factory 10-bolt housing. Mods also include a DJM lowering kit, upper and lower control arms, flip kit with C-notch, CalTrack rear spring and traction bar, American Eagle wheels and drag radials.

"I bought this truck from a family friend, sold it and bought back before I realized I wanted her home. It started with just wanting a street truck for cruising, but that kept growing and changing until we arrived where we are now, making an estimated 500hp on motor and 650hp on gas."
---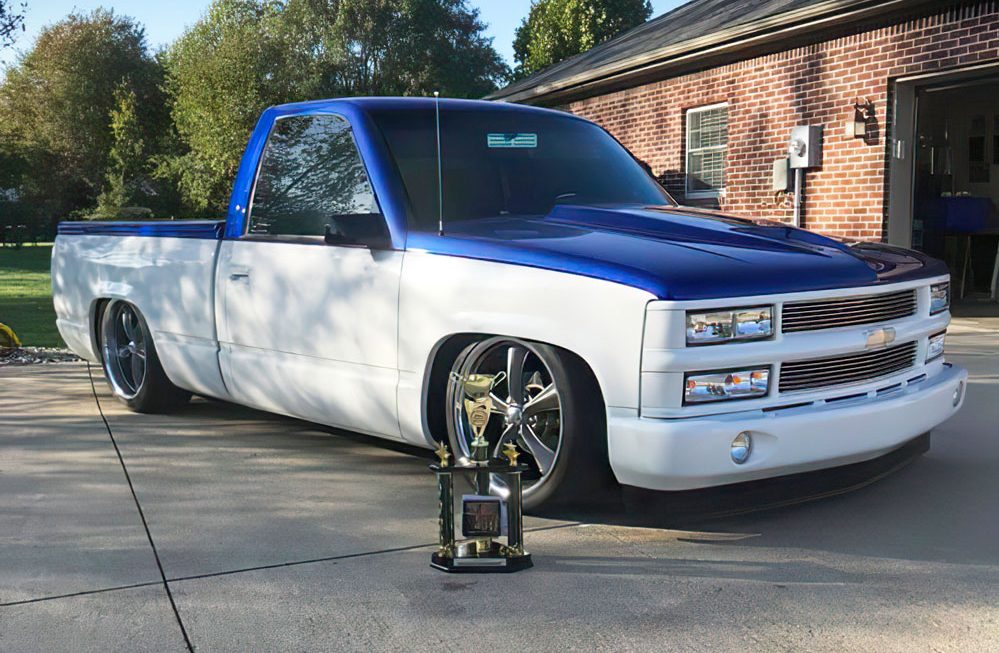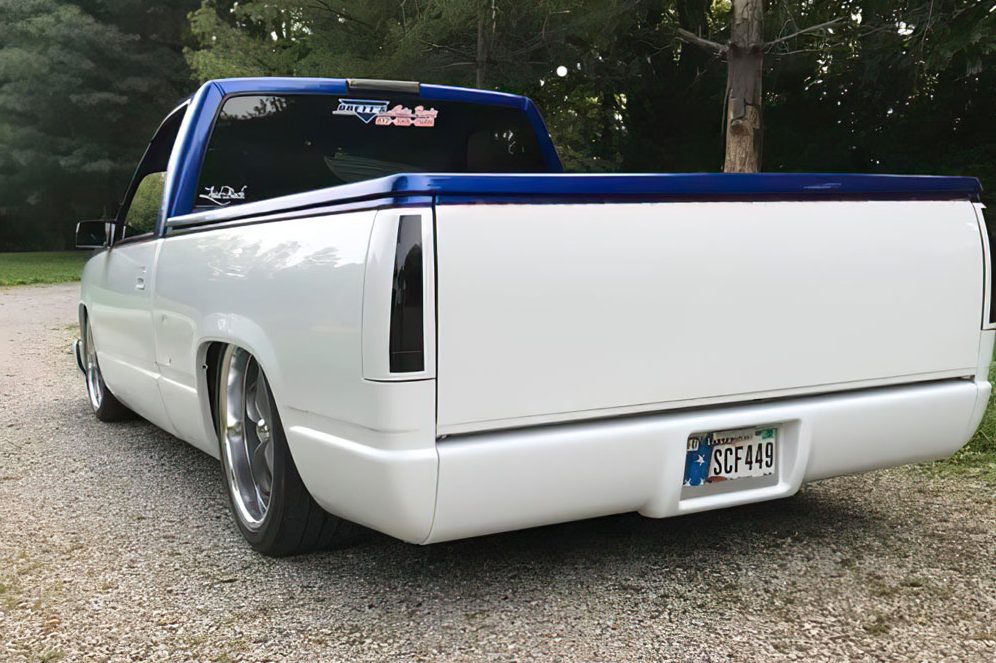 Owner: Matt Dewig
Location: Princeton, Indiana


Year, Make and Model:

'95 Chevrolet C1500

Mods: Full air suspension on 20-inch Boss wheels with a built small block engine and a 700r4 transmission. Truck has a 3600 yank converter, 4.11 gears with Detroit locker. Fully custom interior and paint by my dad Brett Dewig and me at our shop Brett's Auto Body.
---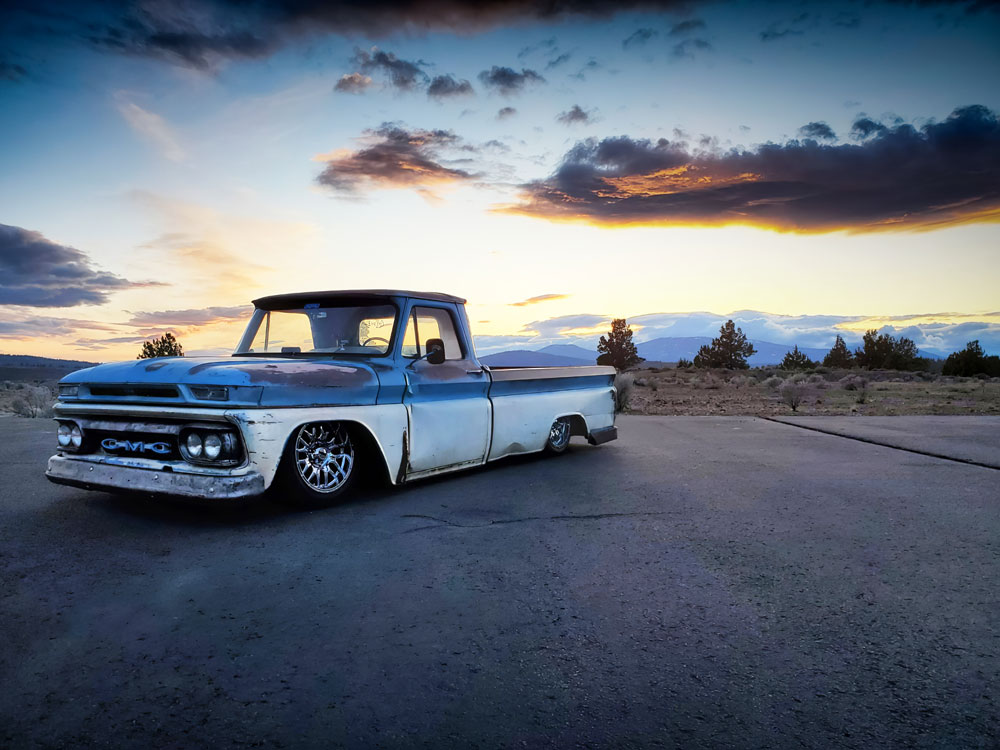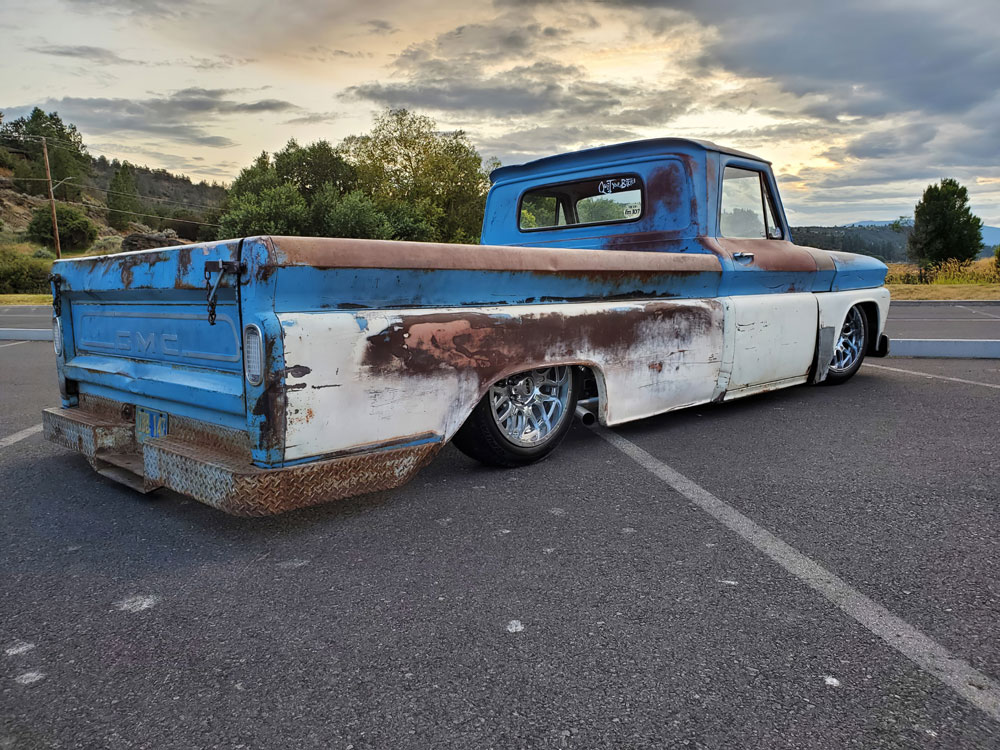 Owner: Aidan Stenkamp "Rus-T"


Location:

Klamath Falls, Oregon


Year, Make and Model:

'65 GMC C10

Mods: Bagged on stock control arms, 8-inch step notch in the rear with a parallel four-link, mild built 350, built TH350 with a stage 2-shift kit, and custom-raised bed with hidden compartments with rustic alder wood on top.

Goals: Full interior with touchscreen head unit, two 10-inch subs, new glass all the way around, tint, seat, carpet and A/C.

"I built it with my dad's help. This is the first truck we've ever built or done anything to. We started it when I was 19, and it took us 7 months to get driving. The entire truck was built within our two-car garage with basic tools, a welder, grinder and my dream to have the coolest C10 in town. It turns heads everywhere it goes, as it's one of the only bagged vehicles in my area."
---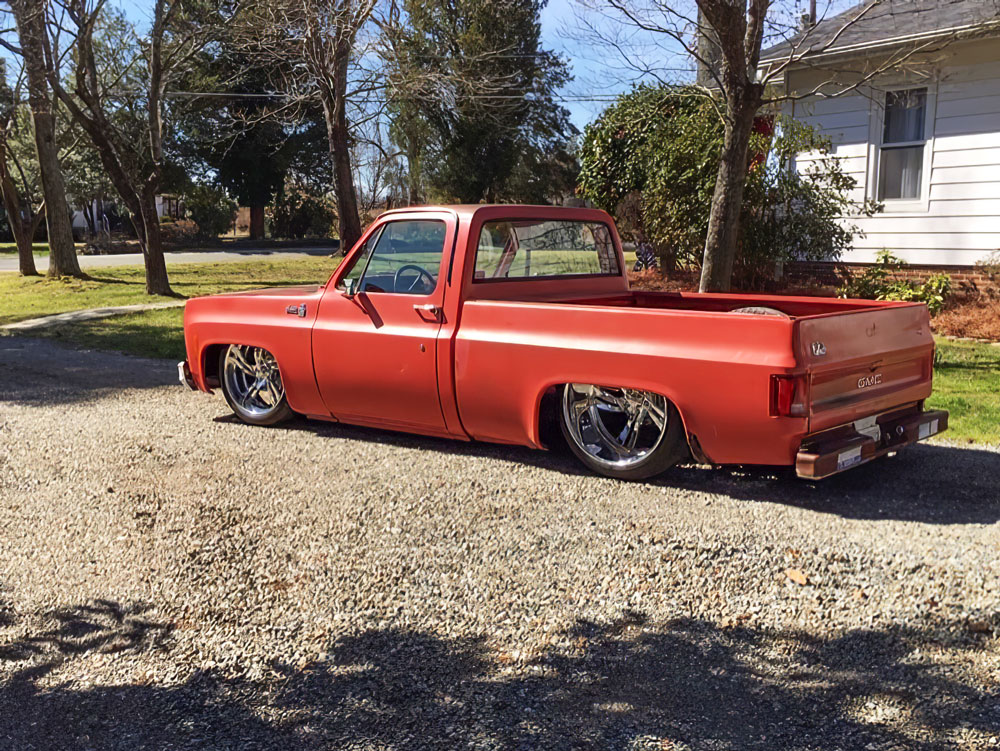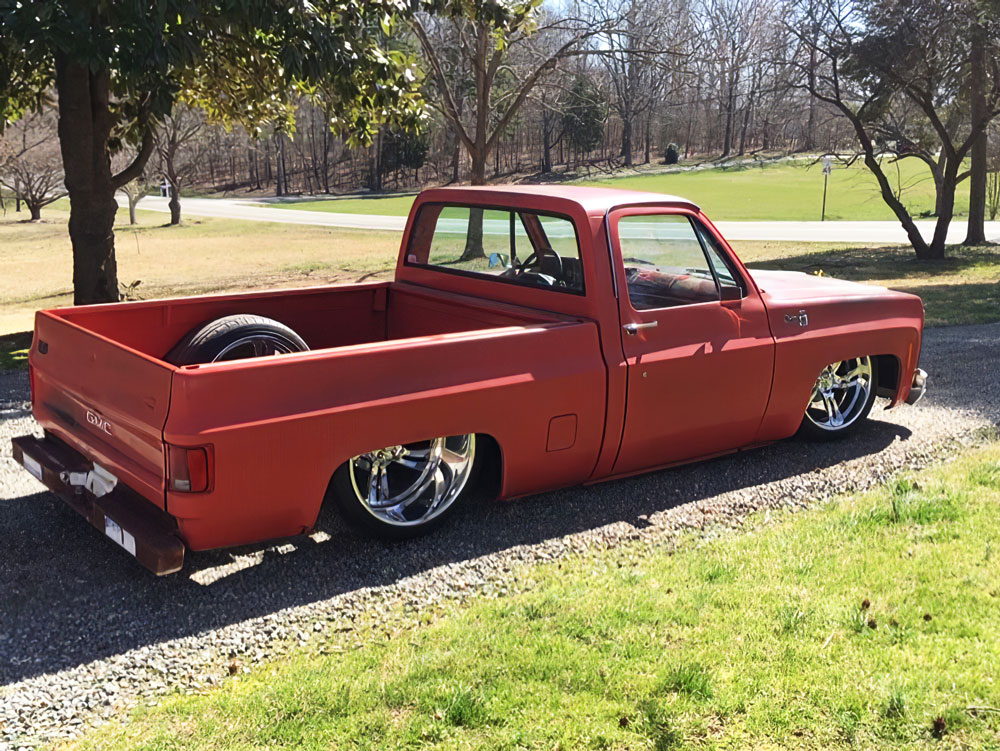 Owner: Louie Perez "Louie"
Location: Greensboro, North Carolina
Year, Make and Model: '79 GMC Shortbed
Club: C10clubNC

Mods: Chassis Fab front and rear air-ride setup, custom front upper and lower control arms, a rear four-link suspension with a Panhard bar, Air Lift 3P air management system with dual 3-gallon tanks, 454ci big block engine with a Turbo 400 transmission, CVF Racing front serpentine drive pulleys, a Boyds Welding fuel cell, BeCool four-core radiator, Master Power Brakes four-wheel power disc brakes, 12.5 narrowed rearend with Auburn 9-inch Locker, 22×9 and 24×12 Raceline Charger wheels, AGR power steering upgrade, Atomic Armidillo shaved firewall panels, Hart Fab custom front inner fenders. Custom vinyl/houndstooth bench seat

Goals: Big Black Fabrication bed floor, Vintage Air, Dakota Digital gauges
---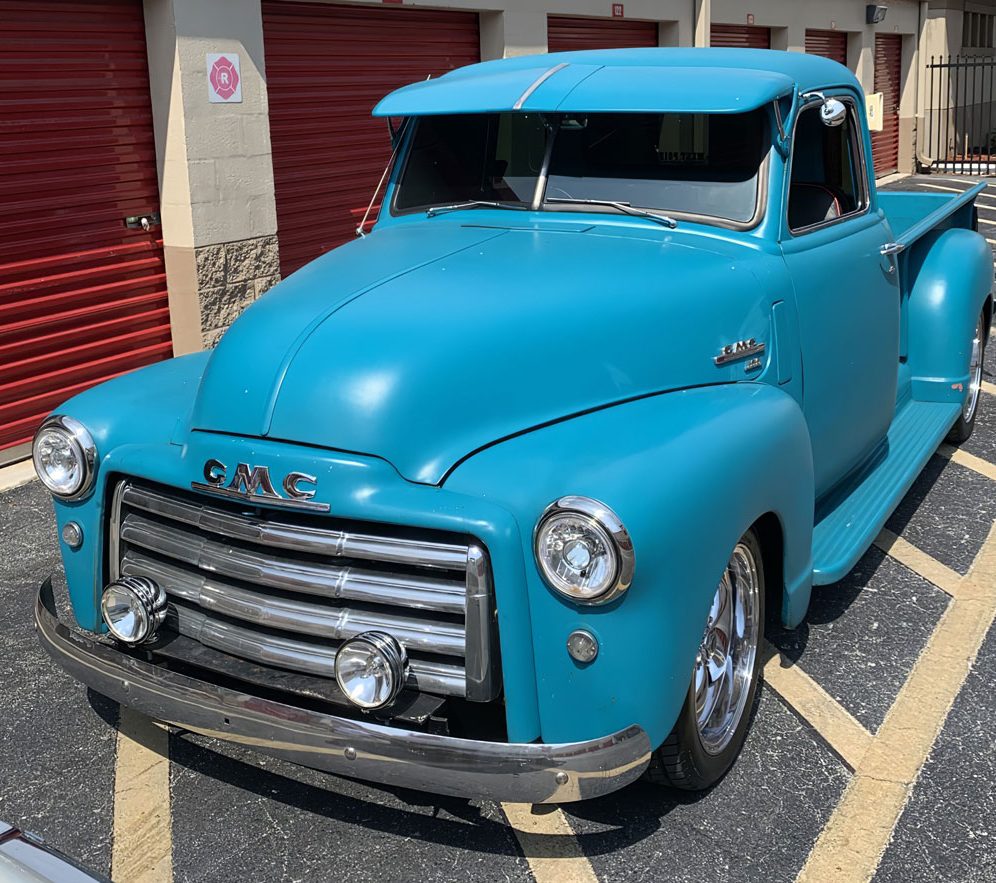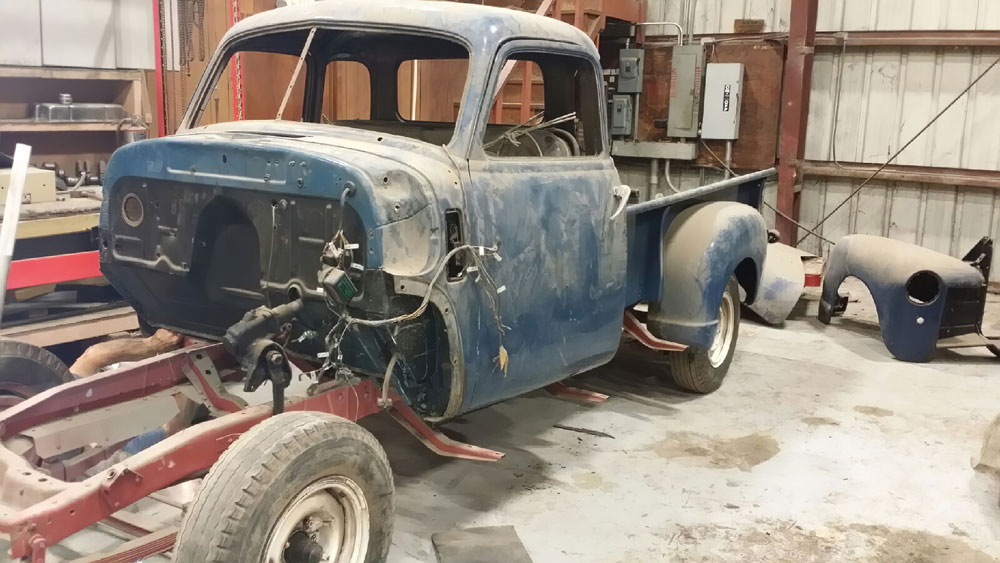 Owner: Joey Candelmo
Location: West Palm Beach, Florida
Year, Make and Model: 1950 5-window GMC

Mods: 350c.i. SBC engine, power brakes, air conditioning, new wiring and a Mustang two frontend.

Goals: "I would like to add a fuel injecting system"
---
Owner: Nathan Reed
Location: Montoursville, Pennsylvania
Year, Make and Model: '87 Mazda B2000
Club: Banzai Cruisers
Mods: 2-pump hydraulic suspension, custom paint, custom interior, 15×10 chrome and gold Dayton wheels.
"I've owned this truck since 1996 when I was a junior in high school. She's been a daily driver, SPL competition vehicle and now a show truck. Most likely you are looking at my future casket right there."
---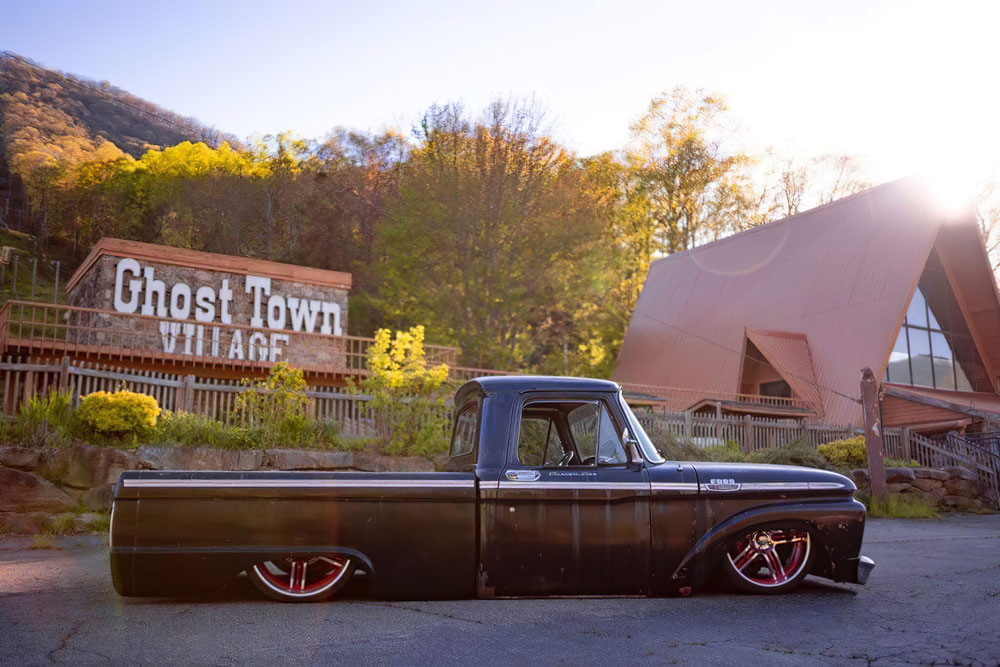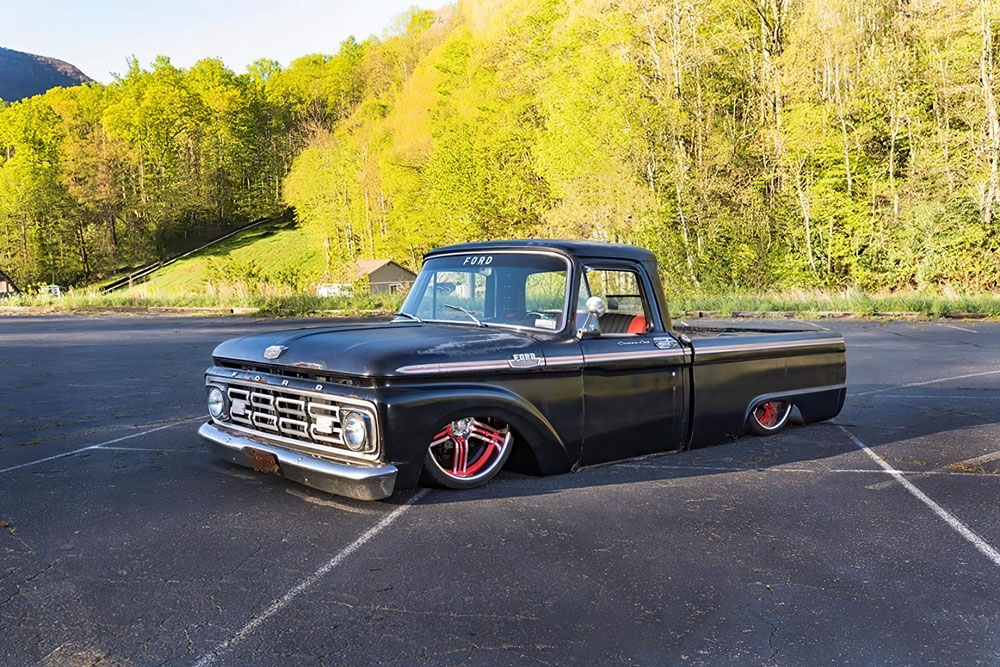 Owner:

Keith Lowry "#rustbucket"
Location: Charleston, South Carolina


Year, Make and Model:

'64 Ford F-100

Mods: They include 4.8-liter LS swap with ICT billet accessory brackets, BP Automotive harness, aluminum radiator, 4l60E transmission with a Lokar 16-inch shifter, handmade four-link suspension using Thorbecke bungs and 2-inch square tubing, and Accuair ENDO VT air tank with two Viair 444 compressors. Chassis mods include a Camaro front clip and Fatman Fab narrowed control arms with Wilwood disc brakes, Mandrel bent frame rails and Slam Specialties SS7 bags on all corners. A 4WD Chevrolet Blazer rear axle spins the 22-inch Raceline Imperial wheels customized with red center spokes that are wrapped in Lexani tires. Additional mods include a Chevrolet steering column, 14-inch billet steering wheel and a 19-gallon fuel cell.

"I am a member of the USAF stationed in Charleston, South Carolina. My '64 F-100 was originally my grandfather's, and all work so far has been completed by me in my garage. It's still under construction currently."
---
Owner: Brian Bartlett "Heathen"
Location: Vancouver, Washington
Year, Make and Model: '06 Hummer H3
Club: Freaks of Nature
Mods: Bagged on 22-inch Monster Energy wheels, with Chevy Colorado front clip and axle, and one-off air management display and Monster Energy battery box.
Goals: Install a 5.3-liter LS and custom interior.
"Thank you to my wife and boys, Jason Hernandez, Freaks of Nature Oregon, Jacob Rohde and Fernando Bonilla."
---
Owner: Justin Jenkins
Location: Dayton, Tennessee
Year, Make and Model: '66 Ford F-100
Mods: Air-ride suspension, body-dropped, 22-inch wheels, a 4.6-liter fuel injected engine, heat and A/C.
Goals: "I plan on putting an Air Lift P3 system and an engine driven compressor. Finish the bed floor and full interior restoration. And drive the s*!t out of it!
---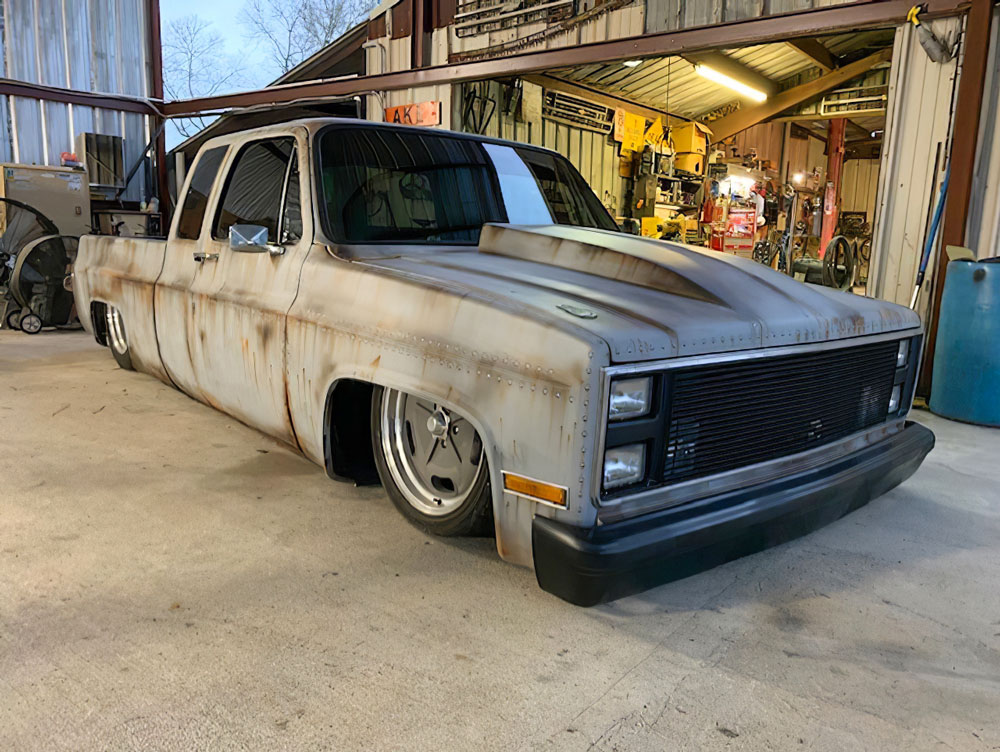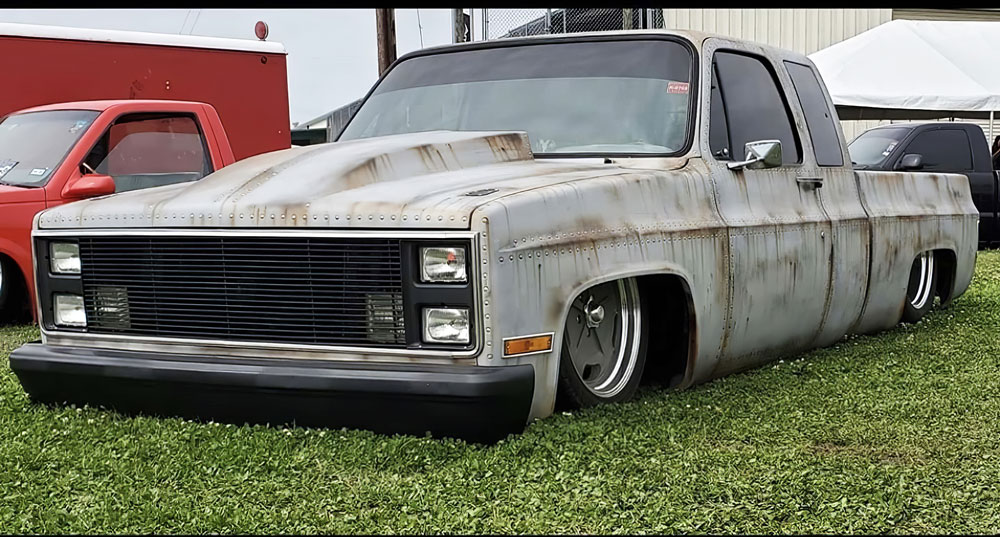 Name: Alan Harvey, "Ugly Truckling"
Location: Dayton, Texas


Year, Make and Model:

'85 GMC 1500

Mods: "An extended cab conversion was done by Overland Coach in 1985 with buckets of Bondo. I bought it and with the help of my wife and some friends, we reworked the chassis to fit a regular shortbed truck. We cut the roof off and grafted a crew cab roof on it. We used Dodge Dakota extended cab windows, shaved the front bumper, and added a Bob Grant roll pan and shaved cowl. We also fit a '64 GMC dash in the cab. This truck is powered by a 12-valve Cummins motor and a 5-speed transmission. Moser 9-inch rear turns 20×15 American Racing Salt Flat wheels. The paint has an airbrush rivet/patina design by my friend Cody Fry. Air-ride suspension, a stock floor body drop and ChassisFab front control arms."

Goals: "I'd like to add a more powerful engine, 6-speed transmission, air conditioning and a nice sound system."