Drop It Like It's Hot
1999 WAS A HECK OF A YEAR FOR PEOPLE WHO LIKE RAD STUFF. "The Matrix" was released, Tony Hawk landed the first 900, the Yankees won the World Series for the 25th time and the "South Park" movie finally came out. There were some bad times, too, though. Pam and Tommy got divorced, Y2K had everyone in a panic, boy bands were everywhere and worst of all, the last two-door Tahoe rolled off the assembly line. We didn't really know it at the time, but we were losing a legend.
Some trucks just "do it" for us, and two-door GMT400-platform Blazers, Yukons and Tahoes are among our favorites. This generation has just aged so well that you almost can't go wrong with whatever you want to do to them. Of course, it doesn't hurt one bit when they're slammed on big ol' wheels!
And we're not alone. Scott Sapio of St. George, Utah, is just as fond of them, and as he told us, "I've always loved the two-door Tahoes and just thought that this truck deserved to be built!" As you can see, however, he went beyond the typical "stop, drop and roll" combination of upgraded brakes, a lowered suspension and custom wheels. His '99 Chevy Tahoe is an amazing example of what can be done with these now-classic rides, and no expense was spared in the build. In fact, once Scott finally took a look at all of the receipts once the Tahoe was done, he was into it about $65K!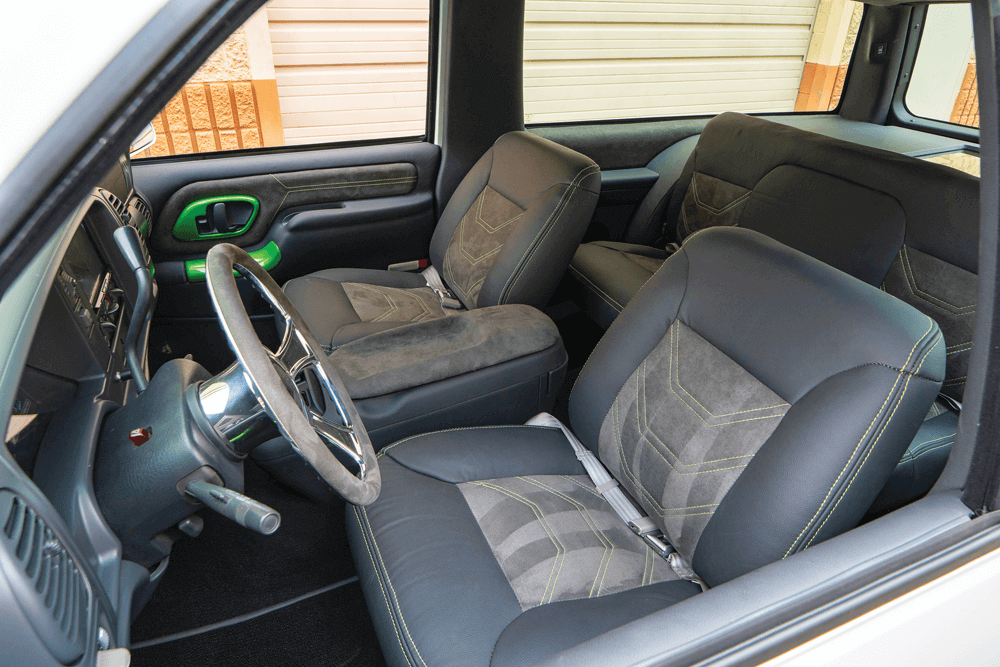 The first thing Scott decided to tackle was the ride height, and for that he chose one of Arizona's best known and most well-respected shops, Tre 5 Customs. Owner Jeremy Rice has had plenty of experience with two-door Tahoes and knew exactly how to bring Scott's ride down the right way. The right way, as is often the case, was 'bags and a body drop! The problem is that, unlike with a typical truck, there's no bed to pull off to make the job easier.
Nevertheless, Jeremy had things planned out in advance and started mapping out and building a new three-quarters-length chassis on his frame table, retaining the front one-quarter of the factory frame. The front end also received a set of Stone Fab control arms (which also centered the front spindles in the wheelwell), Slam Specialties SS7 airbags and a bunch of modifications to lay out the front over the 24-inch Intro Vista II wheels. The rear required a ton of work as well, with a custom-built main 4-link that uses triangulated lower links, along with a pair of rear-facing leveraged link bars with Slam Specialties SS7s for tons of lift. An AccuAir e-Level system with ENDO VT air management system and Viair 444C compressors providing the air needed to operate the suspension.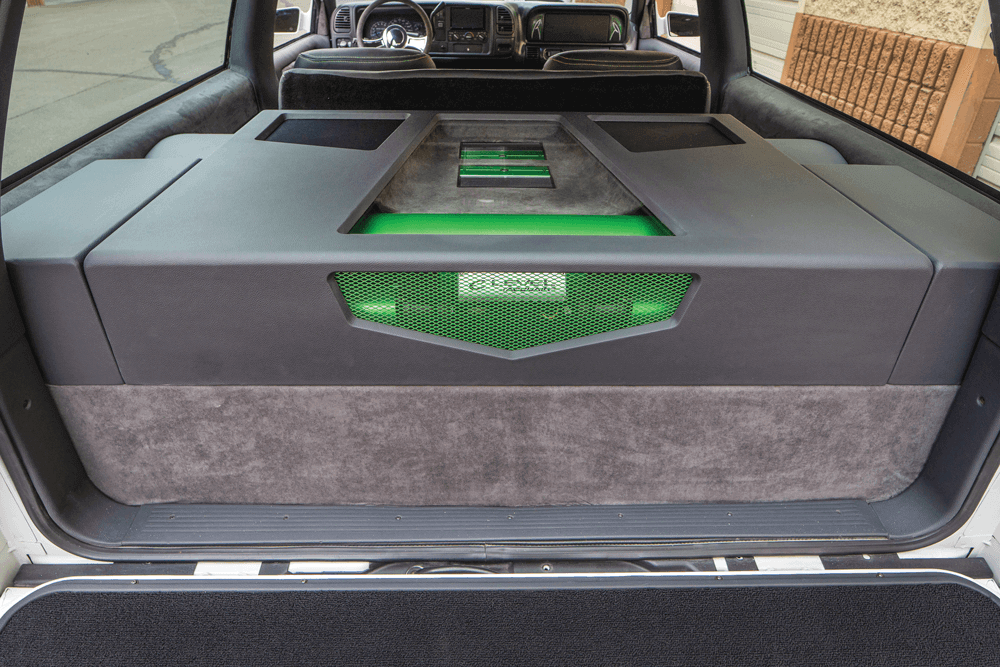 Tre 5 also took great care when adding the front and rear wheel tubs to ensure that the interior of the truck was properly sealed from the elements. They also installed the 14-inch AZ Pro Performance brake kits on the front and rear of the Tahoe. As you can see, Scott's Tahoe was turning out to be something pretty special, but it's all of the unseen stuff that is really indicative of how far he was willing to go. The entire chassis and its components are either painted or powdercoated, with great detail put into every part. Once Frank at Ikandy Paintworks took over, it was game on for his insane shiny stuff skills. The whole body received a plethora of mods, such as a bunch of shaving and a Grant Kustoms roll pan. Scott's color of choice was a bit surprising for a truck that is so wild—BMW Alpine White. However, when you see the total package and how it looks with the painted green accents, it just looks so right!
Even the interior received a lot of painted love from Ikandy, and the upholstery (done by Steve at Elevated Design) has the perfect blend of innovation and class that just makes your jaw drop. The comfy original seats were retained, but now wear ultra leather, and the killer JL Audio sound system is surrounded by trick panels and mesh accents.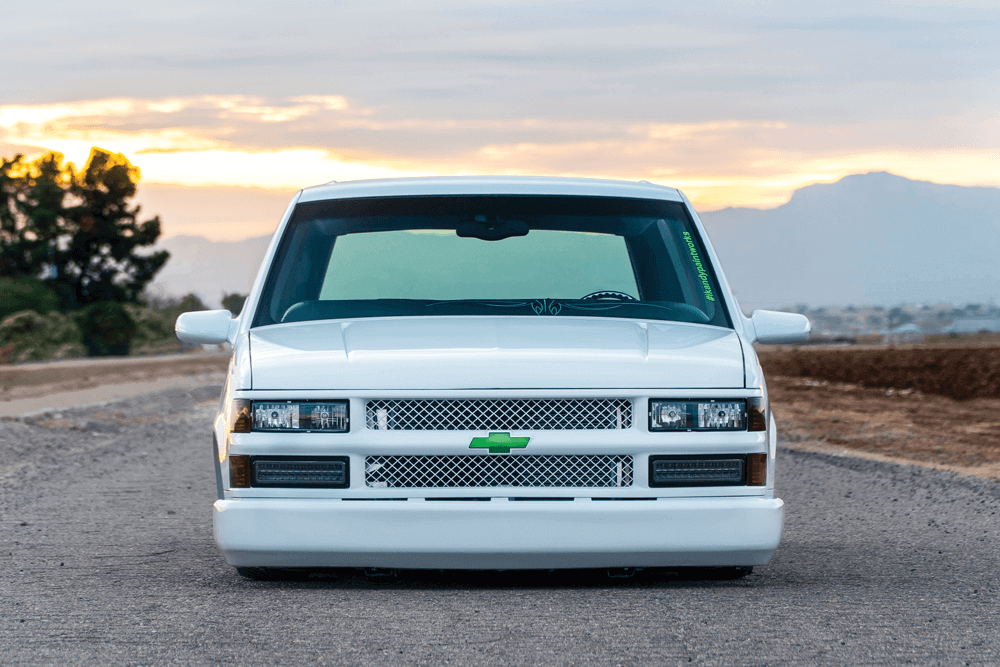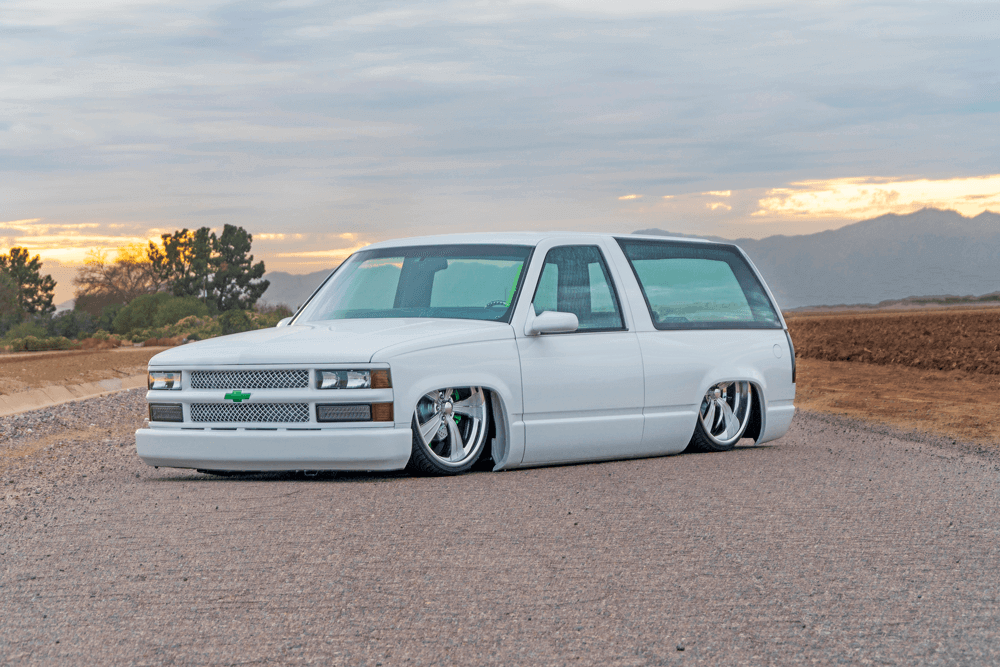 Once Scott's Tahoe was done and finally ready to hit the streets a year after the build began, it quickly started collecting trophies at every show he took it to. In the end, it cost him two to three times what he originally thought it would, but we think that having one of the finest two-door Tahoes around was well worth the expense.
OWNER
Scott Sapio
St. George, UT
1999 Chevy Tahoe
CHASSIS & SUSPENSION
Worked performed by Tre 5 Customs
New 2×4 frame from firewall back to achieve body drop
New custom body mounts and crossmembers
Stone Fab tubular control arms
Custom 6-link with triangulated lower bars, leveraged rearmounted bars
Slam Specialties SS7 airbags
AccuAir e-Level air management with ENDO VT valve/tank combo
Dual Viair 444C compressors
Custom fuel cell
AZ Pro Performance brakes with 14-inch rotors front and rear
ABS removed and replaced with residual valves and rear proportioning valve
Painted and powdercoated chassis
Narrowed rear axle housing
3.73:1 gearing with limited slip
WHEELS & TIRES
24×9 and 24×10 Intro Vista II billet aluminum wheels
Nexen 275/30ZR24 tires
ENGINE & DRIVETRAIN
Work performed by Tre 5 Customs
Rebuilt factory 5.7L Vortec engine, painted block
Tucked factory wiring
BBK ceramic coated headers
Custom air intake tube with Spectre filter
Custom TIG-welded stainless steel exhaust
Aluminum radiator with dual electric fans
Rebuilt original 4L60E transmission from Transmission Service Center, painted
TransGo shift kit
Custom two-piece driveshaft with carrier bearing
BODY & PAINT
Work performed by Ikandy Paintworks
Color-matched aftermarket grille with mesh inserts
Shaved handles all around
Shaved roof rack
Shaved gas door
Shaved cowl
Welded Grant Fabrication roll pan
Trimmed front bumper valance
LED headlights and taillights
Custom front and rear wheel tubs (by Tre 5 Customs)
Painted BMW Alpine White
INTERIOR & STEREO
Work performed by Steve at Elevated Design
ECU and fuse block relocated to interior (by Tre 5 Customs)
Factory seats reupholstered with ultra leather
Rear seat modified to fit between wheel tubs
Billet Specialties steering wheel
Smoothed and painted dashboard and interior panels (by Ikandy Paintworks)
Pioneer double-DIN head unit in custom bezel
JL Audio 6-inch component set in factory door locations
Custom sub enclosures with 10-inch JL Audio subwoofers
JL Audio amplifiers
LED accent lighting throughout interior
Air management covered with mesh inserts