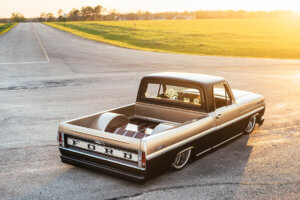 "I wanted to build something different from the C-10 norm." –Julio Garcia
There's nothing wrong with C-10 trucks—nothing at all. Hell, we've gone so far as dedicate an entire special magazine (C-10 Builder's Guide) title in their honor. When done up (or even left beaten and abused from years of labor) they stand tall as proud relics of the rock-solid American work ethic. Although classic GM pickups have proudly and boldly served this country's working class for decades and are now staples at truck shows across the nation, there are other American-made trucks that have put in just as much work and showed just as much dedication to working hands throughout the years.
"I've always liked being different, and when I saw that ford was offering the 5.0L coyote motor as a turnkey crate implant, I was immediately sold on searching for one of my favorite truck body styles of all time, the fifth gen 1967-72 F series bumpside." –Julio Garcia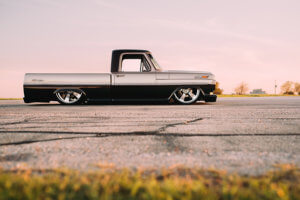 The Ford F series pickup has roots that go as deep as 1948, and just like GM trucks, the round edges and curvy bodies began straightening out and streamlining as the '60s approached. Sleeker, longer lines ruled the road across the board, but as the years have passed, it seems like there are only a few vintage Ford and Dodge pickups that are fully restored and customized for every 20 GM trucks that pop up. "C-10s are the new S-10s" is a sentiment that gets tossed around quite often these days, and it is at least partially valid. The reasons why S series trucks and SUVs were so popular among mini-truck fans are simple enough to grasp: They're relatively simple to work on and aftermarket parts are easy to score. The same values apply to the C-10 equation, but with so many of them on the road, at shows and in magazines, nonconforming truck builders are looking to other makes and models to resurrect, leveling the playing field a bit and standing out from the sea of Cs.
"I wanted to build something different from the C-10 norm," says Julio Garcia.  "I've always liked being different, and when I saw that Ford was offering the 5.0L Coyote motor as a turnkey crate implant, I was immediately sold on searching for one of my favorite truck body styles of all time, the fifth gen 1967-72 F series bumpside." Julio found what he was looking for, an old '67 body and chassis that turned out to be more trouble than it was really worth. After tearing into it, there was nothing but setback after setback uncovered. Rust, man, it sucks, and there was enough of it to stop this project dead in its tracks before it even had a chance to begin. "We could've made it work, but I was really on a kick to debut something at SEMA in 2013. This thing just wasn't going to cut it."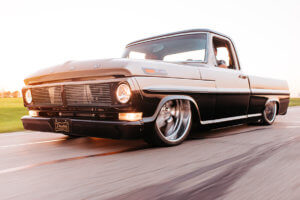 "This isn't just a warning to C-10 guys, but rather, to anything rolling around on four wheels. Julio's Fomoco hauler has been built to kill, and that's just a matter of fact."
Julio resumed his hunt for another possible cadaver that would be a little less sketchy to work with. He wasn't hunting blindly through the abyss of Craigslist ads; he knew exactly what he wanted and how much we was willing to give in order to get it. "As soon as I had the vision of what I wanted to build, I asked Daniel Reyna to preserve my thoughts on paper by designing a rendering for me. This helped me tremendously to stay on course and not lose sight of the goal. Of course, he nailed it." With that image burned deep into his mind, Julio pressed on and found something that showed real potential. The '70 F-100 he found would be the perfect base for a teardown project, but there was one obstacle: the truck was in South Carolina, roughly 1,000 miles from his front doorstep in Houston. Actually, the distance didn't present as much of a hurdle to Julio as it would to most of us. He rounded up his brother, Jesus, and brother-in-law, Luis, and the three took to the highway, hot on the trail of Julio's future feature truck.
Truck Specs:
Owner
Julio Garcia
1970 Ford F-100
Houston, TX
Ground Zero
Engine
2014 Ford Racing Coyote 5.0L
Performance Automatic 4R70W Street Smart trans package
AFCO aluminum radiator
ProCharger D1 supercharger
Factory headers
K&N air intake
Stainless steel exhaust system by AldoWelds
Magnaflow muffler
Injector Dynamics 850cc injectors
Ford Adobe Gold-painted covers
Vintage Air Front Runner engine drive system
Ford Racing standalone harness and Speedway Motors body harness by Matt Lipp
Custom aluminum gas tank
Suspension
Shop: Ekstensive Metal Works, Bill Carlton
Wilwood drop spindles
Handmade control arms and frame
Ekstensive rear 2-link and pan hard bar setup
Narrowed Ford 9-inch rearend
Air Lift 'bags
VIAIR compressors
SMC Valves and ½-inch copper hard lines
Rack-and-pinion steering
Wilwood slotted/drilled rotors with six-piston front and four-piston rear calipers
RideTech RQ shocks
Wilwood brake booster and master cylinder
Wheels & Tires
Raceline Burst polished 24×9 and 24×15
Pirelli P-Zero 255/30R24 and 405/25R24
Body & Paint
Shop: Pristine Paint and Body, Dave Flint and Mike Stuart
PPG Tuxedo Black and Ford Adobe Gold
Faux trim and emblems airbrushing and pinstriping by Pat Maxwell
LMC Truck factory grille, grille insert and headlights
Factory front bumper shortened
Factory rear bumper shortened and sectioned
Sheet metal bed floor with airbrushed wood grain by Pat Maxwell
LMC Truck door handles
Dakota Digital taillights
Electric-Life power windows
Smoothed and shaved firewall, shaved rear marker lights, gas cap, wiper cowl and body lines, smoothed and bead rolled under side hood, round bared fenders, cut and sectioned core support
Interior
Shop: Arjonas Upholstery, Alfredo/ Audio Designs, Robert Strach and Chad Jensen
Factory bench seat wrapped in King Ranch genuine leather upholstery
Black loop carpet
Black suede headliner
Leather-wrapped dash
Dakota Digital VHX gauges
Raceline Burst polished half-wrap steering wheel
LMC Truck door handles and seat belts
Vintage Air AC
Retro Sound head unit
Stinger wire and Anchor marine wire
Two sets of dB Drive 6.5 components
Two dB Drive K5F-12D4 flat subwoofers
dB Drive amps
Audison Bit Ten processor
Custom sub box and kick panels
Two Optima Yellow Top cells
GT mat sound deadener
The truck ended up looking too good to leave behind, and once the guys got it back home, that's when the whirlwind started. "I began calling around everywhere ordering parts for it, but not just the little things. I immediately ordered the wheels, bought the big brake kit and the Coyote crate engine, of course. That was the major driving force behind the idea for this project, so that had to be done first." Dudes like Julio don't play, and the very next call he made was probably the most pivotal in the entire build process. "I talked to my good friend, Bill Carlton, at Ekstensive Metal Works about a plan to give the truck a killer stance, and as soon as there was an opening in the shop, I made sure I was in there to begin the initial design."
This was all happening at the beginning of August, and Julio still wanted to make it to SEMA in early November with this project; maybe doable, yet maybe too lofty a goal to set with just three months to get everything done. "Sacrifice" and "regret" would inevitably be two words that would accompany a rush job like that.
As the suspension fab got underway, Julio quickly discovered there would be no time to get this truck done in the abbreviated timespan he had given himself. Sure, he was bummed for a bit, but then realized he now had an unlimited amount of unpressured time to do all of the things he wanted to their fullest potential.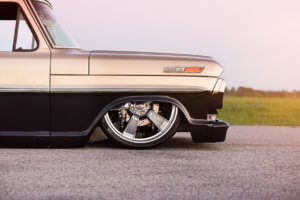 He was able to have the entire frame and suspension components powder-coated thanks to the time extension. He had time to shop for painters who had the skills and style he was after, and all of this was done with a lighter, cooler mindset. Things were looking up for Julio, and his truck was getting nothing but the utmost attention from the hands he trusted and admired most.
It's definitely not a Chevy and this truck certainly has a lot going for it. The unique engine swap, the overall execution of fit and finish, those big, deep-lipped billets that have become a Texas trademark—it all comes together for the makings of a true trophy-snagger. That's not to say collecting awards and praise is all Julio is after with piecing together this Ford, but basking in a little well-deserved recognition isn't the worst thing that could happen. To the guys out there in the unfortunate position of going toe-to-toe with this truck at shows and meet-ups, you might want to take stock of what you're bringing to battle, because there won't be much mercy shown. This isn't just a warning to C-10 guys, but rather, one to anything rolling around on four wheels. Julio's FoMoCo hauler has been built to kill, and that's just a matter of fact. ST
Special thanks from owner: "Thanks to Daniel Reyna, Bill Carlton and the entire Ekstensive Metal works crew, Dave Flint, Martin So Cold, Mike Stuart, Pat Maxwell, Julio Hernandez from GAG, AldoWelds, Matt Lipp, Robert Strach and Chad Jensen, Arjonas Upholstery, Eric Garza of dB Drive, Jose Anezcua of Superior Shot Peening and Powder Coating, my big bro Jesus Trevino for always riding with me, my entire Ground Zero fam for the motivation and my beautiful wife and family for always backing me in everything I do."
Editor's Note: A version of this article first appeared in the June 2016 print issue of Street Trucks.