Every truck guy has a dream truck, one specific model that soars higher than any other make out there. Sometimes it takes years to lock one down. The reasons are many: too expensive, too much rust, missing too many parts—there are plenty of variables but, on the other hand, there are just as many excuses.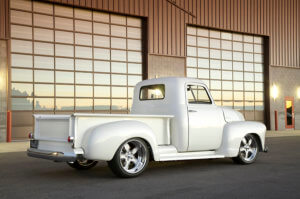 Finding the "perfect" project truck is tough, now more so than ever. If a truck is priced too high, you either gotta buck up or pass the opportunity on to the next guy. It's another thing, however, if a truck is too far-gone and needs to be completely rebuilt from the ground up. Unless you possess the know-how to do all of that, it's a job that will most likely take you forever and a month to complete. What's a fella to do in a situation hinging on a simple yes or no answer? It all depends on the fella in question.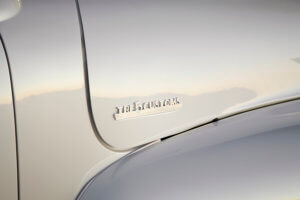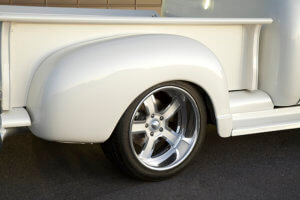 A guy like Jeremy Rice wouldn't (and didn't) flinch in a predicament such as the one described. In fact, he didn't even consider it a predicament; the chance to pick up a 1947-52 Chevy 3100 in any condition was a pure opportunity. "I've wanted one of these trucks for as long as I can remember," Jeremy says. "There's just something about this body style that has always appealed to me."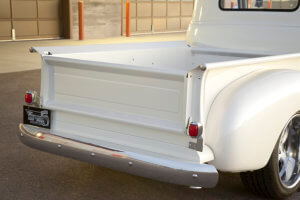 If Jeremy's name doesn't ring a bell, it's likely that his shop, Tre 5 Customs in Peoria, Arizona, does. He definitely falls into the category of knowing how to bring a truck back from the grave, and what he can't do himself, his strong network of pals can pick up where he leaves off.
"After following a tip from my buddy Hess' dad, I tracked this truck down in an area referred to as 'The Cinders,' just east of Flagstaff," Jeremy says. "The owner of the property confirmed there was a truck there when he purchased the land 20 years ago. It was buried, but we were able to get a good look at it where it sat. The guy had no attachment to the truck and needed some extra cash, so we struck a deal at $550."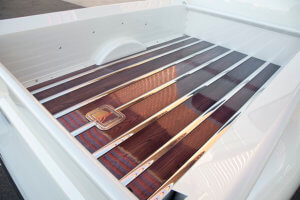 The old Chevy was a steal at that price, but it was going to need all new everything in order to become a working, running truck again. Once Jeremy unloaded his new truck at home, it was blown apart and cleaned out for good measure. After that, the truck sat for a solid year before Jeremy got around to doing anything else to it. Working for paying customers takes precedence when running a busy shop, but he made time in his schedule to work on his own project. "The first three to four months were solely spent ordering parts to prepare for the build," says Jeremy. "Then five months before SEMA we really got after it. It was a short build time on the calendar pages but not short on hours. We worked 10-12-hour days for months leading up to November. We took the time to document nearly every step and shared what we were doing with Street Trucks readers as we went. All this was being done while still operating the shop full-time."
Truck Specs:
Owner
Jeremy Rice
1949 Chevrolet 3100
Peoria, AZ
Engine
Shop: Trend Automotive
2000 Chevy LS1
B&M 4L60E transmission
Lokar shifter
Custom-built steel drive shaft
COMP Cams camshaft, pushrods, lifters and springs
Edelbrock high-performance water pump
Summit Racing radiator and cooling fans
AD Engineering motor mounts
Professional Products intake manifold
K&N air intake tube and filter
Professional Products 85mm throttle body
2.5-inch exhaust from headers to 3-inch collector
Black Widow Pro Venom mufflers
Vintage Air Frontrunner system
Narrowed Chevy 12-bolt rearend with Auburn limited slip diff and 4.11 gears
Summit Racing 20-gallon fuel cell
Suspension
Shop: Tre 5 Customs
Chevy S-10 frame with AD Engineering swap kit
Ridetech upper and lower G-body control arms, RQ coil-overs, Tru Turn steering
McGaughys drop spindles
Custom Tre 5 rear 4-link system with pan hard bar
McGaughys front big brake kit and rear disc conversion
CPP booster and master cylinder
Wheels & Tires
20×8.5 and 20×10 Intro Flow polished and satin wheels
255/40R20 and 275/40R20 Toyo Proxes ST II tires
Body & Paint
Shop: Tre 5 Customs and IKandy Paintworks
Metalux Pearl White (body) and Burgundy (chassis)
LMC grille replacement, premium chrome front and rear bumpers, fenders, running    boards, bed, doors, hood, LED taillights, door handles, wood bed floor and windows
Shaved cowl vent, A-pillar vent and keyholes on doors
Hidden tailgate hinges and latches
Step-rolled firewall and skin for tailgate
Interior
Shop: Definitive Audio and Ceballos Custom Upholstery
Brandy leather upholstery and carpet
Factory seat frame painted pearl white, custom foam by Ceballos
LMC Truck headliner
Shaved radio holes on dash and glove box
Dakota Digital VHX gauges
Vintage Air Sure Fit AC
Intro Custom Wheels Flow steering wheel
All American Billet handles
Summit Racing switches
Custom kick panels, door panels, sub enclosure behind seat
Pioneer head unit
Rockford Fosgate wiring, 6.5-inch components in kick panels, 6-inch components in rear corners, two 10-inch shallow-mount subs, five-channel amp and sound deadener
Two Kinetik 1800 cells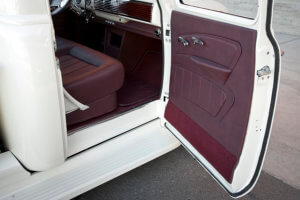 "Hectic" seems like the right word to describe these late summer/early fall months, but it truly doesn't capture the essence of what Jeremy experienced during this stretch. On a good day it's challenging enough to make it through each hour of the workday let alone trudging through it half awake due to an early morning thrash session. But as the whistle sounded at 5 p.m., and everyone else packed up to head home for dinner, Jeremy prepared himself for the third portion of the day, which all too closely resembled the previous two. But one does what one must to make good on obligations, both personal and professional. "If it wasn't for my employee, Hector Garcia, I don't know how I would've pulled it all off. He was right there with me putting in crazy early morning and late night hours that he volunteered to work off the clock."
There at the shop, Jeremy was able to get the suspension completely turned around with upper and lower Ridetech G-body control arms and RQ series coil-overs and spindles from McGaughys, while the rear was outfitted with a custom Tre 5 4-link system. Trend Automotive stepped in to plant the LS1 mill to help get the 3100 back in tip-top running condition. The motor was decked out with accessories from COMP Cams, Edelbrock, Summit Racing, K&N and Black Widow mufflers for unmatched performance and dependability. IKandy Paintworks was recruited to help with the body modifications and final finish. In what seemed like a blur, the surface of Jeremy's truck had been cleared of any visual deterrents, and it had received fresh sheet metal and windows courtesy of LMC Truck, as well as a wood bed floor that has been custom stained and cleared in high gloss. The exterior was treated with Metalux three-stage Pearl White paint, and the complete chassis and components were sprayed a deep burgundy color even though most onlookers won't even get to see it.
Definitive Audio and Ceballos Custom Upholstery teamed up to create a simple yet plush cabin complete with supple brandy leather and matching LMC Truck headliner. The dashboard has been cleaned up and painted and outfitted with Dakota Digital factory replacement VHX gauges and a Vintage Air Gen II Sure Fit system for the best in modern mobile luxuries. There usually isn't a whole lot of room to squeeze in too much boom inside single-cab pickups, but Steve at Definitive managed to devise an audio system comprised of two shallow-mount Rockford Fosgate subwoofers located in a custom enclosure behind the seats, 6.5-inch components in the kick panels, 6-inch components in the rear corners and a five-channel amp to send juice to them all. Every inch of the truck's cab was used to the fullest to satisfy Jeremy's taste for well-rounded tunes and a slick interior.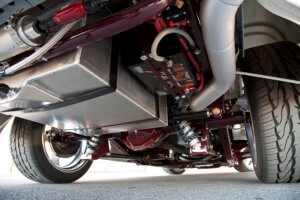 Jeremy has dubbed his latest creation "Cindy" as a nod to the volcanic piece of land where the truck was uncovered. The five months spent prepping it for its grand debut were some of the longest, toughest months he can recall in recent memory. The truck was showcased in the Metalux booth and made quite an impression throughout SEMA week. Not only has Jeremy's pickup struck a chord with admirers of completed trucks, but also with those who have studied the tech stories surrounding the build phase for information and inspiration. The 194753 Chevy 3100 has a devout following for sure, and it's safe to say that the completion of this build stands as a testament that these trucks can still be found in the wild for a realistic price. The documentation of one guy's dream build has played a rare part by also speaking to others out there with the same exact vision. Not too many truck builders can add that honor to their credit. ST
Editor's Note: A version of this article first appeared in the August  2016 print issue of Street Trucks.