Childhood Dream Realized
Let's start by recognizing that this particular feature happens to be an F-150 and strays a bit from the normal content you see here. But the story of Brian Lee Ervin and his childhood dream fulfilled is just one that we couldn't pass up, so read on.
Brian had always dreamed of building his own Bigfoot. The original monster truck known as Bigfoot exploded on the scene in 1975. As a child, Brian got to witness the original crunching madness live and in person. At the time, Brian's father had a monster truck of his own: a 1974 Ford truck on 38-inch tires. Brian was hooked. He drew a picture of the original Bigfoot when he was 8 years old. The image and memories would continue to inspire him through a life of fascination with customs. Nearly eight years ago, Brian got a shot to bring his inspiration to life.
When Brian purchased his 1978 F-150 Custom, he had a simple plan to paint and drive it. But the "full send" bug bit hard and he began a frame-off rebuild. After separating the frame from the body, Brian set about giving his Bigfoot its signature footprint. With the use of Skyjacker suspension shocks and springs, the '78 now sits 14.5 inches above the original factory ride height. The lift is matched, front to back, giving the truck the classic monster truck level stance.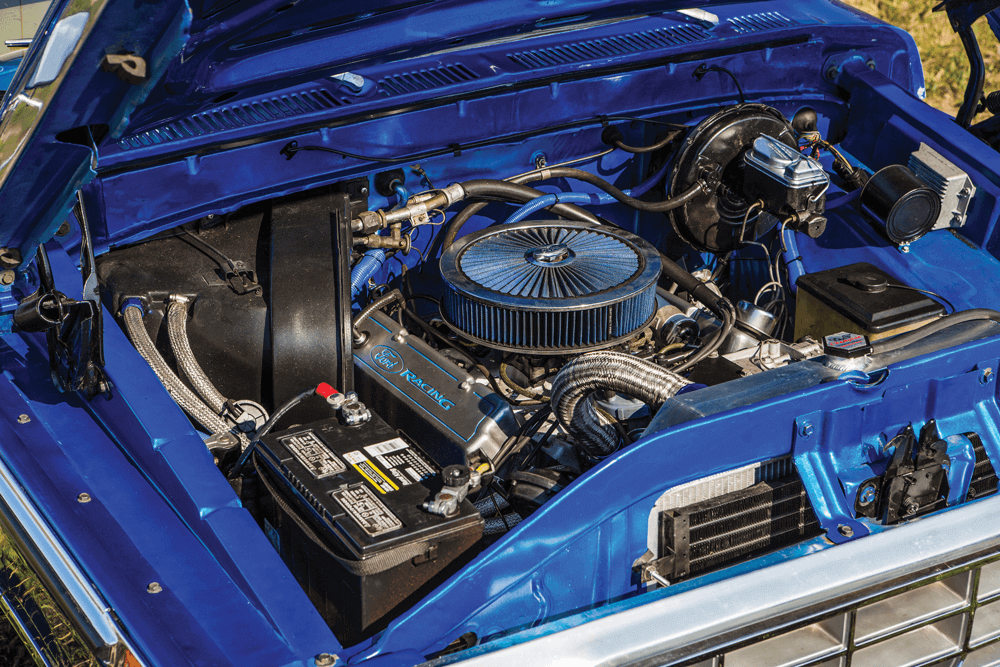 With plenty of room to stretch its legs, Bigfoot makes use of some truly monstrous rolling attire. The wheels are a set of Weld Racing polished Bajas. They measure 15×12 inches all the way around. The wheels are partnered with a set of 44×18.5 Super Swamper tires from TSL. All four tires are spun thanks to an overbuilt Ford C6 transmission and 205 transfer case. Hooked to the C6 is a Ford 400 as the 400 small-block V-8 was strengthened for the 1978 model year. Brian's 400 is equipped with a custom-built exhaust, built by the man himself.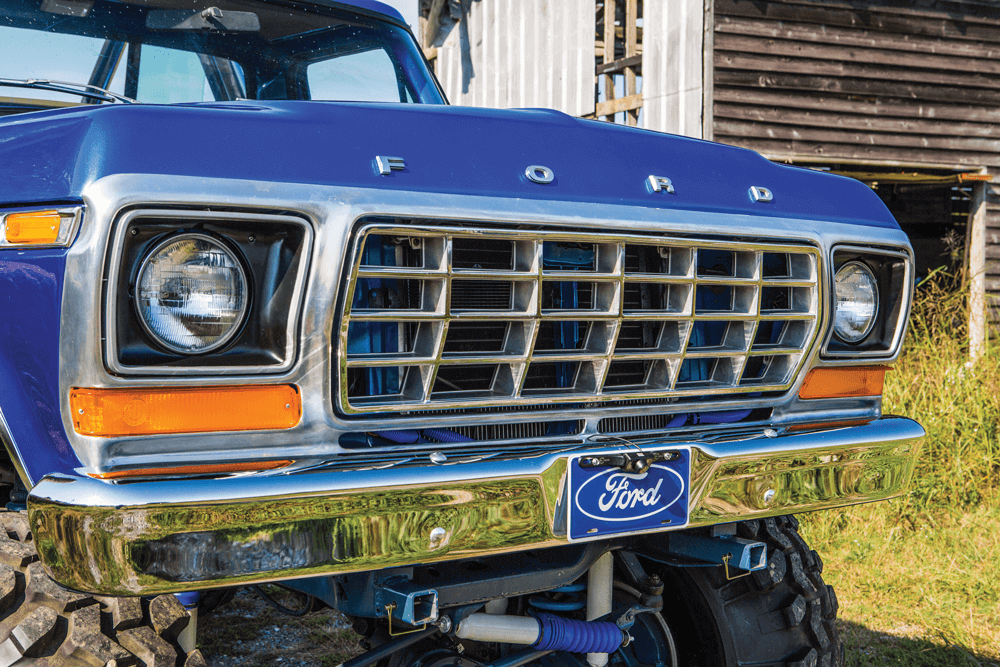 The 1978 model year was a big one for the Ford truck lineup. The front clip underwent a significant number of visual changes. The entire look of the grille and surrounding font fascia was reconstructed. The original Bigfoot, having been a 1974, received a facelift in 1979. The front clip was replaced with a '79 one that was carried over from the 1978 model. In this way, Brian's Bigfoot already had the perfect look.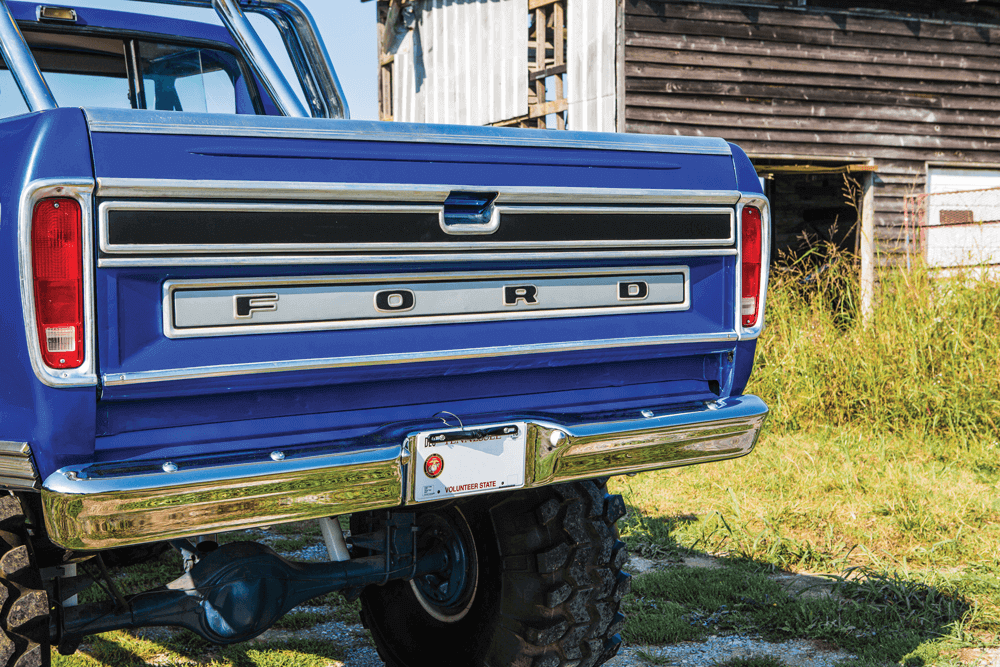 To give it a spin of his own, Brian selected a unique shade of blue. The paint code is a Dodge Viper color with a healthy dose of additional metallic flake. The blue continues through accented suspension components. Chrome bumpers, polished wheels, and repolished body trim all reflect the dazzling blue. The last bit of the visual puzzle is the timeless polished headache rack behind the cab. Its adorned with five KC auxiliary lights and their trademark Smiley Face covers. Bigfoot's interior remains almost all original. It's been thoroughly cleaned and rejuvenated, and the only major modification comes by way of a new bench seat collected from a 2001 F-150.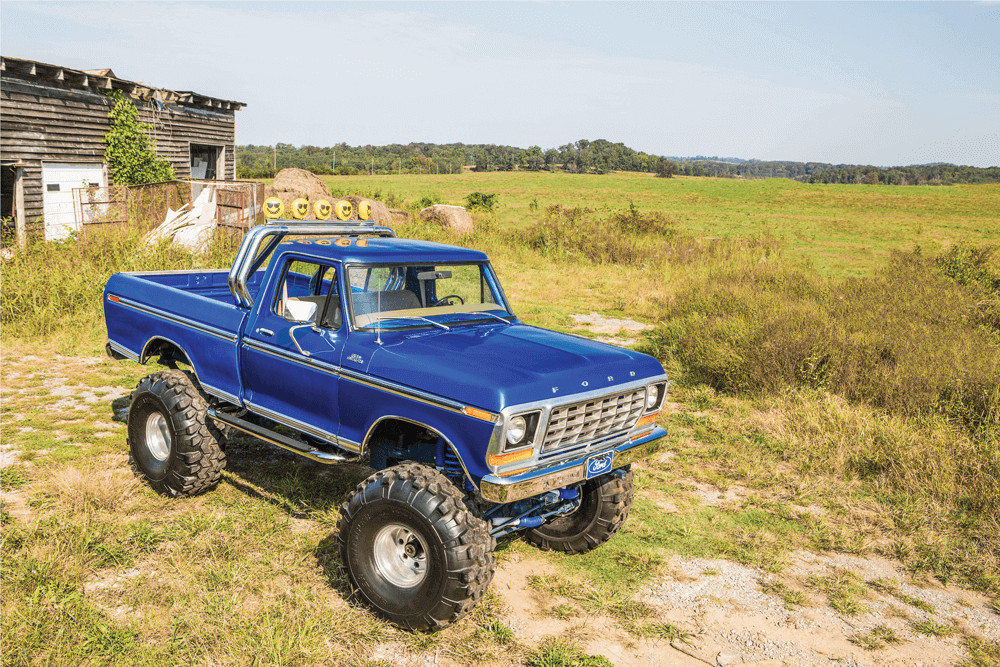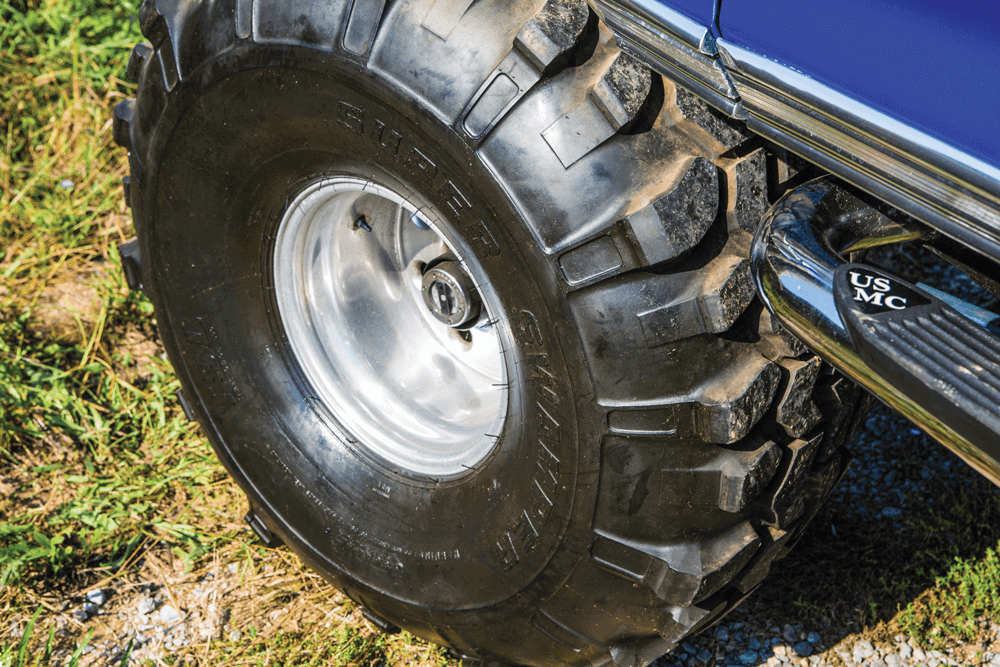 It's not often that someone is able to realize their full "dream build." Rarer still is realizing one that has been a dream since childhood. The story of Brian Lee Ervin is indeed rare and sparks new life into generations where things were a bit more simple. The passion that inspired him as an 8-year-old, continued to motivate his hard work as a man. More special still is that Brian was able to share the build process with his friends and family. In particular he was able to share it with his own son. Bigfoot is now a family heirloom, inspired in part by LeBrian's father, built in part by Brian's son, destined to serve their family for years to come.
BRIAN LEE ERVIN
1978 Ford F-150 Custom
Greenback, TN
CHASSIS & SUSPENSION
• Stock frame, repaired and painted
• Skyjacker Suspension 14.5" lift
POWERTRAIN
• Ford 400 small-block V-8
• Ford C6 transmission
• 205 transfer case
• Custom exhaust
BRAKES
• OEM
WHEELS & TIRES
• Weld Racing Baja wheels
• 15×9" front and back
• 44×18.5" TSL Super Swamper tires
BODY & PAINT
• Repolished body trim and bumpers
• Custom flake Viper Blue paint
INTERIOR & STEREO
• OEM interior
• 2001 Ford F-150 bench seat
ACCESSORIES
• Polished headache rack
• 5 auxiliary KC "Smiley Face" lights
Special Thanks From the Owner: "Thanks to Jeff and John Davis. My wife Claudette, my father Danny Ervin, brother Donny and matt, my kids Brilee and Bradee. Brady one day this will be yours bud!"