Throwing a custom truck and car show is an art form. In a world where the average attention span is just around 15 seconds, and stuff ships to your door 30 minutes after you order it, show promoters have quite a challenge perfecting a winning recipe and pleasing everyone involved. So when a group tries to build a new show from scratch, sometimes it's slow going and takes a few years of trial and error to dial in a venue and logistics to cater to the masses. It's also fair to say that usually "first-year" shows aren't as large and still have a few bugs to iron out.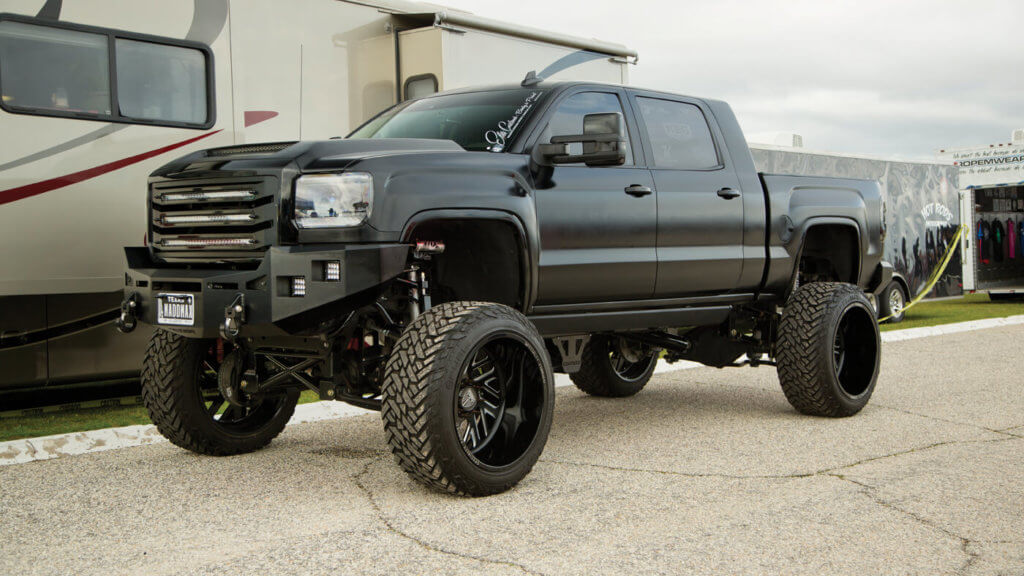 Surprisingly, that wasn't exactly the case with this year's Rookie of the Year, Battle in 'Bama, presented by Metal Brother's Hot Rods. The show was held at beautiful USS Alabama Battleship Memorial Park in Mobile, Alabama, from March 25-27, a killer venue that served as the perfect backdrop. Of course, since organizers Robbie Bryant (of KEG Media fame) and Craig Rowley (from Negative Camber) are no strangers to hosting successful shows or the custom scene, they had plenty of knowledge and experience between them to beat the first-year odds. Not to mention, they were surrounded by a world-class support system with a crew that put together an impressive event despite the imposing weather conditions. The organizers scouted the perfect location, worked with local officials and organized smooth operation and logistics well ahead of time, ensuring that Battle in Bama went off without a hitch.
Even though Mother Nature had other ideas, almost 400 registered rides showed up to support the cause. There was a great mix of late-model, classic, custom, lifted and lowered trucks to give spectators a ton of idea fodder for their own builds. Vendors were on hand slanging the latest merch and also dealt with the rain and weather conditions with perfect poise.
Supporters arrived from as far away as Canada, California and Texas for this first-year show, which means it's definitely one to watch for next year. We predict it will be added to the must-attend list soon enough, and hopefully the weather will cooperate a bit better next year.
We dubbed the inaugural Battle in Bama "Rookie of the Year" because despite the terrible weather plenty of people came out and had a blast, and that right there is what it's all about.
Editor's Note: A version of this article first appeared in the July 2016 print issue of Street Trucks Magazine.