WE VISIT GOODLETTSVILLE, TN, FOR THIS BOWTIE-INSPIRED TRUCK SHOW
THIS WAS THE eighth year for the Southeastern ALL Chevy/ GMC Truck Nationals held in Goodlettsville, Tennessee. This small town with a population of a little over 15,000 is located just outside Nashville in Sumner County. With seven solid years of experience and hardlearned lessons, this event has grown into the largest General Motors-based truck show in the East. The show had more than 500 registered trucks this year, which is its largest turnout to date. This number has been increasing each and every year, which looks great for their future numbers. The unique GM showcase brings in trucks from all over the United States for a weekend full of truck talk with a town full of truck guys. Bryan Ashley, event promoter, says that trucks have come from as far as San Antonio, New Hampshire, Miami and even a few from Canada.
We took some time to admire the quality of this year's specialty awards, which were meticulously made by Bullock's Body Werks. Jason Bullock has been making them out of used car parts since the first year of the show and they are impressive in person. Any true gearhead would be proud to set this trophy in their front room for everyone to see, if the spouse allows, of course.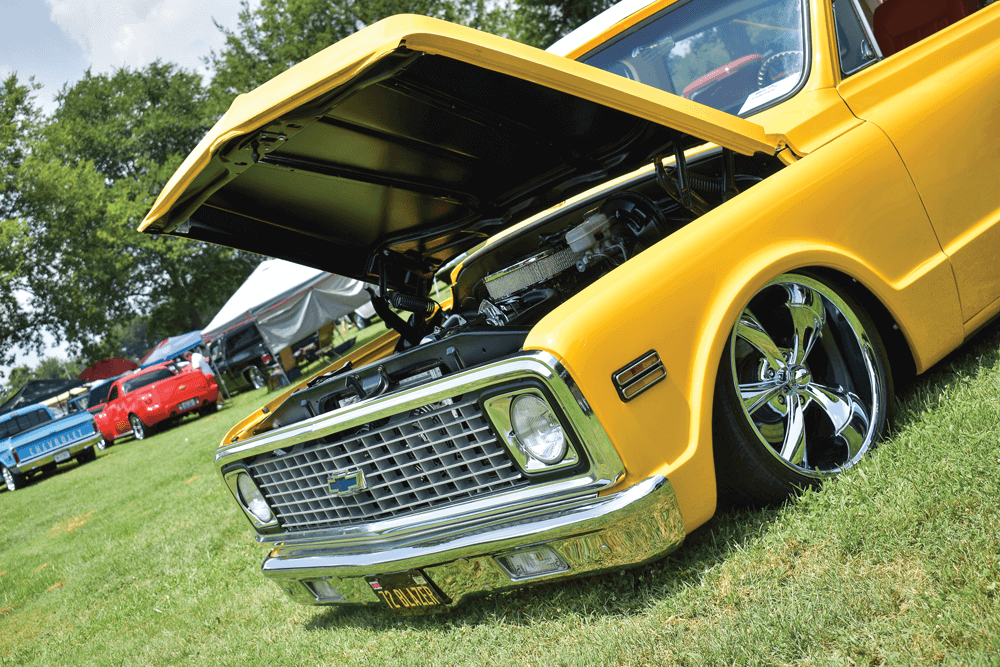 The All Chevy/GMC Truck Nationals is not just about the trucks. It's also about all the great people who live breathe and sleep this industry like we do. The atmosphere at this year's show was amazing as always.
"The trucks are cool, but the people are cooler, says Ronnie Wetch of C10 Talk, and we couldn't agree more. "This is what it's all about folks. Some people say we're crazy for driving hundreds and sometimes thousands of miles to go to a truck show, but those of us who actually do it know it's about more than just the drive. We love trucks, music, tattoos and not following the trends, but at the end of the day we love the people we meet the most. On this Chevy truck journey through the years, we've had the opportunity to meet so many amazing people, and we are blessed to now call them our friends."