MAXTRAC SUSPENSION'S '18 SILVERADO 3-INCH LEVELING KIT
WHILE A SENSE of excitement goes along with bringing home a brand new truck, an equal sense of recognizing what it's lacking goes with it, too. Straightaway, suspension is usually the first thing that gets altered once a customizer grabs hold of the keys. There's really no concrete evidence to support that statement, but trust us—we see it all the time.
If the decision to go upward has been decided upon, the natural next quandary is, "How high?" One could jack his or her truck up into the clouds, as the parts to do so are readily available, but for the sake of keeping that new pickup more manageable for everyday driving (and not spending thousands on all the components necessary to do that), there's no losing with a front suspension leveling kit.
Right off the dealer lot, the front end sits just about 3 inches lower than the rear to balance out a potential payload that would weigh the back end down. Not everyone uses a truck as a truck, at least not all the time anyway. So instead of relying on hauling around heavy stuff in the bed to level out a truck's stance, why not just lift the front end 3 inches? This option really is the happiest of mediums when it comes to a suspension lift, since it's mild enough to not require any specialized fabrication, and it leaves the truck looking much taller and more aggressive at all times. A bonus to the 3-inch bump is the ability to add a larger wheel and tire combo to capitalize on the new look.
To help our '18 Chevy Silverado move on down its path of levelness, we paid a visit to MaxTrac Suspension's SoCal headquarters to have its 3-inch front leveling strut spacer kit installed. While there, we met up with Jeff "JJ" Simpson who would ultimately be responsible for altering this Silverado's prior meek demeanor. This install of MaxTrac's leveling kit can easily be completed before lunchtime, but JJ can typically get the job done before his second cup of coff ee. He has agreed to slow his pace for the camera as we capture the art that is a simple suspension leveling kit.
And to make the most of the fresh suspension alteration, a set of 18- inch Black Rhino "Alpine" wheels were selected to grace the truck's modification list. The gloss black finish along with the milled spoke details would soon complement the Silverado's silver paint perfectly. These wheels off er rough yet refined characteristics that work almost too well for this application. And to better increase the Chevy's capabilities, Pirelli Scorpion All Terrain tires will provide off -road performance on any surface including loose gravel, sand, mud and snow. Although the truck will see paved highways a high percentage of the time, knowing that it can also competently handle the roads less suggested is great for a driver's confidence.
Follow along to see just how easy and quick is to level out you truck's fresh-from-the-factory suspension height.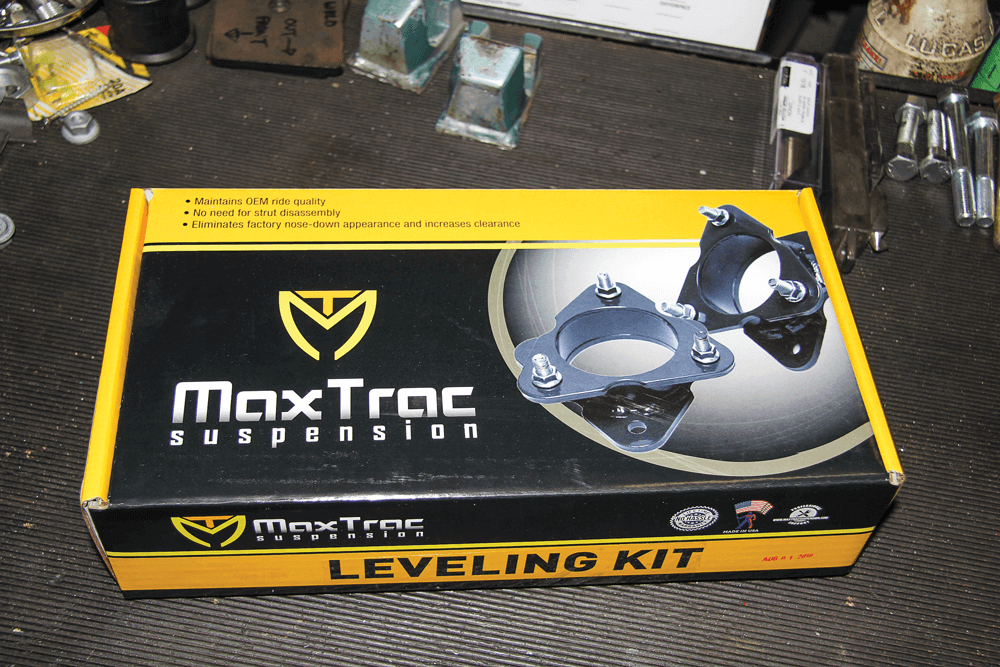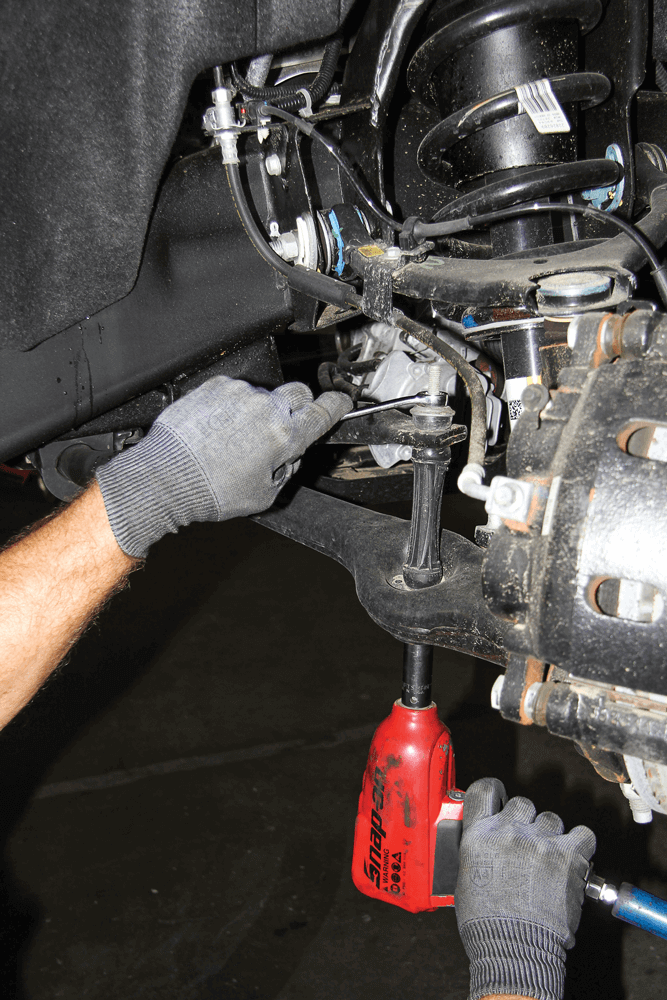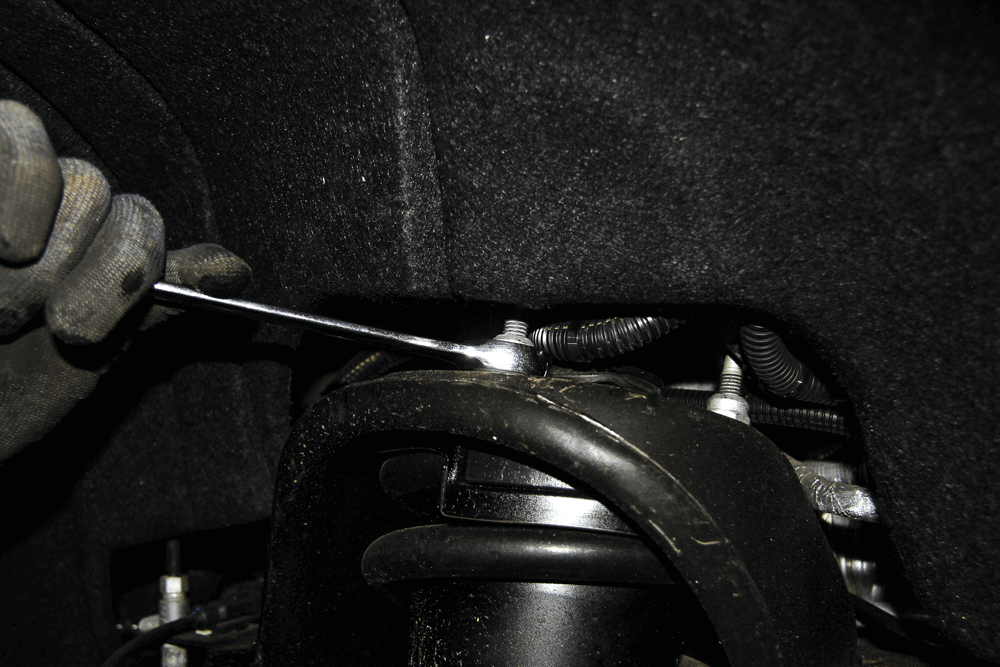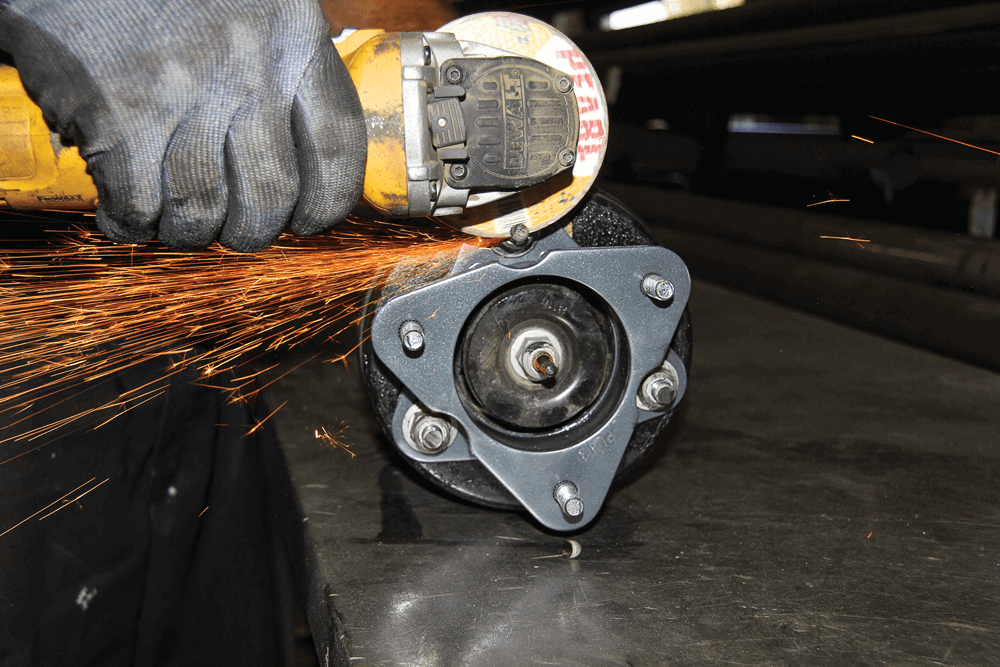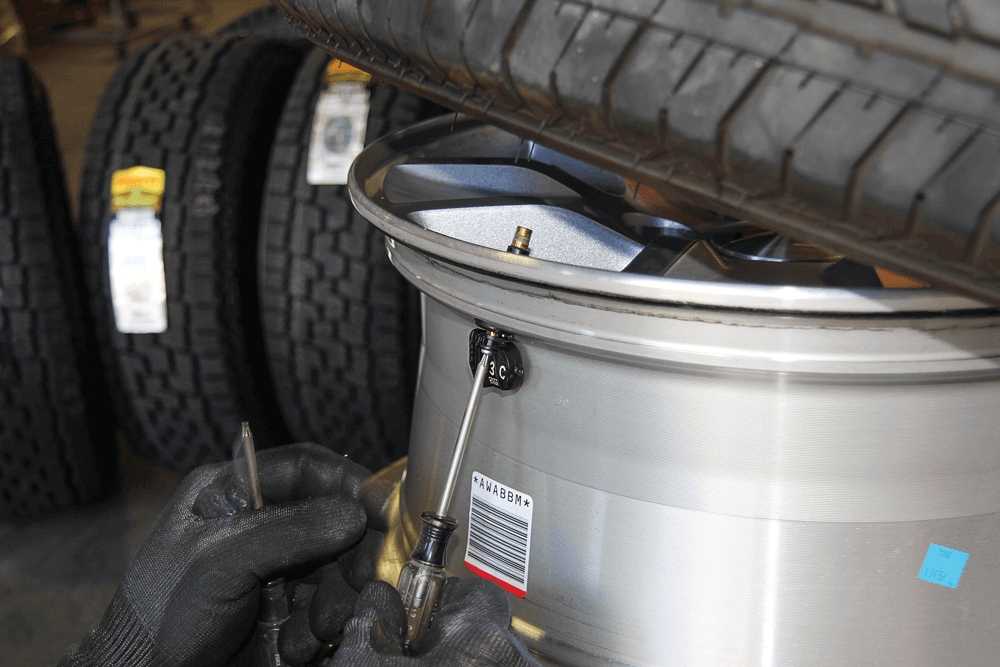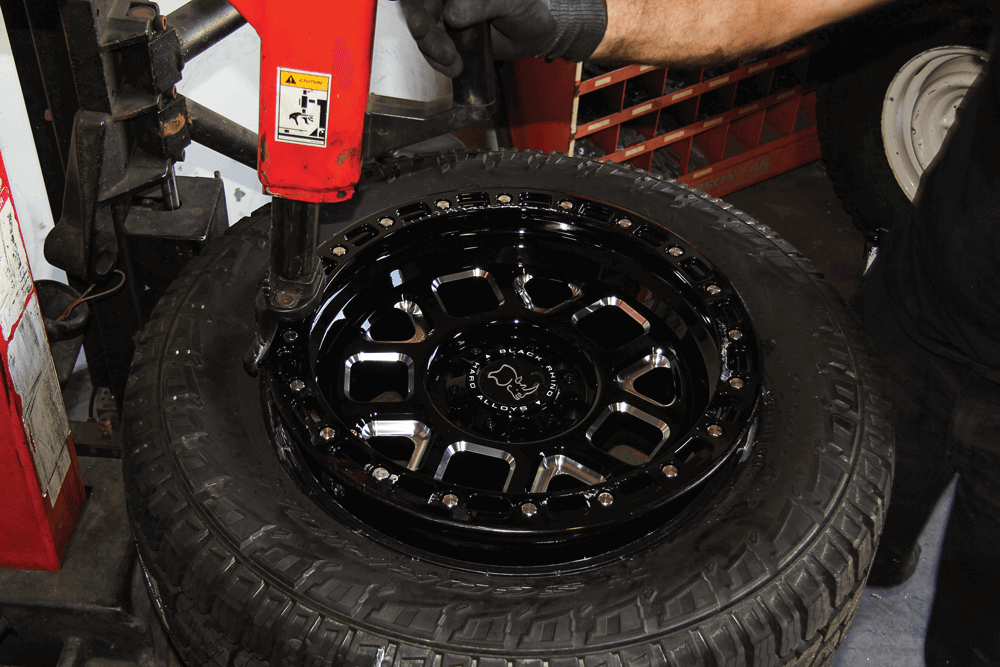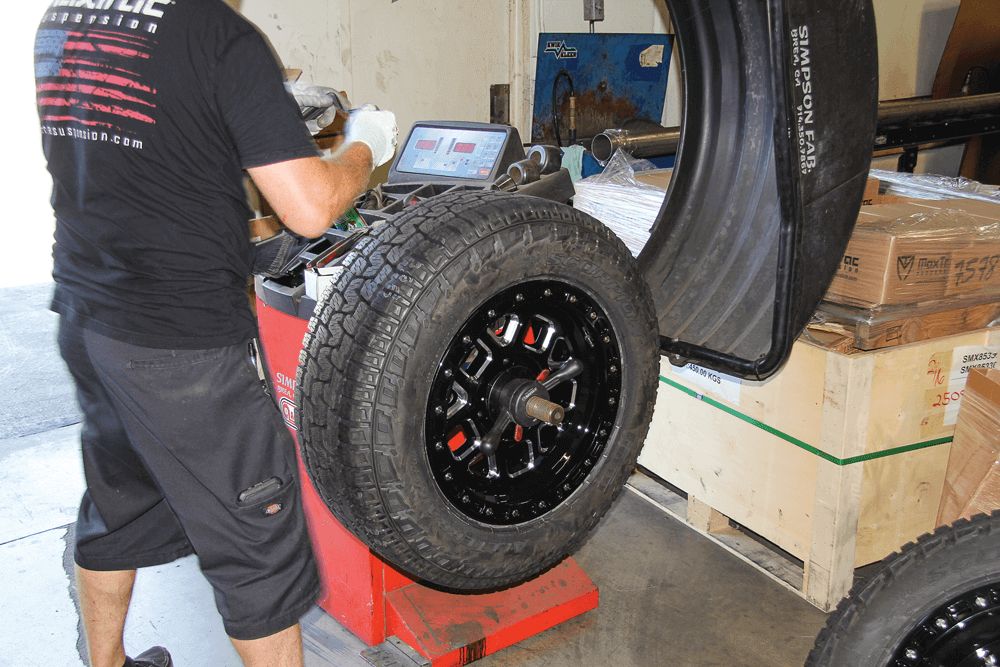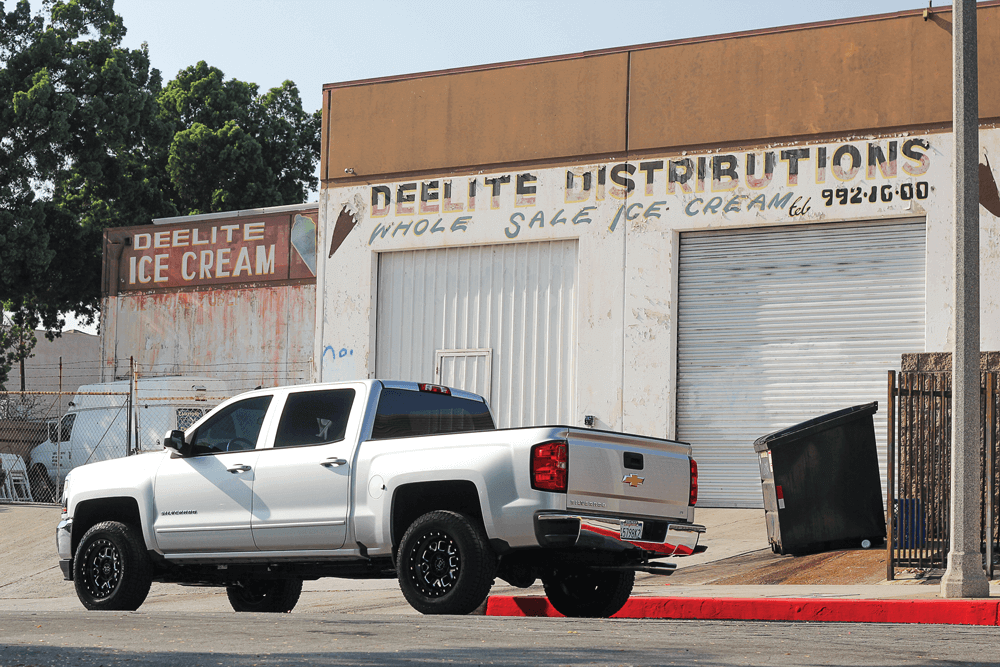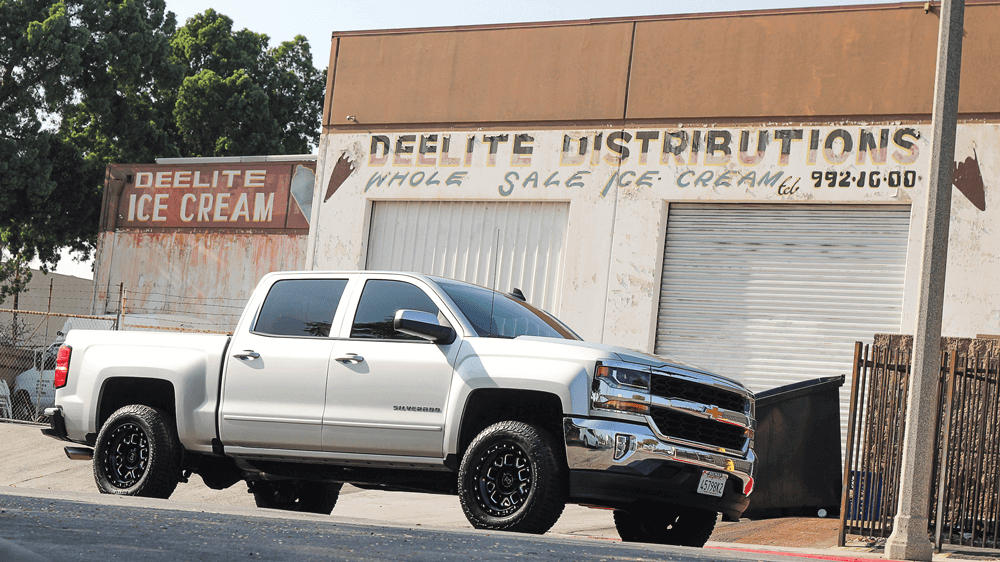 • MaxTrac Suspension
844-535-1668
maxtracsuspension.com
• Black Rhino Hard Alloys
800-479-9723
blackrhinowheels.com
• Pirelli Tires
800-747-3554
pirelli.com