THERE'S SOMETHING special about your first ride. Whether it happened to be awesome or not is a different story, but every time we see a truck rolling down the street, we remember the newfound freedom our first ride gave us. For Eddie Rosen, he was lucky enough to have a bump-side F-100 when he was 16, and he absolutely loved it.
As sometimes happens, though, boredom sets in and you forget what it was that made you fall in love in the first place. Before you know it, a new ride catches your attention, and you decide it's time to sell off that first ride of yours. You get an uneasy feeling as the new owner drives it away, but you convince yourself it's the right thing to do.
Deep down, though, you know you've done messed up. Eddie never forgot his F-100, and luckily for him, neither did his mother. In fact, a few years ago she gave him the surprise of his life by actually buying him a '68. How absolutely friggin' rad is that? Obviously, Eddie appreciated the truck as it was, but he also had some ideas on how he could make it more his own.
Eddie spent a lot of time reminiscing about his first F-100, and about how there were certain things he never got around to doing to it. Now, he was getting a second chance, and he wasn't about to take it for granted. He did, however, take the truck to Scot Rods Garage, where Scot McMillan Jr. and Jeff Dunlap were very sympathetic to Eddie's cause. Scot and Jeff both have a thing for F-100s of this era, and since they've already built quite a few of them, they were more than prepared to handle the project.
After consulting with Eddie over what he wanted out of the truck and how he wanted to drive it, the Scot Rods Garage crew got started on it as soon as a slot opened up in the shop. F-100s were never known for their handling (well, they were never known for good handling), but SRG was about to change that. A popular suspension mod in recent years for these trucks has been to swap out the front clip for one from a late-model Crown Victoria. This hot setup provides a double wishbone suspension that dramatically improves handling, and it lowers the ride height just enough to give the truck a great stance.
The rear was also updated with a Ford 8.8-inch rearend, which sports 12inch discs and is mated to the chassis via a Scot Rods Garage 4-link. Both ends of the truck are suspended by RideTech coil-overs, and an Aeromotive Stealth fuel cell gives the rear suspension more room to do its job.
Once the ol' F-100 was ready to come off the lift, it was set down on Mustang Track-Pack-style wheels in 19×9 and 19×10.5-inch sizes, with Nitto 275s up front and 305s out back. TECH SPECS A 6.0L Chevy Vortec engine from BD Turnkey Engines was chosen to motivate the Ford since it doesn't take much to get a fair amount of power out of them, although Eddie knew right up front that he'd be getting the occasional earful from purists. A Trickflow power package consisting of a hot cam, pushrods, rockers and valve springs really woke the thing up, helping the engine make about 486-hp to the wheels. Eddie decided to add a bit more fun to his driving experience, so he chose a Tremec T56 manual to give his right arm a workout while the left arm hangs on to the Grant GT steering wheel for dear life.
The rest of the truck was pretty much smooth sailing, and with the original paint being in fine shape, it was left alone with the exception of the addition of the SRG vinyl graphics. The interior received a pair of re-covered 1967 Mustang buckets restored by Keith Kirk Upholstery.
Dakota Digital gauges keep Eddie informed, and an Old Air AC setup keeps things comfortable.The only thing left to do was to start driving the truck, which Eddie, Scot and Jeff have made a regular habit of. While Eddie gets to park the truck in his garage and call it his own, the Scot Rods Garage crew flogs it at Goodguys autocross events whenever they get the chance, where they regularly place first and second in the truck class. Thanks, Mom!
TECH SPECS
OWNER – EDDIE ROSEN
1968 Ford F-100
Crowley, TX
ENGINE
Work performed by Scot Rods Garage
SRG engine mounts
2004 6.0L Chevy Vortec from BD Turnkey Engines
Trickflow camshaft
Trickflow pushrods
Trickflow valve springs
Trickflow rocker arms
Doug's headers
Stainless Works mufflers
Custom exhaust piping by ScotRods Garage
Champion aluminum radiator
Ford Thunderbird electric fans
2014 Tremec T56 manual transmission from Dederichs Motorsports
CHASSIS & SUSPENSION
Work performed by Scot Rods Garage
2004 Ford Crown Victoria front subframe swap
Ford 8.8-inch rearend with 12-inch disc brakes
SRG 4-link
RideTech coil-overs all around
Aeromotive Stealth fuel cell
WHEELS & TIRES
19×9 and 19×10.5 Ford Mustang Track-Pack-style wheels
275/35ZR19 and 305/35ZR19 Nitto tires
BODY & PAINT
Work performed by Scot Rods Garage
Stock with exception of fuel filler relocated to inside of bed
INTERIOR & STEREO
Work performed by Keith Kirk Upholstery and Scot Rods Garage
Reupholstered 1967 Mustang bucket seats
Custom vinyl headliner
Grant GT steering wheel
Dakota Digital gauges
Factory-style loop carpet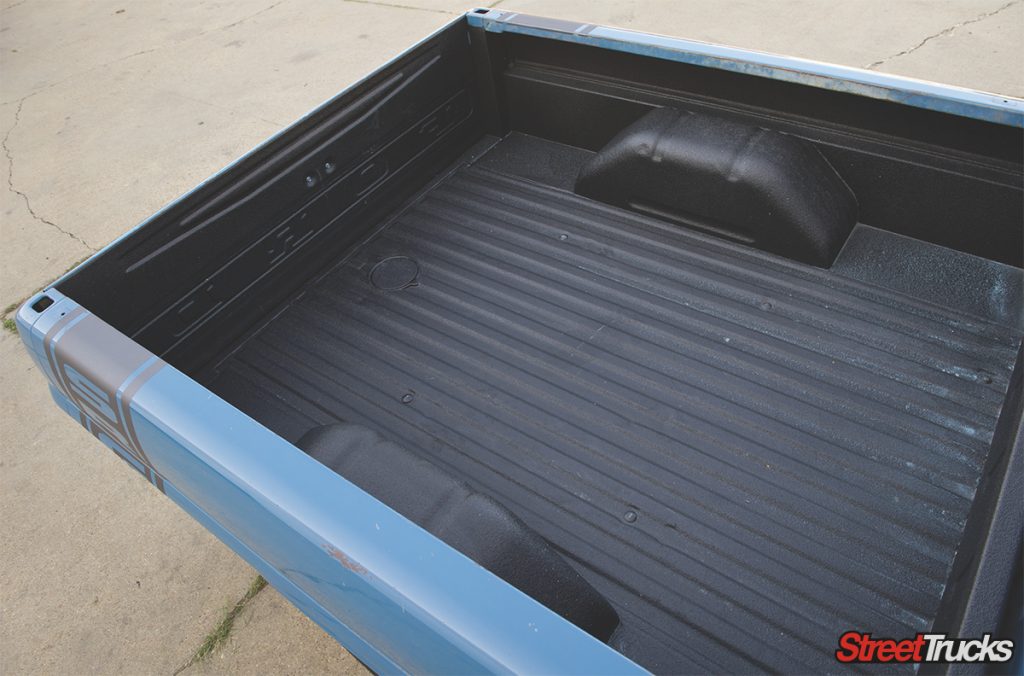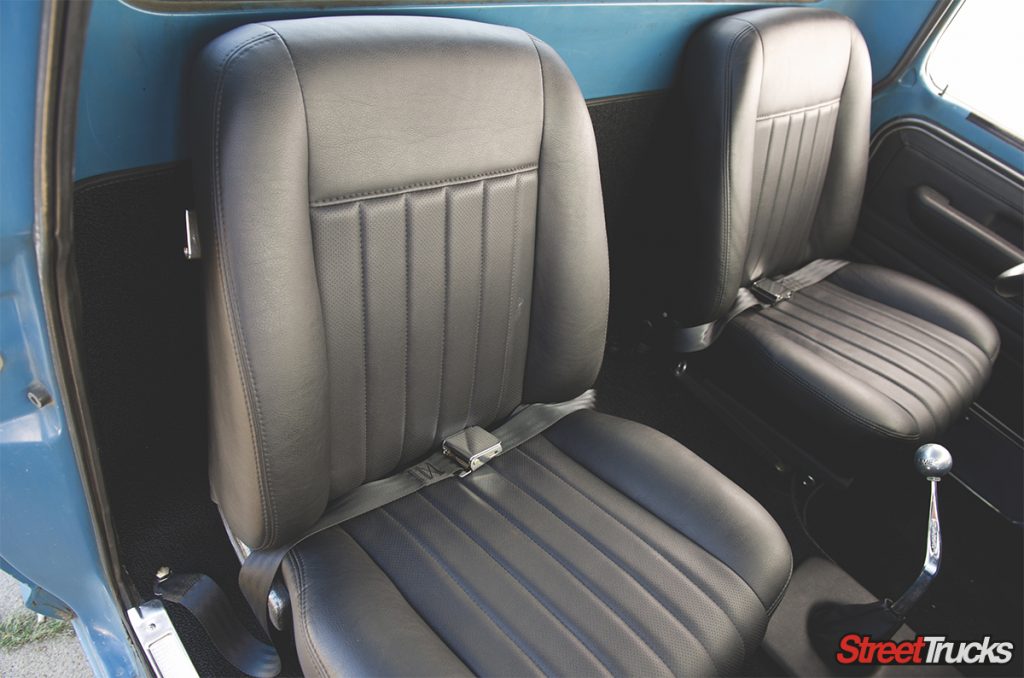 AC system
Special Thanks From the Owner: "Scot Rods Garage, RideTech, BD Turnkey Engines, LSX Unlimited, Joe Dederichs of Dederichs Motorsports. "