The Black Truck
Keepin' It Simple
Text by Mike Self
Photos by Joseph Dowling
Our jobs, when we play our cards right, can often be an extension of our passions. Gearheads, in general, can have a wide variety of choices when it comes to choosing a career that lets us play while we're earning a living. Jordan Ray, the owner of this fine '66 C-10, set himself up well with one of the most interesting automotive-related jobs we can think of.
As a clay and 3D digital modeler at the Peterbilt Design Studio (yup, that Peterbilt), Jordan gets to partake in the creative endeavor of designing and bringing big rigs from idea to real life. How rad is that? And while we're sure there is some inherent frustration that comes with a design transitioning from the creative stages to the engineering stages, it must be thrilling to be right at the genesis of bringing ideas from paper to the highway.
So, it shouldn't surprise anyone that someone who is an automotive designer would have a pretty solid custom ride. What may be surprising, however, is how simple that ride actually is. Jordan's C-10 takes the whole "keep it simple, stupid" thing to the extreme. No flashy paint job and no intricate wheel design here, just good old-fashioned good looks.
We're of the belief that not going overboard on a build can be even more difficult than going wild, but Jordan seems to have things mastered with the perfect blend of tasteful resto-modding. A slammed chassis courtesy of Thor Bros and modified CPP suspension components, as well as a scratch-built 2-link with pan-hard bar bring the truck firmly to the ground when the Firestone airbags are deflated. It's interesting to note that Jordan designed and CNC cut the airbag brackets himself, and installed everything else as well. Jordan had Doug Morrison machine down the axle flanges to allow enough room to run the black 22x9-inch GM transit wheels, which tuck perfectly in the fenderwells and give an updated look to a classic, smooth design. The 1956 truck caps are a nice touch too.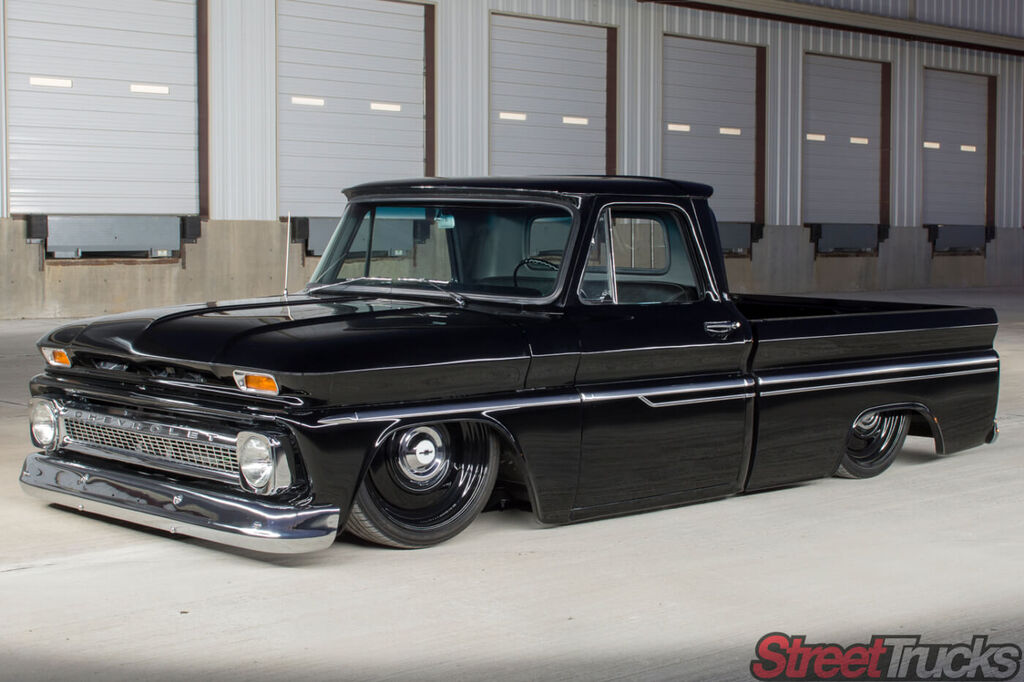 A combination of parts yielded the stance and performance Jordan was looking for. A Thor Bros P-47 front cross member, in addition to modified CPP arms, Firestone airbags and a set of McGaughy's drop spindles, allow Jordan to lay the truck on its frame rails and drive comfortably at speed when aired up.
The rest of the exterior was freshened up by Jordan's buddies at Sculley's Garage, where the sheet metal was given multiple layers of black PPG paint and clear, which were color-sanded and buffed to perfection. Much of the trim was restored and refinished, but the original grille and front bumper had such great patina that Jordan stored them away and bought a stock replacement grille and bumper to install in their place. Fresh wood planks in the raised bed offer utility while covering up the notch and rear suspension, and custom wheel tubs keep things nice and neat.
Under the hood is pretty standard fare for today's classic trucks, but it makes sense and looks right at home. A 5.3L Gen IV was built up by Hale's Speed Shop, with the active fuel management system being deleted in the process. When it was finished, the engine was putting out about 500 hp, which reaches the wheels via 4L60E tranny. Jordan tells us that he likes the mechanical look of LS engines, so he chose to simply clean things up rather than build any fancy covers. We definitely think he made the right choice, and it keeps the understated look intact.

Thankfully, Jordan followed suit with the interior, with a tastefully reshaped bench seat covered in black leather and vinyl by Andy Firchau at Xtreme Upholstery, and black paint with flat clear on the metal surfaces. The gauge insert is of Jordan's own design that he had laser cut to fit the Omega Kustom Instruments gauges, which sit proudly atop the chrome Speedway Motors GM-style steering column. Controlling the air ride is a simple two-switch setup with pressure gauge, which were placed inside the original heater control panel location. Even the stereo system is simple yet elegant in design, with a motorcycle Bluetooth head unit hidden out of sight that's controlled by Jordan's cell phone.
Jordan's '66 has come a long way from being someone else's forgotten project to where it is now, but as someone who gets paid to have vision, we're sure Jordan knew from the start that he'd have one awesome C-10 when he was finished.

Engine
Work performed by Hale's Speed Shop
2010 5.3L Gen IV V-8
243 GM cylinder heads
10.5:1 compression pistons
GM F-body oil pan
Texas Speed & Performance 229/236 camshaft
Texas Speed & Performance chrome-moly pushrods
Brian Tooley Racing valve springs
Holley EFI mid-rise intake and fuel rails
33-lb-hr flex-fuel injectors
90mm GM throttle body
Custom air intake piping
LS3 coil packs
GM F-body radiator and fans
ZR1 exhaust manifolds
Magnaflow race muffler installed by Chris Peacock at Bobby Gentry's Muffler
Tuned by Sam Miller at A.M.P.
Body & Paint
Work performed by owner and Sculley's Garage
Sheet metal repaired and/or replaced as needed
Rear fenderwells widened and raised
All trim replaced or restored
Custom-machined fuel filler flange and bung
Pro-Werks fuel cap
PPG 1683 black paint
Chassis & Suspension
Thor Bros dropped front cross member
Modified CPP upper and lower control arms
Custom 2×3 box frame notch
Custom airbag mounts
Firestone 2600 airbags all around
McGaughy's drop spindles
1985 C-10 front brakes
Wilwood brake master cylinder
Custom 2-link rear suspension with pan-hard bar
Monroe shocks
Rear axle flanges modified to clear wheels
Wheels & Tires
22×9 GM transit wheels with 1956 Chevy pickup caps
265/35ZR22 Kumho tires
Interior & Stereo
Work performed by owner and Andy Firchau at Xtreme Upholstery
Kick panel vents welded shut
Bench seat reshaped and upholstered with black leather and vinyl
Dashboard painted black with flat clearcoat
Custom gauge panel
Omega Kustom Instruments gauges
Speedway GM-style steering column
Custom black loop carpet
Motorcycle hidden head unit
Mids and tweeters in dash
6×9 speakers under seat
Special Thanks From the Owner: "Thank you to the whole team at Nostalgia Hot Rods for all the hard work and amazing finished product."