A Little Something to Enjoy During Retirement
Trucks have always enjoyed a good reputation as tough, hardworking beasts of burden, but for some, their popularity extends to how good they can look with the right treatment. Bob Wiley has had his share of vehicles, and when it comes down to it, he chooses trucks. Back in his high school days, Bob was behind the wheel of a different vehicle every few weeks. He was a lot boy at a local dealership, which meant he was busy maintaining the shine on all of the rides. As an employee, he enjoyed a few perks like discounts on vehicles. A natural born entrepreneur, Bob purchased and resold cars to his friends. He actually resold so many vehicles that the DMV informed him if he sold one more, he would need to get a dealer's license.
Once his kids grew up and he was able to retire, Bob got the itch to get behind the wheel of a classic truck that he could work on and enjoy at shows. "
While getting seat time in many different rides, Bob decided that he enjoyed trucks the best because they're roomier. At 6-foot, 6 inches, he doesn't fit well into smaller cars and tends to gravitate toward larger vehicles. As time went by, Bob moved on to better gigs and his lifestyle changed as he started a family. Though he continued to own trucks, he had an affinity for mid-century models and wanted to cruise in one again.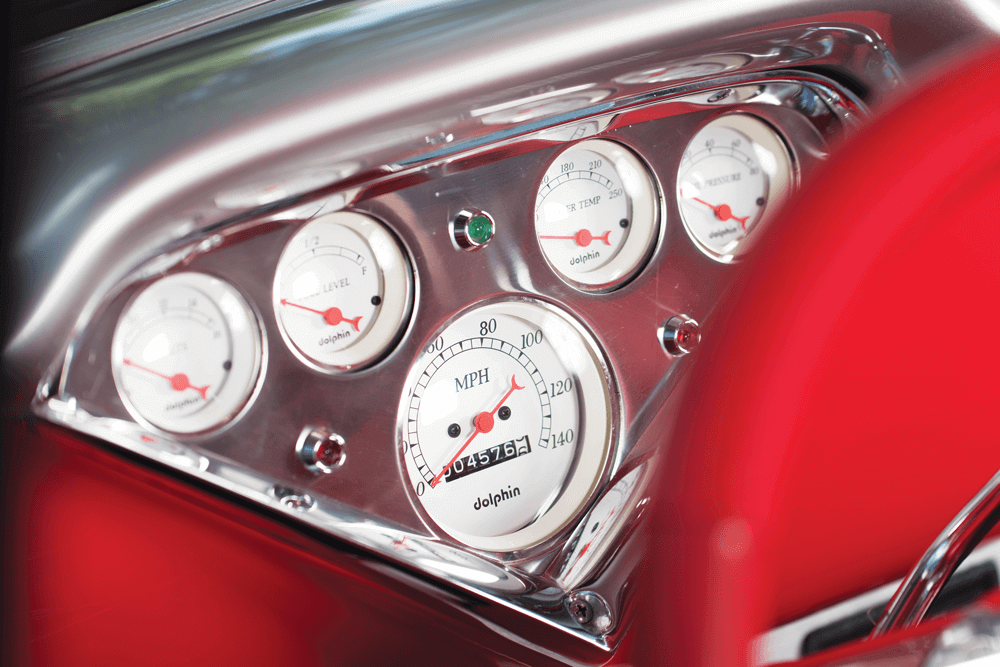 Once his kids grew up and he was able to retire, Bob got the itch to get behind the wheel of a classic truck that he could work on and enjoy at shows. He bought a '49 Chevy and drove it around for a bit. Though he liked the truck, he ran into similar issues he'd had with most cars. It just didn't have much room and wasn't comfortable to drive. He sold the truck and got to work searching for an alternative, a Task-Force-style Chevy truck like those he'd owned in high school.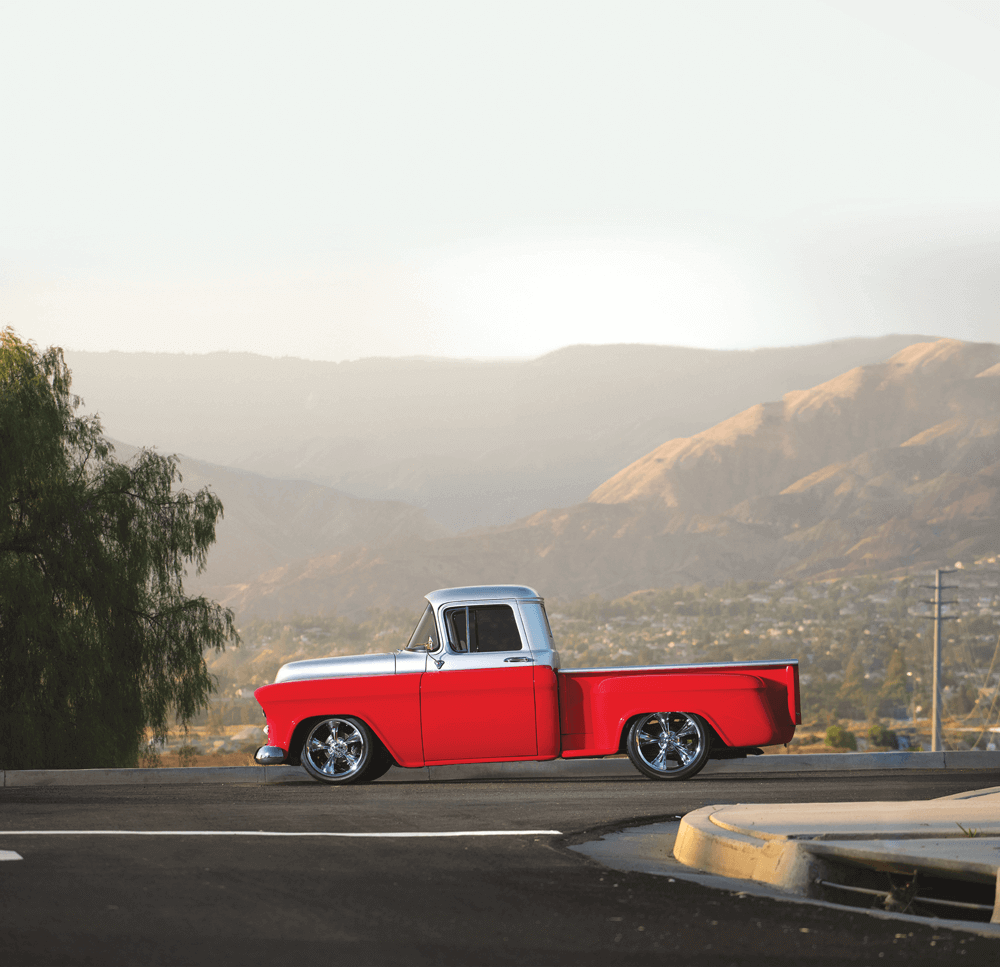 One weekend during his search, he grabbed his friend, Bobby, and headed to the Long Beach Hi-Performance Swap Meet to see what was for sale. Unfortunately, they went during a Thanksgiving weekend and there were very few vendors present. Though pickings were slim, Bob asked around and connected with Angelo Palmer of Retro Rods Enterprises Inc., who had a few vehicles for sale. One of the first he mentioned to Bob was a '57 pro-streeter with a chop top. Since interior room was an issue for Bob, that truck wouldn't work, but the second caught his attention, a '56 Chevy that had been languishing since the previous owner passed away. Bob was certainly interested in this one.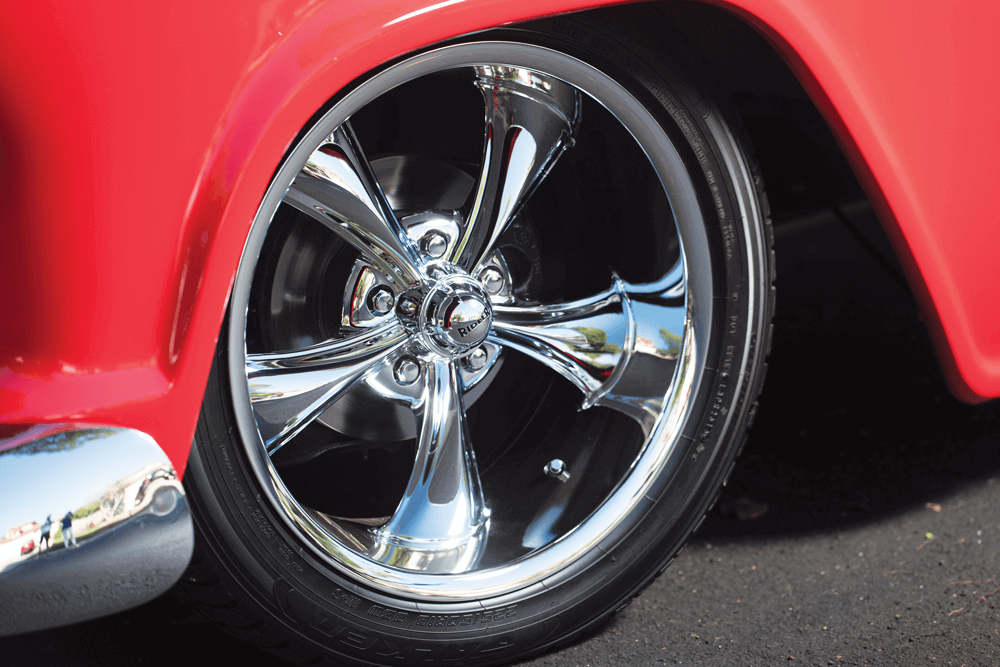 Bob went to Angelo's shop in Cudahy, California, to see the '56 in person. The truck was sitting low with a Camaro front suspension clip and lowered leaf springs in the rear. It was complete with a Chevy small-block engine and Angelo had recently painted it Orion Silver and Coyote Red, but he hadn't yet cut and buffed it. The guts of the truck were there, and Bob could see that it just needed some TLC to whip it back into shape. Once Angelo was able to get the truck road worthy, he and Bob struck a deal.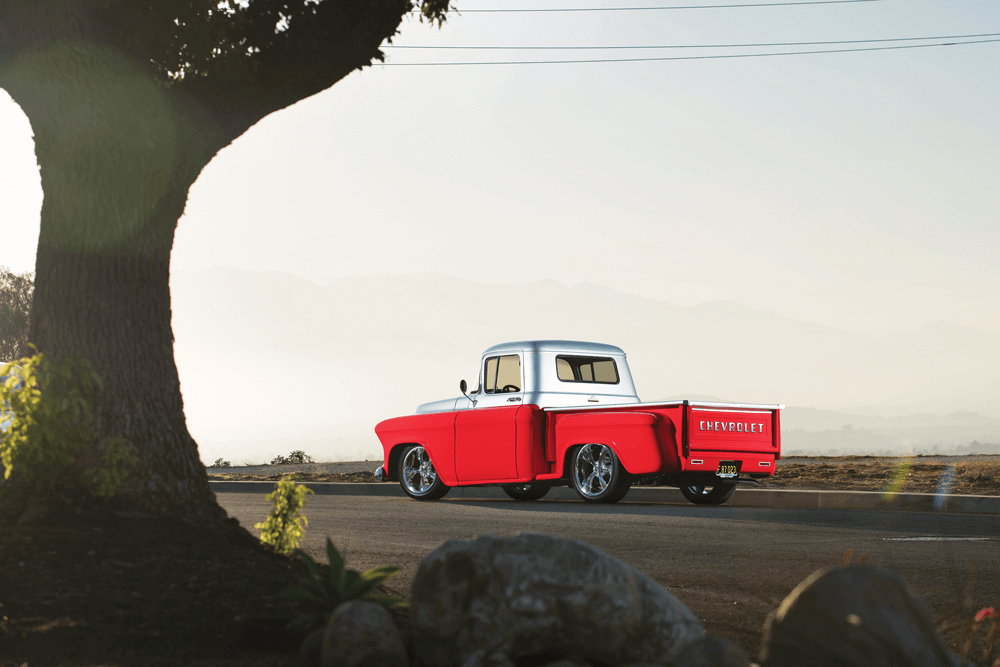 In Bob's care, the '56 was in for some improvements. One of the major things on the list was the drive train. The tired small-block had seen better days and was salvageable, but Bob decided to make a clean start and had John Coute help transplant a GM Performance 350-ci small-block mated with a TCI Street Fighter TH350 transmission. Then it was dressed up with numerous parts sourced from Hot Rod City Garage. For a classic look, Bob opted for a V-belt drive rather than a serpentine accessory drive system. It all functions well and looks great.
As for the body, it needed some attention, and with some luck it was made to shine. Bob's friend, Al Albainie, with help from Ron Kelly, was responsible for smoothing out the paint to a high-caliber shine. The cleaned-up body was dressed up with a shaved and chromed front bumper along with pinstriping and tailgate lettering by Lil Louie. Completing the look is a modern set of 18- and 20-inch Ridler 695 wheels. The inside had already been cleaned up with a smoothed dash and modified S-10 seats. Cal Upholstery finished the upholstery job, and new pedals and door handles from Lokar Performance products were added to top it all off.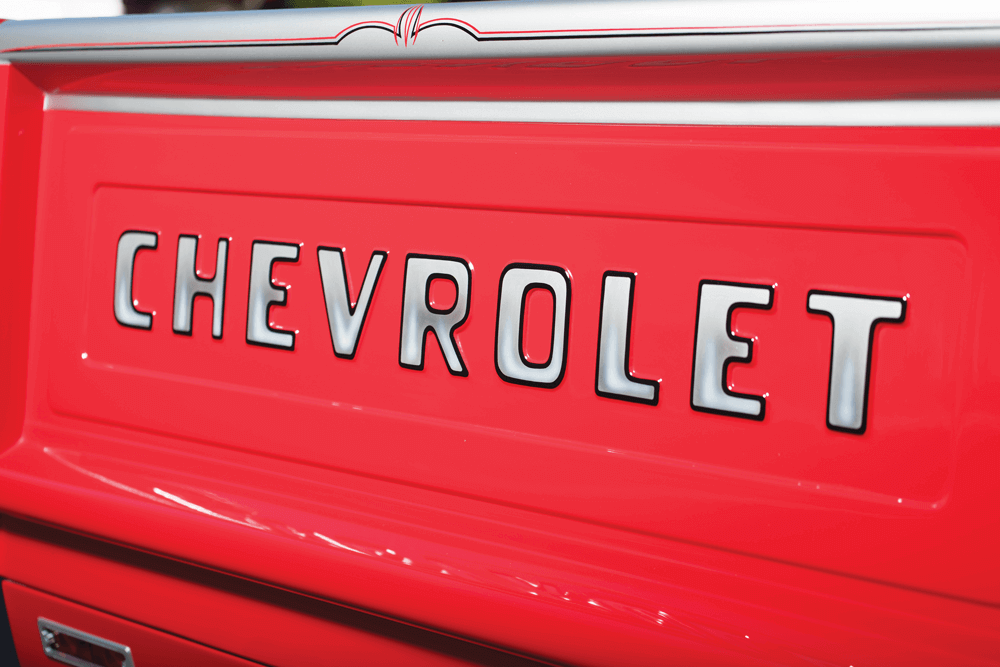 Bob told us "without help from friends, it would not have happened." He is grateful for all who contributed, and like it is for many, the truck was a catalyst for bonding with friends and sharing good times. As for the name, it pays homage to some lettering on the '49, since it was a "shop-truck" build. It's solidified every time Bob's wife suggests, "Let's take the beater for a ride." It's stories like this that remind us why trucks are so rad.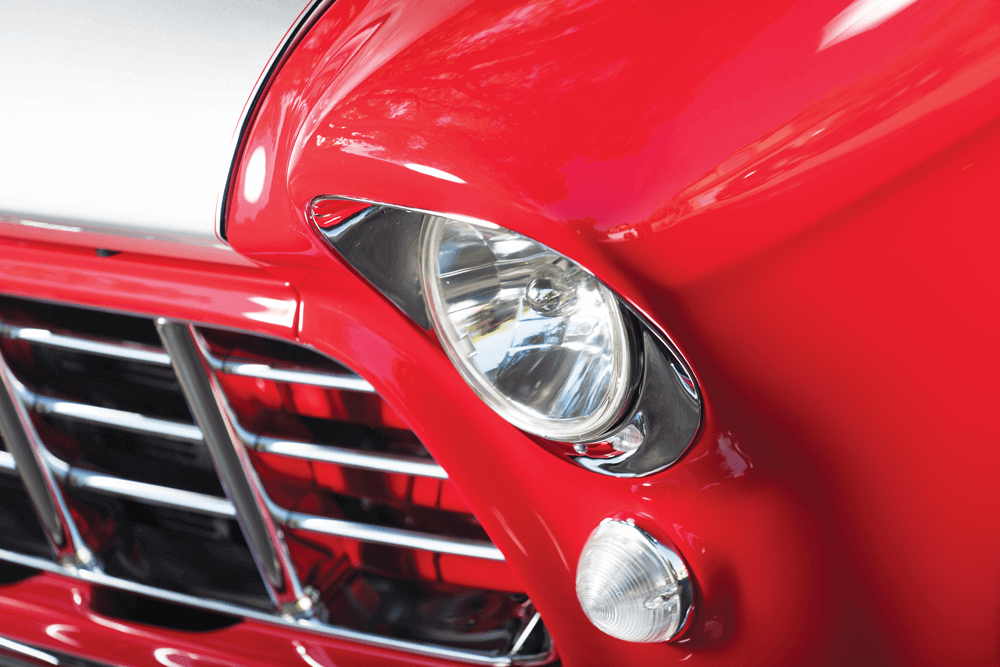 OWNERS
Bob & Teri Wiley  
1956 Chevy
San Bernardino, CA
MFT SoCal
ENGINE
Shop: Retro Rod Ent. Inc., owner and friends
GM Performance 350-ci small-block V-8 crate engine with flat tappet camshaft
Edelbrock 600-cfm carburetor
Edelbrock high-flow water pump
Hedman headers
Cal Custom valve covers and air cleaner
2.5-inch exhaust with Magnaflow mufflers
Champion aluminum radiator
Cooling Concepts electric fan
Rocky Hinge V-belt front accessory drive
Aluminum gas tank
TCI Street Fighter TH350 transmission
10-bolt rearend with 3.73 gears
CHASSIS & SUSPENSION
Shop: Retro Rod Ent. Inc., owner and friends, John Coute
1974 Camaro front clip with disc brakes
Lowered rear leaf springs
CPP nitrogen gas shocks
Chrome master cylinder
Notched rear frame
WHEELS & TIRES
18×8 and 20×9.9 Ridler 695
225/50R18 and 255/45R20 Falken
BODY & PAINT
Shop: Retro Rod Ent. Inc., owner and friends
Smoothed and chromed front bumper
Brothers Truck Parts oak wood bed floor
Brothers Truck Parts roll pan
Shaved badges, stake pockets, firewall and tailgate chains
Brothers Truck Parts tailgate latches
LED third brake light
Orion Silver and Coyote Red paint sprayed by Jose Lacosta
Pinstriping and tailgate lettering by Lil Louie
Paint cut and buffed by Al Albainie
INTERIOR & STEREO
Shop: Retro Rod Ent. Inc.,Cal Upholstery, Burlingame, CA, owner and friends
Smoothed dash painted to match exterior
Late-model Chevy S-10 seats reshaped
Custom door panels
Vinyl upholstery
Red loop pile carpet
Dolphin gauges
Chevy Astro van steering column
LeCarra Mark 8 steering wheel
Lokar Performance Products pedals and door handles
Vintage Air AC
Kenwood KDC-152 head unit
Pioneer 8-inch speakers in front and rear
Hush Mat sound deadening material
Optima battery mounted under cab
Special Thanks From the Owner: "Bob Robinson, Bobby Espudo, Ron Kelly, Denny Box, Doug Thompson, Reb Smith, Chuck Rhoades, Al Albanie, Dale Sampson, My son RJ and my
wife Teri."