From motorcycles to imports, Eric Banks out of Jenks, Oklahoma, has always built whatever he felt like without the need for outside approval. It's not about breaking the internet, or gaining followers, or trying to be popular, it's about building something that is an extension of himself.
When Eric decided he wanted to build an old body Ford pickup, he hunted for months until the right one presented itself. Once he'd found it, he grabbed a friend and headed out to take a look. After some bargaining and exchanging a stack of Benjis for a piece of paper and keys, he white-knuckled the ratty F-100 home. Lucky to even reach 60 mph, the old F-100 with its original four-wheel drum brakes was all over the road.
Eric had the truck for about three weeks before he'd fully developed his plan for the build, but once he'd done that, he got right to work.
He started by building a full suspension setup from random parts he had laying around his garage, but once he sat back and examined his handiwork, he decided that the truck wasn't sitting as low as he wanted. Without hesitation, he tore everything out and start cutting, beginning a full rebuild to achieve the body-laying stance he craved.
Starting in the back, he built the rear suspension with a parallel 4-link using Slam Specialties RE6 'bags to support the weight of the truck. He also added a 10-inch frame notch to lay the truck flat effortlessly.

Next, Eric began building a custom Mustang II front end with a Full Tilt Street Rods Mustang II IFS, including upper and lower control arms. When the dust settled, Eric powder-coated the chassis himself. Eric and his friend, Arnoldo Flores, repaired all of the rust, along with the 50-plus-year-old floors, before the cab was sent off to James Inscoe. James got to work sandblasting the cab and engine bay to bare metal, straightening each piece, and repainting the inner parts to factory spec, an aspect that was especially important to Eric. He was insistent that everything stay period and factory correct since he was going to keep the original factory paint on the body. Eric wanted to keep his truck classic and driveable, so he used OEM 15-inch wheels powder-coated white and wrapped in Coker 670 classic whitewalls.
As the interior came together, the white vinyl with blue, white and black plaid was laid across the bench seat by Scott's Auto Trim in Tulsa, Oklahoma. Eric installed a B&M shifter with a modified Crafty B shift lever, topped by a custom meat cleaver handle. He raised the factory bed floor for the additional clearance needed for rearend travel and the C-notch we mentioned earlier rear. Eric also built a unique bed area to display the custom-built World War II shark face bomb tank he designed for his Ford. Polished copper hard lines and an AccuAir e-Level management are on display, and two VIAIR 444 compressors with braided lines are hidden underneath the floor.
Eric had come so far that he couldn't bear to skip the opportunity to add one final touch of his own, an all-new power plant. He had Performance Auto and Diesel in Oklahoma throw together the massive the 408w with SCAT stroker kit. If that wasn't enough, the crew topped it with JE flat-top pistons, Ford Racing rocker arms, aluminum heads and a set of vintage Weiand valve covers. The dipstick and all of the hardware were switched to stainless Allen-head bolts and the lake-style headers were custom routed out of the front fenders on both sides of the body. Some people might have added a high-end stereo and speakers, but Eric explained his decision best, "Who needs a stereo when you have open headers?" Keep an eye out for more builds by Eric Banks and his Game-Over-built shop truck, we definitely will be.
Build Specs:
Owner: Eric Banks
Truck: 1966 Ford F100
Location: Jenks, OK
Engine
Work performed by Performance Auto, Catoosa, OK
351 Windsor stroked to 408
JE pistons aluminum heads
Ford Racing rockers
Wieland intake and valve covers
Black Diamond Quick Fuel carb
Custom headers with fender exit
Custom powder-coated and freshly rebuilt C6 transmission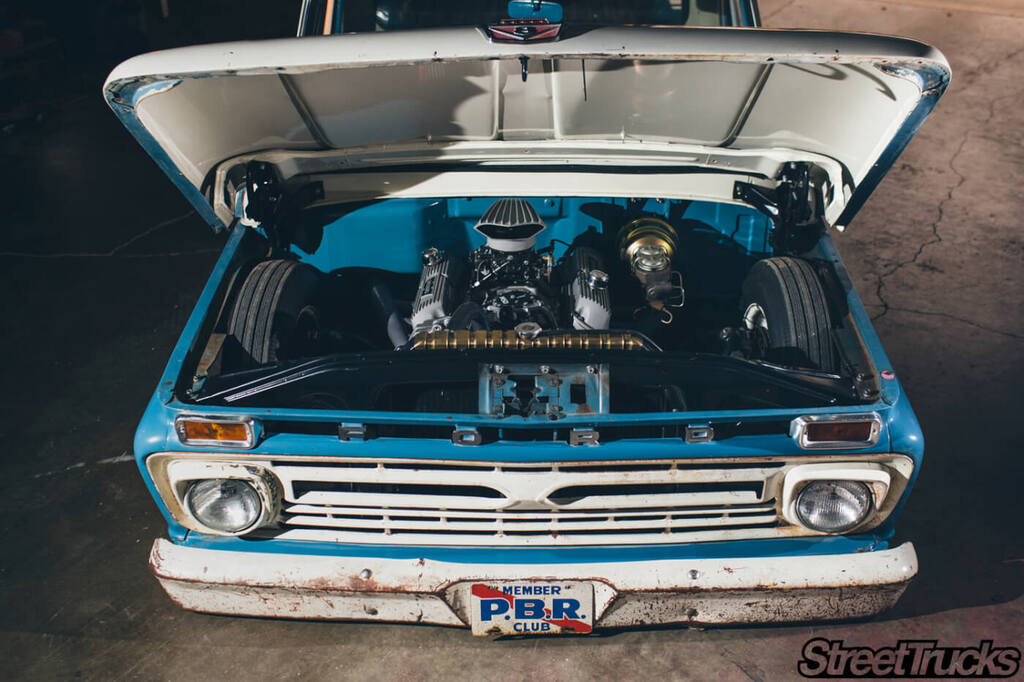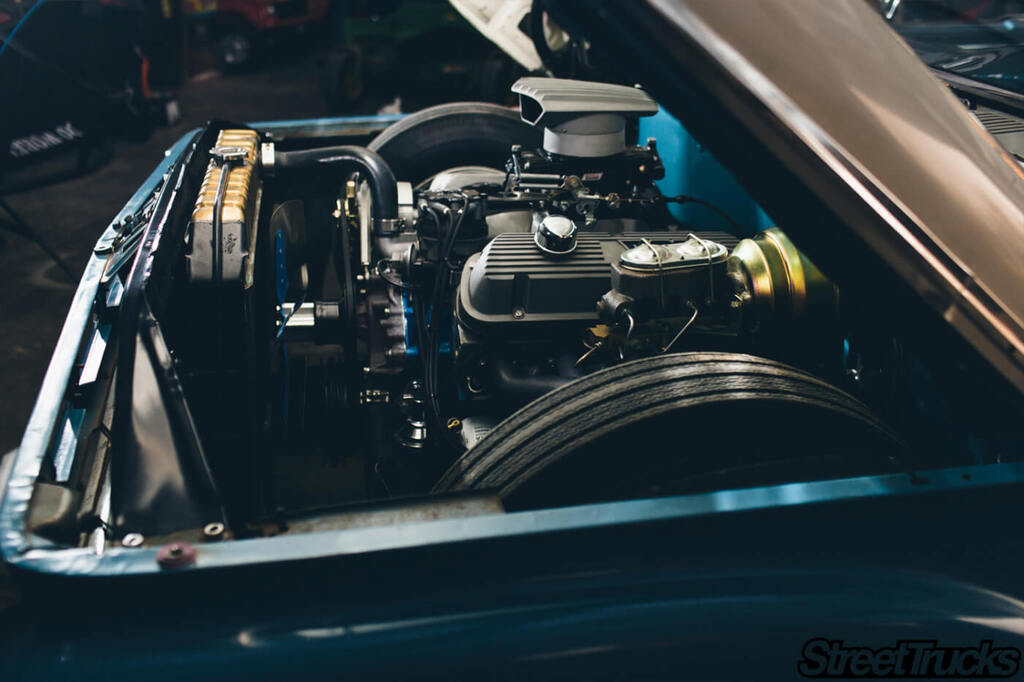 Body & Paint
Raised factory bed floor with hidden trunk area
World War II bomb converted into air-supply tank with copper hard lines
Original paint buffed out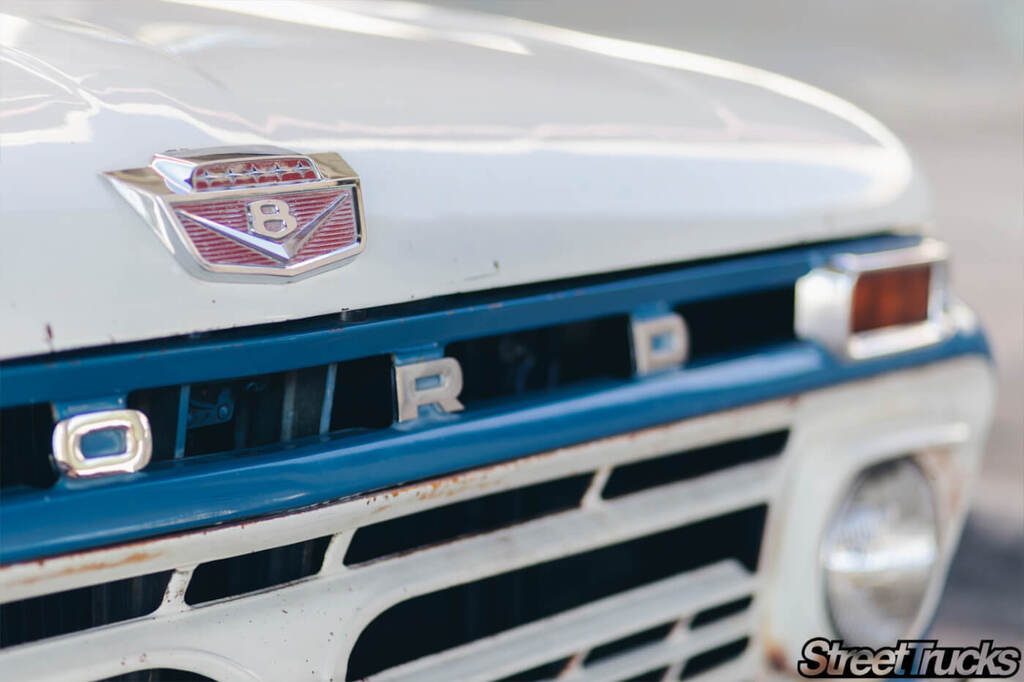 Wheels & Tires
OEM 15×6-inch wheels, powder-coated white
Coker 670 classic 2 3/4-inch whitewalls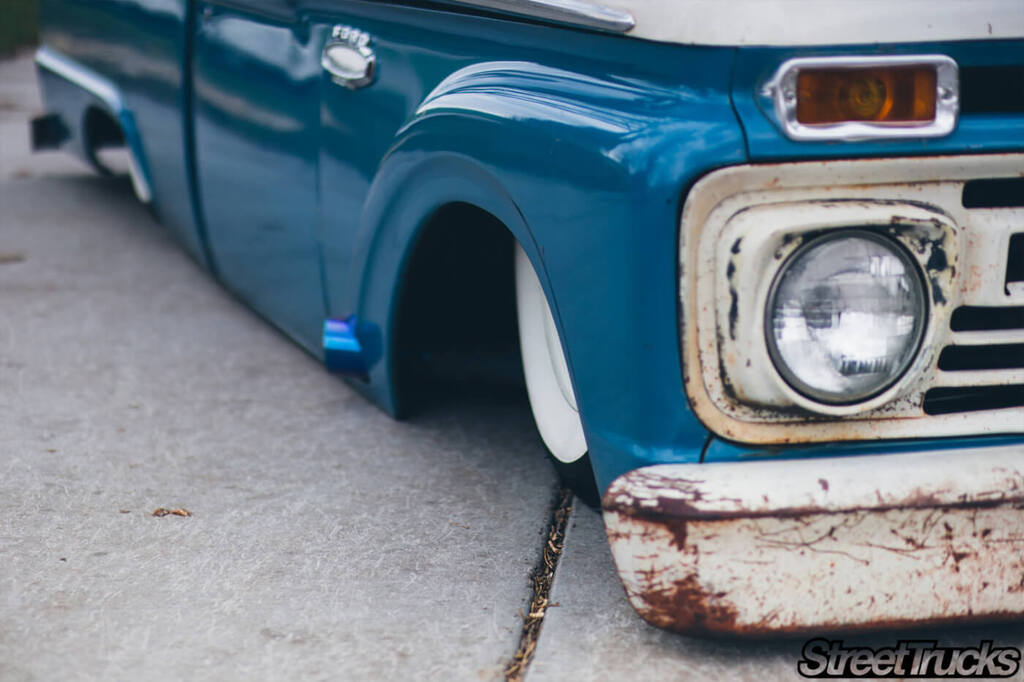 Chassis & Suspension
Four-wheel disc brake conversion
AccuAir e-Level
Two VIAIR 444 compressors
Game Over Built chassis
Front: Full Tilt Street Rods Mustang II IFS with upper and lower control arms raised 3 inches to lay body, Slam Specialties RE6 'bags
Rear: 4-link with 'bag-over-bar setup and 10-inch C-notch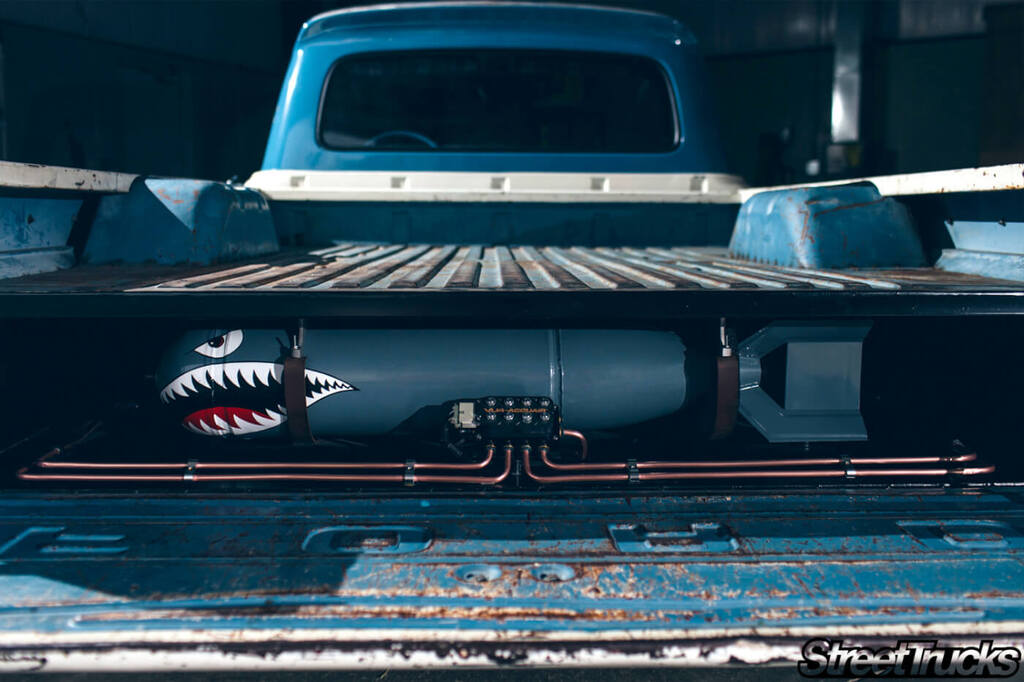 Interior & Stereo
Work performed by Scott's Auto Trim and owner
Freshly painted interior and doorjambs
Custom rewrapped seat
FoMoCo optional door
B&M floor shift kit with a modified Crafty B custom shift lever
One-off 44 Build meat cleaver shift handle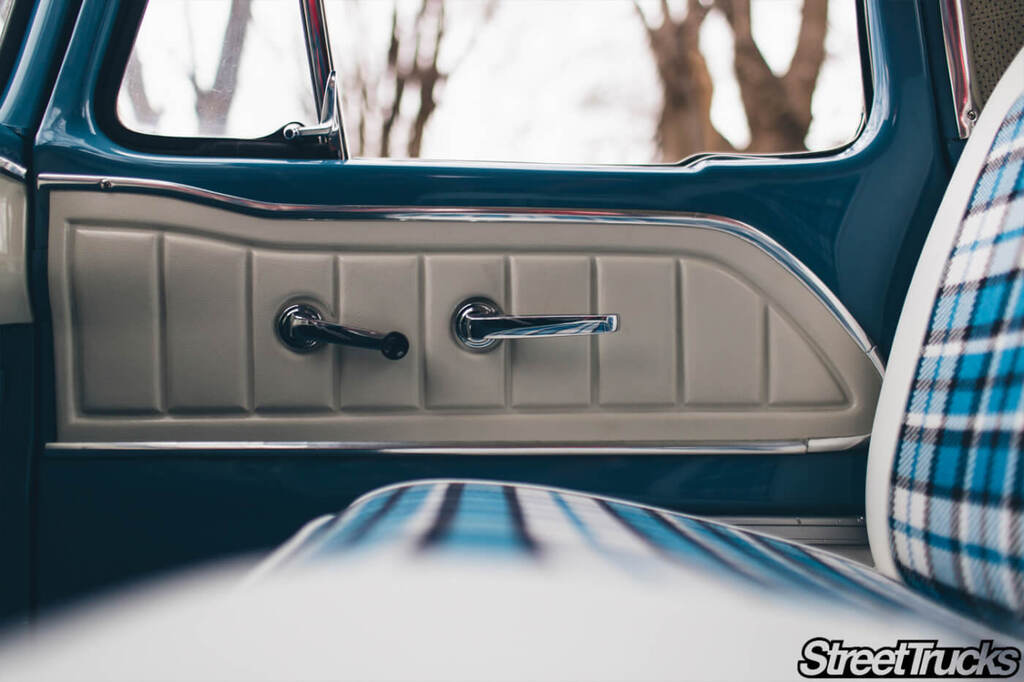 Special Thanks From the Owner: "First and foremost, my wife, Courtney Banks. Also, to my club and family Los Creepos CC and to Coulter Manard, Arnoldo Flores, James Inscoe, Will Meadors, Chris Prideaux, Steve and Tayna Mank, Denny Lloyd, Tyler Rochelle and anyone else who had a hand in building this truck or putting up with me along the way. Finally, to Cowskin Creek Clydesdales in Goddard, Kansas, for the use of the most perfect location this truck shoot could ask for."